2 Reasons the Chicago White Sox Are in Need of a Major Facelift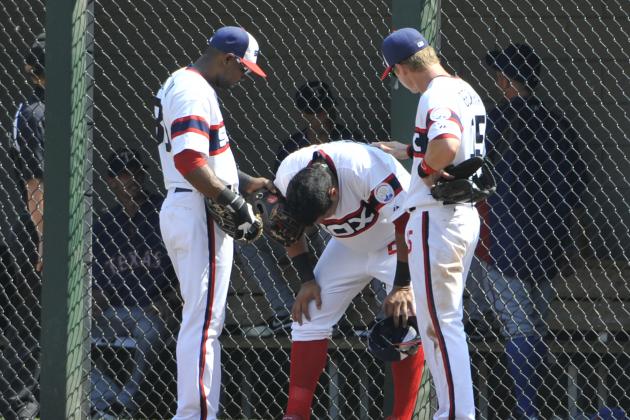 David Banks/Getty Images
Avisail Garcia after running hard into the outfield wall against the Texas Rangers.
The Chicago White Sox are one of the hottest teams in baseball. Winners of eight out of their last 10 games, the Sox are finally making the most of the opportunities the other team presents.
Take their 5-2 victory over the Texas Rangers on Sunday as an example. A two-run error gave the White Sox an early lead. Later, Jeff Keppinger was able to snag a line drive and catch Elvis Andrus in no-man's land, doubling him off third base.
Too many times earlier in the season, it was the White Sox who gave runs away, got doubled off on line drives and ended up losing because of it. And while August has been a refreshing month to this point, the White Sox will need a major facelift before the beginning of next season.
Specifically, a nip/tuck on the basepaths and in the field is in order.
This article will stay away from any conversation regarding what improvements are needed at the plate. We all know that the team's .252/.305/.381 slash line isn't going to get the job done. Changes must be made, but that is not a facelift; rather it is a full-joint reconstruction.
There is also no reason to speak about the pitching staff. Their stats—3.83 ERA, .250 BAA, 1.288 WHIP and 75 quality starts as a group entering play on Monday—are among the best in baseball. Pitching is what general manager Rick Hahn will build around in the coming years.
Digging deeper into baseball's fine print, though, an alarming reality emerges. The White Sox are one of the worst teams in MLB playing the field and are a double-edged disgrace on the bases.
Let's take a look at how it all breaks down.
Baserunning and general statistics are courtesy of Baseball-Reference.com. Fielding statistics are courtesy of ESPN.com and are accurate as of August 26, unless otherwise noted.
Follow @MatthewSmithBR
Begin Slideshow

»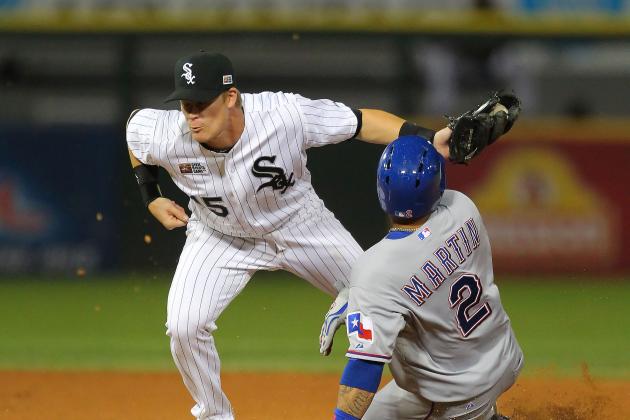 Dennis Wierzbicki-USA TODAY Spor
Surprisingly, Gordon Beckham has not played his usually-solid defense this season.
One year removed from being one of the best defensive teams in MLB, the White Sox have dropped the ball this season. The problem is not isolated to one player, either.
Gordon Beckham, who is known for being an excellent defender, has a .980 fielding percentage (FP), which rank would in the lower half of second basemen if he qualified based on games played.
Alexei Ramirez has been nothing short of awful. His .963 FP is second from last among shortstops, and he has committed the most errors (21) at his position. Because of his range, he has a 1.6 defensive WAR (dWAR), according to Baseball-Reference.com (B-R), but he has five more fielding miscues than Starlin Castro and Ian Desmond, who are tied for second worst in MLB.
Conor Gillaspie has committed 10 errors in only 230 chances, and his .957 FP is the 17th worst among qualified third basemen.
In left field, the White Sox's .968 combined FP stands alone at the bottom of the stat sheet, and although Dayan Viciedo is tied for second with 10 assists, he has limited range and a .970 FP, which ranks next to last in MLB. Center fielder Alejandro De Aza is not much better with a .982 FP, four errors at the position (six total) and a -1.5 dWAR, per B-R.
It is so bad in the outfield that even with Alex Rios' metrics factored in, the position group has a -19 Rtot (total fielding runs above average), according to B-R, and Rios was their most accomplished defender. That's right folks, the White Sox are 19 runs below average in the outfield. Ouch.
There are ways to fix it, though. Moving Viciedo to first base is one example. Others include finding a replacement center fielder via free agency, transitioning Beckham over to shortstop and/or calling up one the middle infielders in the minor leagues.
As it stands, opponents have already scored 56 unearned runs. When we consider that the Sox have lost 27 games by a single run, it's apparent that even the slightest improvement on defense would have a direct impact on their win-loss record.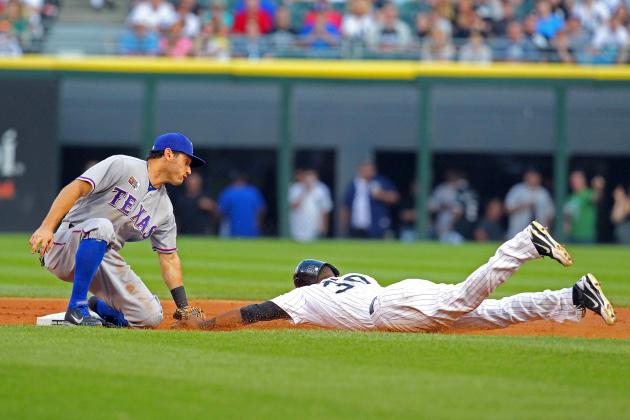 Dennis Wierzbicki-USA TODAY Spor
He gone!
On the season, the White Sox have amassed 44 outs on base (OOB) and have a mere 36.0 extra bases taken (XBT) percentage.
What that means is that they have been thrown out trying to advance, doubled off base on a line drive or caught in a rundown 44 times while successfully taking an extra base (first-to-third on a single to right field, for example) when given the chance only 36 percent of the time.
Making the White Sox's OOB stat even more alarming is that it rises all the way to 76 if the 32 times they have been caught stealing are factored into the equation.
Being productive on the bases is normally a hallmark of a good team. Look no further than the Boston Red Sox. They have taken the extra base 39 percent of the time and only have 23 OOB.
Another example is the Detroit Tigers. Sure, they have 46 OOB, but they have had 1,787 runners reach base safely while the Sox have only had 1,469, and they have a 46.0-XBT percentage. Not only do the Tigers take what the other team gives them, but they create offense.
Of course, there are always going to be outliers.
The Atlanta Braves, for example, have the same number of OOB as the White Sox, and their XBT percentage is only 39.0, but their defense—140 more putouts and 20 fewer errors than the Sox—more than makes up for their baserunning deficiencies.
Conversely, the New York Mets take the extra base 45 percent of the time and have amassed a mere 33 OOB, yet are 12 games under .500. As a rule, though, good teams run the bases well, and when a team struggles to generate runs like the White Sox do, the outs they give up are deadly.
Let's hope Doug Sisson, who was hired as the outfield/baserunning instructor last December, is making progress with the prospects in the farm system, and the Sox begin to see improved results in the coming years.
Baserunning is a matter of awareness and is situational in nature, so there is a chance that this is a metric the Sox can improve in.
If Hahn can give the two aforementioned areas a major facelift, 2014 may not end up being as bad some of us fear.