The Wayne Rooney saga seemingly won't come to an end until the final hours of the transfer window, but Manchester United are keeping busy in other ways.
Their newest target is reportedly Real Madrid's Mesut Ozil, who Graham Hunter has the recent speculation on:
So many #United fans asking about Özil that despite the abuse I got for reporting the club's market earlier this summer, here's what I know

— Graham Hunter (@BumperGraham) August 24, 2013
#Özil not happy at the threat of Isco and #Bale to his place. Özil's father is actively seeking to place him in the Prem. #United

— Graham Hunter (@BumperGraham) August 24, 2013
It's certainly intriguing, as Ozil is undoubtedly a world-class player.
According to Squawka, the German midfielder was Real Madrid's third-most productive player last season behind Cristiano Ronaldo and Luka Modric. In 32 La Liga appearances, he scored nine goals, including this special free kick against Real Valladolid:
He also created an absurd 91 chances for teammates—29 more than Ronaldo, who was second on the team—and tallied 13 assists, while completing a professional 84 percent of his passes.
For what Ozil lacks in phyiscal traits—speed and strength—he more than makes up for with his unbelievable ball control, dribbling ability, pinpoint passing and crossing and wonderful finishing.
Still, with Rooney—assuming he stays at Old Trafford—and Shinji Kagawa both playing behind Robin Van Persie, it would be difficult to call Ozil a lock for consistent first-team opportunities.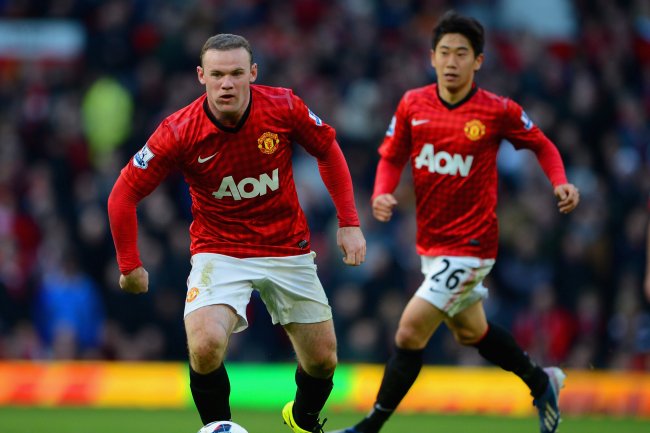 Michael Regan/Getty Images
As such, it's not exactly surprising to see Hunter and Raphael Honigstein throw some cold water on this rumour:
#Özil however an initial approach to #United one week ago, brought no encouragement at all. Don't know if that has changed, but doubt.

— Graham Hunter (@BumperGraham) August 24, 2013
Bild are NOT reporting a fee for Özil had been agreed with Man Utd, for those asking

— raphael honigstein (@honigstein) August 25, 2013
Another thing to keep in mind is the upcoming 2014 World Cup.
Germany is absolutely stacked with elite attacking players, and Ozil is going to need first-team opportunities to stay in top form for manager Joachim Low.
On September 3, Mesut Ozil will be playing for...
Will he get that with Real Madrid if Gareth Bale makes his way to the Spanish giants? Will he get that with Manchester United, another team that is pretty comfortable up front?
The answers to both of those questions remain to be seen, but while Ozil is a player any manager would welcome in a heartbeat, this a rumour that we can pump the brakes on for now.