Breaking Down the Best Centers in the 2014 NHL Draft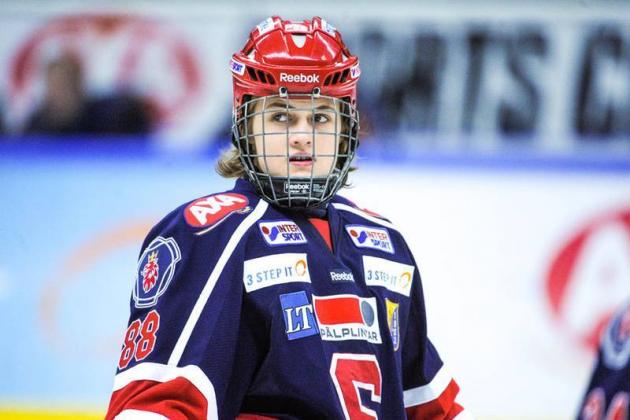 Photo Courtesy of aftonbladet-cdn.se.
The 2014 draft class of NHL prospects features extensive depth and parity throughout the projected first round, with a large cast of talented centers leading the way.
Four players shine easily above the rest in the group, but a plethora of other solid two-way stars will also vie for top-15 selection spots.
As NHL franchises continue to realize the importance of solid three-man center core, players at the position should gradually creep higher and higher up each year's draft board. Next June should be no different, as the league's 30 general managers should have an especially large crop of enticing middlemen to choose from.
What skills and strong suits can each of 2014's top projected centers bring to the table? A complete breakdown of next year's five best prospects at the position falls on the coming slides.
Begin Slideshow

»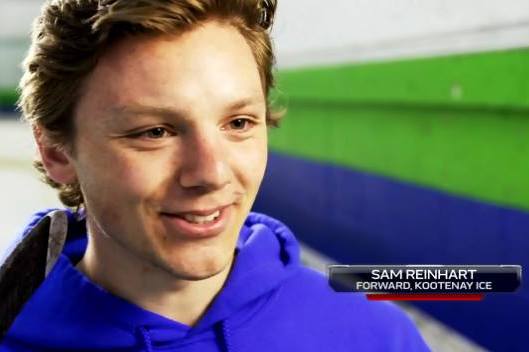 Photo Courtesy of TSN.
Size: 6'1", 177 lbs
2012-13 Stat Line: 72 GP, 35 G, 50 A, 85 P (Kootenay Ice, WHL)
The brother of two other top-70 picks of the past three years, Sam Reinhart is the consensus No. 1 player entering the 2013-14 season.
Reinhart scored above a point-per-game pace with both Kootenay of the WHL as well as the Canada U18 squad, which he captained for 12 games in two tournaments.
Per Brian Fogarty of Hockey's Future:
He is a fast and agile skater, and is able to handle the puck at full speed with ease. Reinhart distributes the puck with accuracy and possesses a quick release on his shot, making him a threat whenever he has the puck.
Scouts have also praised his hockey sense extensively. His pass anticipation and play awareness are miles above that of most 16-year-olds.
"[Reinhart possesses] great hockey IQ and diagnoses things so well in the attack zone," writes Bill Placzek of DraftSite.com. "[He has] exceptional on-ice vision."
Reinhart is completely reliable in both the offensive and defensive zones and is as close to the full package as can be found in the 2014 draft class.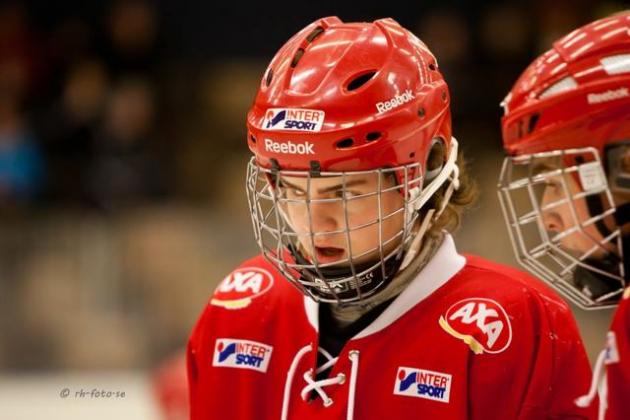 Photo Courtesy of sskoveralltalltid.se.
Size: 5'10", 170 lbs
2012-13 Stat Line: 27 GP, 15 G, 28 A, 43 P (Sodertalje J20, Sweden)
If Canadian-turned-Swedish playmaking prodigy William Nylander had another few inches on him, he could challenge Reinhart for the top forward ranking.
Nylander has followed an unusual path throughout his hockey development, beginning his junior campaign in the United States after being born in Calgary in 1996 before shifting over to Sweden in 2011.
That has allowed the 17-year-old to play against professional competition at times, which has helped dispel doubts over his size. Nylander tore it up on the box score with Sodertalje's under-20 squad, Sweden's under-17 and -18 clubs and even Sodertalje's main team, with which he tallied four goals and six points in eight appearances.
Nylander skates very well, has impressive hands and is excellent at handling the puck at high speeds. A very agile player that protects the puck well and skates hard in the offensive zone. Has the tools and skills to lead his team in all offensive aspects.
Nylander is a dynamic star to watch closely as next spring's draft approaches.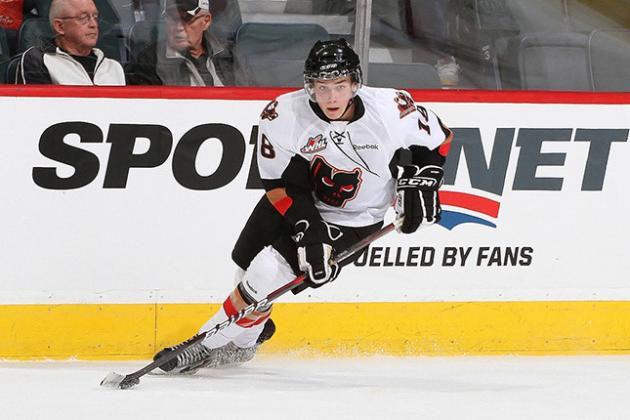 Photo Courtesy of abbynews.com.
Size: 6'1", 192 lbs
2012-13 Stat Line: 62 GP, 16 G, 18 A, 34 P (Calgary Hitmen, WHL)
Unrestrained center Jake Virtanen could be a slight bulk-up away from emerging as the NHL's next Dustin Brown or Jordan Staal, with perhaps even better speed and puck-handling.
Virtanen's playing style isn't too glamorous, yet he has an uncanny ability to make highlight-reel plays through sheer physicality and committed aggression.
Virtanen is a "physically punishing forward who skates really well," reports Placzek. "He goes to the net with abandon, and scores a lot inside the circles."
The British Columbia native has the potential to be a stud in his own zone and grow into a punishing two-way center.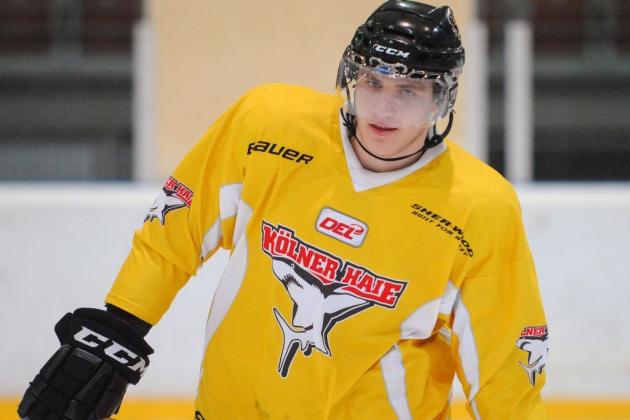 Photo Courtesy of kec-diehaie-ev.de.
Size: 6'2", 198 lbs
2012-13 Stat Line: 64 GP, 21 G, 37 A, 58 P (Prince Albert Raiders, WHL)
One of the early fast-risers of the 2014 draft projections, German native Leon Draisaitl raised plenty of conversation in 2012-13 about his potential to vault into the top five.
Draisaitl has excellent size for his age and, while he isn't a particularly hit-happy forward, knows how to use it in goal-net scrambles and tight puck battles. The 17-year-old is coming off a shockingly productive rookie season in the WHL, however, and wows scouts most with his raw playmaking skills.
Draisaitl has incredible hands and a keen awareness of how and when to make the perfect pass to spring a teammate. He drives hard to the net, and is willing to mix things up at the top of the crease when necessary. He makes difficult passes through traffic look effortless, and has playmaking vision that puts him with the elite members of his class.
Boasting a rare combination of height and finesse, Draisaitl is a dark horse to watch among the prospect ranks this coming campaign.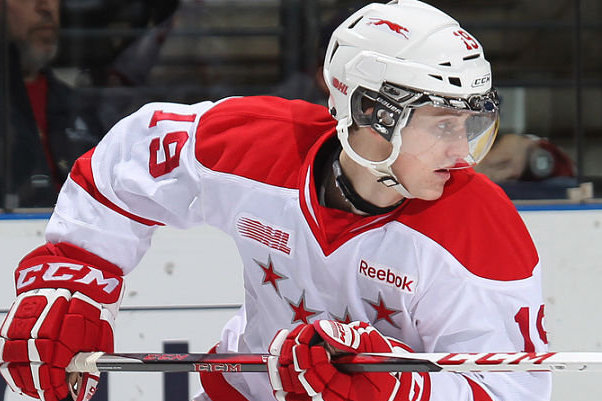 Photo Courtesy of ca.sports.yahoo.com.
Size: 6'0", 174 lbs
2012-13 Stat Line: 64 GP, 21 G, 23 A, 44 P (Sault Ste. Marie Greyhounds, OHL)
Jared McCann, along with fellow center prospects Alexis Pepin and Sam Bennett, populates a strong group of mid- to late-first round centers who could become dark horses for the top 10.
McCann carved out an impressive role on a Sault Ste. Marie team that made waves in 2012-13, recording a respectable 44 points in 64 games. The 16-year-old forward developed a good repertoire in both the offensive and defensive ends.
"[McCann is a] fearless six foot centre with very good mobility, agility, and gears," raves Placzek. "Plays strong on the puck and has impressive vision, hands, stick-handling skills and passing ability while in flight. A strong competitor who will give a good showing each night."
Fogarty also agrees. "McCann has spectacular skating ability and high level hockey sense to go with a professional-grade shot," he writes. "He is a fearless attacker, and can find or create space anywhere on the ice."
Despite his oft-mentioned aggressive tactics, McCann can still be counted on to backcheck and join a counterattack with intensity. He's poised to be a draft day sleeper.