Manchester United vs. Chelsea: 6 Things We Learned from 0-0 Draw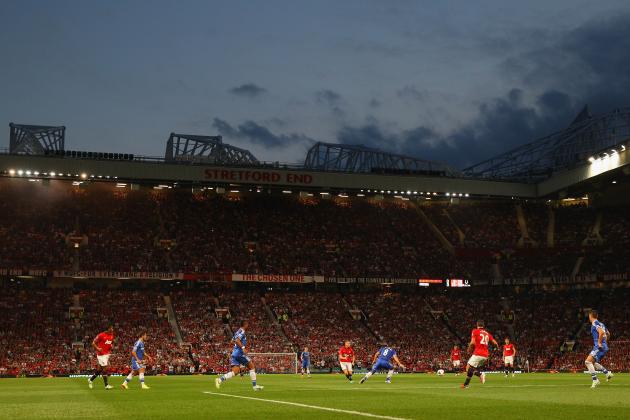 Alex Livesey/Getty Images

Chelsea extended their lead at the top of the Premier League table by a solitary point as they saw out a goalless draw with Manchester United at Old Trafford. The home side dominated the first half and certainly posed the greater threat for much of the match.
Jose Mourinho's men worked tirelessly to keep a clean sheet despite chances for Robin van Persie and Blues transfer target Wayne Rooney. Oscar's two shots on target were comfortably saved by David de Gea, and the introduction of Fernando Torres failed to find the breakthrough that the Blues were looking for.
Here are six things we learned from this Bank Holiday Monday match.
Begin Slideshow

»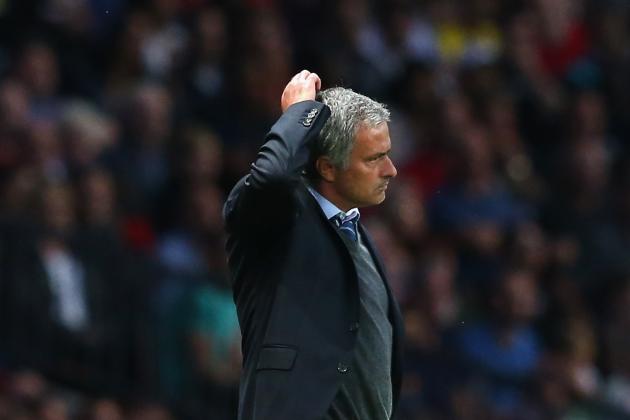 Alex Livesey/Getty Images

Mourinho elected to start without a recognised striker at Old Trafford. Ostensibly deploying a 4-2-4 formation, the idea was that the attack would move more fluidly without a designated target man.
Although the front four connected well throughout the first 45 minutes, they lacked the penetration to really trouble United's defence. Oscar had two shots straight at De Gea, but it was the home side who dominated through Van Persie and Rooney.
Without clearly designated roles, the Blues' attack seemed lost at times. When Torres came on with 60 minutes on the clock he gave the attack an impetus that it had been sorely lacking.
It is possible that Mourinho began with this tactic to show Rooney that he would be the first-choice striker again if he were to join the Blues. Whether this is the case, essentially starting four false-nines was a move so bold that it bordered on lunacy, and the experiment certainly failed.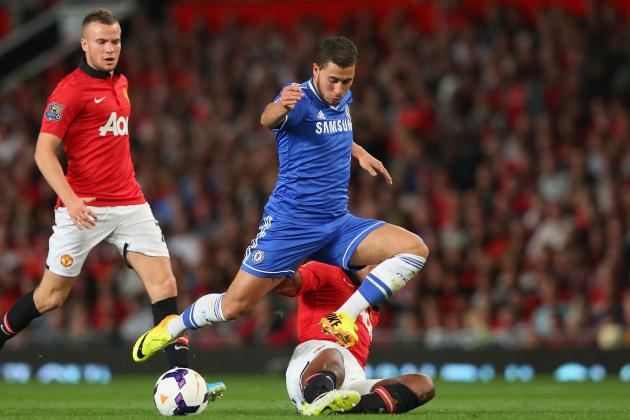 Alex Livesey/Getty Images

Mourinho has heaped a lot of praise on Eden Hazard since returning to Stamford Bridge. Although he has recognised the midfielder's obvious natural talent, he has also identified areas of his game that need to be improved.
Hazard was unlucky against Hull City as he struggled to make a significant breakthrough, but his performances against Aston Villa and United have been outstanding. As well as providing a focal point for the attack to work from, he has spent far more time tracking back and getting involved in the defensive duties.
This willingness to adapt his game shows that Chelsea's £32 million investment was a shrewd one, and if he continues at the rate he is currently improving at, Mourinho will achieve his goal far sooner than even he could have expected.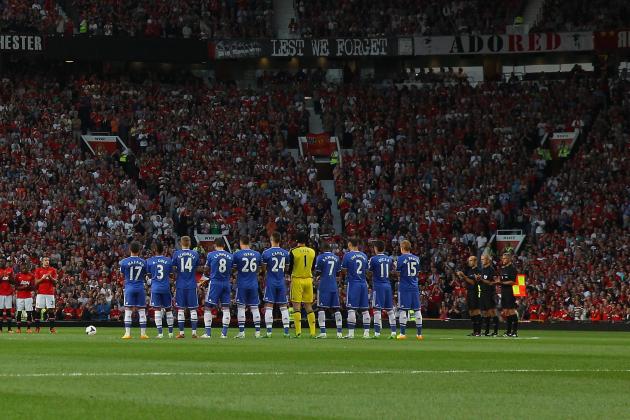 Alex Livesey/Getty Images

This match was Chelsea's third match of the Premier League season, which began on August 17. Playing three high-intensity games in nine days is bound to have an impact on the players, and it seemed as if the Blues were missing the edge that helped them to dominate their opening fixtures at Stamford Bridge.
Despite the lack of a recognised target man, Chelsea played an awful lot of long balls forward. That "route one" tactic is great when you have a Didier Drogba or a Romelu Lukaku up front. But when it is aimed at a group of players whose average height is 5'8", it tends to go awry.
Much of the pressure that Chelsea were forced to absorb throughout the first 60 minutes began with an intercepted long ball. They tightened up a bit after Torres was introduced, but with the striker unable to bring a game-changing quality to the side, the Blues were forced to waste much of their possession in the middle third of the pitch.
They can ill afford such complacency when they face Bayern Munich in the UEFA Super Cup on Friday if they want to avoid a repeat of last year's performance in the same competition.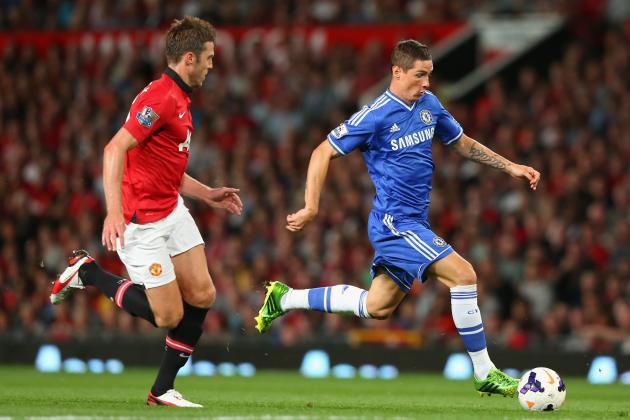 Alex Livesey/Getty Images

Torres' introduction with half an hour remaining raised a few eyebrows. After Lukaku's heroics for West Bromwich Albion on the final day of the 2012-13 season, many believed that the Belgian would start this match or at least make an appearance from the bench.
Torres started his effort well, running at the United back four and creating half a chance for Oscar. Although he was outmuscled at times, he kept chasing balls down and played with more confidence than he has in the past few seasons.
The ramifications of this are significant. It will take another appearance or two from the bench to confirm the theory, but it seems as if entering the game as a substitute relieves some of the pressure he has felt. Super-sub Torres has kind of a ring to it, don't you think?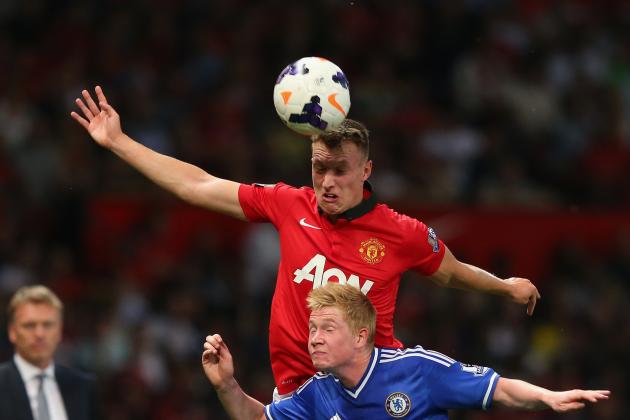 Alex Livesey/Getty Images

Expectations of the incoming playmakers are high due to the brilliance of "Mazacar" last season. Hazard and Oscar forged an instant connection with the incumbent Juan Mata, and the trio made it appear as though they had grown up kicking an empty can about on the same street.
Kevin De Bruyne started at Old Trafford ahead of Mata, as the Spaniard is still lacking match fitness. Whilst nerves are to be expected, his first touch was often poor, and he had far less impact on the game than Oscar and Hazard. Andre Schurrle certainly worked hard, but he was isolated as the appointed striker in the absence of a true No. 9.
It is natural that players will take some time to settle in to a new club, even those returning from loan. The formation against United certainly did not help their case, but it will be a while before De Bruyne and Schurrle can apply to join the Three Amigos.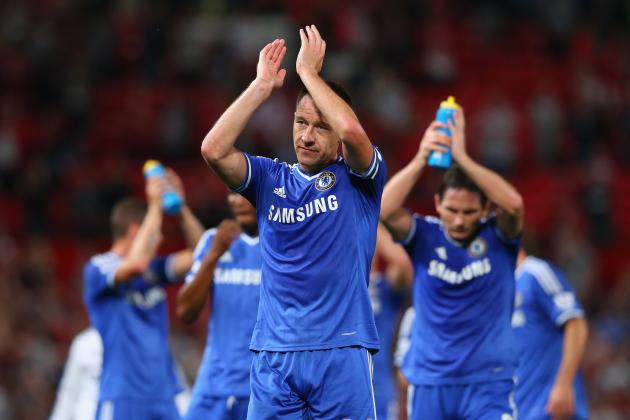 Alex Livesey/Getty Images

John Terry has certainly heeded Mourinho's words regarding his status in the squad. Having been one of the Special One's Untouchables during his first spell at Stamford Bridge, Terry was told that he would have to earn his place in the starting XI.
David Luiz's hamstring injury gave Terry a bye for the opening game of the season against Hull, but since then he has shown that he is still Mourinho's go-to centre-half. His leadership and reading of the game are unparalleled and he continues to put himself on the line for the only club he has ever played for.
His blocks and interceptions were vital to Chelsea at Old Trafford, and earned him the Man of the Match award. If he can maintain his fitness levels there is every chance that Terry will keep Luiz out of the side on merit alone.