The Biggest Questions Facing Canada Before 2014 Sochi Olympics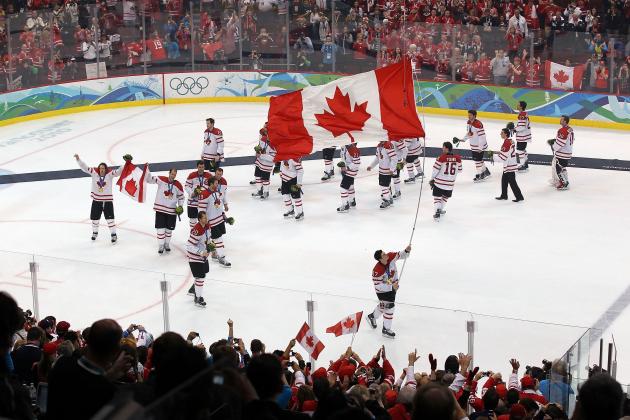 Jamie Squire/Getty Images

Hockey Canada has begun its Olympic orientation camp in Calgary, where the defending gold medalists are taking their first step toward building a team that will be expected to dominate at the 2014 Winter Olympics in Sochi.
Unfortunately for the players and coaches, insurance issues have prevented any skating from taking place during the camp. This resulted in the team going through line rushes and drills by playing a version of ball hockey.
As the Canadian coaching staff interacts with its players for the first time and assesses the roster, let's look at the most intriguing questions surrounding this squad ahead of the Sochi Olympics.
Begin Slideshow

»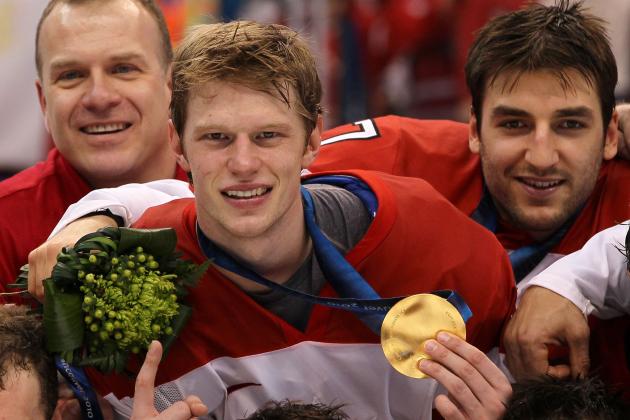 Bruce Bennett/Getty Images

Canada has an enviable amount of elite centers to choose from when constructing a final 25-man team for Sochi.
While the exceptional depth down the middle will help the squad in a major way, a lot of the stars who won't make one of the four center spots are too valuable to leave off the final roster, which will create a situation where guys play out of position on the wings.
Players who have played in the middle for most or all of their careers including Eric Staal, Logan Couture, John Tavares and Steven Stamkos might find themselves in a different role at the Olympics than they are accustomed to.
A lot of these centers are talented enough to perform at a high level in all three zones as wingers, but it's still going to be an adjustment (especially from a defensive and positioning perspective) for them, one that they won't have much time to make.
Players not being able to practice playing on the wing and develop chemistry with unfamiliar linemates during orientation camp has made the challenge of choosing which centers to play out of position a little more difficult for head coach Mike Babcock.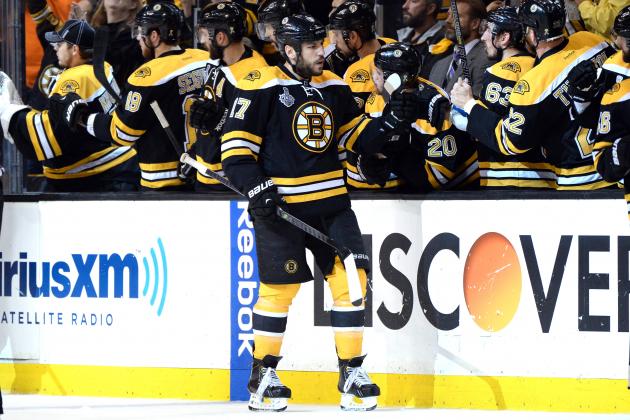 Harry How/Getty Images

The Sochi Games will use an Olympic-sized ice surface, one that is larger than what's used in all 30 NHL rinks. The bigger ice makes players who are mobile, highly skilled and quick decision-makers better fits for tournaments held overseas. It also means that slower, more physical players might be exposed.
Playing an "NHL game" overseas rarely produces positive results in the Olympics, which is why Team Canada finished in a disappointing seventh place at the 2006 Olympics in Italy.
Hockey Canada cannot construct an NHL-type of team that is well-balanced with power forwards and skilled players if it's going to win a second straight gold medal in Sochi. As a result, power forwards such as Milan Lucic, Ryan Getzlaf and Corey Perry might be left off of the final 25-man roster by general manager Steve Yzerman.
These three players are perfect for the tight-checking style of the NHL because of the truculence they play with, but on a larger sheet of ice that requires speed and quickness to be effective, players with Lucic and Perry's skill sets are not ideal.
Speedy wingers who weren't selected to the 2010 squad, such as reigning scoring champion Martin St. Louis, are better suited for the ice that will be used in Sochi.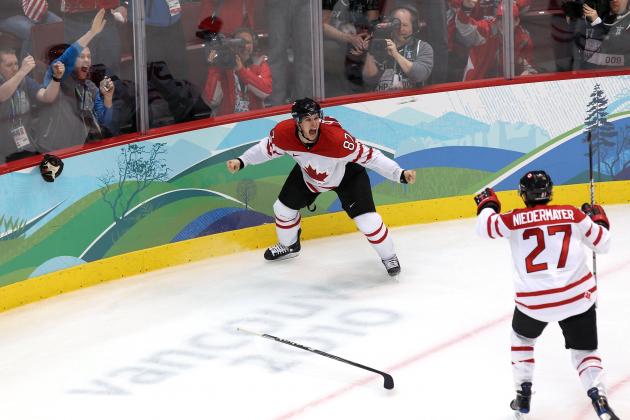 Alex Livesey/Getty Images

Finding the right linemates to make the best use of Sidney Crosby's world-class playmaking skills is a challenge that his Pittsburgh Penguins coaches deal with every year. Team Canada bench boss Mike Babcock will also face this dilemma in Sochi.
At the Vancouver games, power forwards Rick Nash and Mike Richards spent time alongside Crosby. Babcock changed his lines a bit in the gold medal game, and the decision to put Jarome Iginla with Crosby paid off as the veteran winger assisted on the golden goal in overtime.
There's a good chance that none of these three players will feature with Crosby in Sochi. The best choice would be to put elite goal scorers who play with exceptional speed alongside Crosby, and the first name that comes to mind for this role is Steven Stamkos. The Tampa Bay Lightning center is the most talented goal scorer in the world, and with an incredibly powerful and accurate right-handed shot, he's the ideal player for Crosby's right wing.
For Crosby's left wing, there are many worthy candidates. For what it's worth, Babcock put Penguins winger Chris Kunitz and Blackhawks veteran Patrick Sharp with Crosby during Monday's practice at the Canadian Olympic camp, per TSN's Pierre LeBrun.
Based on talent alone, Kunitz doesn't deserve a spot on Canada's final roster. However, his exceptional chemistry with Crosby makes him an intriguing candidate for the squad.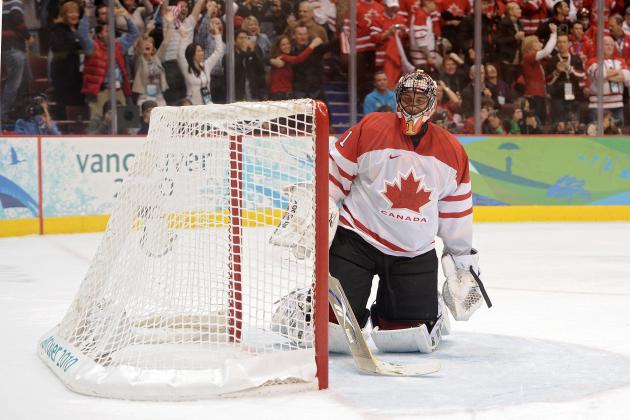 Harry How/Getty Images

Roberto Luongo has battled through a lot of adversity since he backstopped Canada to a gold medal at the 2010 Olympics with a 5-0 record and a 1.76 GAA.
Even though he's now 34 years old, Luongo remains the best choice for the starting goalie job in Sochi based on his previous Olympic experience (seven total games, 6-1 record). TSN's Mark Masters tweeted Babcock's comments on Luongo from Sunday's press conference:
What [Luongo's] got going for him is he's won in the past'; says he's handled issues in Vancouver with 'extreme class.
The starting job is Luongo's to lose going into the 2013-14 NHL season, where a strong performance in net for the Vancouver Canucks over the first few months of the year would solidify his position on the depth chart.
With that said, Luongo will have some stiff competition for the job if his play deteriorates for the Canucks. Corey Crawford has become a serious candidate for the role because of his amazing performances throughout the Chicago Blackhawks' Stanley Cup run last season. Additional options for the starting job include Carolina's Cam Ward and Phoenix's Mike Smith.
At this stage, Luongo is the best goalie to start in net for Canada at the Olympics, but by no means is he a lock for the job.
Jamie Squire/Getty Images

Canada hasn't won consecutive gold medals since 1952 in Oslo, which is also the most recent Olympics where this nation captured ice hockey's top prize overseas.
Bovada has given Canada the second-best odds to win gold in Sochi at 9/4, with Russia having the best odds at 11/5.
Apart from Canada and Russia, there are several other countries with a real chance to win the gold medal. That list includes Sweden (2006 gold medal winners), Finland (2010 bronze medal winners), the United States (2010 silver medal winners), Slovakia and the Czech Republic.
In addition to a more talented starting goalie, another advantage that these countries have over Canada is a roster full of players with plenty of experience competing on an international ice surface. Many of the players on Sweden, Finland, Slovakia, Russia and the Czech Republic play on these larger sheets of ice with their professional club. They won't have to adjust to the bigger dimensions like most of the players on Canada and the United States.
Canada learned a lot from its embarrassing Olympic campaign in 2006, and it will make adjustments to thrive in an international setting by not assembling a normal NHL-type of roster.
Nicholas Goss is an NHL columnist at Bleacher Report. He was a credentialed writer at the 2011 and 2013 Stanley Cup Final, the 2012 NHL playoffs and the 2013 NHL draft.