Breaking Down Latest News and Rumors Surrounding WWE 2K14 for Aug. 26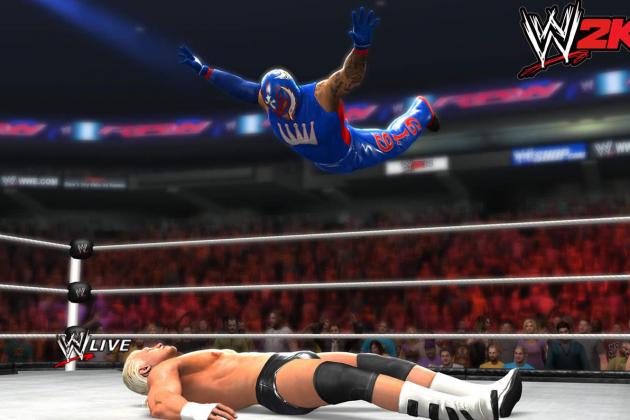 (Photo: 2K Sports)
Even after the biggest news about WWE 2K14 has come and gone, new roster members, rumors and additions continue to come to the surface.
2K Sports revealed a massive roster over SummerSlam weekend that includes everyone from King Kong Bundy to Batista. Word has also been out regarding the new 30 Years of WrestleMania mode. Following these big announcements, more game info continues to entice fans.
Additional tweaks and moves, who is a part of the continually increasing roster and just how edgy the game is going to be are among the highlights of the latest news and rumors surrounding WWE's upcoming video game.
Begin Slideshow

»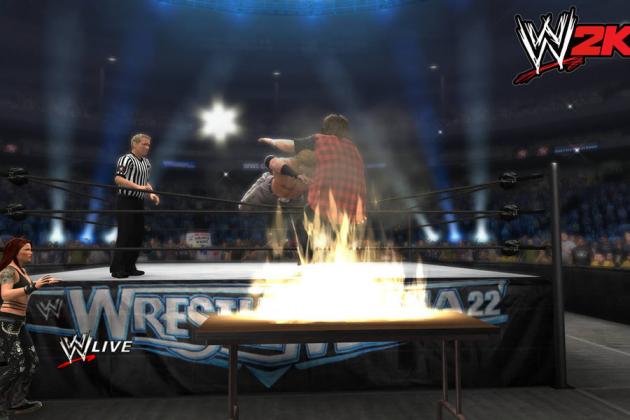 (Photo: 2K Sports)
Just because WWE 2K14 doesn't focus on the Attitude Era doesn't mean players can't expect a number of the envelope-pushing elements of that period to show up in the game.
Like WWE 13, the game is rated T, but this year's game appears to have amped up all the potentially objectionable material. Compare the Entertainment Software Rating Board rating summary for WWE 13 to the rating summary for this year's offering.
Blood appears in both games, but the developers have taken "moderate amounts of cleavage" and turned it into "large amounts of cleavage."
WWE 13 featured wrestlers, namely Steve Austin, waving partially blurred middle fingers. The rating summary lists no such censoring for giving folks the bird.
It sounds like we're getting a more accurate portrayal of Austin and others with a touch more sex appeal. These changes hint that the late '90s portions of the 30 Years of WrestleMania mode won't shy away from that era's edginess.
Of the many tweaks 2K Sports has added to the game, the improved corner moves ranks among the most exciting.
Ryback will now wait for his foe to be in position before clobbering them with his meat hook clothesline. This part of the game, like much of it, promises to be smoother and more user-friendly.
As shown in the video above, a set of instructions appears on screen for these corner signatures. Hopefully, Alberto Del Rio's superkick to a kneeling opponent is among the corner moves that make the cut, as it would look great in game form.
The game's roster continues to leak out after 2K Sports' big reveal during SummerSlam weekend.
Fans wondering if the New Age Outlaws would be available to pair up with a retro version of Triple H could be in luck. Road Dogg delivered a major hint via Twitter about him being a playable character.
2K14 looks awesome! I wanna be the Undertaker, no,wait, Stone Cold, awe heck, I guess I'll just be the RoadDogg! #OUDK

— Brian G. James (@WWERoadDogg) August 24, 2013
Road Dogg's inclusion isn't likely to affect sales much, but the bigger and more expansive the roster is, the better. The mix of time periods that WWE 2K14 boasts makes for a fun time waiting to happen.
Antonio Cesaro will be in the game as well.
Cesaro let the world know about his inclusion at GamesCom 2013. While the news may not be surprising, it looks as if 2K Sports is making the most of the Swiss Superstar.
Cesaro is one of many characters able to do springboard moves. His European uppercut looks mighty fine. In addition, 2K Sports has added some gestures for Zeb Colter's client, including adjusting his tights mid-match.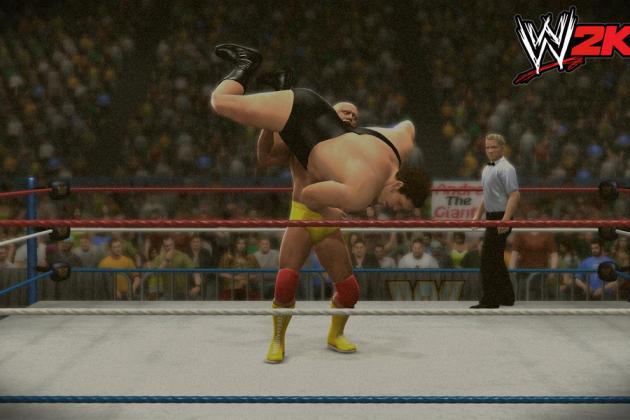 (Photo: 2K Sports)
You couldn't have a 30 Years of WrestleMania mode without Hulk Hogan.
Imagine the gaps the developers would have to leave behind if Hogan wasn't around to face Andre the Giant, The Rock or the Ultimate Warrior. However, Hogan's inclusion in the game has reportedly upset TNA officials.
As reported by Wrestling Observer, via 411Mania.com, "Hogan's contract with the company allows him to make deals outside of the company, but many people considered his signing to appear in a WWE video game as a 'slap in the face' of TNA."
You can't blame Hogan for taking the check WWE was offering him to be in this game, but TNA's position is also understandable. One of the biggest names in their company is helping promote a rival company. That's never a good business model.
The fans will be the beneficiaries as WWE 2K14, and the WrestleMania mode in particular, is significantly better with Hogan than without.