Deutsche Bank Championship Guide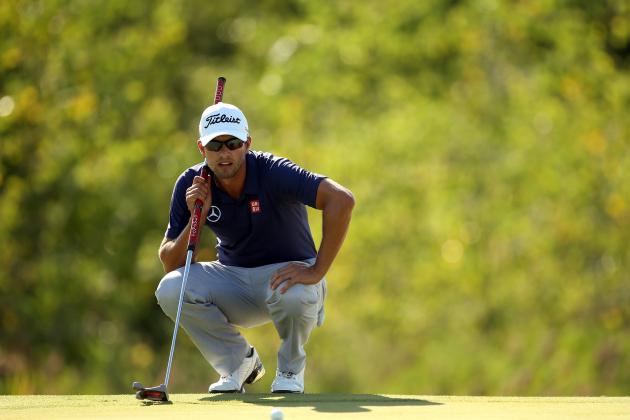 Darren Carroll/Getty Images

After an incredible weekend at The Barclays, the second event of the FedEx Cup playoffs kicks off later this week with some high standards to live up to.
It's a good thing the Deutsche Bank Championship typically delivers high drama and proven champions.
The event, which gets underway Friday and ends on Labor Day, features the top golfers remaining in the FedEx Cup—or at least we hope it will. The status of Tiger Woods remains up in the air as he deals with back problems that flared up last week at Liberty National.
If Woods is able to play, he'll be paired alongside Barclays winner Adam Scott and longtime rival Phil Mickelson in a dream grouping that will undoubtedly dominate the headlines over the first two days at TPC Boston.
Those three golfers are atop the FedEx Cup standings and are being chased by standouts such as Matt Kuchar, Justin Rose and Brandt Snedeker, another solid grouping this week.
At the bottom of the standings, 30 more golfers will see their hopes for a $10 million payday come to an end. Only the top 70 will advance to the BMW Championship in two weeks.
A number of big names, including Ernie Els and Ian Poulter, are in significant danger of being sent home after this week.
Indeed, when the Deutsche Bank tees off Friday, it will be with significant intrigue, drama and much on the line from the top to the bottom of this deep and talented field.
Get yourself ready for the second test of the PGA Tour playoffs. We'll break down whom to follow, when to watch, what to expect and where some surprises might be lurking at TPC Boston during this holiday weekend.
Begin Slideshow

»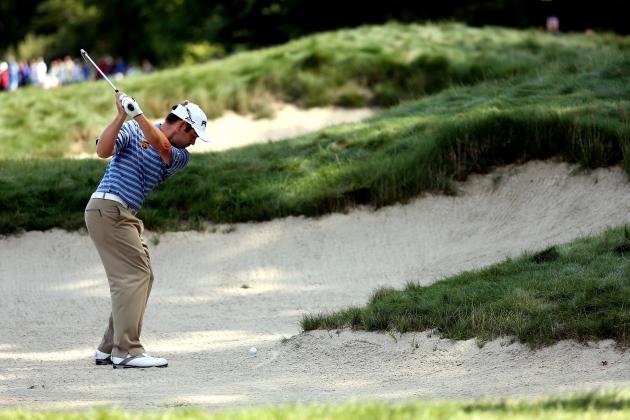 Warren Little/Getty Images

After surrendering a 20-under winning score to Rory McIlroy last year, TPC Boston looks to stand a little taller as the top 100 in the FedEx Cup return for the 2013 Deutsche Bank this week.
Part of the Tournament Players Club network, the course was crafted by the legendary Arnold Palmer and then underwent an extensive redesign in 2007 under the watch of architect Gil Hanse and former PGA Tour standout Brad Faxon.
Some of the top golfers in this year's field have won previously at TPC Boston, including Scott, Mickelson and McIlroy. In their victories, both Mickelson and McIlroy had to hold off Woods, who has also played well on the course. Scott's victory in 2003 was the first of his career.
As it's been for the past decade, a significant key to success on the lush New England layout is to take advantage of its par-fives, all three of which are reachable in two for a good portion of the field.
The trio is highlighted by the dramatic 18th, which seems to play a significant part in who wins the event every year.
Despite a renovation intended to make it play tougher, the finishing hole surrendered 144 birdies last year. Expect similar success for this year's deep and talented field.
The layout provides multiple scoring opportunities in its first five holes and then again throughout its closing four. Between, however, par is a valued score. Golfers look to keep the shots they gained in the opening before adding to them at the close.
In fact, the stretch from six to 14 features five par-fours that measure more than 450 yards, putting an equal premium on length and accuracy.
Since the FedEx Cup launched in 2007, both the course and the event it hosts have been highlights on the run to crowning a champion. Given the field that is coming and how tight things are at the top of the playoff standings, this year will be no different.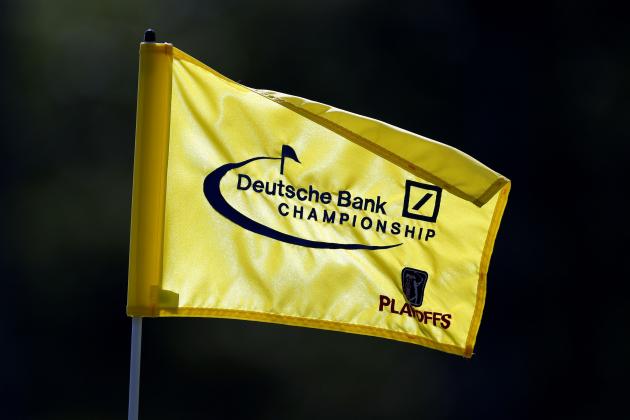 Warren Little/Getty Images

If you're looking for Thursday television listings for this week's Deutsche Bank Championship, you're a day early.
It's a holiday weekend, but the top players in the sport will be working on Labor Day. The second stop in the FedEx Cup playoffs doesn't start until Friday, and it ends Monday.
The field is loaded, and the stakes are high, so find the time between that last trip to beach or the family cookout to check out the action at TPC Boston.
Friday and Saturday
3 to 6 p.m. ET—The Golf Channel
Sunday
1 to 3 p.m. ET—The Golf Channel
3 to 6 p.m. ET—NBC
Monday
11:30 a.m. to 1:30 p.m. ET—The Golf Channel
2 to 6 p.m. ET—NBC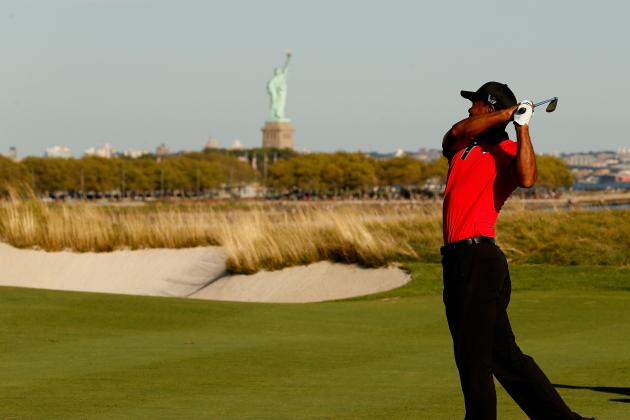 Darren Carroll/Getty Images

On the heels of his back problems at The Barclays this past weekend, the biggest question heading into the Deutsche Bank Championship is whether Tiger will be teeing it up Friday at TPC Boston.
The next question is how well he can play if he does.
Despite the back spasms that greatly hampered Woods in the final round at Liberty National Golf Club, the world No. 1 finished in a four-way tie for second behind Scott.
In the moments after just missing out on forcing a playoff, Woods was unsure whether he would play this week. The ultimate decision may not come for another day or two.
The playoffs will take next week off to allow advancing players to rest, and two weeks away from competition would certainly benefit Woods, who has played in three of the past four tournaments. That said, the Tiger Woods Foundation manages this week's tournament, making it likely the world No. 1 will want to be a part of the proceedings if at all possible.
Fewer than 200 points behind Woods in the standings is Scott, who finally got his second win of the season to go along with that green jacket he won back in April.
Well positioned to add a FedEx Cup championship to that hardware, the Australian's game has been solid this summer. He would love nothing more than to make it two in a row this week.
Players near the bottom of the FedEx Cup standings will also have some work to do; the second cut of the playoffs will come on Labor Day.
Only the top 70 golfers will move on to the BMW Championship in two weeks, meaning 30 will see their playoff hopes dashed midway through the tour's season-ending battle.
Read on to discover some top names who could be in danger of the cut come the weekend.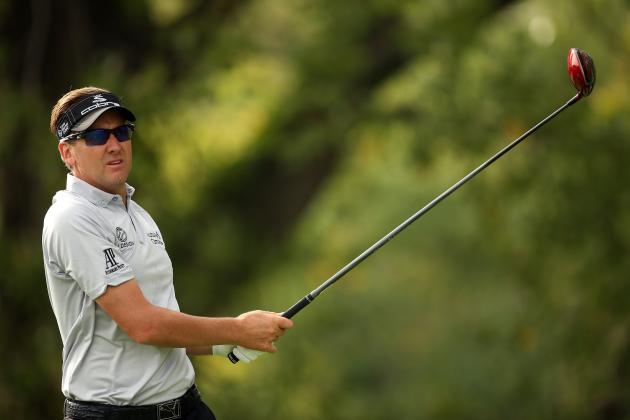 Darren Carroll/Getty Images

Twenty-five golfers were sent home from the playoffs last weekend.
Thirty more will join them next Monday when the playoffs are trimmed down to the top 70 golfers at the conclusion of the Deutsche Bank.
Projections at the beginning of the 2013 playoffs called for a point total of 807 to advance to the third round of the playoffs. Last year, the total was 829. Currently sitting a good bit outside the top 70 and with serious work to do are former major champions Els (91st, 571 points), Martin Kaymer (90th, 572 points) and Stewart Cink (85th, 580 points).
Other stars on the outside looking in are Poulter (77th, 645 points), who missed the cut last week and fell seven spots, Camilo Villegas (100th, 527 points) and Justin Leonard (98th, 536 points).
Heading into this week, 63 golfers have 814 points or more. If the prediction holds somewhere close to that 807 total, there are seven spots legitimately up for grabs this weekend.
Among the golfers from 70 to 64 who could still find themselves out in the cold come Labor Day are Tim Clark (70th, 703 points), Kyle Stanley (66th, 759 points) and Charley Hoffman (65th, 798 points).
Like the golfers outside of the top 70, those players have work left to do at TPC Boston if they're going to maintain their spots and advance.
It may not be as interesting as the battle at the top of FedEx Cup standings, but there is something intriguing about the "survive and advance" nature of the bottom of these playoff events.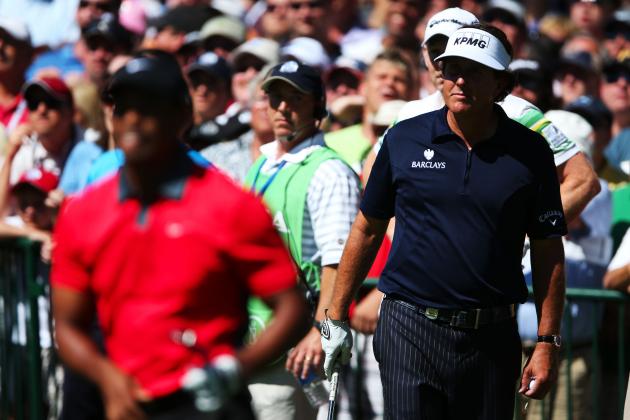 Andrew Redington/Getty Images

As they were at The Barclays, golfers are paired together in threesomes based on their FedEx Cup standings at TPC Boston.
As a result, we have some intriguing games to look forward to Friday and Saturday.
Headlining them all is the much-anticipated Tiger, Mickelson and Scott grouping that will certainly attract some serious crowds. The pairing of Kuchar, Snedeker and Rose is strong in its own right.
Here are some of the featured groups we'll be paying attention to during the first rounds of the Deutsche Bank (all times Eastern).
Friday
8:28 a.m. (First Tee)—Harris English, Bubba Watson and Zach Johnson
8:28 a.m. (10th Tee)—Graham DeLaet, Bill Haas and Jordan Spieth
8:40 a.m. (First Tee)—Jason Dufner, Boo Weekley and Hunter Mahan
8:40 a.m. (10th Tee)—Woods, Mickelson and Scott
12:46 p.m. (First Tee)—Jason Day, Bill Horschel and Webb Simpson
1:10 p.m. (First Tee)—Kuchar, Rose and Snedeker
1:10 p.m. (10th Tee)—Dustin Johnson, Rickie Fowler and Charles Howell III
Saturday
8:16 a.m. (10th Tee)—Day, Horschel and Simpson
8:40 a.m. (10th Tee)—Kuchar, Rose and Snedeker
8:40 a.m. (First Tee)—Johnson, Fowler and Howell III
12:58 p.m. (10th Tee)—English, Watson and Johnson
12:58 p.m. (First Tee)—DeLaet, Haas and Spieth
1:10 p.m. (10th Tee)—Dufner, Weekley and Mahan
1:10 p.m. (First Tee)—Woods, Mickelson and Scott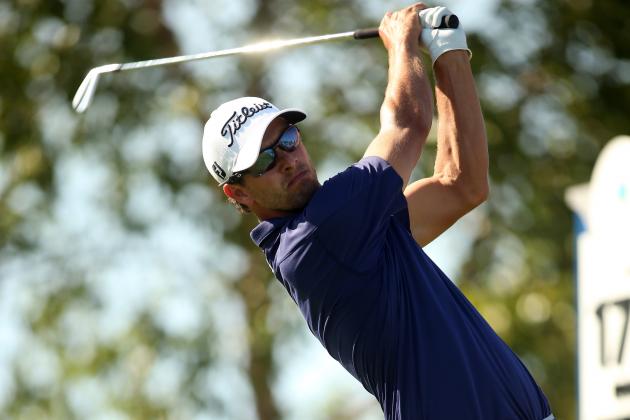 Darren Carroll/Getty Images

Scott came from behind to win last week, but he won't be sneaking up on anyone at TPC Boston this week.
The reigning Masters champion is having a career year. He is currently the chief threat to Tiger winning his third FedEx Cup title.
No golfer has won back-to-back tournaments on the PGA Tour this year, but the Aussie is a legitimate threat to do just that on a golf course that favors his combination of accuracy and power. Scott finished in a tie for seventh at 12 under last year.
As usual, his putter will ultimately decide if a third victory of the year and a trip to the top of the playoff standings are in the cards.
If Tiger plays this week, his status as a favorite will depend on the state of that balky back.
Assuming it's solid, he'll be around the lead yet again. On the other hand, if he lacks trust in it, he'll struggle with his long game and his comfort on the greens, making it very difficult to contend.
The most dangerous golfer at TPC Boston this week may very well be Mickelson. The British Open champion played his best round of golf since Muirfield this past Sunday and charged up The Barclays leaderboard in the process.
Mickelson won the Deutsche Bank back in 2007 in a final-round duel with Tiger. He finished in a tie for fourth last year.
He begins this week's event paired with Woods and Scott as a member of the FedEx Cup top three.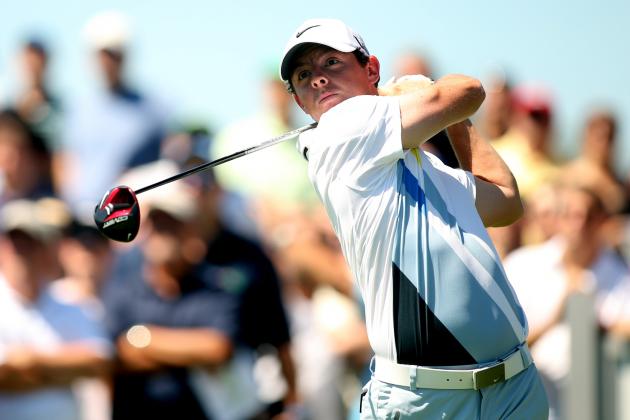 Darren Carroll/Getty Images

It's hard to imagine a McIlroy victory as a surprise, but given his struggles this year, a breakthrough at the Deutsche Bank would be a mild one at the very least.
That notwithstanding, the former world No. 1 has been playing better golf since making the cut at the PGA Championship several weeks ago.
And he's the event's defending champion.
He was absolutely dialed in at TPC Boston last year, finishing at 20 under, a stroke better than Louis Oosthuizen and two shots ahead of Woods.
It's been a difficult year for McIlroy, but a strong showing at the Deutsche Bank on the heels of his top-20 finish at Liberty National will help ease the disappointment and go a long way toward securing a trip to the Tour Championship.
Like Rory, Rickie Fowler hasn't had much to get excited about this season. But he too looked better at The Barclays. The talented American fired a second-round 64 en route to a tie for ninth at eight under. That showing moved him up 19 spots in the playoff rankings, just outside the top 20.
With a similar showing this week, Fowler will continue the climb and silence the questions about his recent struggles on tour.
Other golfers worth keeping an eye on are Hunter Mahan, Jason Day, Kevin Stadler and Webb Simpson.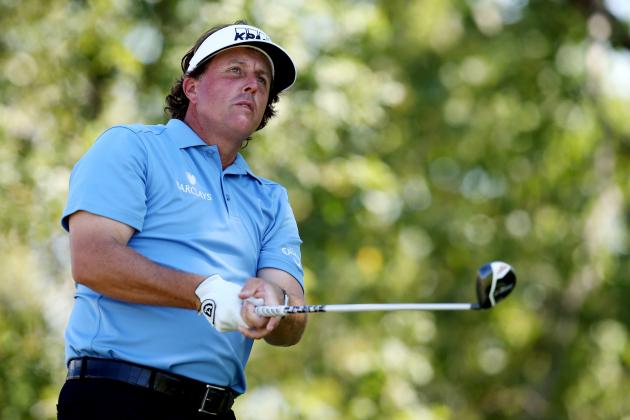 Jeff Gross/Getty Images

At The Barclays, Mickelson showed signs he was pulling out of the fog he's been in since his emotional victory in the British Open back in July.
In the Deutsche Bank, he will emerge completely and win for the second time at TPC Boston. Lefty fired a six-under 65 on Sunday at Liberty National and soared up the leaderboard to finish in a tie for sixth at nine under.
The performance also moved him up one spot to third in the FedEx Cup standings and into a group with Woods and Scott on Friday and Saturday. That grouping will keep Phil sharp and help him get off to a strong start for the first time since Muirfield.
As evidenced by his 2007 victory, TPC Boston is an ideal layout for Mickelson, who will use his power off the tee and his strong iron play to take advantage of the par-fives and manage the long par-fours in the middle of the golf course.
If he putts like he did in the Open Championship, or close to it, the rest of his game and a better mental focus will be enough to earn the golfer his fourth victory of the year.
It will also place him atop the playoff rankings with two events left to play.