Madden 25: Young Superstars You Must Acquire in Connected Franchise Mode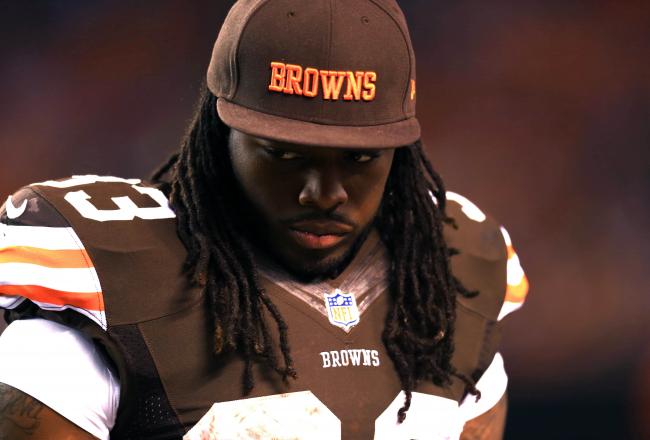 Andrew Weber-USA TODAY Sports
One of the most exciting features of the Madden series is creating a franchise, acquiring a number of young talents via free agency or trade and then watching them blossom into superstars.
It's always pleasant to have a player grow up before your eyes and turn into an absolute beast after a season or two, especially when they start with mediocre ratings in the early going.
Let's take a look at a few studs that you should try to acquire in order to build a Super Bowl-winning team around in Madden 25.
Trent Richardson, RB, Cleveland Browns – 87 Overall Rating, 22 Years Old
Richardson already has one full season under his belt and proved that he can be a bruising workhorse of a back.
Even though he was dealing with numerous nagging injuries and played more than half the campaign with broken ribs, T-Rich managed to run the ball 267 times, gaining 950 yards and scoring 11 touchdowns in the process.
Now that he's looking close to 100 percent healthy, there is no doubt that Richardson is in line for a dominant year—especially for Madden users.
His injury rating is a 95, which means he should hardly ever get hurt in the game—even when users are utilizing him on nearly every play as a rusher or receiver.
In a few years, this truck of a back will likely be at the top of the league in terms of rating and represents the perfect mix of breakaway speed and pure power that teams need near the goal line.
He's a three-down back that the Browns are building around in the NFL, and you shouldn't be afraid to do the same in Connected Franchise mode.
Dion Jordan, DE, Miami Dolphins – 83 Overall Rating, 23 Years Old
Shedding blockers has always been a difficult task in the Madden series, but it's now a bit easier in Madden 25 when compared to years past.
That should help put a premium on elite pass-rushers, especially in franchise mode, where they are relatively hard to come by.
Will Jordan be a top defensive end in Madden?
Jordan is one of the best prospects in the game in his rookie season out of Oregon, but he won't be getting much play time this year for the 'Phins.
The No. 3 overall pick in the draft has been battling injury and hasn't seen much action in the preseason due to shoulder issues and Olivier Vernon's emergence. He may even miss Week 1, but that won't be a problem in Madden.
Blessed with excellent finesse moves, speed and pursuit ratings, Jordan should have no issue knifing into the backfield and bringing down the quarterback. He'll also be able to drop into coverage and provide support there, making him a very versatile talent that can plug a number of holes for a young defense.
Given his high overall rating as a rookie, there's no doubt that he's going to rapidly develop into one of the top defensive ends in the NFL and become a true superstar in franchise mode.
Dee Milliner, CB, New York Jets – 81 Overall Rating, 21 Years Old
The Jets drafted Milliner to replace Darrelle Revis, and he quickly earned the starting nod at cornerback across from Antonio Cromartie.
After winning back-to-back titles with the Alabama Crimson Tide, Milliner is ready for his next challenge—marking some of the most gifted receivers the NFL has to offer.
It's certainly not going to be easy, but the Madden creators have deemed the young man worthy of attributes required to stick with his man and make plays on the ball.
Milliner is certainly respected in coverage, as he was adorned with an 88 rating in man-to-man and an 86 in zone to go along with 94 speed, 89 agility, 91 jumping and an 82 press rating.
He's everything a user could desire in a video game cornerback and should garner plenty of highlight interceptions if the opponent dares to pick on him in the passing game.
This article is
What is the duplicate article?
Why is this article offensive?
Where is this article plagiarized from?
Why is this article poorly edited?