Cincinnati Bengals: 8 Things We Learned Through Week 3 of Preseason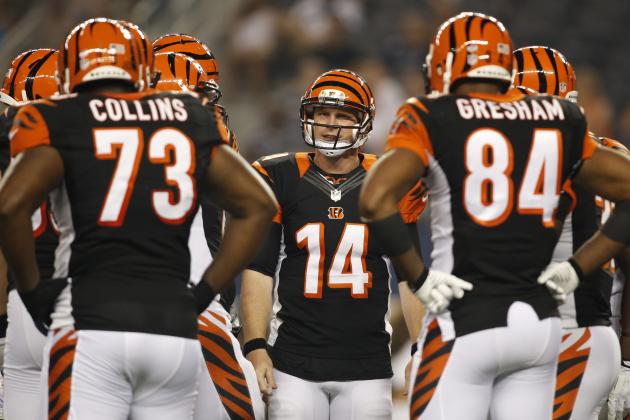 Tim Heitman-USA TODAY Sports

The Cincinnati Bengals are now through three preseason games and there has been an abundance of information compiled about the 2013 version of this football team. Most of the news out of Cincinnati has been good—there is a lot of hype surrounding this team right now. But there are still some questions regarding certain areas of the team that remain murky.
As the time comes for Cincinnati to get down to the allotted maximum of 75 players on its roster, we can reflect on what we have learned about this team as the regular season approaches.
Who has impressed so far? Who has been a disappointment? In what phases of the game will this team flourish or struggle heading into the new season?
Some of these questions now come with emerging answers. Let's take a look at what we have learned so far.
Begin Slideshow

»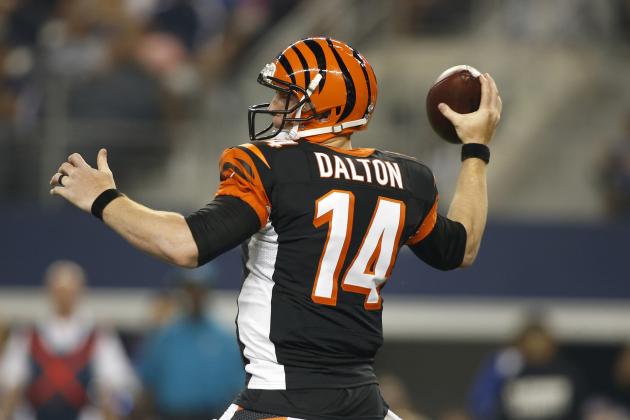 Tim Heitman-USA TODAY Sports

We have only seen a small sample size of the 2013 version of Andy Dalton. However, he does not seem to be making the strides that many have hoped for.
Dalton has completed 27 of 34 attempts for 265 yards, one touchdown and one interception over the course of the preseason—that's good for an 83.7 quarterback rating.
He continues his up-and-down patterns from game to game.
In Week 2 against the Titans, Dalton could do no wrong. He looked sharp and crisp as he went on to capture a stellar 113 passer rating.
However, just the next week, Dalton struggled greatly against the Dallas defense. While going 12-of-16 for 113 yards is good, it also came with a very poor decision that lead to an interception.
These are the things that Dalton must avoid as the regular season begins.
What have we learned about Dalton so far? It is still uncertain which version of him will show up on any given Sunday.
Scott Halleran/Getty Images

One of the most disappointing aspects of the Bengals' 2012 defense was middle linebacker Rey Maualuga. He struggled mightily throughout the season, was not granted a contract extension by the Bengals, tested the free-agent market and inevitably signed back in Cincinnati for less money.
The 2013 version of Maualuga is very different so far.
We have almost seen a complete 180-degree swing in his playing abilities. Maualuga has been staying in his gap and has not been over-pursuing against the run. He has shown fine tackling ability and has actually been solid in pass coverage. He has even shown a nice burst and increase in speed when blitzing the quarterback.
It appears as though the Bengals may have made a fantastic move when they brought Maualuga back into the fold—much to the disappointment of many Bengals fans.
The re-signing was already a bold move, but it could pay huge dividends if Maualuga can keep up this high level of play during the regular season.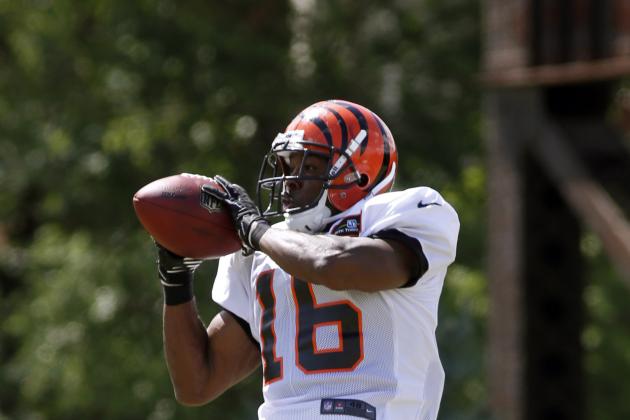 David Kohl-USA TODAY Sports

Before training camp began, the certainty among many was that there were four wide receiver roster spots that were already locked up. They belonged to A.J. Green, Mohamed Sanu, Marvin Jones and Andrew Hawkins.
The rest were up for grabs.
However, the injury to Hawkins could open the door for more options at receiver since it appears that he will be sidelined for a good portion of the season.
The Bengals generally keep six wide receivers which means that there are now three open roster spots to open the season.
Brandon Tate has been impressive as a receiver and on special teams throughout the preseason. He has done well enough to earn a roster spot this year.
Dane Sanzenbacher wowed everyone early in the first preseason game against the Falcons, but he has been quiet ever since.
Rookie Cobi Hamilton and veteran Ryan Whalen seem to be struggling with inconsistency, while UDFA Roy Roundtree has not seen much playing time yet.
Even with an additional roster spot open due to the Hawkins injury, the winners of this battle are still very difficult to predict.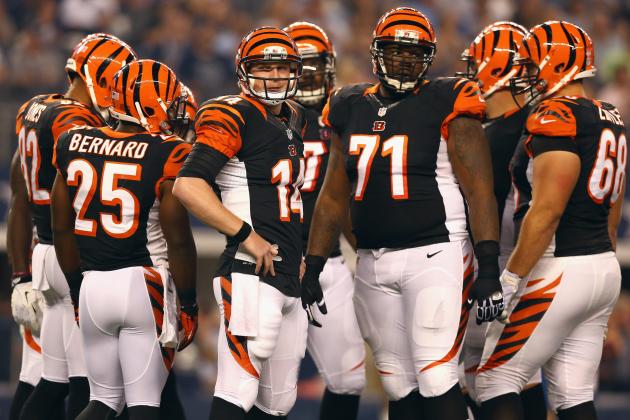 Tom Pennington/Getty Images

After some tough injuries to some key offensive players, the Bengals received some good news. Joe Reedy of the Cincinnati Enquirer reported that Green and Andre Smith will be good to go for the season opener against Chicago. However, Andrew Whitworth is still a mystery as he continues to rehab.
The silver lining here is that the Bengals will not be missing both starting tackles against a very good Bears pass rush and Dalton will have his top receiving threat at his disposal to start the new season.
It is doubtful that any of these three players will see much—if any—time in Week 4 of the preseason as the coaching staff will likely take necessary precautions.
We'll be keeping an eye on Whitworth as the season nears to get a better perspective on his chances of suiting up in Chicago in Week 1.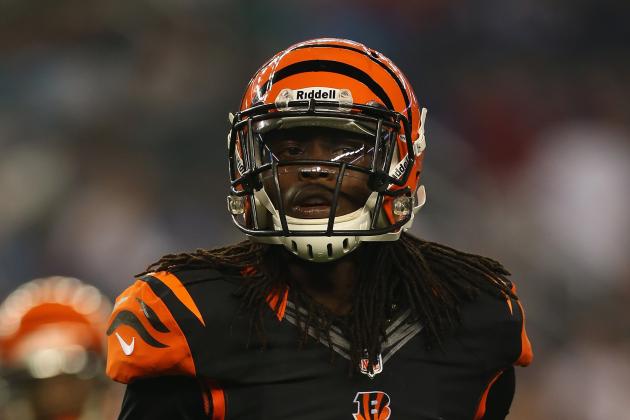 Ronald Martinez/Getty Images

There was a good amount of anticipation regarding former first-round selection Dre Kirkpatrick as we began to head into the new season. Many fans and pundits were uncertain as to how much Kirkpatrick could actually contribute after missing almost his entire rookie season due to injuries.
We finally got a longer glimpse at the cornerback against the Cowboys during the Bengals' third preseason game this past week.
Kirkpatrick showed promise, but he also showed that he still has a long way to go.
The positive side for Dre is that he seems able to shadow faster receivers in man coverage. This is a good sign going forward. Unfortunately, he showed an inability to play the football—he struggled to turn around and find the ball in time which led to a Dallas touchdown and two pass interference penalties against the second-year corner.
It appears as though Kirkpatrick will not be challenging veteran Terence Newman for his starting role any time soon.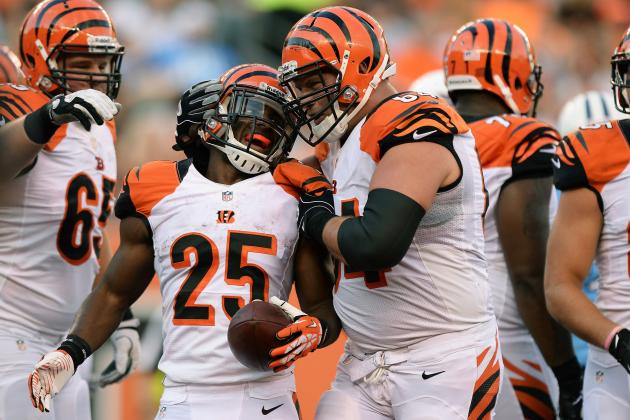 Jamie Sabau/Getty Images

Giovani Bernard is quickly becoming a fan favorite with his incredible burst through open holes at the line of scrimmage and ankle-breaking cuts causing the surest of tacklers to miss him in space.
Aside from his talents running the football, he has also flashed his ability to be a reliable receiver as well. Bernard could very well be the most impactful rookie on the Bengals squad this year as has been shown throughout the preseason.
Bernard has compiled 23 rushes for 104 yards—4.52 YPC—and two scores through the preseason. He has also caught six passes for a total of 55 yards.
He needs to improve in pass protection if he is going to claim more of a full-time position in the backfield, but his production as a ball-carrier and receiver has been stellar so far in the limited, yet highly anticipated action from the rookie running back.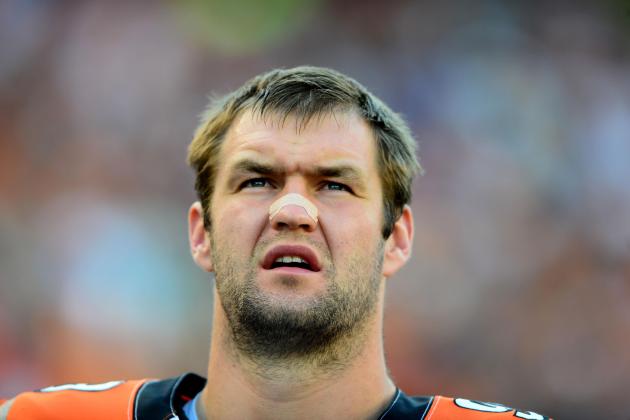 Andrew Weber-USA TODAY Sports

Coming into the 2013 season, not much was initially expected about the Bengals' new defensive end from Estonia. The second-round selection was known to be very talented yet extremely raw. Margus Hunt has only four years of football under his belt heading into the season—it certainly shows.
Hunt has had difficulty with his technique so far—he must get his pads lower and his hands up against offensive tackles. He has gotten away with poor fundamentals throughout college due to his sheer strength.
Strength will not get him far in the NFL. The competition is much stronger and more fundamentally sound than his former competition while he was at Southern Methodist University.
Luckily for Hunt, the Bengals have no need to play him so early in his NFL career. The defensive line is very deep and the team already has a strong rotation without the rookie in the mix. This will give Hunt a great opportunity to work on his game before he is needed to contribute in year two.
Don't expect to see much of Hunt over the course of the 2013 season.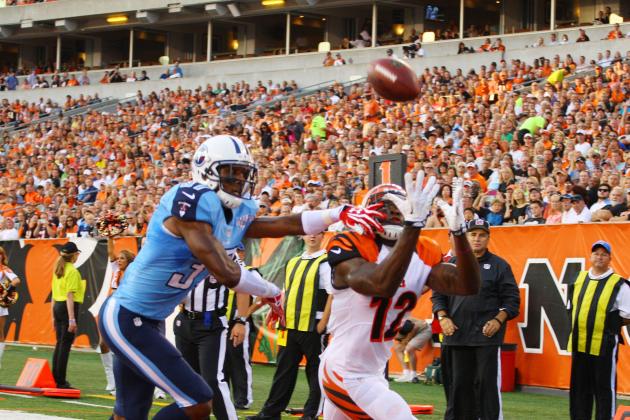 Brian Spurlock-USA TODAY Sports

The Bengals are not flying under the radar as they were in previous years. The 2013 version of this team is being recognized in many circles by NFL pundits. Simply put: this team must be ready because they will not sneak up on anyone this season.
Highly respected columnists Pete Prisco and Michael Silver, along with former NFL player Darren Sharper, have all picked the Bengals to represent the AFC in the Super Bowl this year.
With exposure like this, the Bengals must be in top form as they enter the new season. In the past they have been able to sneak up and surprise some teams—not this year.
After these bold predictions by widely renowned analysts, this Bengals team may as well just have a huge bull's-eye on its back.