2014 NFL Draft Stock Report, Preseason Edition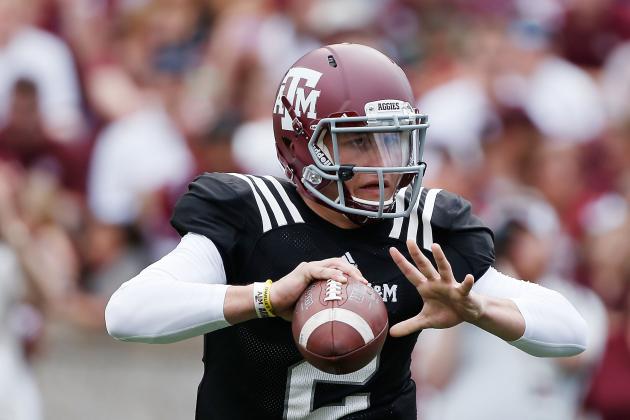 Scott Halleran/Getty Images

Which 2014 NFL draft prospects benefited from great summers to propel their draft stocks up as we head into the season? Which guys had issues on and off the field that resulted in downward-trending draft stocks?
Our first "Stock Watch" of the season isn't about on-field play, at least not yet. It focuses on the players who saw their draft stocks change the most over the summer. That might be due to increased time, study film, off-field issues or lost starting jobs.
The good news is that players with poor stock momentum have time to reverse their fortunes on the field. And those players who see their stocks moving up? All they have to do is continue doing what's working.
You will also notice something new this year—a weekly pro-player comparison tracker. This will give you an idea of the type of player the prospect is projected to be like on any given week. Tracking Matt Barkley last year would have seen him go from a Drew Brees-like passer to an Alex Smith-style ranking instead.
Begin Slideshow

»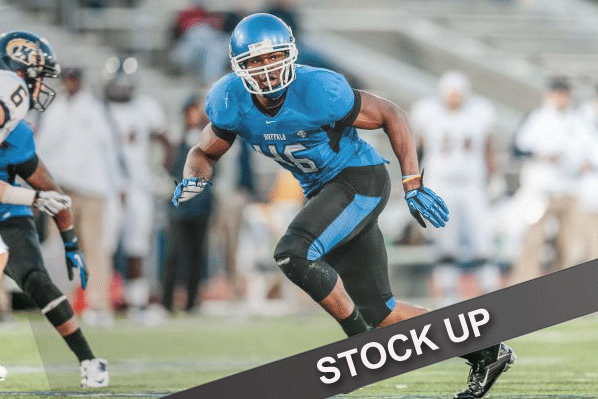 Current Ranking: No. 55 overall
Small-school pass-rusher Khalil Mack has made his way up my board over the summer, thanks largely to a bigger film catalog to work through. He has the ability to stand up on the edge and start on Sundays next fall.
Mack has quickness, but he's also able to convert that quickness to power—something every outside linebacker must be able to do if they want to beat offensive tackles in the NFL. He's still a bit raw, and admittedly he's only been scouted against third-tier competition, but the athletic ability and traits needed to play a vital role in the NFL are noticeable.
Mack is trending in the right direction early. He could be a sleeper-type outside linebacker all season.
Week 1 Pro Player Comparison: Sio Moore, Oakland Raiders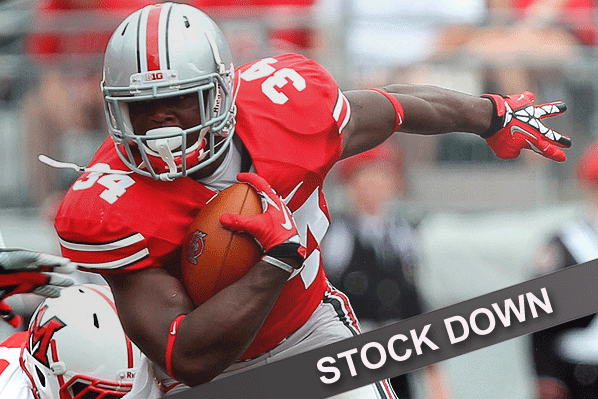 Current Ranking: No. 146 overall
For scouts, analysts and fans that like a big, bruising running back, Carlos Hyde is your guy. And he looked ready to hit the ground running this year until a three-game suspension was handed down.
Not only will he miss three games, but he was also suspended for all team activities this summer—meaning he'll likely be eased into the lineup instead of coming in ready to rock in Week 4.
Hyde will get his chance to rehabilitate his image and his draft stock, but not until he touches the football again. NFL scouts, and even the media, have a way of forgetting off-field issues if a player produces. Hyde needs to produce to get the bad taste out of the mouths of evaluators after his off-field mishap.
Week 1 Pro Player Comparison: Chris Ivory, New York Jets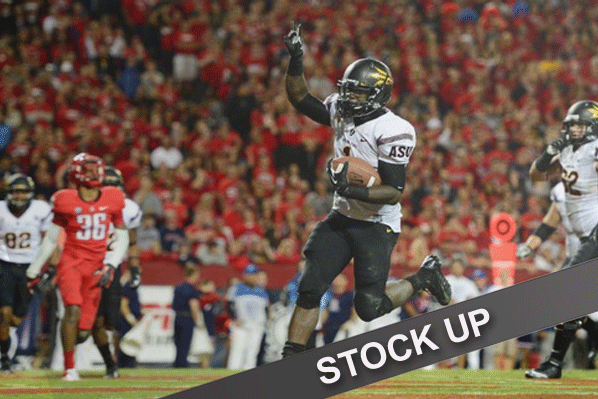 Current Ranking: No. 54 overall
The best college running back that most people have never heard of, Arizona State's Marion Grice did some amazing things with the football last season.
Now that the starting job is his alone, he's primed to do even more.
With 19 touchdowns on just 144 touches, Grice was able to put the ball into the end zone every 7.6 times he touched it. That's unreal. With ability as a runner and a receiver, he's a perfect fit for NFL offenses that value receivers out of the backfield. And at 6'1", 204 pounds, he's big enough to carry the load between the tackles.
It's rare to find a back with speed, hands and size. Grice has all three, and that's why his stock is soaring heading into the season.
Week 1 Pro Player Comparison: Matt Forte, Chicago Bears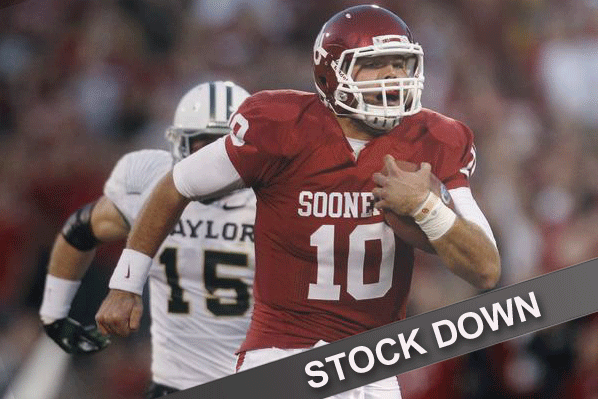 Current Ranking: Not Ranked
Losing the starting job is a good way to start trending down before the season begins. At Oklahoma, quarterback Blake Bell faces that reality.
Despite handling the ball often for the Sooners offense in 2012, the starting job went to Trevor Knight after a heated battle throughout August practice. While the "Belldozer" offense may still be a possibility in short-yardage situations, this was to be the junior's chance to show off the arm that had him ranked as a top dual-threat passer coming out of Wichita, Kan., in high school.
Bell did have great arm strength in high school, but he's not had the chance to showcase his passing ability at Oklahoma. Barring injury or a change of heart by coach Bob Stoops, he's unlikely to get that chance.
Week 1 Pro Player Comparison: Collin Klein, formerly Houston Texans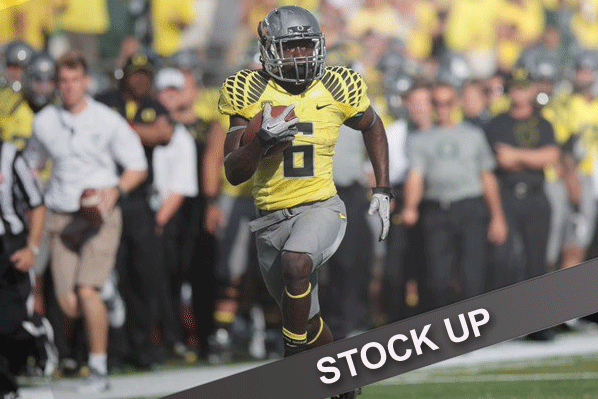 Current Ranking: No. 13 overall
De'Anthony Thomas may not have a true position in the NFL, but he may not need one either.
Four years ago, a player like Thomas would have been looked down on by NFL scouts who wanted to place each player in a neat little box when classifying them.
Today, guys like Percy Harvin, Tavon Austin, Denard Robinson and Ace Sanders are dispelling that notion. NFL scouts are focusing on what a player can do and less on how to make them fit into an antiquated mold.
Thomas, like Austin, is capable of playing multiple positions. He'll line up at running back, wide receiver and return man for Oregon this year. He'll operate as a runner, pass-catcher, blocker and all-around badass with the ball in his hands.
Thomas is the type of player I would have labeled as a college-only star just a few seasons ago, but the production from smaller, shiftier offensive players has paved the way for him to become a star in the NFL.
Just get him the ball.
Week 1 Pro Player Comparison: Tavon Austin, St. Louis Rams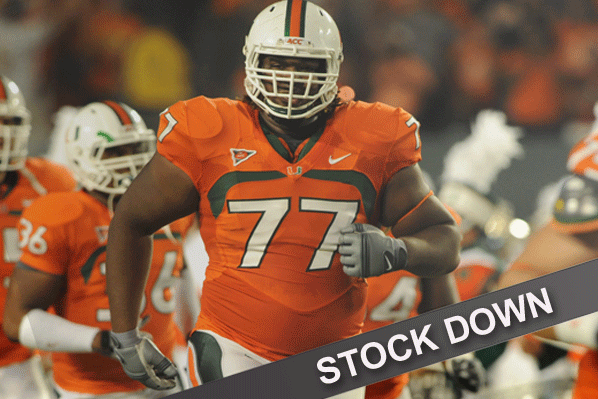 Current Ranking: No. 89 overall
Seantrel Henderson was supposed to be a sure thing.
Coming out of high school, he was recruited by all the major schools and received a high ranking from Rivals.com, among others. Even after leaving USC for Miami, he was perceived as this great prospect who just needed to find his home.
Now we're entering Henderson's senior season, and we're still waiting. Prep rankings matter up until the player puts on a college jersey, but in this case we're seeing a player who is still propped up only because of what he did in high school. Mentions of Henderson as a first-round prospect are just that—his reputation being weighed over his performance.
The former No. 1 overall offensive lineman will be the Hurricanes' No. 2 right tackle heading into the season—a far fall, and one that will hopefully serve as a wake-up call.
Henderson has talent, but consistency has never been part of his repertoire.
Week 1 Pro Player Comparison: Andre Smith, Cincinnati Bengals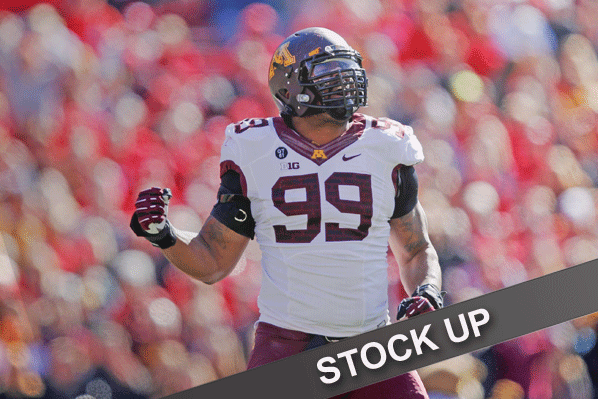 Current Ranking: No. 39 overall
Ra'Shede Hageman is a force. Plain and simple.
Ranked as the No. 2 "Freak" on Bruce Feldman's annual list of college football athletes, Hageman has turned heads on and off the field. Now the key is to take that unreal athletic ability and turn himself into an unreal football player. He can do it.
Hageman is blessed with natural strength and quickness, but like most college players who are bigger, stronger and faster than others, he'll rely on natural ability over technique at times. That's an easy fix for most players, though.
If Hageman shows in 2013 that his technique is starting to catch up to his ability, he'll be shooting up the Stock Watch board.
Week 1 Pro Player Comparison: Henry Melton, Chicago Bears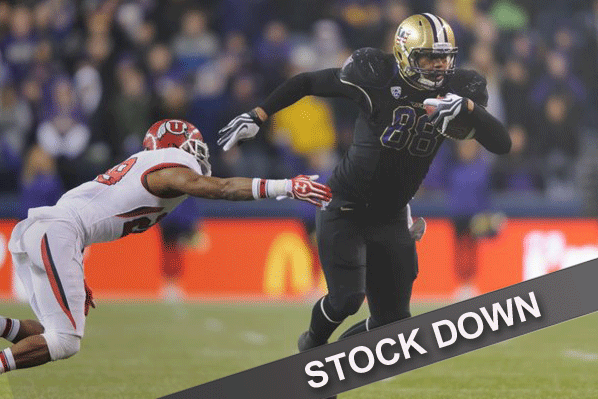 Current Ranking: No. 36 overall
Two things hurt a player's draft stock the most before the season begins: injury and off-field issues. Washington tight end Austin Seferian-Jenkins is dealing with both.
First, the injury. Seferian-Jenkins suffered a fractured pinkie that required surgery. It may seem minor, but that could limit him early in the season. Washington does list the big tight end as a starter for Week 1, but all eyes will be on his availability and production.
Now for the off-field issues.
In March, Seferian-Jenkins was arrested and pleaded guilty to a charge of driving under the influence. This came after a car accident in which the tight end's car was "found at the bottom of a catch basin" near the university.
Driving under the influence and fractured pinkies can add up, but they can also be forgiven and forgotten if Washington's go-to player produces like he has in the past.
Week 1 Pro Player Comparison: Jimmy Graham, New Orleans Saints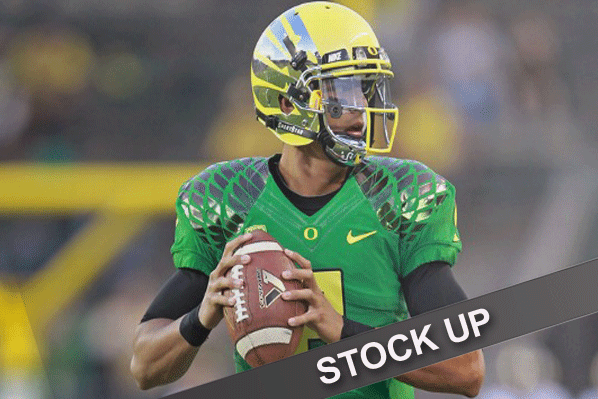 Current Ranking: No. 3 overall
There was a time not long ago when running quarterbacks were viewed as college-only fads. Then Randall Cunningham and Steve Young cracked that door open. Following them, Michael Vick kicked the door in.
Since then, players like Robert Griffin III, Colin Kaepernick, Cam Newton, Russell Wilson and others have proven that a running quarterback can work in the NFL if he can also succeed as a passer.
Now we see an evolution on offense, where running quarterbacks are valued in cases where they are also developed passers. The only quarterback drafted in the first round of the 2013 NFL draft was a mobile quarterback (EJ Manuel), something unheard of 10 years ago.
As the league's perception of quarterbacks changes, Marcus Mariota stands to gain the most.
The Oregon passer is a dual-threat, but he's not dependent on his feet to make plays. Instead, he's the perfect blend of passer and runner, showing off a total athletic ability that makes him nearly impossible to scheme for.
Mariota must prove he's able to work outside the vaunted Chip Kelly offense, but if he does that, he'll secure his spot as a top quarterback—and maybe the top quarterback. Mariota has the ability to be the best quarterback prospect in college right now, over Teddy Bridgewater and others.
Week 1 Pro Player Comparison: Colin Kaepernick, San Francisco 49ers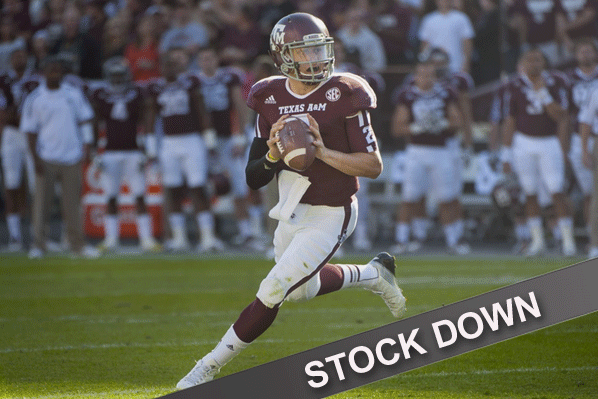 Current Ranking: No. 23 overall
Evaluating Johnny Manziel is one of the most difficult tasks I've encountered in my 10 seasons grading NFL draft prospects.
On the field, Manziel is dynamic, elusive, innovative and transcendent. He's also small (6'0", 200 lbs) and relies too often on his feet to make plays happen. He has the arm talent to make every NFL throw, but he has yet to prove that he can consistently place the ball where it needs to be. He's also won a Heisman trophy.
His upside is huge, but it's all riding on potential right now. Such is life for a redshirt sophomore.
Off the field, Manziel is an enigma. There have been arrests, fights, rumors of taking money and underage drinking.
You may not like Manziel, and you certainly don't have to, but it has to be acknowledged that NFL teams will draft talent over character. The story of Manziel's maturity and character haven't been completely written yet. But in that same vein, we must realize that more than any other prospect in the 2014 class, he has the room to move up or down in drastic measures depending on his on- and off-field performances this season.
On the field, he's a first-round prospect. Off it? We'll see.
Week 1 Pro Player Comparison: Michael Vick, Philadelphia Eagles