UFC Fight Night 27 Weigh-In Results: Condit vs. Kampmann II Fight Card
UFC Fight Night 27 comes to you this week on Wednesday, August 28, from Indianapolis, Ind. Headlined by a rematch between Martin Kampmann and Carlos Condit, a great night of fights is expected, as the card is stacked with up-and-coming talent from top to bottom.
Check back here for the full weigh-in results, which will come in at 4 p.m. ET on Tuesday.
Main Card (Fox Sports 1)
Carlos Condit (170.5) vs. Martin Kampmann (170)
Donald Cerrone (156) vs. Rafael dos Anjos (155.5)
Kelvin Gastelum (170) vs. Brian Melancon (170)
Erik Perez (135.5) vs. Takeya Mizugaki (135.5)
Court McGee (170) vs. Robert Whittaker (170.5)
Brad Tavares (186) vs. Robert McDaniel (185)
Preliminary Card (Fox Sports 2)
Dylan Andrews (185) vs. Papy Abedi (184.5)
Justin Edwards (170) vs. Brandon Thatch (170)
Darren Elkins (145) vs. Hatsu Hioki (146)
James Head (170.5) vs. Jason High (171)
Preliminary Card (Facebook)
Zak Cummings (170.5) vs. Ben Alloway (170)
Roger Bowling (155.5) vs. Abel Trujillo (155)
Thanks for being with Bleacher Report for the weigh ins. They went without incident, as every man came in at their contracted weight. Join us tomorrow for the fights.
Lastly, we come to the main event between Carlos Condit and Martin Kampmann. We see a video package first. Kampmann weighs in first, tipping the scale at 170. Condit was the last man to weigh in, coming in at 170.5. They had a respectful staredown to end the weigh ins.
The co-main event was next, as Donald Cerrone and Rafael dos Anjos took to the scales. The Brazilian came in at 155.5, while the American was 156.
Next up are welterweights Brian Melancon and Kelvin Gastelum. Melancon had no issues, coming in at 170 pounds on short notice. Gastelum, dropping from middleweight, also came in at 170.
Next up are welterweights Court McGee and Robert Whittaker. Whittaker weighed in first at 170.5, while McGee followed up at 170.
Bantamweights were next, as Erik Perez and Takeya Mizugaki stepped up next. Both came in at 135.5 and had a playful staredown.
Bubba McDaniel and Brad Tavares weighed in next. McDaniel made it at 185, while Tavares came in at 186 weight.
Sweden's Papy Abedi and New Zealand's Dylan Andrews are up next. Abedi weighed in at 184.5, while Andrews was 185.
Next up are newcomer welterweight Brandon Thatch and Justin Edwards. Both weighed in at 170 and squared off respectfully.
Next up are Japanese featherweight Hatsu Hioki and Indiana counterpart Darren Elkins. Hioki weighed in at 146, while Elkins tipped the scales at 145 pounds. The two shook hands and squared off.
Next up are welterweights Jason High and James Head. High made the limit at 171 pounds. Head weighed in at 170.5. The two stared down without incident.
Next up are welterweights Ben Alloway and Zak Cummings. Alloway weighed in at 170. Cummings, looking trimmer from his TUF days, weighed in at 170.5. They too went forehead to forehead, forcing a break by Silva again.
First to weigh in will be Strikeforce vet Roger Bowling and Blackzilian rep Abel Trujillo. Trujillo steps up first at 155 pounds. Bowling tips the scales at 155.5 pounds. They square off forehead to forehead before being broken apart by Joe Silva.
We are live and ready to go here. Right now, they are doing the weigh-in "preshow" with Karen Bryant, Chael Sonnen and Rashad Evans. Next update will be when the fighters actually start stepping on the scale.
We are just under an hour until weigh-ins. Check back with us at the top of the hour for up-to-date information on the fighter's weight and staredown activity.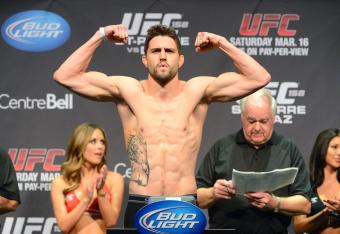 We are a little over two hours til the fighters tip the scales. Stay with Bleacher Report for live updates as the fighters weigh in, starting at 4 EST!
The weigh-ins will begin at 4 PM ET on Tuesday. Join Bleacher Report for the live updates as they come.
This article is
What is the duplicate article?
Why is this article offensive?
Where is this article plagiarized from?
Why is this article poorly edited?