1 Bold Prediction for Top 20 NBA Stars Heading into 2013-14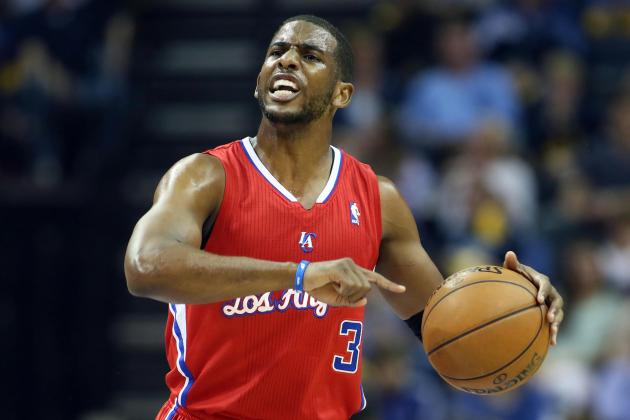 Nelson Chenault-USA TODAY Sports
On a revamped Los Angeles Clippers squad, Chris Paul is one of the front-runners to capture MVP honors this season.
With the 2013-14 NBA season quickly approaching, it's time to make predictions, and lots of them. Paramount among them will be determining who has the best title odds, but for now it's time to examine the superstars who will play a significant role in how this season shakes out.
Among the burning questions facing individual players are the following: Will LeBron James win his third straight MVP? Can Kevin Durant reclaim the scoring crown? And is Houston the right place for Dwight Howard?
The following predictions may be a bit strong, but please remember these are bold forecasts based on past statistical trends and current roster compositions.
Begin Slideshow

»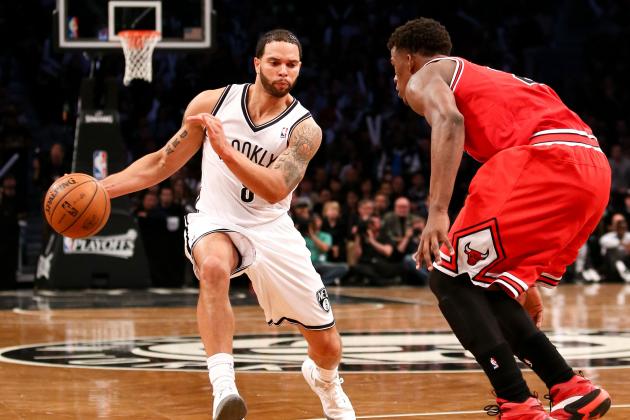 USA TODAY Sports

Prediction: Deron Williams shoots 40 percent from three.
The Brooklyn Nets enter the 2013-14 season fully loaded and ready to compete for an Eastern Conference title.
On paper, the Nets are undeniably the East's most impressive team from top to bottom. With a starting lineup that will presumably boast five All-Stars, it will be fascinating to see how the games of highly regarded players morph over the course of the season.
For point guard Deron Williams, this coming season is an opportunity to take the reins of a potentially prolific offense, one that will play primarily in the half court. The Nets finished 28th in pace last season, per Basketball-Reference, and have only gotten older.
In Williams' case, that will mean dishing the ball out and having a chance to average 10 assists for the first time since 2010-11, but it also means he'll have more space to operate beyond the arc thanks to the presences of Paul Pierce, Andrei Kirilenko and Joe Johnson.
Only once in his career (his rookie season) has Williams shot 40 percent or better from beyond. But if the Nets offense lives up to the hype, he should have an opportunity to eclipse that mark again.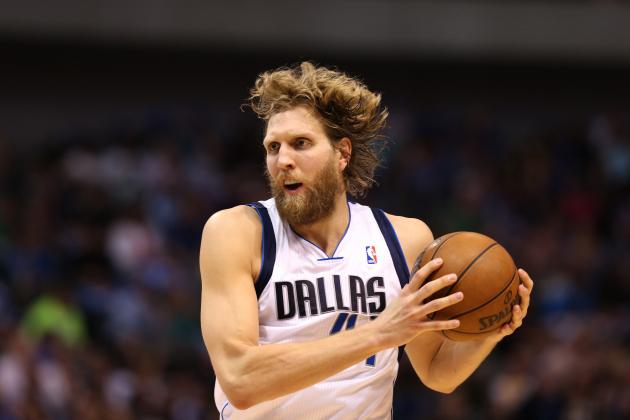 USA TODAY Sports

Prediction: Dirk Nowitzki enters 50/40/90 club for the second time.
Considering where Dirk Nowitzki is at this stage in his career, projecting him to post 50/40/90 averages at age 35 seems a tad ridiculous.
However, Dirk hovered around 50/40/90 territory last season in 53 appearances, shooting 47.1 percent from the field, 41.4 percent from three and 86 percent from the line.
Nowitzki is also coming off a down year, one in which he didn't average 20 points for the first time since 1999-00. And now that the Mavericks offense revamped with Jose Calderon running the point, expect plenty of fireworks from Rick Carlisle's bunch this season.
Nowitzki has broken the 50/40/90 barrier once before, in 2006-07, when he posted shooting splits of 50.2/41.6/90.4.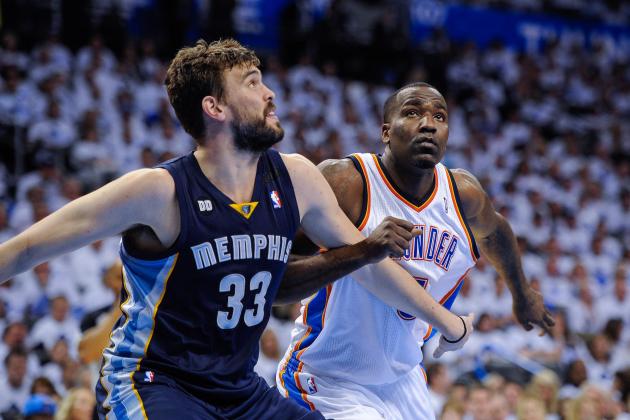 USA TODAY Sports

Prediction: Marc Gasol repeats as Defensive Player of the Year.
The NBA's Defensive Player of the Year award has a long history of repeat champions (Dwight Howard, Hakeem Olajuwon, Dikembe Mutombo Ben Wallace and Alonzo Mourning, to name a few), just another reason why the Memphis Grizzlies' Marc Gasol has a chance to reclaim the hardware in 2013-14.
Gasol won the league's Defensive Player of the Year award last season after anchoring a tenacious Memphis defense that surrendered a league-lowest 89.3 points per game.
However, despite earning that high honor, Gasol was left off the All-Defensive first team, with Tyson Chandler and Joakim Noah both earning nods at center.
With defensive mastermind Dave Joerger now in charge of the Grizzlies, expect more of the same from Gasol, who posted a career-best defensive rating of 98 last season, per Basketball-Reference.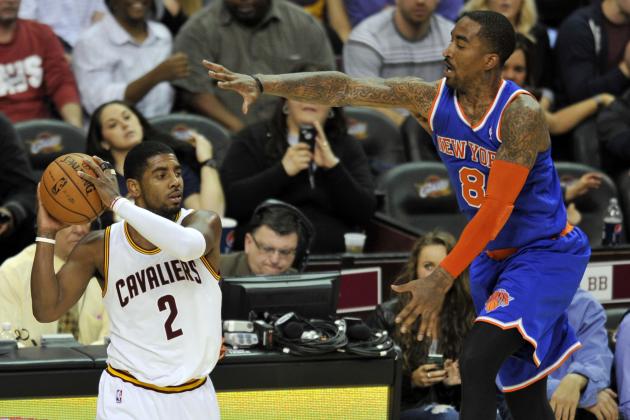 David Richard-USA TODAY Sports

Prediction: Kyrie Irving cracks the league's top 20 in assist-to-turnover ratio.
The mark of great dual-threat point guards like Chris Paul and Rajon Rondo is their ability to take care of the ball and create for teammates.
For Kyrie Irving, that's one crucial area in which he needs to improve. Last season, Irving averaged 5.9 assists and 3.2 turnovers per game, good for an assist-to-turnover ratio of 1.83. That mark ranked 63rd in the NBA.
For context's sake, the players surrounding Irving on the list were all shooting guards or wings. Dwyane Wade ranked 64th with a ratio of 1.81, while Evan Turner and Nicolas Batum ranked 59th with a ratio of 1.89.
After retooling their roster in the offseason, 2013-14 is a make-or-break year for the Cleveland Cavaliers. Irving is the centerpiece of all that happens offensively for the Cavs, so the pressure will be on him not just to score, but to pass like an elite point guard.
With complementary pieces like Tristan Thompson, Andrew Bynum, Earl Clark, Dion Waiters and Anderson Varejao, Irving has a chance to top seven or eight assists per game. The real key will be cutting down on his turnovers and attempting to commit fewer than three per game. Last season, the 20th-ranked player in assist-to-turnover ratio (Goran Dragic) posted a mark of 2.68.
Chris Humphreys-USA TODAY Sports

Prediction: Stephen Curry breaks his own record for threes made in a season.
Stephen Curry exploded last season to the tune of 272 made three-pointers, a new single-season NBA record.
With the exception of Kevin Durant, Curry is the league's most lethal and feared marksman. He showed why, hitting 45.3 percent of his attempts from beyond the arc.
Since we know Curry is capable of knocking down 270 threes in a season and has the flawless stroke to do so again, the key for the 25-year-old will be staying healthy enough to shatter his record.
Curry appeared in 78 games last year, and if his ankles allow him to play 78 again, much less a full season, it's quite possible we could have a spectacular encore on our hands.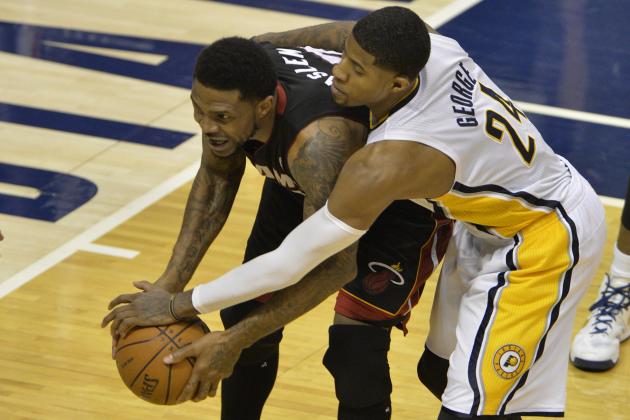 Jamie Rhodes-USA TODAY Sports

Prediction: Paul George earns First-Team All-Defense honors.
Last season saw a handful of stars under the age of 25 burst onto the scene, and among the most notable was Indiana Pacers forward Paul George.
However, unlike many of his peers, George earned his time in the spotlight thanks to stingy defensive play.
That's not to say George didn't have a solid offensive campaign (17.4 points per game on 41.9 percent shooting), but his stunning athleticism and energy defensively earned rave reviews and ultimately second-team All-Defense honors.
After a year of guarding the league's elite wings, George is primed to make an even bigger leap in 2013-14 and showcase his enormous upside. Holding his own against LeBron James and Carmelo Anthony in the postseason, George earned the respect of stars around the Association and made it clear that the Pacers are not a team title contenders should take lightly.
Still just 23, George has a chance to become a true superstar should he take home All-Defensive First-Team honors this coming season.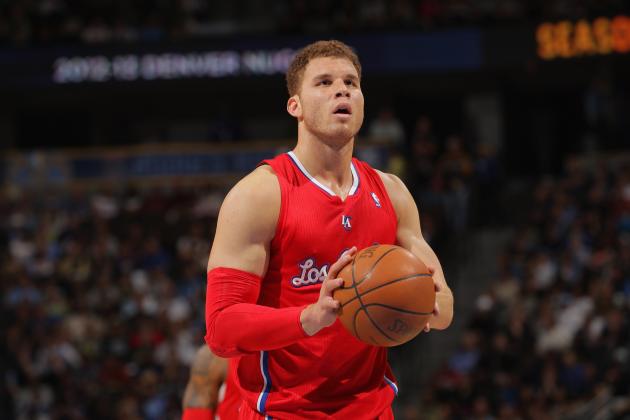 Doug Pensinger/Getty Images

Prediction: Blake Griffin shoots 75 percent from the free-throw line.
Blake Griffin's offensive game has improved dramatically over the past two seasons as he's focused on developing a mid-range jumper to complement his repertoire of post moves.
However, the one aspect of Griffin's offensive game that continues to lack polish is his free-throw shooting. After shooting 64.2 percent from the line in his rookie season, Griffin's conversion rate plummeted to 52.1 percent in Year 2. Fortunately, Griffin bounced back last season, converting 66 percent of his attempts from the stripe.
Still, that's not good enough for one of the game's premier players. The Los Angeles Clippers have enough headaches from the free-throw line thanks to DeAndre Jordan, so it'd be comforting to know they can count on Griffin roughly 75 percent of the time he steps to the line.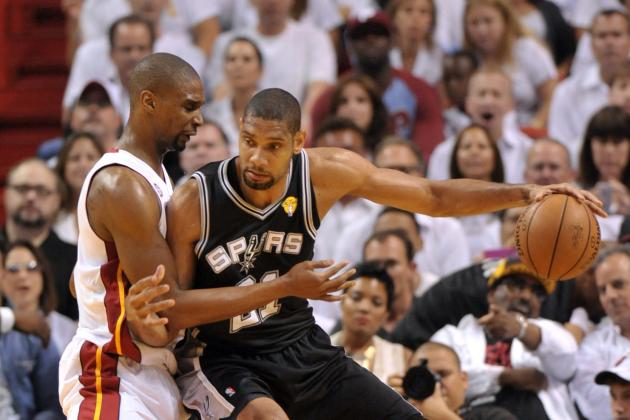 Steve Mitchell-USA TODAY Sports

Prediction: Tim Duncan leads the San Antonio Spurs in scoring.
Entering the 2012-13 season, it was only natural to assume we'd see a regression from Tim Duncan. Coming off of the two lowest-scoring seasons of his career on a per-game basis, it appeared the Big Fundamental was headed for a marked decline in the scoring column.
Not so. Duncan came out on a mission, averaging 17.8 points and 9.9 rebounds while carrying the San Antonio Spurs to their first Western Conference title since 2006-07. During his resurgent campaign, Duncan finished second on the team behind Tony Parker (20.3 points per game) in scoring.
He may be 37 entering the 2013-14 season, but Duncan has earned the right not to be overlooked. Arguably the greatest power forward to ever play the game, keep an eye out for Duncan as he sets his sights on a fifth ring.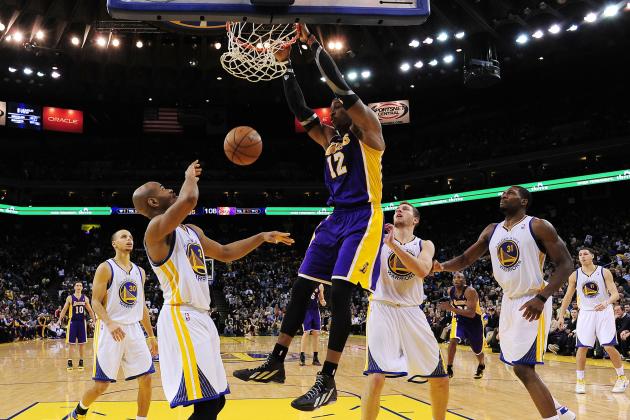 USA TODAY Sports

Prediction: Dwight Howard leads the NBA in field-goal percentage.
A season after playing in a disjointed Los Angeles Lakers offense, Dwight Howard will suit up for the Houston Rockets and become an integral piece of their efficient, up-tempo attack.
There should be no concern regarding Howard's number of touches, for the Rockets generate enough possessions to get all of their stars the ball. Last season, the Rockets ranked first in the NBA in pace, creating 96.1 possessions per 48 minutes, per Basketball-Reference.
Howard will benefit from playing alongside young guns like James Harden and Chandler Parsons, each of whom require significant defensive attention on the perimeter. And if Howard can establish a pick-and-roll rapport with either Harden or Jeremy Lin, watch out.
Howard recorded the second-best field-goal percentage in the NBA last season (57.8). He has a chance to eclipse 60 percent for the first time since 2009-10 if he winds up being a natural fit in Kevin McHale's system.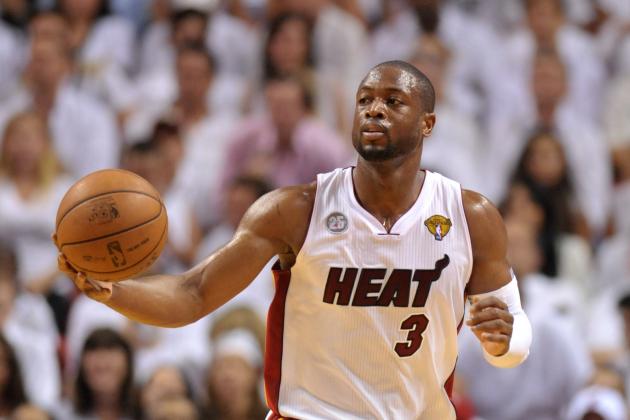 Steve Mitchell-USA TODAY Sports

Prediction: Dwyane Wade tops last season's career-high field-goal percentage.
Dwyane Wade has a track record of posting efficient offensive numbers, but he outdid himself in 2012-13. During the Miami Heat's cakewalk through the regular season, Wade shot 52.1 percent from the field and recorded an effective field-goal percentage of 52.8 percent, both of which were career-highs, per Basketball-Reference.
Only twice in Wade's career has he shot 50 percent or better from the field, but last season's success proved that at age 31 he still has the chops to produce at remarkable clips. It should also be noted that Wade has only once posted a PER below 20 for a single season, and that was his rookie campaign in 2003-04.
That's the sort of efficiency the Heat can count on for the remainder of Wade's career, and it's what makes him a legitimate threat to top his career-high field-goal percentage in the season to come.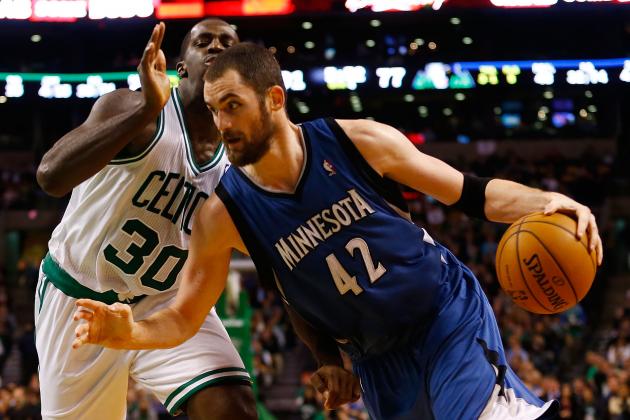 Jared Wickerham/Getty Images

Prediction: Kevin Love will average 20 points and 15 rebounds.
After suffering through an injury-riddled 2012-13 campaign, it's time for Kevin Love to remind everyone that he's the best power forward in the NBA.
Expect Love to come out with guns blazing on an improved Minnesota Timberwolves team, and don't be surprised if he averages 20 and 15 for the second time in his career. In 2010-11, Love recorded 20.2 points and 15.2 rebounds per game and led the league in total rebounding and offensive boards.
The same should be true in 2013-14, when Love reasserts his dominance on the glass and pummels opposing defenses with his lethal inside-outside scoring capabilities.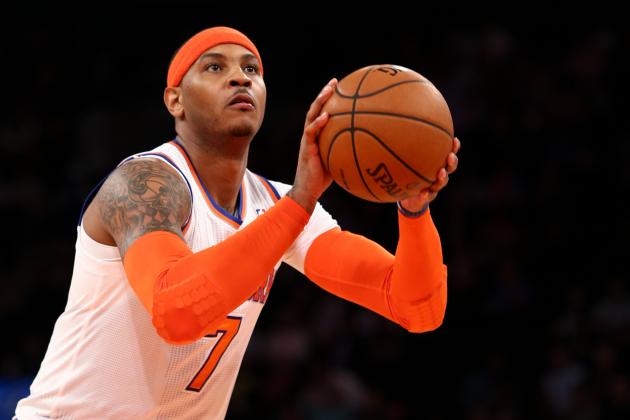 USA TODAY Sports

Prediction: Carmelo Anthony averages fewer than 20 field-goal attempts per game.
After a season in which Carmelo Anthony won the NBA's scoring title on an average of 22.2 shots a night, it's undeniably bold to predict that his attempts will decrease by more than two a game in 2013-14.
It's important to note, however, that Anthony has only averaged 20 or more shots a game three times in his career (2006-07 and 2009-10 being the others).
There's no denying that the New York Knicks could benefit from spreading the ball around more, whether it's to Andrea Bargnani, Metta World Peace or Iman Shumpert. The Knicks finished last in the league in total assists last season, and a major reason was the heavy dose of isolations from Anthony.
He may be one of the most prolific scorers in the game, but the Knicks could keep defenses on their heels and ramp up their efficiency if they distributed the ball just a bit more evenly.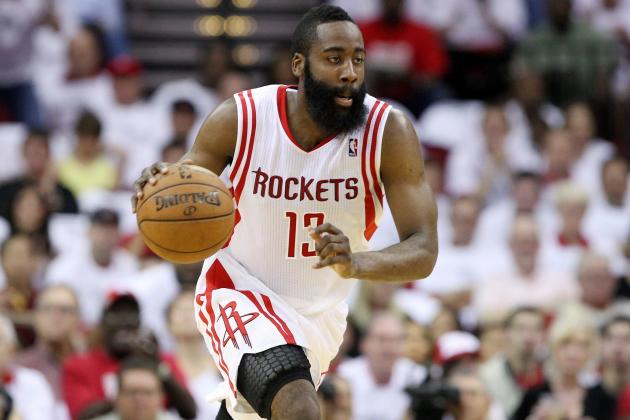 Troy Taormina-USA TODAY Sports

Prediction: James Harden leads the league in minutes per game.
James Harden finished last season sixth in minutes per game, totaling 38.3 a night. The leader in that category was Luol Deng, who received 38.7 minutes of run per game.
With Kobe Bryant on the mend from a nasty Achilles injury, it's safe to say that the Mamba will be out of the running for the league lead in minutes per game (he finished second with 38.6 per game last season).
Harden's primary competition will come from Deng (who's led the league in minutes per game the last three seasons), Kevin Durant and Portland Trail Blazers point guard Damian Lillard, who finished tied with Bryant during his rookie year.
Emerging as the leader in minutes per game will depend on head coach Kevin McHale's willingness to run Harden out for 39 minutes or more a night, but as we saw last season, the Rockets lean heavily on Harden to carry the offensive load from start to finish.
Derick E. Hingle-USA TODAY Sports

Prediction: Tony Parker averages 10 assists per game for the first time in his career.
Believe it or not, San Antonio Spurs point guard Tony Parker has never averaged eight assists per game, much less 10. While that may be surprising, it's also important to note that Parker's best passing seasons have been the last two, when he's averaged 7.7 and 7.6 dimes.
Parker totaled 499 assists last season, the second-most of his career. And while the Spurs didn't have any one player dish out eight a night, San Antonio finished first in the NBA in total assists (2,058).
With those numbers in mind, it's clear that Gregg Popovich's system is conducive to high assist totals. The Spurs have the perimeter and interior talent necessary for Parker to facilitate and post a double-digit assist average, and his eighth-ranked assist-to-turnover ratio (2.94) last season reinforced the notion that he's extremely careful with the rock in his hands.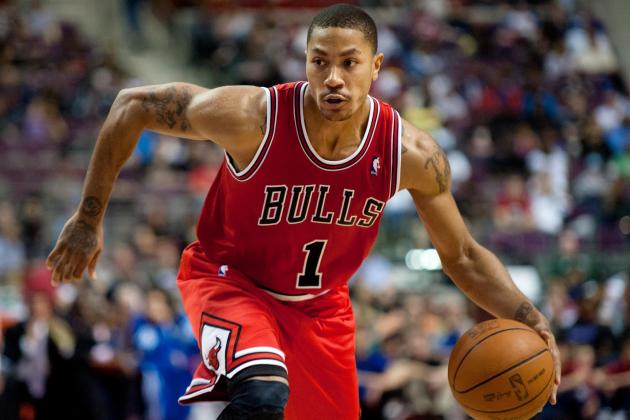 Tim Fuller-USA TODAY Sports

Prediction: Derrick Rose and the Chicago Bulls capture the Eastern Conference's No. 1 seed.
The last time Derrick Rose was 100 percent, the Chicago Bulls went 50-16 in a truncated 2011-12 season and staked their claim as the best team in the Eastern Conference. Then Rose tore his ACL and things spiraled downward.
Chicago had success last season without Rose, but it was due largely to its sterling defensive effort. Sans Rose, the Bulls averaged 93.2 points per game, the second-lowest mark in the NBA. In 2011-12, the Bulls ranked 18th in nightly scoring with 96.3 points per game.
Rose's return will give the Bulls offense a massive lift. The former MVP will provide Tom Thibodeau's attack with 20 or more points per night a season after Luol Deng led the team with an average of 16.5.
With an electric Rose back in the fold, expect the Bulls to give the Miami Heat and Brooklyn Nets all they can handle in the fight for home-court advantage throughout the postseason.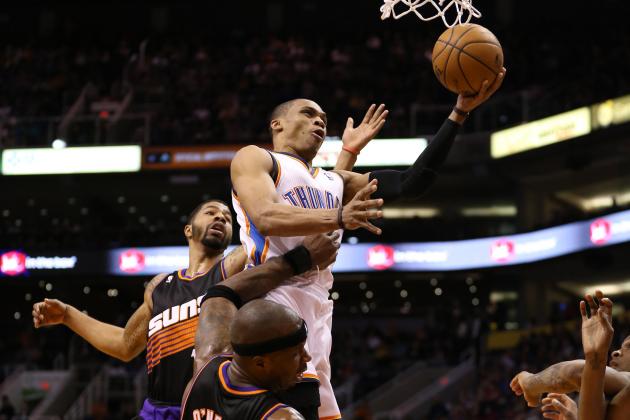 Mark J. Rebilas-USA TODAY Sports

Prediction: Russell Westbrook finishes in the top five in PER.
When you think of Russell Westbrook, efficiency likely isn't the first thing that comes to mind.
Interestingly enough, Westbrook is among the league's most efficient players, having finished with a PER of 22.9 or above each of the past three seasons, per Basketball-Reference. Last season, Westbrook finished eighth overall in PER (23.9), and was the second-most efficient point guard behind Chris Paul.
In order to crack the top five in overall PER, Westbrook will need to boost his personal efficiency by a point or perhaps even a point-and-a-half based on last season's final standings. Brook Lopez finished fifth overall with a PER of 24.81, while LeBron James ranked first with a ridiculous mark of 31.67.
If Westbrook can get his field-goal percentage back over 45 while sustaining an average of seven assists or more, he should be in a nice position to meet the lofty benchmark.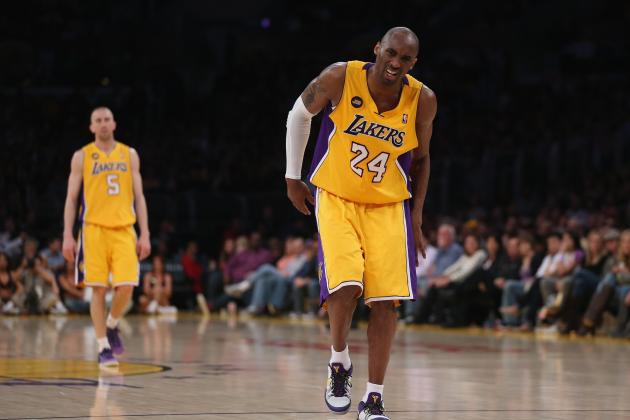 Jeff Gross/Getty Images

Prediction: Kobe Bryant plays in 90 percent of the Los Angeles Lakers' games.
All of the reports that have emerged regarding Kobe Bryant's recovery from a torn Achilles have been encouraging, to say the least.
In fact, according to NBA.com's Jonathan Hartzell, Bryant has "shattered" the normal recovery timetable for similar injuries:
The surgical procedure was different […] and because of that the recovery has been different," Bryant told reporters in the southern city of Shenzhen. "The normal timetable for recovery from an Achilles, we've shattered that. Three-and-a-half months I can already walk just fine, I'm lifting weights with the Achilles just fine and that's different. So we don't know what that timetable is going to be. It's kind of new territory for us all.
Bryant's determination to get back onto the floor exemplifies not just his physical strength, but the mental strength that separates him from other superstars.
Should his rehabilitation continue at this accelerated rate, it wouldn't be crazy to expect Bryant to appear in 90 percent of the Los Angeles Lakers' games this season. For the record, that means Kobe would need to log minutes in 74 of the team's 82 games.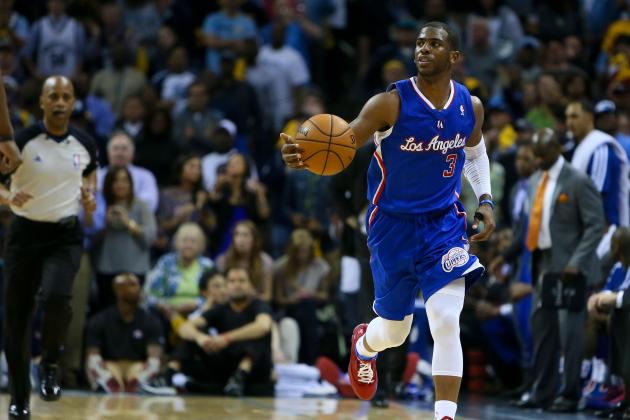 Spruce Derden-USA TODAY Sports

Prediction: Chris Paul wins the 2013-14 NBA MVP.
Projecting Chris Paul to win the MVP award is undeniably bold, but it's a feat he can accomplish now that the Los Angeles Clippers are one of the favorites to capture a Western Conference title.
With Doc Rivers at the helm and Paul's supporting cast bolstered by the additions of J.J. Redick and Jared Dudley, all of the pieces are in place for the 28-year-old to capture his first career MVP award.
Paul can realistically average 20 points and 10 assists, numbers he posted in both 2007-08 and 2008-09 with the New Orleans Hornets. Factor in that Paul has led the NBA in steals per game the last three years and in five of the last six seasons, and he's as good a bet as anyone to take home the coveted hardware.
It's going to take flawless performances on both ends of the floor for Paul to steal the award from LeBron James or Kevin Durant, but the opportunity will present itself for the league's best point guard to do so.
Jamie Squire/Getty Images

Prediction: Kevin Durant reclaims the scoring title and posts 50/40/90 percentages in back-to-back seasons.
What makes Kevin Durant so deadly is not just his ability to hit shots from any spot in the gym, but the efficiency with which he piles up points. It looks effortless at times. Durant possesses one of the purest shooting strokes the game has ever seen.
One season removed from losing the scoring title to Carmelo Anthony by six-tenths of a point per game, 2013-14 will be Durant's time to exact revenge. And just because Durant missed out on his fourth consecutive scoring title last season doesn't mean that the 2012-13 campaign was all for naught.
The Oklahoma City Thunder sniper entered the esteemed 50/40/90 club last season with shooting splits of 51.0/41.6/90.5, numbers that are absolutely replicable moving forward.
Considering Durant attempted the second-fewest shots per game (17.7) of his career last season, he should be able to reclaim his title from Anthony if he gets back into the 19-20 shot-per-game range.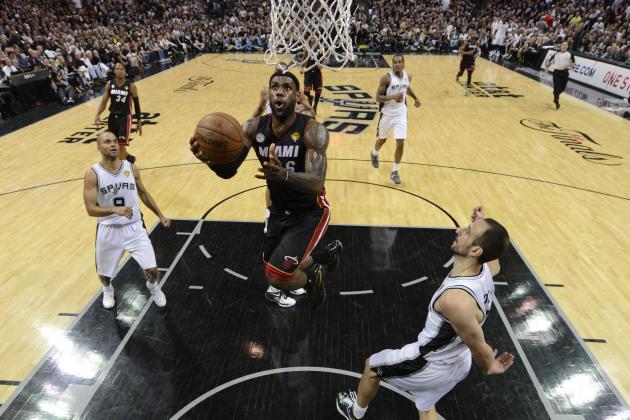 Brendan Maloney-USA TODAY Sports

Prediction: LeBron James averages a triple-double.
It's only happened once in NBA history. Oscar Robertson is the one player who can claim to have averaged a triple-double for one season, posting 30.8 points, 12.5 rebounds and 11.8 assists per game in 1961-62.
LeBron James meets all of the prerequisites necessary to join Robertson in the exclusive club, but aiming to achieve such a feat is admittedly bordering on a pipe dream.
Last season, James recorded averages of 26.8 points, eight rebounds and 7.3 assists. He made it abundantly clear that he's a legitimate threat to conquer the unthinkable. In order to pull off the triple-double average, James would likely have to take on an even larger role as a passer. However, if there's one superstar whose selflessness stands out above all others, it's LeBron.