Juventus vs. Lazio: 6 Things We Learned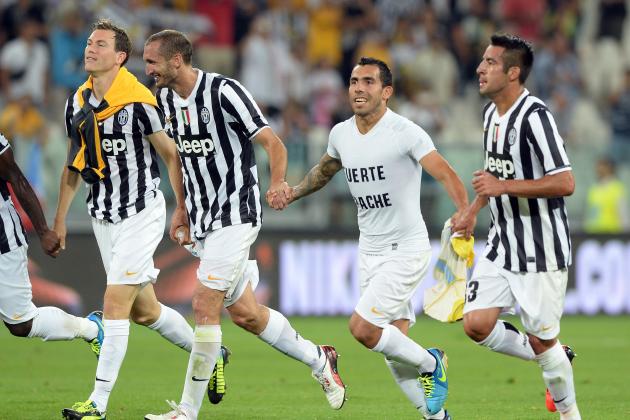 Claudio Villa/Getty Images

Juventus picked up a far more comfortable victory against Lazio in their second game of the new campaign compared with their opener, running out 4-1 victors at the Juventus Stadium.
Sampdoria put up a stubborn display last weekend as the Bianconeri ground out a 1-0 victory, but the Old Lady were in full flow this weekend and put in a scary display to suggest that they will be the cream of the crop once again this year.
Arturo Vidal, Mirko Vucinic and Carlos Tevez shared the goals to give Antonio Conte a perfect record entering the international break.
While Lazio were hardly awful, the sending off of Hernanes badly hurt their chances of taking anything from the game, with ill discipline tripping up the Brazilian again.
Here are six things we learned.
Begin Slideshow

»
Claudio Villa/Getty Images

Can we stop debating whether Paul Pogba's move from Manchester United to Juventus is beneficial to his career?
The Frenchman has clearly proven that United made a huge mistake in not signing him to a long-term contract: At just 20 years old, he is thriving in a side that possesses a world-class midfield, something that the English champions don't have.
If Pogba was still in the Premier League, he would be integral to that United midfield and a player that David Moyes would love to build his side around.
Pogba is so good that Claudio Marchisio is not even assured of a starting place when he returns from injury—if Conte maintains the 3-5-2 formation.
The assist for Vidal's fist goal was something special, clipping a looping pass through the middle of the Lazio defence and into the path of the Chilean. The vision was Pirlo-esque.
Later in the game, Pogba showed discipline to hold a deeper position and dictate the rhythm of the match and, while it was a more understated contribution, it was no less impressive.
Juve have a real gem on their hands here, a complete midfielder who could become one of the best players in the world.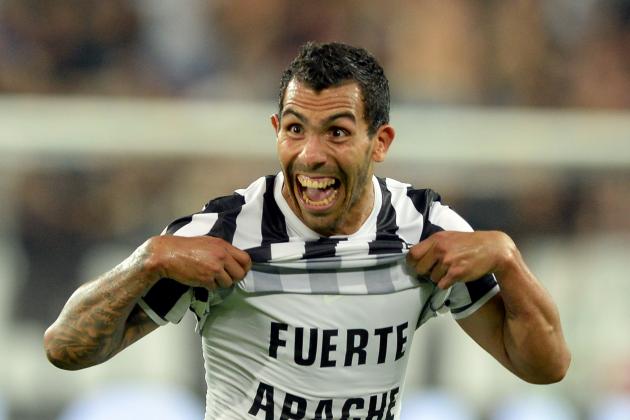 Claudio Villa/Getty Images

Tevez bagged his second goal in as many games for Juventus on Saturday, perhaps adding that final piece to the Bianconeri puzzle.
Goals in attack have been something that Conte has craved, with last year's front men not chipping in with nearly enough goals to lift Juve from domestic powerhouse to European contenders.
There had even been suggestions that Conte's system was not suited to strikers and that forwards would always tend to struggle to score prolifically in the 3-5-2 formation.
Six strikers—Fabio Quagliarella, Alessandro Matri, Vucinic, Sebastian Giovinco, Nicklas Bendtner and Nicolas Anelka—managed just 34 goals between them last season, so the arrivals of Tevez and Fernando Llorente will certainly boost the number of goals in this department.
Even if it pressurises Vucinic, Giovinco and Quagliarella—who remain at the club—to push their total up, the recruits will have done their job.
Tevez appears to be a different class of forward to the others, though: With three goals in three appearances for the Bianconeri—if you include the Supercoppa—Apache is capable of making Juve a serious threat in the Champions League.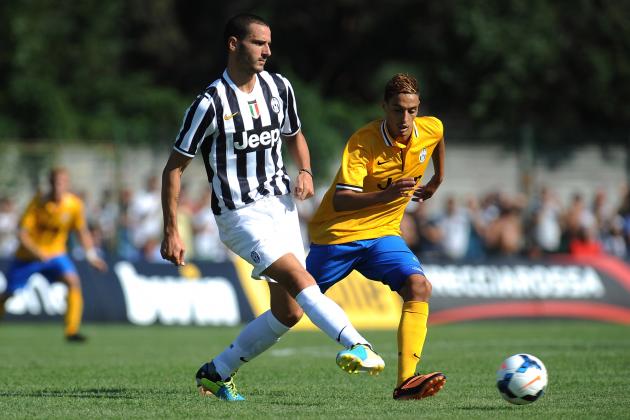 Valerio Pennicino/Getty Images

Leonardo Bonucci is one of the best ball-playing centre-backs in Europe. The way he sprays his passes all over the pitch has given Juventus the ability to go long when necessary.
The 26-year-old will step out from the back and dribble forward or launch a long pass, should the midfield options be marked closely, which gives Juve a great plan B.
That was on display against Lazio, with Bonucci's wonderful long pass into the path of Vucinic leading to the third goal of the game.
The angles that Bonucci is able to find, and the weight of his passes, are highly impressive—and with Llorente yet to be integrated into the side, this is a part of Juve's tactics that could become ever more important.
Who said long ball was ugly?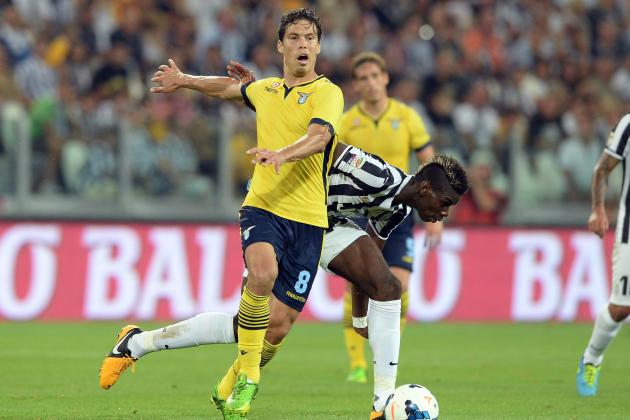 Claudio Villa/Getty Images

Hernanes is one of Serie A's best players, clearly.
The Brazilian possesses the ability to become a world star and hold down a place for the Seleção.
But he lacks discipline, something which has tripped him up on more than one important occasion.
In 2011, when handed the opportunity to play against France in a friendly international and stake his claim for a place in Brazil's midfield, Hernanes got himself needlessly sent off.
A kung-fu kick aimed at Karim Benzema did for him that night. Shades of this rash behaviour resurfaced in another high-profile match this weekend.
The 28-year-old tends to pick up silly yellow cards, which leaves him on the edge quite often. Against Juve, having already been booked, he attempted to punch the ball into the goal from a cross and was swiftly given his marching orders.
If he is to announce himself as the world-class midfielder that he is capable of being, he needs to sort his discipline out, otherwise he will let his team down time and again.
This is something that Luiz Felipe Scolari will not tolerate as the ramifications on the international stage are far greater than in Serie A.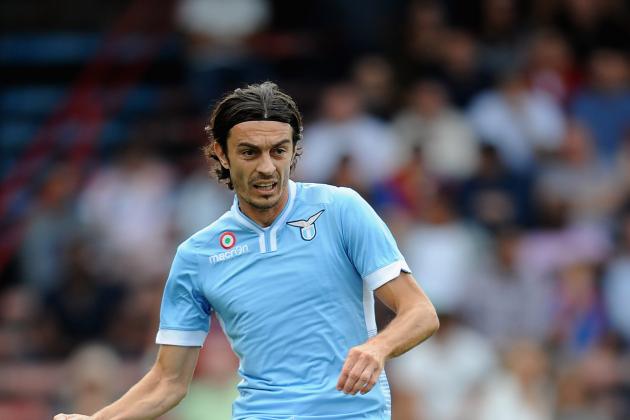 Christopher Lee/Getty Images

Lazio's lack of depth at the back was apparent against Juventus on Saturday.
Giuseppe Biava was only fit enough for a place on the bench and Diego Novaretti—who appears to be struggling to adapt to Italian football—made up a shaky partnership with Lorik Cana.
Andre Dias is a hulking centre-back who can dominate in the air and might have been more useful, given Juve's tendency to get the ball out wide to Kwadwo Asamoah and Stephan Lichtsteiner, who then swung plenty of crosses into the box.
The inexperienced Luis Cavanda is deputising for the injured Abdoulay Konko at right-back and the Belgian appears out of his depth, often jumping in when fronted up by Asamoah and failing to read the danger of Tevez drifting into the space between centre-back and full-back.
Saturday's match shows that Vladimir Petkovic must target defensive reinforcements before the window closes if he has aspirations of challenging for a place in the Champions League.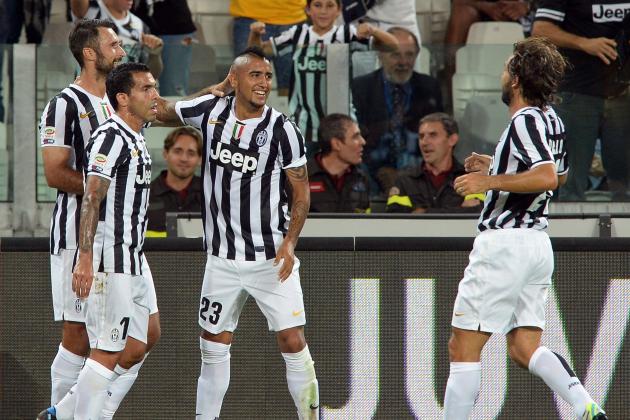 Claudio Villa/Getty Images

Vidal put on another vintage display for Juventus, chipping in with two more goals to showcase his wide range of skills.
The composure El Guerrero demonstrated in both goals was highly impressive and replicated that of a striker, while the touch and quick feet to set himself showed what a superb finisher he is.
With 19 goals in 66 Serie A games, Vidal is prolific for an all-action centre-midfielder who contributes on the opposite end of the pitch with his tough tackling and disciplined positioning to intercept the opposition on countless occasions during a match.
His physical attributes give him that edge on the pitch, too, ensuring that Vidal can drive forward and trigger a Juventus counter-attack or quickly drop back to evade danger when the Bianconeri lose possession.
In terms of complete midfielders, Vidal has everything in his artillery, which begs the question as to whether he is the very best of his kind in European football.
Matches against Real Madrid in the Champions League this season will provide more credence to this claim, but for now Vidal continues to put in remarkable displays for the Italian champions.