Teams That Should Go All in on Pursuing Dwyane Wade During 2014 Offseason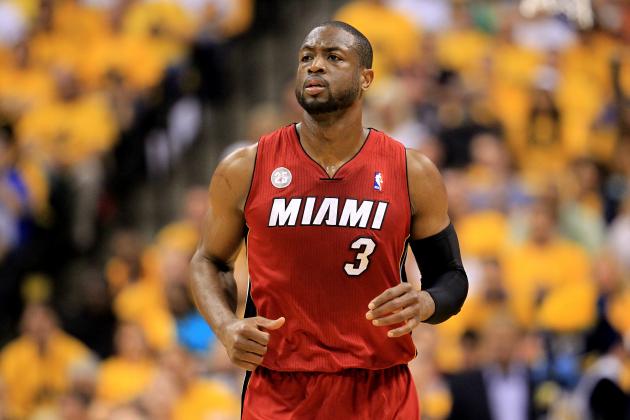 Ronald Martinez/Getty Images
Dwyane Wade could choose to opt out of his deal in 2014.
The Miami Heat have arguably the most talented Big Three in the NBA when it comes to LeBron James, Dwyane Wade and Chris Bosh. However, if any of them opt out from the final year of their contracts in 2014, there will be a handful of teams willing to go all in to acquire another superstar.
According to Matt Moore of CBS Sports, Wade may opt out in order to chase a long-term deal. Moore states that Wade plans to stay with the Heat, but that won't stop other organizations from making their pitches.
Before anybody gets up in arms about Wade leaving, let's get one thing straight: This is about which teams should pursue the guard, not which teams he's actively leaning toward. At this point, the thought of Wade spurning Miami is speculative, as the 2014 offseason is still a ways away.
But while the future can be hard to predict in this situation, it would be foolish to assume the guard won't be sought after. He is a future Hall of Famer, a three-time champ and a guy who can still get it done when healthy.
Nobody's claiming that Wade is gone come 2014, but the truth is that there are teams hoping he will be. Every team in the league could use a player of Wade's caliber, but only a select few should be considered the favorites this early in the process.
Begin Slideshow

»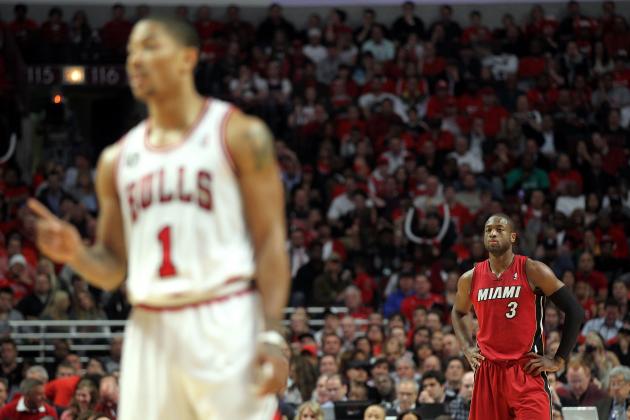 Mike Ehrmann/Getty Images

Let's not beat around the bush. Dwyane Wade and the Chicago Bulls are a match made in basketball heaven.
Fans in Miami will hold onto the fact that Wade chose South Beach over the Windy City back in 2010. They'll assume he'd do it again if given the chance, but if he opts out of his deal, the Bulls would be foolish not to make another push.
If Chicago is willing to amnesty Carlos Boozer during the 2014 offseason, then let Luol Deng's contract walk, the team throws its name in the ring. Derrick Rose is one of the best young stars in the game, Joakim Noah is a menace on defense, and swingman Jimmy Butler rounds out an incredibly balanced roster.
There's plenty of incentive for Wade to jump ship, and don't forget that he's a Chicago native.
Diehard Heat fans may be right in their assumptions that Wade would blow off Chicago once again. Why not stick to his NBA roots and the place where he's won all three of his championships?
But if you're the Bulls, you never know unless you give it a shot. They've been searching for a shooting guard for a long time now, and patience may finally be the virtue that lands them their man.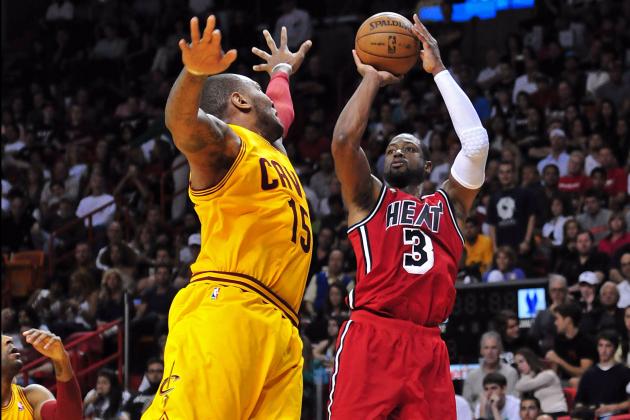 Steve Mitchell-USA TODAY Sports

When it comes to the 2014 offseason, everybody wants to know if LeBron James will opt out of his current deal. More specifically, everybody wants to know if he will take his talents back to the organization that drafted him, the Cleveland Cavaliers.
If James chooses to stay in Miami—or if he chooses a team other than Cleveland—the Cavs should pursue Dwyane Wade without any hesitation.
The Cavaliers are full of promising talent, and Kyrie Irving is already one of the game's best point guards, but as we've seen of late, it takes more than one playmaker to win a championship in today's NBA. Andrew Bynum has the potential to dominate the inside when healthy, but they're another star away from being a contender.
Dion Waiters has been compared to Wade since before he was drafted, so who better to school the kid on how to slash toward the basket? Waiters has played off the bench before, and if he truly cares about improving his game, he'd be willing to do it again behind Wade.
Cleveland is going to be dangerous, and Wade could be a part of that. The Cavaliers would be smart to go all in, and Wade would be smart to at least think about the offer.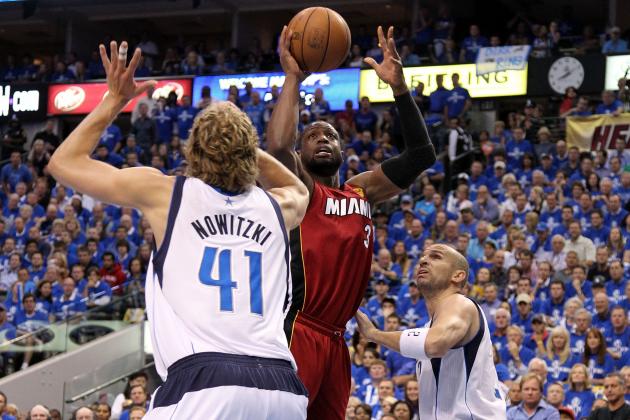 Mike Ehrmann/Getty Images

The Dallas Mavericks have had zero luck when it comes to obtaining a superstar. They've let LeBron James, Deron Williams and Dwight Howard all slip through their grasps, and chances are, they'd have no better luck when it came to Dwyane Wade.
But like every team on this list, the Mavs would be remiss to sit back and watch during the summer of 2014.
Regardless of whether the Mavs are favorites, dark horses or laughable optimists, Mark Cuban will put together a pitch for the 2-guard. Dallas desperately needs somebody to turn the organization around, and more importantly, it needs someone to play alongside an aging Dirk Nowitzki.
In an ideal world, Dallas would acquire a younger superstar, someone who can take the team toward the future once Nowitzki exits stage left. But while a young star might be the goal, there's nothing wrong with targeting a veteran, so long as he's of Wade's talent level.
Monta Ellis may be on board through 2016, but don't think that would prevent the Mavs from targeting a better option.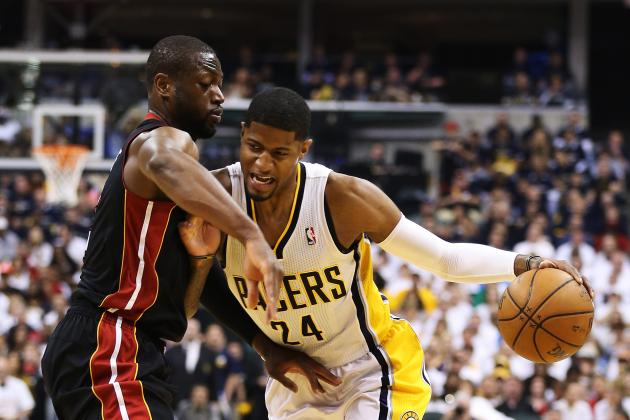 Andy Lyons/Getty Images

The Indiana Pacers have a budding star in Paul George. He's the kind of player around whom a team can build, and he's quickly becoming a dominant presence on both sides of the floor.
He's a shooting guard by definition, but he played 74 percent of the team's minutes at the 3 during 2012-13, per 82games.com. Danny Granger is set to be a free agent at the same time Dwyane Wade could opt out, which means George could find a permanent home at small forward, clearing space for a new 2-guard.
Indiana is below the Miami Heat on the Eastern Conference food chain, but snagging Wade just might change that. Wade would give it a much-needed go-to player on offense while keeping the defensive theme alive as the team grows.
Although Granger's contract alone might not fit what Wade commands, Indiana would be smart to make it work. Moving players around can be tricky, but when it comes to acquiring a superstar, oftentimes the headaches result in greatness.
This team has challenged Miami two years in a row, and getting Wade on board just might help them take the next step.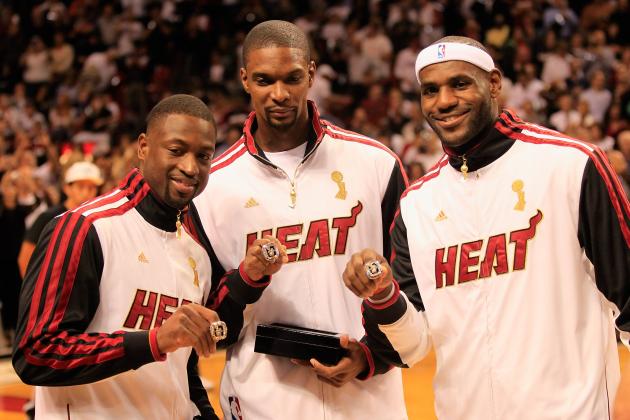 Chris Trotman/Getty Images

The Miami Heat may have LeBron James and Chris Bosh to soften the blow if Dwyane Wade leaves, but there's no reason for them to give up on the 2-guard.
The truth is, loyalty means very little in a league that is about business. Wade's injuries have slowed him down at this point in his career, and if Miami is looking for an out, it can put in a soft offer when it comes time to renegotiate his deal.
All of that said, Wade is still a bona fide star, and his legacy has been built exclusively with the Heat organization.
If Pat Riley is smart, he'll do whatever it takes to retain Wade. The 31-year-old takes the pressure off of James on a regular basis, and even when he's below 100 percent, he's still the kind of talent that must be accounted for.
In a perfect world, Wade will end his career in Miami with a few more rings. However, not everything goes according to plan, and other teams around the league will do everything in their power to break up the Big Three.
Miami has to be ready, and it's safe to say that it must be willing to go all in.