Fantasy Football 2013: Must-Have Handcuffs for Top Injury-Plagued Stars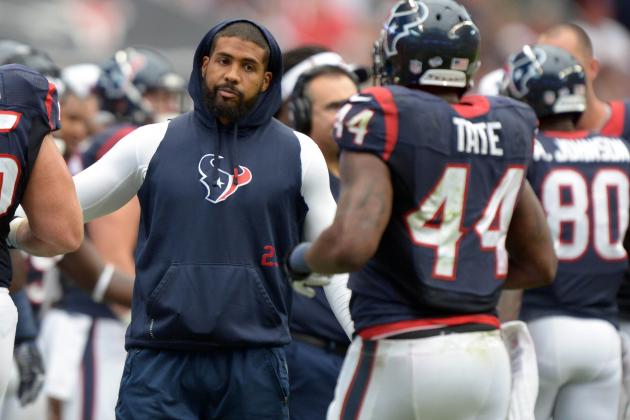 Kirby Lee-USA TODAY Sports

When playing fantasy football, most owners gravitate toward selecting running backs early and often, and sometimes in the event that the running back you select has history with injuries, it is wise to handcuff him to his trusted backup.
Outlined here in this slideshow will be eight talented running backs who, because of their injury-related past, should be locked up with their direct backup. Most of the backups listed here have proved they can handle the opportunity if given a chance. Others still have some work to do to earn our trust.
Nevertheless, it's always good to lock up your early round running backs with their handcuffs. Here are eight must-have handcuffs (ranked in order of fantasy relevance) to own this year.
Begin Slideshow

»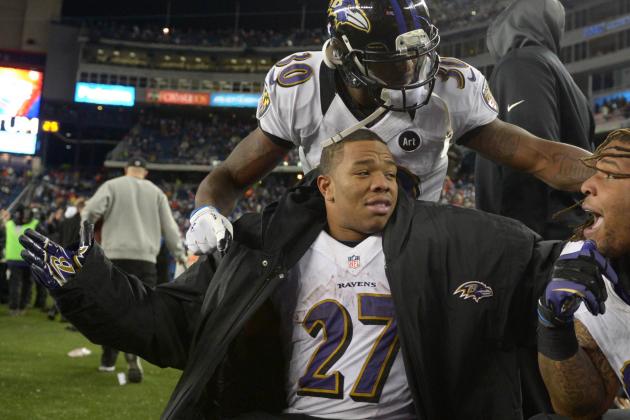 Kirby Lee-USA TODAY Sports

While Ray Rice has been the poster boy of consistency and durability, he should still be handcuffed to emerging star Bernard Pierce.
Pierce really came on down the stretch of last season and was a key component in the Ravens' Super Bowl journey. Pierce became more involved in the Ravens offense when Jim Caldwell took over as offensive coordinator, rushing for 444 yards in the seven games (plus playoffs) Caldwell took the reins.
So, with the way Pierce finished the season and the Ravens wanting to lessen the load for Rice, Pierce remains a very high priority handcuff.
To say that Ryan Mathews has been a bust in his three years in the NFL would be a massive understatement. He, too, has battled numerous injuries and has only played in 38 games in three years.
Last year was especially difficult, as he suffered two broken clavicles and only rushed for one touchdown, while never having a 100-plus-yard rushing game.
The San Diego Chargers, perhaps fearing Mathews will never produce at an elite level, went ahead and signed Danny Woodhead in the offseason. Woodhead showed last year in limited time with the New England Patriots he can be a great dual threat out of the backfield, as he averaged four yards per carry while scoring four touchdowns and also hauling in 40 receptions for 446 yards and three additional scores.
Woodhead is an ideal change-of-pace back, but he could be thrust into more action if Mathews gets hurt or continues to disappoint.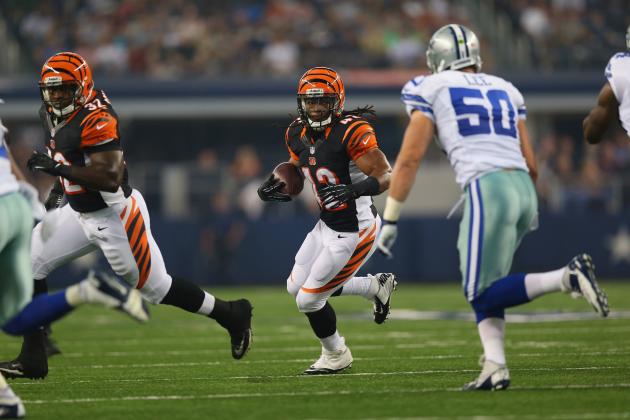 Ronald Martinez/Getty Images

The Cincinnati Bengals are a high-energy, youthful bunch, and with a third-year quarterback (Andy Dalton), third-year receiver (A.J. Green), second-year receiver (Mohammed Sanu) and an exciting rookie tight end (Tyler Eifert) leading the way, they could also lean on a rookie running back (Giovani Bernard) sooner than later.
BenJarvus Green-Ellis is still tops on the depth chart in Cincinnati, and although he has been durable over the years, he is not been that productive either. Last year, Green-Ellis averaged 3.9 yards per carry and only scored six touchdowns.
Eventually the Bengals will want to get their second-round pick in Bernard on the field. Bernard possesses a great amount of athleticism and is more suited for the Bengals offense than the plodding Green-Ellis.
So, if you decide to draft Green-Ellis, make sure to spend a mid-round pick on Bernard.
Darren McFadden and injuries are almost as synonymous as salt and pepper. I guess I'm telling you nothing new here.
McFadden is already battling a shoulder injury and did not play in the Oakland Raiders' third preseason game against the Chicago Bears. Even though it's not considered serious, McFadden has always proved to be brittle, only appearing in 57 games in his five years in the league.
That's why it's imperative that you spend a late-round pick on Rashad Jennings, since he'll be in line to succeed McFadden if he ever goes down with an injury. Although Jennings did not impress (2.8 YPC) when given a chance to carve out a role for himself in Jacksonville last year when Maurice Jones-Drew went down with an injury, he still will be the primary ball-carrier in Oakland if McFadden gets hurt.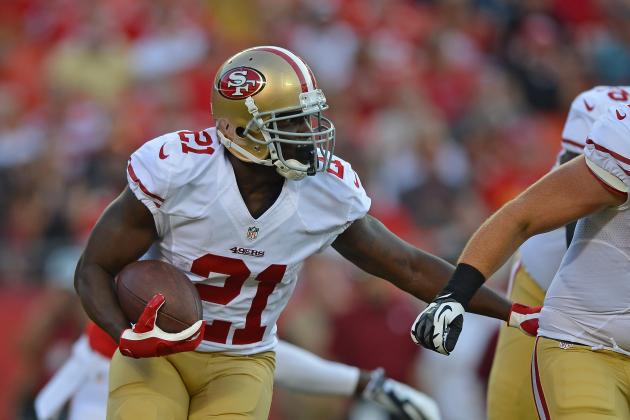 Peter Aiken/Getty Images

After finishing his eighth year in the NFL and having almost 2,000 rushing attempts under his belt, Frank Gore may be rested a good amount this coming season. You have to also remember he carried more of a load last year, as the San Francisco 49ers played in three extra games in their run to the Super Bowl.
Besides, Gore has been a player who has been dinged up over the years (although, surprisingly, he has played in 16 games in back-to-back years). Banking for three straight years of 16 games may be wishful thinking.
It would be wise to handcuff Gore with Kendall Hunter, or even perhaps LaMichael James. The feeling here is in order for the 49ers to have a successful season, and make another run to the Super Bowl, head coach Jim Harbaugh may want to keep his running backs as fresh as possible.
Playing behind a solid line, Hunter or James could break out if Gore ever got hurt again.
While DeMarco Murray has had the knack for putting up some serious fantasy points in his two years in the league, he has also missed nine games with various ailments as well.
Murray is hoping for a big year in Dallas, and the Cowboys do appear committed to rushing the ball more this year. That's all well and good, but Murray has to stay healthy. If he does not, Lance Dunbar can be an adequate replacement.
While he is dealing with an injury himself, Dunbar should be good to go soon. Prior to getting hurt, Dunbar was looking good this preseason.
Although the Cowboys drafted Joseph Randle in the fifth round in this year's draft, Dunbar should be in line to get the bulk of the carries should something happen to Murray.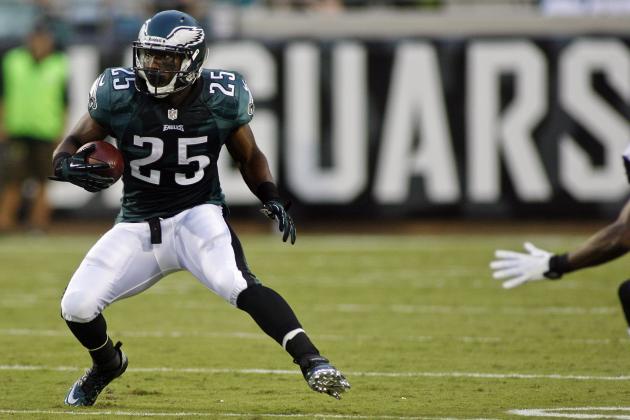 Phil Sears-USA TODAY Sports

LeSean McCoy should get back to his elite ways this year, but he struggled a bit last season and was ultimately sidelined a few games because of a concussion.
While McCoy should be good to go this year, it never hurts to lock him up with his backup, especially considering how good his backup is.
Bryce Brown showed last year that he is very capable of carrying the torch for the Philadelphia Eagles, as he averaged 4.9 yards per carry. He was absolutely sensational in Weeks 12 and 13, when he rushed for a whopping 347 yards, while also scoring four touchdowns. While Brown tailed off at the end last season, he showed enough that in case McCoy goes down, he is a willing and able running back to depend on.
By all accounts, Jamaal Charles should be fine for the season opener, as he did participate in the Kansas City Chiefs' third preseason game against the Pittsburgh Steelers. He scared owners (or potential owners) after he sprained his foot early in camp.
For a guy, in Charles, who has already missed a season with an ACL tear (in 2011), it would be prudent to get his direct backup, and that man is likely Knile Davis.
The Chiefs, also looking to safeguard themselves, took Davis in the third round in April's NFL draft. Ideally, the Chiefs will want to ease Davis into his role, but he will be there just in case.
In the event Charles goes down, incumbent backup running back Shaun Draughn could also receive carries, but it's obvious that Davis has the most upside.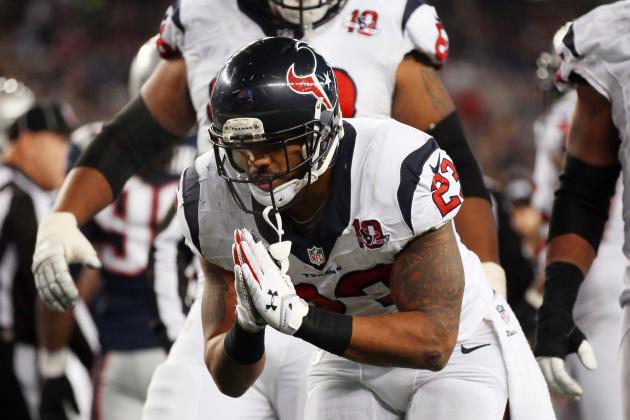 Elsa/Getty Images

If there was any case where you had to handcuff a stud running back, the Houston Texans' backfield is exhibit A.
Arian Foster just recently came of the PUP list and has been dealing with nagging back and calf injuries all summer. When you combine that with the load Foster has handled over the past couple of years (he led the league in carries last year), it almost seems mandatory you lock up Foster with Ben Tate.
Tate is a capable runner in his own right (5.1 YPC average), and the Texans will likely want to divvy up the carries, regardless of whether Foster is healthy or not.
Follow me on Twitter @Stacdemon.