Boise State Football: Predicting the Broncos' Stats vs. Washington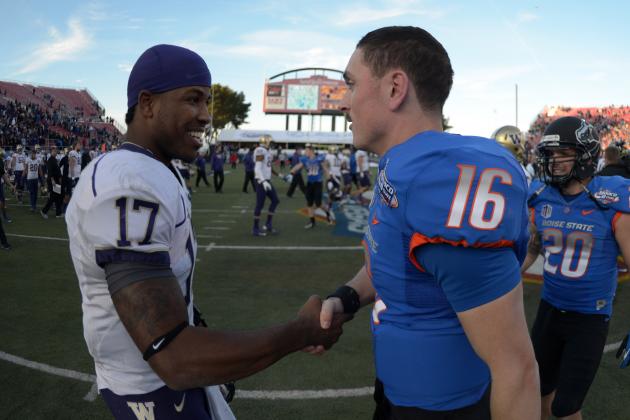 USA TODAY Sports

The 2013 version of the Boise State offense is going to be much better than the one fans watched last season. The players are better, they are wiser and additional talent has been added to the ranks.
Meanwhile, on defense, the Broncos field many untested players, but that doesn't take away from the usual high expectations the team has for itself. Boise State finished No. 12 in overall defense last season, and that was with fewer returning starters than this year's squad.
In Week 1, Boise State heads to Seattle to take on the Huskies of Washington.
Last season these two teams concluded their schedules with a date in Vegas. However, what happens in Vegas now must be settled in Seattle.
It should be a very exciting and exhilarating game in a brand new, renovated Husky Stadium. The crowd will be loud, the air will be electric when the battle in Seattle commences.
Let's attempt to look beyond the days that separate this game from the present, and try to figure out how the players on the Broncos' roster might perform Saturday night.
Begin Slideshow

»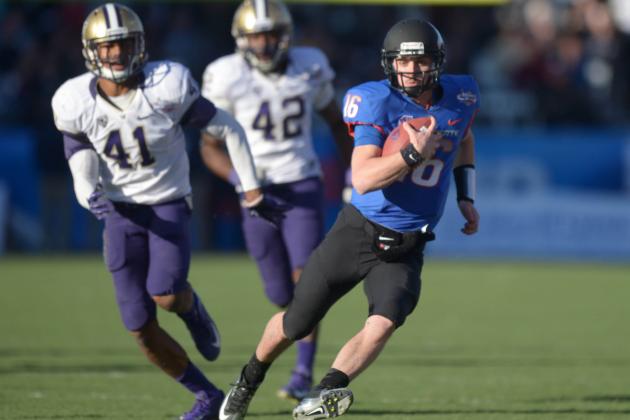 USA TODAY Sports

The key for the Boise State offense on Saturday night will be the running game.
If Boise State is able to open up running lanes, or if Jay Ajayi is simply able to bully his way to significant gains, the Huskies are going to have a hard time shutting down this powerful Boise State offense.
The offensive line has two returning starters and one starter with decent starting experience. Center Matt Paradis and left tackle Charles Leno Jr. will certainly create a solid foundation. However, Spencer Gerke, Rees Odhiambo and Marcus Henry are all players who can handle their own.
These five should give Ajayi the space he needs and senior quarterback Joe Southwick all the time he needs to make things happen.
If the running game is clicking in Seattle, Southwick will no doubt have the ability to pick and choose his targets.
Wide receivers Matt Miller, Kirby Moore and Geraldo Boldewijn give Southwick the help he needs. Shane Williams-Rhodes brings in a different flavor into the offense that can mix things up, and Boldewijn, Aaron Burks and Dallas Burroughs all have the speed to get open downfield.
If the line protects, like it should, and Jay Ajayi and the other running backs perform like they should, Joe Southwick is going to be able to light it up.
Prediction for Offense:
Quarterback Joe Southwick: 32-of-39, 305 yards, 3 TDs, 20 yards rushing
Running Back Jay Ajayi: 24 carries, 122 yards, 1 TD
Running Back Derrick Thomas: 4 carries, 18 yards, 1 catch, 9 yards
Running Back Jack Fields: 6 carries, 22 yards
Wide Receiver Matt Miller: 9 catches, 82 yards, 1 TD
Wide Receiver Kirby Moore: 6 catches, 51 yards
Wide Receiver Geraldo Boldewijn: 7 catches, 72 yards, 1 TD
Wide Receiver Shane Williams-Rhodes: 3 catches, 35 yards, 2 carries, 11 yards
Wide Receiver Aaron Burks: 3 catches, 26 yards
Wide Receiver Dallas Burroughs: 1 catch, 14 yards
Tight End Gabe Linehan: 2 catches, 16 yards
Passing: 305 yards, 3 TDs
Rushing: 193 yards, 1 TD
Total Offense: 498 yards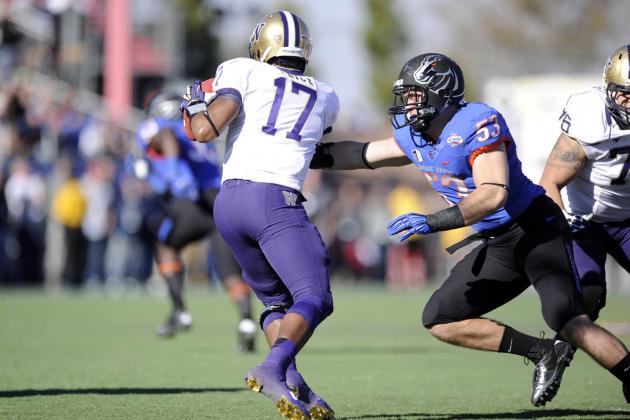 Josh Holmberg-USA TODAY Sports

When the Broncos played the Huskies in Las Vegas last December the team was without star defensive end Demarcus Lawrence. He was suspended for the game for unspecified team rules violations.
This time around Lawrence is in, but the other star defensive end is out. Sam Ukwuachu is gone from the team for unspecified reasons. However, if you had to pick which of the two players you would rather have up front, that player has to be Lawrence.
The junior defensive end was the sack leader for the Broncos last season, and that probably continues this year.
Look for him and the rest of the Boise State defense to give quarterback Keith Price fits. Last season, Price was sacked 37 times.
Boise State was able to get pressure on him in the Las Vegas Bowl, and that led to negative two yards rushing and two interceptions. The Broncos were also able to hold him to a 51.3 percent completion rating, 242 yards passing and just one touchdown.
It was the feet of running back Bishop Sankey that kept Washington in the game. Sankey tore up the Broncos defense for 205 yards on 30 carries. If Boise State wants to win this rematch, it will have to shut down the junior running back.
The defense for the Broncos has some new talent this season, but it is a group that seems hungry and is certainly talented.
If the young secondary can keep the receivers in check, and the defensive line can keep Keith Price flustered, it could be a long night for Washington. However, they must also contain Bishop Sankey.
If they keep the talented running back under 125 yards on the night, it could be the thing that gives them the win.
Defensive Prediction: Top Performers
Defensive End Demarcus Lawrence: 12 tackles, 2.5 sacks
Defensive Tackle Ricky Tjong-A-Tjoe: 7 tackles, 1.5 sacks
Linebacker Blake Renaud: 14 tackles
Safety Jeremy Ioane: 1 interception
Cornerback Bryan Douglas: 1 interception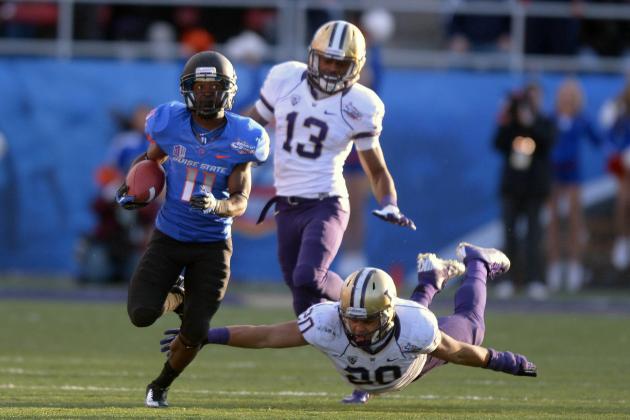 USA TODAY Sports

Special teams might actually be "special" in 2013 for Boise State.
It seems Trevor Harman was challenged for his starting punter job. That competition probably helped Harman out of a senior rut.
Field goals look to be in good shape with the way Dan Goodale is kicking these days, and punt and kick returns are going to be very exciting.
Shane Williams-Rhodes is proof that dynamite comes in small packages.
This guy is fast, agile and can make cuts that cause the opposition to look downright silly. The fact that he is only 5'6" makes it even more difficult to stop him.
His kickoff return against the Huskies in the Las Vegas Bowl set up the game-winning field goal in the fourth quarter of that game.
The Huskies will be keying on him, but that's what makes a player like Williams-Rhodes so dangerous. Just when you think you have him in your sights, he changes your vision with some blurring display of gridiron ballet mixed with martial arts.
In the end, look for his returns to be a key in this game.
Prediction for Special Teams:
Punt Returner/Kickoff Returner Shane Williams-Rhodes: 4 kickoff returns for 128 yards, 3 punt returns for 65 yards, 1 TD
Kicker Dan Goodale: 1-of-1, 41 yards
Punter Trevor Harman: 4 punts, 179 yards, 44.75 average