Fantasy Football 2013: Full Point Projections for NFL's Top Receivers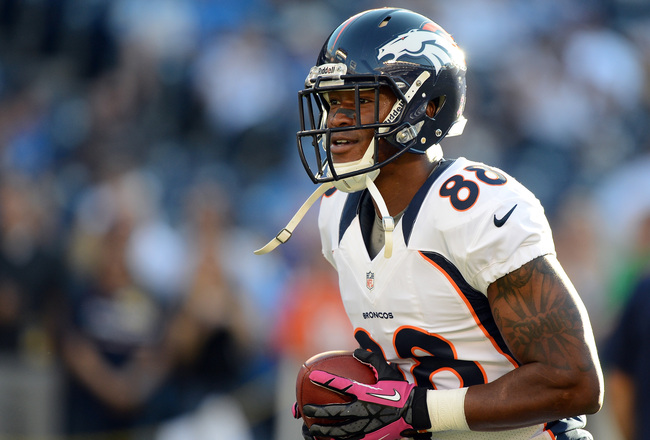 Harry How/Getty Images
Wide receiver is a deep position in fantasy football this season, but the top of the class is as good as ever and there could be some monster seasons from the elite tiers.
Sometimes when looking at the best players who consistently put up big numbers, it is useful to go back into previous years' statistics, look at their offense this year, and then simply try to predict how the trajectory of their statistics will change.
For these projections, I used half of a point per reception as the standard, as it is the best compromise between people who play full PPR and 0, 0.20 or 0.25 PPR.
I also used each fumble loss as minus two points, and didn't factor in any potential two-point conversions.
Here are fantasy point projections for the top eight wide receivers in 2013.
Calvin Johnson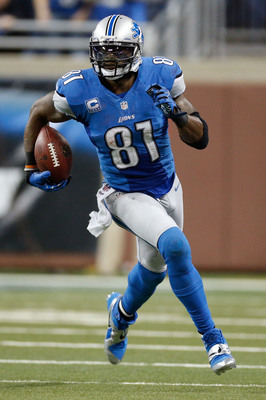 Gregory Shamus/Getty Images
After a record-breaking season last year, it's hard to expect Calvin Johnson to outdo himself.
But while he may score roughly the same amount of fantasy points from this year to last year, the actual statistics should change significantly.
Count on Johnson to be unable to repeat his yardage totals, but increase his touchdowns from last year's almost unbelievably low total of five.
2013 Statistics: 115 receptions, 1,700 yards, 10 touchdowns, 3 fumbles
Total Fantasy Points: 281.5
A.J. Green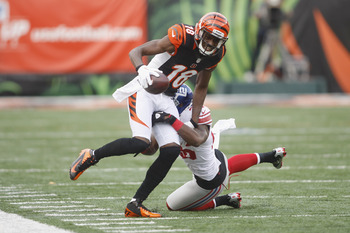 John Grieshop/Getty Images
A.J. Green heads into 2013 with an offense featuring a couple of new playmakers who should take a little bit of pressure off of Green.
Tyler Eifert will take away some targets over the middle of the field at tight end, while Giovani Bernard will make teams pay more attention to the backfield.
Green may have a few less catches, but he has the chance for more big plays this year.
2013 Statistics: 85 receptions, 1,316 yards, 11 touchdowns, 1 fumble
Total Fantasy Points: 238.1
Dez Bryant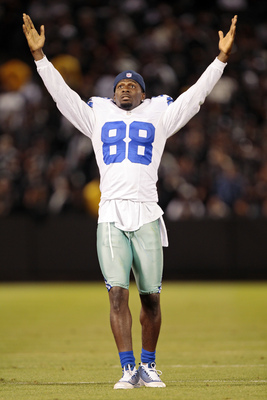 Brian Bahr/Getty Images
Dez Bryant will be looking to firmly cement himself among the elite wideouts in the NFL this season after a breakout 2012 campaign.
He took a little while to develop and mature enough to stay out of his own way, but 2013 looks like the year Dez finally puts it all together.
He will have a bunch of big plays and should see a lot of targets his way, and if he is consistent for all 16 games, then the sky is the limit.
2013 Statistics: 106 receptions, 1,500 yards, 12 touchdowns, 3 fumbles
Total Fantasy Points: 269.0
Brandon Marshall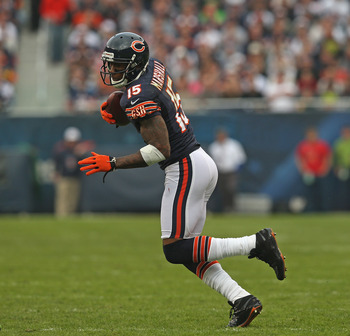 Jonathan Daniel/Getty Images
In his first season with Chicago, Brandon Marshall reminded everyone just how good he can be with a capable quarterback (sorry, Miami).
Jay Cutler absolutely loved throwing him the ball, as he finished second in targets in the entire NFL. There is little reason to think that will change this year.
As long as he keeps getting the ball thrown his way, Marshall will tally huge reception totals.
2013 Statistics: 114 receptions, 1,494 yards, 9 touchdowns, 3 fumbles
Total Fantasy Points: 254.4
Demaryius Thomas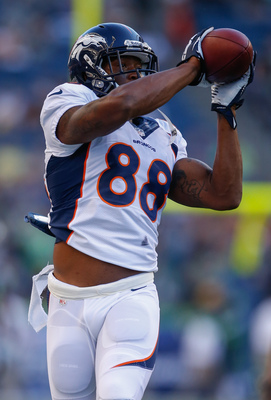 Otto Greule Jr/Getty Images
Demaryius Thomas is one of the most naturally gifted wide receivers in the entire league, and he has one of the best quarterbacks of all time throwing him the ball.
The only thing holding him back from being a top-two or three fantasy receiver are his own teammates, Eric Decker and free agent addition Wes Welker.
Thomas is the leader of the trio, and he will be a premier fantasy producer even with the competition behind him.
2013 Statistics: 84 receptions, 1,392 yards, 10 touchdowns, 2 fumbles
Total Fantasy Points: 237.2
Julio Jones
Scott Cunningham/Getty Images
Julio Jones is similar to Demaryius Thomas in that they both have all the talent in the world, but are hindered by the guys they share a position with.
Roddy White is another extremely talented receiver who has good chemistry with quarterback Matt Ryan, and as long as he is around, there just wont be enough targets for Jones to be a top-three receiver.
But Jones is an explosive runner who can torch defenses for big plays, and as long as he stays healthy (which isn't a given), he'll still put up some big stats.
2013 Statistics: 80 receptions, 1,300 yards, 11 touchdowns, 0 fumbles
Total Fantasy Points: 236.0
Larry Fitzgerald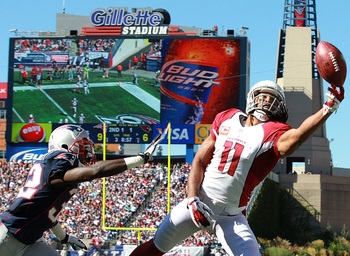 Jim Rogash/Getty Images
Larry Fitzgerald is still one of the best receivers in the game, but he has been stuck with an offense in Arizona that has been dreadful, especially last year.
With guys like Ryan Lindley and John Skelton throwing him the ball, Fitzgerald had a predictably poor season stat-wise.
But Carson Palmer is his quarterback now, so there is solid reason to believe Fitzgerald can get back to his old ways.
2013 Statistics: 84 receptions, 1,333 yards, 7 touchdowns, 0 fumbles
Total Fantasy Points: 217.3
Vincent Jackson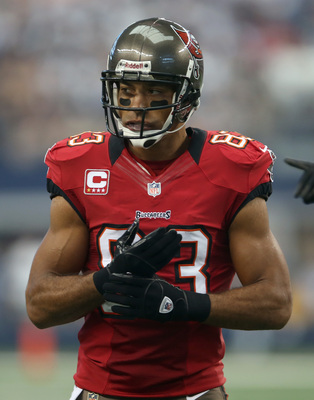 Ronald Martinez/Getty Images
Last season, his first with Tampa Bay, Vincent Jackson had the most productive year of his career.
Jackson is fast, coordinated and 6'5", and Bucs quarterback Josh Freeman finally gave him enough targets to really make a huge impact.
He is still inconsistent on a game-to-game basis, but Jackson supplanted himself into WR1 status with his performance last year.
2013 Statistics: 75 receptions, 1,329 yards, 9 touchdowns, 0 fumbles
Total Fantasy Points: 224.4
Keep Reading