Stock Up, Stock Down for Blue Jays' Top 10 Prospects for Week of Aug 19–25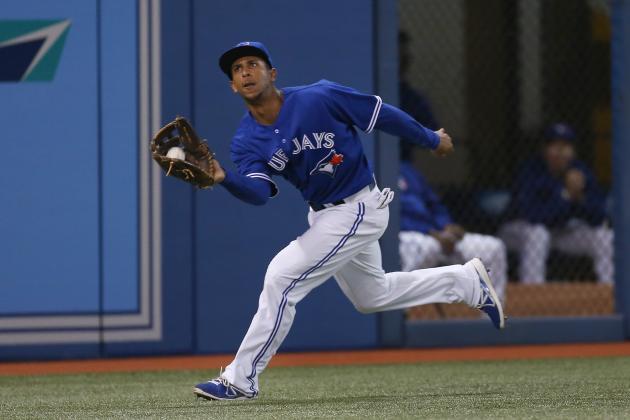 Tom Szczerbowski/Getty Images

As the Toronto Blue Jays stumbled to a 57-73 record, fans have started to turn their attention to the future. Both in the hopes that next year will mean more wins for the Blue Jays as well as many years down the road. The future is brighter than the present in Toronto and keeping a close eye on the development of the organization's top prospects is never a bad thing.
The Blue Jays farm system was depleted this offseason when general manager Alex Anthopoulos traded away a number of top prospects in order to acquire big-name players.
Recently, the Blue Jays have been hit by a wave of injuries and have called up a number of their top prospects including Anthony Gose, Moises Sierra, Kevin Pillar and Ryan Goins. Here are their stock up, stock down reports for the week of August 19–25 as well as six other prospects in the Blue Jays organization.
Begin Slideshow

»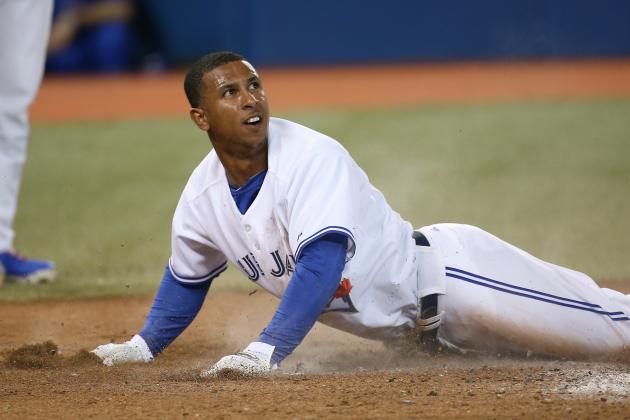 Tom Szczerbowski/Getty Images

2013 stats
MiLB: .239/.316/.336, 27 2B, 6 3B, 3 HR, 27 RBI, 64 R
MLB: .275/.315/.314, 2 2B, 0 3B, 0 HR, 2 RBI, 6 R
Overview
Anthony Gose was called up on August 16 for the second time this year to play outfield for the Blue Jays. After all three starting outfielders found themselves on the disabled list, the Blue Jays desperately needed depth in the outfield.
Although he struggled in Triple-A, he has enjoyed a small level of success with the Blue Jays. Gose still struggles with the same ailments that have kept him out of the major leagues permanently but he has improved slightly. His strikeout total is down and he has made great strides in his ability to hit left-handed pitchers.
Last Week's Stats
5-for-16, .313 OBP, 1 2B, 1 SB
Stock: Up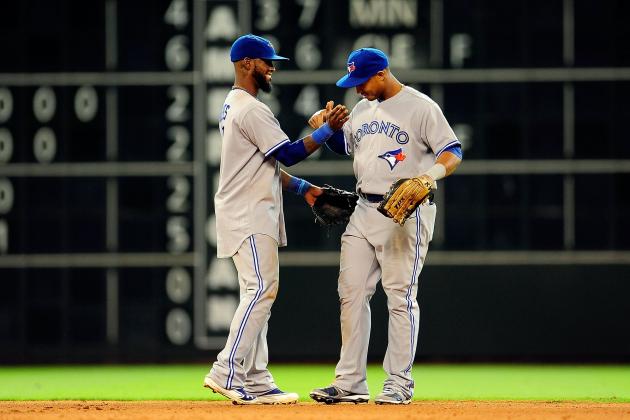 Stacy Revere/Getty Images

2013 stats
MiLB: .262/.314/.423, 19 2B, 5 3B, 11 HR, 54 RBI, 59 R
MLB: .000/.273/.000
Overview
Moises Sierra's 2013 major league campaign has been short and uneventful thus far. He was recalled on August 21 to help with the Blue Jays depleted outfield but has yet to record a hit.
Despite his recent struggles, the 24-year-old had put up decent numbers in Triple-A, seen major league playing time in two straight seasons and won a gold medal with the Dominican Republic at the World Baseball Classic. Sierra's future is bright but his present is a bit duller.
Stock: Down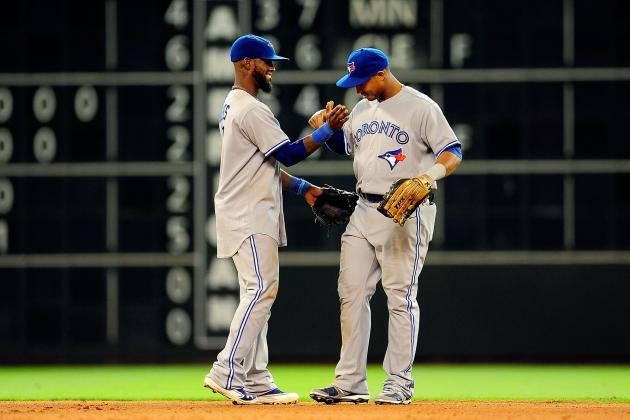 Stacy Revere/Getty Images

2013 stats
MiLB: .257/.311/.369, 22 2B, 1 3B, 6 HR, 46 RBI, 42 R
MLB: .333/.333/.417, 1 2B, 0 3B, 0 HR, 1 RBI, 1 R
Overview
Ryan Goins has spent the majority of the season playing shortstop for the Buffalo Bisons, but made his major league debut on August 24 playing second base. Although a spot on the Blue Jays roster was opened by an injury to Maicer Izturis, Goins had been playing well enough in Triple-A to warrant a promotion regardless.
Goins is 24 years old and has been steadily improving his defensive, contact hitting and his arm. His upside is a serviceable utility player, but he is not there yet. He will most likely spend the rest of the season with the Blue Jays, especially since rosters are set to expand in September, but look for him to start next season in Triple-A.
Stock: Up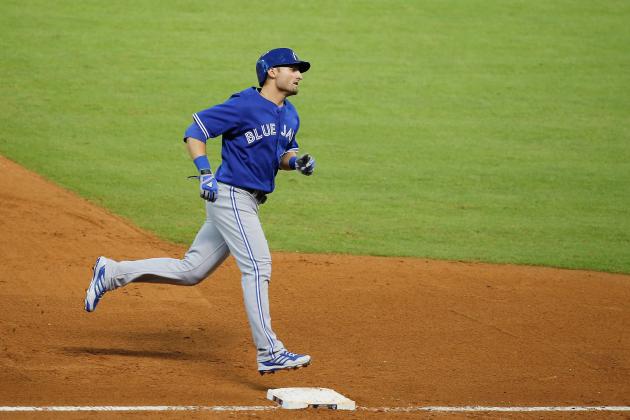 Scott Halleran/Getty Images

2013 stats
MiLB: .307/.353/.361, 39 2B, 6 3B, 9 HR, 57 RBI, 74 R
MLB: .133/.237/.235, 0 2B, 0 3B, 1 HR, 4 RBI, 2 R
Overview
Kevin Pillar had been having a season to remember in Triple-A Buffalo before being called up to the Blue Jays. The 23 year old hit .307 with 233 total bases and 57 RBI.
He was recalled to help out with an injury depleted outfield, but Pillar has been showing Blue Jays that he is MLB ready all season. After hitting .313 in Double-A, his numbers barely dropped when he was promoted to Triple-A. Pillar will get regular playing time in Toronto and will have a chance to prove that his talents can translate to the big leagues.
Pillar's major league career started extremely slow. He was unable to record a hit in his first five games, but has steadily improved. He smacked his first home run on August 24 in Houston.
Last Week's Stats
4-for-17, .235 AVG, 1 HR, 4 RBI
Stock: Up
2013 Stats
19 GS, 3-5, 3.63 ERA, 79.1 IP, 71 SO
Overview
Sanchez is one of the Blue Jays' most promising prospects. At just 21 years old, Sanchez has pitched very well for the Single-A Dunedin Blue Jays.
He is still very inconsistent and has alternated good and bad outings all season. He is a number of years away from his MLB debut, but has put up some encouraging numbers. He has recorded 71 strikeouts while only giving up four home runs. He has held opponent's averages to .202 and pitched nearly 80 innings while under a strict pitch count.
His season has been one that he will be proud of, but his week has been one to forget.
Last Week's Stats
1 GS, L, 2.2 IP, 5 H, 3 ER, 10.12 ERA
Stock: Down
2013 Stats
22 GS, 1-7, 4.20 ERA, 85.2 IP, 99 SO
Overview
Norris is a 20-year-old prospect who plays Single-A for the Lansing Lugnuts. He has started 22 games this season but only recorded a decision in eight of them. Often young pitchers are removed from games before a decision can be recorded so don't read too much into his 1-7 record.
His strikeouts per inning (1.16) and walks per inning (0.52) are more indicative statistics of where Norris is in his development. He made two starts last week and pitched 10 innings while only giving up one run. His stock has fluctuated all season, but two strong outings is always a good sign.
Last Week's Stats
2 GS, 10.0 IP, 5 H, 1 ER, 0.90 ERA
Stock: Up
2013 Stats
10 GS, 3-5, 5.53 ERA, 42.1 IP, 51 SO
Overview
As the youngest player on this list, Roberto Osuna has a lot of baseball ahead of him before he makes his pro debut. At 19 years old, how he plays week to week is far less important than whether or not he can improve over the course of the season.
Most 19-year-old pitchers are still under amateur coaching, but Osuna has had the opportunity to have professional coaching guiding his development. This will bode well for him in the future as he learns to be a pro.
Osuna has not pitched since July 3 with a nagging elbow injury that some fear may require Tommy John surgery. It has been speculated that the mechanics of his delivery are partly to blame and he may need to re-work it in order to avoid further injury.
The words Tommy and John are never good for a pitcher (unless of course the player is named Tommy or John).
Stock: Down
2013 Stats
18 GS, 8-4, 3.22 ERA, 100.2 IP, 71 SO
Overview
Since being reinstated from a 50-game suspension and being converted to a starting pitcher, Marcus Stroman has enjoyed a great deal of success.
He has pitched a lot of innings, including 64.2 over his last ten games, struck out 1.14 batters per inning and kept opponent's averages to .235. Stroman looks like he is ready for a promotion to Triple-A, but it likely will not come until next year.
He made one start last week against the Reading Fightin Phils (yes, Fightin without the 'g') and recorded the win in 5.2 innings pitched.
Last Week's Stats
1 GS, W, 5.2 IP, 5 H, 2 ER, 3.18 ERA
Stock: Up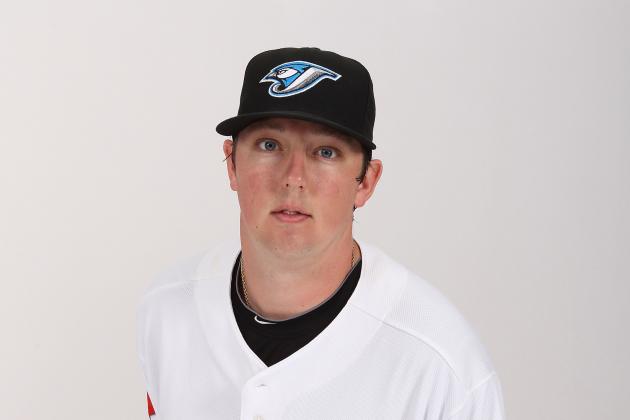 Nick Laham/Getty Images

2013 Stats
25 GS, 9-9, 4.96 ERA, 150.2 IP, 136 SO
Overview
Oh what a story Deck McGuire is. If you have been following the Blue Jays farm system at all you will know that Deck McGuire was once a very highly touted prospect. He cruised through Single-A with the Dunedin Blue Jays and was promoted to Double-A New Hampshire, where he has stalled.
His career with New Hampshire has been up and down, and this season has been no different. He started very slowly but has since improved greatly. In his last 10 games he is 5-2 with 61.0 innings pitched. He has started to log more innings as the season has progressed including a complete game victory earlier in August.
Last week was no exception as he had a strong outing against the Reading Fightin Phils.
Last Week's Stats
1 GS, W, 7.0 IP, 2 H, 2 ER, 2.57 ERA
Stock: Up
2013 stats (across A, AA, AAA)
.292/.338/.415, 19 2B, 0 3B, 4 HR, 38 RBI, 33 R


Overview
It is hard to say too many negative things about a player who started the year on the disabled list in Single-A and has played so well that he is starting for the Triple-A affiliate at just 23 years old. So I won't.
Jimenez was the Blue Jays' lone representative in the 2013 MLB Futures Game, and there is no better way to put it. He is the future of the organization. He was recently promoted to Triple-A Buffalo and should remain there for the foreseeable future until he makes his MLB debut. After the departure of Travis D'Arnaud in the offseason, catcher is a relatively thin position for the Blue Jays, so keep an eye on Jimenez.
The one knock on Jimenez is that he lacks extra base power (just 19 doubles and no triples in 65 games), but he can hit for contact with the best of them. After hitting .429 in Single-A he has settled in nicely at Triple-A batting .273.
Last Week's Stats
6-for-22, .273 AVG, 1 2B
Stock: Up
Follow: Follow @applebyinc