Carlos Condit and Martin Kampmann Set for Crucial Collision at Fight Night 27
Mark Kolbe/Getty Images
In the competitive ranks of the UFC welterweight division, Carlos Condit and Martin Kampmann have held elite status for the past several years.
Condit, the former WEC 170-pound champion parlayed a dominant run inside the "little blue cage" into a gritty campaign under the UFC banner, where he ascended to the top of the ladder.
"The Natural Born Killer" claimed championship gold when he earned the interim welterweight title by defeating Nick Diaz at UFC 143 in February 2012, but ultimately came up short in his bid to unify the belt when he was bested by 170-pound king Georges St-Pierre at UFC 158 back in March.
While Kampmann hasn't laid his hands on UFC gold, "The Hitman" has put leather on a collection of the best welterweights on the roster. Since dropping down from middleweight in 2009, the Danish striker has claimed victory in seven out of 11 showings and solidified his elite standing in the divisional hierarchy.
The 31-year-old Xtreme Couture fighter put himself on the title radar on the strength of a three-fight winning streak, but a loss to current No. 1 contender Johny Hendricks at UFC 154 in November 2012, has Kampmann on the verge of being pushed out of the upper tier of the welterweight division.
Condit and Kampmann are still undoubtedly two of the best fighters in the 170-pound fold, where the championship picture is moving at a rapid pace. This makes their upcoming collision at UFC Fight Night 27 a "must-win" situation for both in the scheduled five-round fight.
A Former Champion Fighting to Remain
When it comes to intensity, there are few fighters who match what Carlos Condit brings to the cage. The Jackson's MMA fighter is one of the sport's best finishers and has amassed an impressive highlight reel of knockouts over the course of his decade-long career.
Kelvin Kuo-USA TODAY Sports
The Albuquerque native has found success in five of his eight showings inside the Octagon, with all five victories coming in consecutive fashion over a three-year period. Yet, while his wins have brought him to the top of the heap, back-to-back losses have him in an unfamiliar position.
After dropping unanimous decision defeats to St-Pierre and Hendricks, suddenly, the former title challenger is facing the possibility of being pushed out of the title picture for the foreseeable future. When a loss to Kampmann in his promotional debut back in 2009 is factored in, the urgency surrounding the rematch in Indianapolis becomes clear.
Despite having a diverse offensive attack in striking and jiu-jitsu, wrestling has always been Condit's Achilles' heel, and it was an aspect Kampmann certainly took advantage of in their first meeting. That being said, following losses to GSP and Hendricks, Condit has enlisted the services of 2012 Olympian Jake Herbert and grappling guru Ricky Lundell to help shore up those aspects in his game.
Condit is in mixed martial arts to be a champion, and if that goal is to remain a possibility, a third consecutive loss is not an option.
Where dropping a second fight against Kampmann wouldn't entirely destroy his status as one of the top welterweights in the game, it would absolutely serve to reshuffle him further back in an already stacked deck. It is a reality he is fully aware of and will be looking to rise to the occasion on Wednesday night.
The WW division has long been one of the most stacked collections in the UFC, and there are no signs of that changing in the near future. Another wave of contenders are fighting to break through, and if Condit is going to remain in stride with the pack, a victory over Kampmann is an absolute must.
A Former Contender Looking to Get Back in the Mix
Martin Kampmann doesn't know how to be in a boring fight. The Danish knockout artist has proven to be one of the most game fighters around, as he's consistently been involved in entertaining tilts since coming to the UFC in 2006.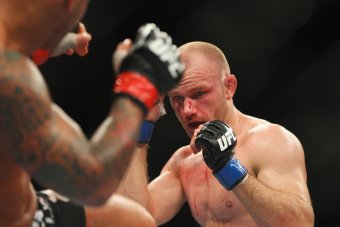 Mark Kolbe/Getty Images
In addition to the acclaim he's garnered for his performances, Kampmann has knocked off enough top-level talent to put him in the mix of title contention. That being said, he's been within striking distance of a title shot on two occasions, and in both instances, he's come up short.
The first of which came against Jake Shields at UFC 121 in 2010, when he squared off with the former Strikeforce middleweight champion in a title eliminator bout. While Shields earning the split-decision nod was debated throughout the MMA community, the loss cooled Kampmann's title run for the time being.
That run was reignited when the Las Vegas transplant notched three consecutive victories, and a potential title shot once again materialized on the horizon.
Unfortunately for Kampmann, he would face another setback at the powerful left hand of Johny Hendricks at UFC 154. The loss to "Bigg Rigg" pushed Kampmann to the fringes of the upper tier in the welterweight division and has him teetering on the edge of relevancy where a title shot is concerned.
Much like his opponent, Kampmann is in a must-win in the main event Wednesday night. Where a victory over Condit would launch him right back into a heated race, a loss to the former interim champion would be devastating to any future title hopes he has.
Kampmann may not have the momentum of a winning streak heading into Indianapolis, but, again, he does own a victory Condit in their previous meeting. And that can go a long way in the confidence department. As in their first dust-up, Kampmann will most likely be looking to tip the balance on the judges' scorecards with his underrated wrestling and ground game. And if Kampmann can defeat Carlos Condit once again, he'll be right back in the UFC title hunt.
The night's prelims start at 6 p.m. ET on Fox Sports 2, while the main card kicks off at 8 p.m ET on Fox Sports 1.
This article is
What is the duplicate article?
Why is this article offensive?
Where is this article plagiarized from?
Why is this article poorly edited?