Liverpool may have acted early to secure some deals in the transfer window, but there are still key areas of the Reds' first team that require improvement.
Iago Aspas, Luis Alberto, Aly Cissokho and Kolo Toure will fill some outfield gaps, but the thwarted pursuit of Willian demonstrates that Brendan Rodgers is still keen to add to his current crop of players.
Luis Suarez looks to be sticking around at Anfield, despite interest from Real Madrid as reported by Andy Hunter of the Guardian. While Rodgers will be keen to supplement his star attraction rather than replace him, further creativity and firepower is required.
The Centre of Defence
Manchester City centre-back Kolo Toure may have been brought in to replace club icon Jamie Carragher, as suggested by Sportige, but there are few who see the Ivorian as a long-term solution.
Daniel Agger has been targeted by Barcelona according to Bill Mills of the Mirror, but he looks set to stay, while former Reds boss Rafael Benitez has also been keen to take fellow centre-back Martin Skrtel to Napoli, according to Ben Smith of BBC Sport.
Liverpool have been linked to a number of defenders, several of whom have the class to step seamlessly into the back line.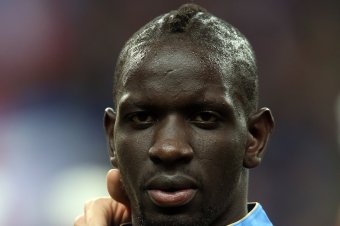 Julian Finney/Getty Images
One-time Paris Saint-Germain captain Mamadou Sakho has had his career derailed somewhat by the influx of fortune and expectation. The local stopper looked set to be the future for club and country, but the likes of Thiago Silva and Alex have kept him from realising his potential.
At 23, Sakho may well be ripe for a change of scene and of status.
Metro's Jamie Sanderson suggested that Liverpool were close to acquiring the defender, although they face competition from Milan, who are also looking to secure the signature of a player once considered among Europe's most promising.
My colleague Joseph Zucker wrote a very compelling piece on why the French international could be an ideal fit to solve the side's defensive weaknesses.
Another defensive talent linked to the club, again according to Mills, is Ajax centre-back Toby Alderweireld. The Belgian has attracted the attention of Arsenal, via Danny Griffiths of the Metro, Tottenham Hotspur, reports Jim Daly of the Mirror and Atletico Madrid, according to Charles Perrin of the Express, during the summer—these names an indication of the reputation the 24-year-old enjoys.
Despite turning down the ambitious attentions of Norwich City earlier in the summer, the stylish defender has suggested that the Premier League is his preferred destination.
Could Liverpool loom large in his destiny?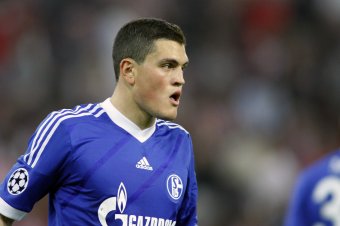 EuroFootball/Getty Images
Future Promise
Greek defender Kyriakos Papadopoulos is another name linked with a future on Merseyside, according to Gary Jones of the Daily Star.
While few doubt the youngster's promise, central defensive positions—particularly in the Premier League—are not typically filled by players in their early 20s. Papadopoulos could realistically spend a year adapting to English football behind Toure, Skrtel and Agger.
Everyone at the club will hope that the team's next defensive prospect is more successful than Sebastian Coates, whose injury-plagued stint in the Northwest has left him lacking rhythm and game time.
The Daily Star reported that it will take £13 million for the deal to go through, but Papadopoulos looks to be worth it.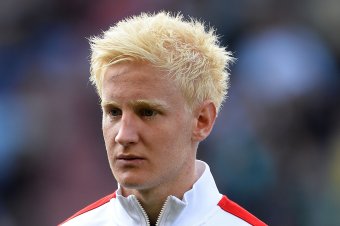 Laurence Griffiths/Getty Images
An option a little closer to home is Derby's prodigious midfielder Will Hughes. The young Englishman has been a revelation in the heart of Nigel Clough's midfield and can look forward to an excellent career.
Sam Wallace of the Independent revealed at the end of last week that the Reds had not made a formal approach for the England youth international, but the rumours refuse to disappear. Derby have indicated, via Tom Hopkinson of the Mirror, that no offers beneath £15 million will even be considered and they would also be keen to retain the 18-year-old on loan for the rest of the 2013-14 season.
In the past, Hughes has been likened to Liverpool and England legend Steven Gerrard. Were he to be recruited by the Merseyside giants, Rodgers would need to ensure that the new boy follows in the footsteps of the Huyton-born superstar rather than those of the club's last youthful central midfielder.
Jonjo Shelvey could have been, in principle, the ideal successor to Gerrard's throne, but after three indifferent seasons at Anfield, he has been offloaded to Swansea City.
It is a path that Hughes—should he join the Rodgers revolution—will be keen to avoid.
Barry Glendenning in the Guardian is one of several commentators to have linked Liverpool to Serbian-Dutch sensation Richairo Zivkovic.
The teenager enjoys the nickname "The New Arjen Robben," and Liverpool fans would surely be salivating at the possibility of securing one of Europe's most exciting attacking prospects.
Currently attached to Eredivisie side Groningen, the youngster made his debut in December 2012, becoming the club's youngest-ever player at 16. Liverpool have reportedly sent several scouts to access the player and will look to trump the vast domestic interest in his recruitment.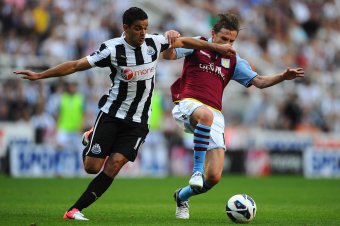 Laurence Griffiths/Getty Images
Attacking Intent
Willian is now heading to the King's Road rather than the banks of the Mersey, as Chelsea announed on their website (h/t David Ornstein of BBC Sport). Chelsea's gain is Liverpool's loss. The Blues are attracting a top-class talent who will reinforce their offensive offerings.
The Reds, on the other hand, lack depth in this area.
Newcastle attacking midfielder Hatem Ben Arfa may have had a few injury-plagued years since arriving in the Premier League, but his talent has never been doubted. On the odd occasion when he has enjoyed a spell away from the sidelines, he has demonstrated the enduring qualities of his technique and vision.
If Rodgers and his team can keep Ben Arfa away from the treatment table, the player could blossom into one of the league's exceptional attacking talents. He is capable of taking players on or shooting from distance. He can influence a contest with a change of pace or an inspired action.
The upheaval and controversy that abounds at St. James Park must surely make a move away a more appealing, stable prospect. Ben Arfa could certainly profit from Liverpool's paucity in attacking, creative areas.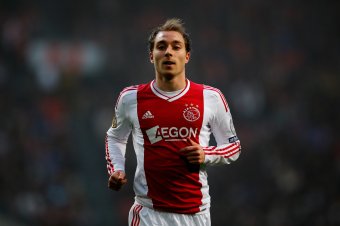 Dean Mouhtaropoulos/Getty Images
Another option to fill this void would be Danish superstar Christian Eriksen.
For several seasons now, a subtle subplot of every transfer window has been the potential move and would-be suitors for the highly rated Eriksen, as news aggregator Football Transfer League demonstrates. Having served his tutelage at Ajax—becoming the side's star following an outstanding apprenticeship—the Dane looks ready to fly the nest.
He would be an excellent signing for a number of European sides. Considering interest from Spurs, as reported by Steve Stammers of the Mirror, he could be considered a coup for Liverpool.
The 21-year-old is entering the final year of his contract. If he does not leave this summer, it is likely that he would depart in 12 months' time.
He could be the kind of acquisition that would begin to indicate to the world that the fallen giants can still be a major player in the European arena.