Nightmare Waiver Deadline Scenarios for Each MLB Contender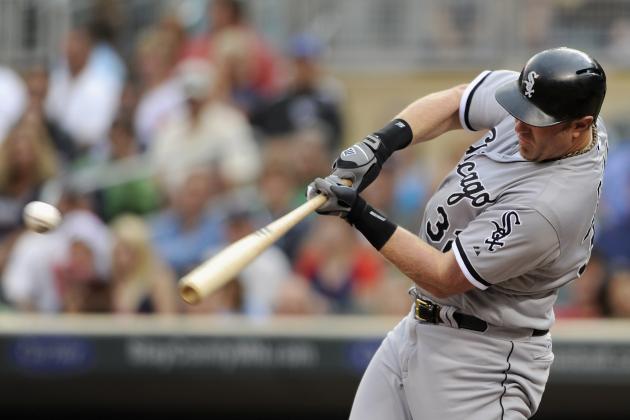 Hannah Foslien/Getty Images

It's all over on Saturday afternoon.
That's when MLB's waiver-trade deadline hits, putting an end—only temporarily, of course—to what has been months of banter, speculation and baseless trade rumors.
Between then and now, each of the 15 teams that I still consider to be viable playoff contenders will be looking to shore up their rosters for the stretch run, with some of those contenders already pulling off deals that, in some cases, may have improved their playoff chances slightly.
But finding that short-term success via the waiver wire can be costly.
Just ask Pittsburgh, which in 2008 traded a struggling third baseman named Jose Bautista to the Toronto Blue Jays for a player-to-be-named-later, which wound up being catcher Robinson Diaz.
Bautista has gone on to become one of the premier sluggers in the game, while Diaz appeared in a total of 48 games for the Pirates, last playing in the major leagues in 2009 and currently spending time with Milwaukee's Triple-A team in Nashville.
Think Pittsburgh would like a do-over on that one?
That's the kind of nightmare scenario that doesn't ever stop stinging—and what follows are the nightmare scenarios for every contender that their respective general managers will be looking to avoid over the next five days.
*Unless otherwise noted, all statistics courtesy of Baseball-Reference.com and current through games of August 25.
Begin Slideshow

»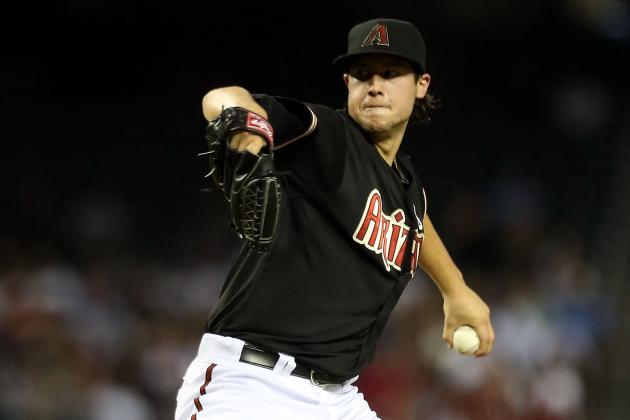 Christian Petersen/Getty Images
Arizona needs to hold onto players like Tyler Skaggs.
Arizona's playoff chances are largely out of the team's hands—and for that reason alone, the Diamondbacks would be creating a nightmare in 2014 and beyond by moving some of their young talent for another veteran piece.
Even if Arizona was to win the seven games that it has left to play against the division-leading Dodgers, the Diamondbacks would still need help from other teams to reclaim the top spot in the NL West.
When it comes to the wild-card race, Arizona doesn't face any of the three teams that it's chasing—Cincinnati, Pittsburgh or St. Louis—for the rest of the season, giving the team even less control over its playoff fate.
Without a clear path to reaching the postseason, Arizona's best move is to not make one at all.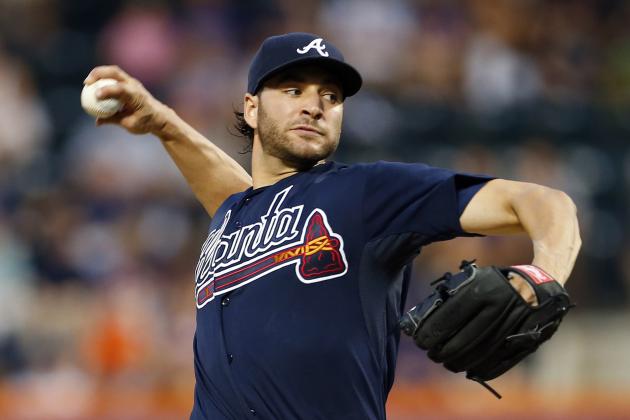 Rich Schultz/Getty Images
Atlanta's rotation is in good shape with or without Brandon Beachy.
When the most dreaded name in sports—Dr. James Andrews—is attached to a player on your favorite team, it doesn't fill us with a warm, fuzzy feeling that everything is going to be alright.
That holds true for general managers as well, including Atlanta's Frank Wren, who is sure to be waiting with baited breath for a call from the good doctor on the status of Brandon Beachy's right elbow, which Andrews performed Tommy John surgery on last season.
Beachy is set to visit Andrews on Monday, according to David O'Brien of the Atlanta Journal-Constitution, and it goes without saying that the Braves are likely preparing themselves for the worst while hoping for the best.
Even if the team's nightmare comes true—that Beachy needs to undergo a second surgery on the elbow and will miss the rest of the season—Atlanta is well equipped to handle the loss.
The Braves have a formidable starting rotation without Beachy, led by Mike Minor and a pair of quality veterans in Paul Maholm and Kris Medlen, both of whom have pitched better than their numbers would indicate.
Toss in youngsters Julio Teheran and Alex Wood, the latter of which stepped in when Tim Hudson was lost for the year, and there's simply no reason for Atlanta to go out and look to add another established piece to the rotation, a move that almost certainly would cost them a significant prospect.
Rick Osentoski-USA TODAY Sports
It's all about value when it comes to Justin Morneau.
It's no secret that Baltimore has been looking to add another bat to its lineup for more than a month, something that Dan Duquette, the team's executive vice president of baseball operations confirmed, once again, to CSN Baltimore's Rich Dubroff over the weekend:
"We're looking at it. We've pursued some hitters, but we haven't been able to find the right fit."
It's that mentality that the Orioles need to keep.
ESPN 1500's Darren Wolfson reported last week that the Orioles may be forced to make a move for Morneau with the New York Yankees supposedly having renewed interest in the former AL MVP as well.
That's simply not enough of a reason for Baltimore to make a move for a player that they are clearly torn over.
With Morneau having his best month of the season, hitting .270 with seven home runs, 19 RBI and an .868 OPS in August, the Twns aren't going to give him away, despite his pending free agency.
Unless Baltimore can find a deal that it is comfortable with, there's little reason for the team to make a move for the sake of making a move.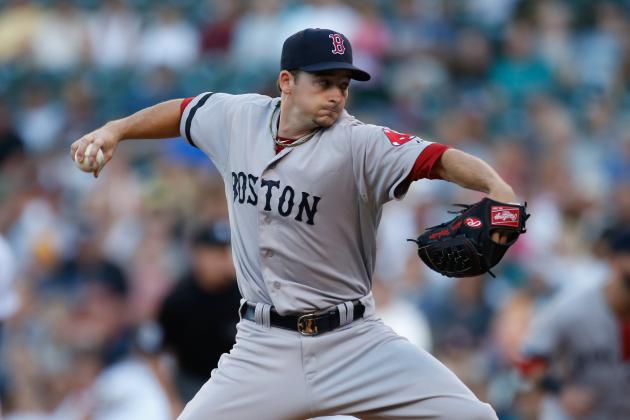 Otto Greule Jr/Getty Images
Prospects like Allen Webster are expendable in Boston.
While Boston doesn't necessarily have multiple holes that it needs to fill, the Red Sox have only a one-game lead over Tampa Bay in the AL East and, should they fall into second place, will face an equally stern challenge from the likes of Baltimore, Cleveland, New York and Oakland in the wild-card race.
With one of the deeper farm systems in baseball—especially when it comes to young, controllable pitching with upside—the Red Sox can afford to move a piece or two in order to ensure a spot in the playoffs this season.
Nobody's talking about moving the likes of Xander Bogaerts, obviously, but players like Anthony Ranaudo and Allen Webster are expendable.
Even with Clay Buchholz working his way back to the team after missing nearly two months of the season, if a trade should materialize that GM Ben Cherington believes would benefit the team—even if only for the short term—the Red Sox need to pull the trigger.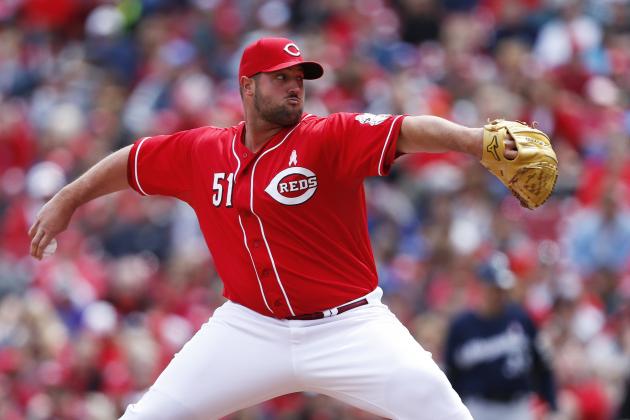 Joe Robbins/Getty Images

With the news that Jonathan Broxton will be out of action for the next six months after undergoing elbow surgery, Cincinnati needs to bolster its bullpen for the stretch run.
Whether it's making a move for someone like Colorado's Rafael Betancourt, as speculated by the Denver Post's Troy Renck, or someone else, the Reds, in the thick of a heated three-way battle for the NL Central with Pittsburgh and St. Louis, can't afford not to acquire a veteran reliever.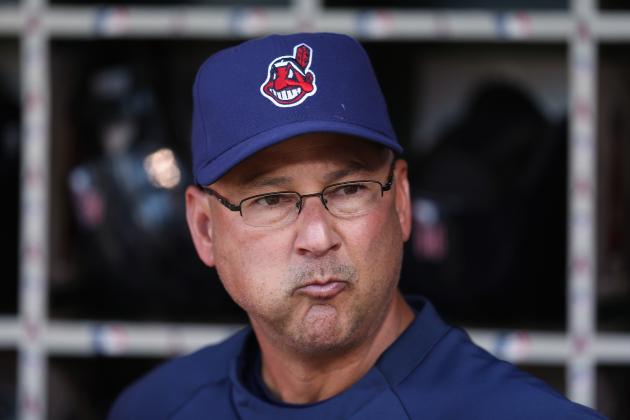 Jeff Gross/Getty Images
Cleveland must continue to give Terry Francona the pieces he needs to succeed.
According to Paul Hoynes of the Cleveland Plain Dealer, the Indians have put in waiver claims on a number of players—Delmon Young not being one of them—but have yet to be able to work out a deal to bring one of them to Cleveland.
GM Chris Antonetti must continue to be active on the waiver wire, submitting claims for players that he believes can not only help his club, but that can help their competition for a playoff spot.
Even if the Indians aren't able to—or have any interest—work out a deal for some of the players that are put on waivers over the next few days, Antonetti needs to continue to submit claims, if for no other reason than to keep the competition from getting stronger.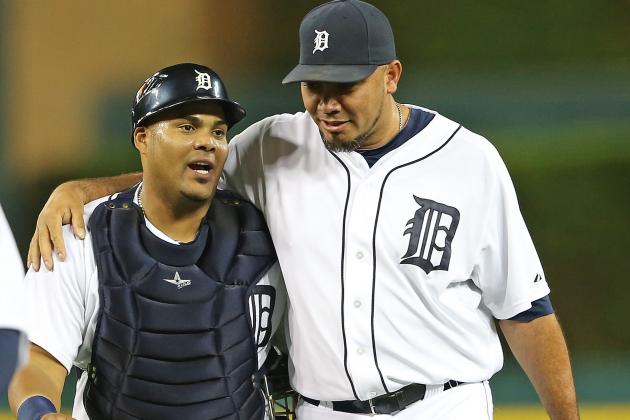 Leon Halip/Getty Images
Brayan Pena has been solid with the bat and the glove.
With Alex Avila needing to be pulled from a rehab game last week with a headache as he recovers from a concussion, it's fair to speculate that the 26-year-old catcher may not be able to return to action this season.
It's not as if Avila was lighting the world on fire this season, hitting .198/.288/.340 with nine home runs and 36 RBI.
In his place, Brayan Pena has done an excellent job, while the team used designated hitter Victor Martinez behind the plate for the first time in nearly two years against the Mets this past Saturday.
While Martinez didn't look out of place behind the dish, that he's only played the position once since 2011 is reason enough to have second thoughts about relying on him as a second catcher down the stretch and in the playoffs.
Quality catching doesn't hit the waiver wire often, but if a veteran backstop's name should cross GM Dave Dombrowski's desk, he must do what he can—within reason—to bring that catcher into the fold.
The last thing the Tigers can afford is for something to happen to either Pena or Martinez down the stretch, leaving the team to rely on Bryan Holaday, who has appeared in a total of 17 major league games over his career, at one of the most important positions on the field.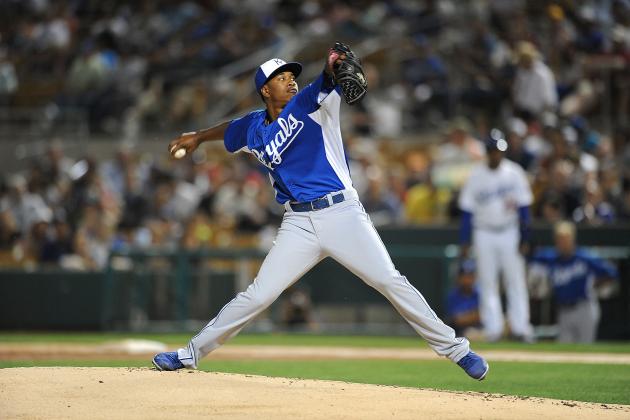 Norm Hall/Getty Images
Kansas City needs to hold onto talent like Yordano Ventura.
While the Royals and their fans certainly feel some level of regret for trading Wil Myers and three other prospects to Tampa Bay over the winter, Kansas City is not sitting in contention right now without the efforts of James Shields—and even the underwhelming Wade Davis—in the team's starting rotation.
But after going 1-5 last week, they are teetering on the edge of losing that contender label and falling out of the race altogether.
That said, looking to bolster the offense by adding a veteran at the cost of more prospects simply isn't worth it. There's plenty of talent in the lineup—it's just that, with few exceptions (Eric Hosmer), most of it has struggled for much of the season.
Kansas City has holes to fill this winter after management does a full assessment of how the roster performed, and the Royals will certainly have some holes to fill.
But the team has fewer holes than it has in years, and trading young talent to fill them now would be a foolish move to make. The Royals can address those holes during the offseason, positioning themselves to be legitimate contenders in 2014—not just sitting on the outskirts of contention.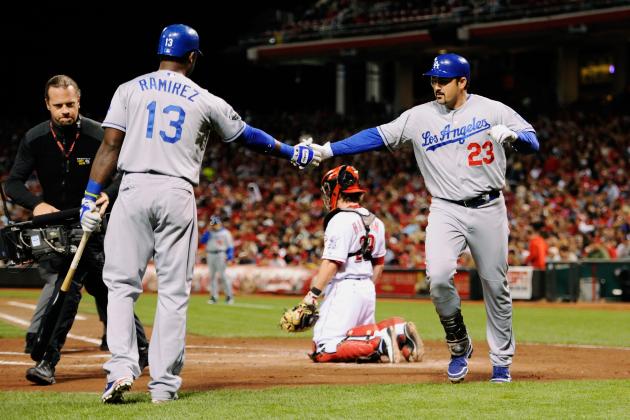 Jamie Sabau/Getty Images
Hanley Ramirez and Adrian Gonzalez have been fantastic in Dodgers blue this season.
It was exactly one year ago today that the Boston Red Sox and Los Angeles Dodgers turned the baseball world upside down by agreeing to a blockbuster trade that saw nine players and a quarter of a billion dollars in salary change hands.
While that didn't help either team in 2012, both are having incredibly successful seasons in 2013, due largely in part to that move.
For the Dodgers, there's simply no reason for GM Ned Colletti to be looking at making any moves right now, much less looking to add another big name to a roster that is already littered with them.
Doing so could not only upset the chemistry that the team has, but it would further deplete an already semi-decimated farm system.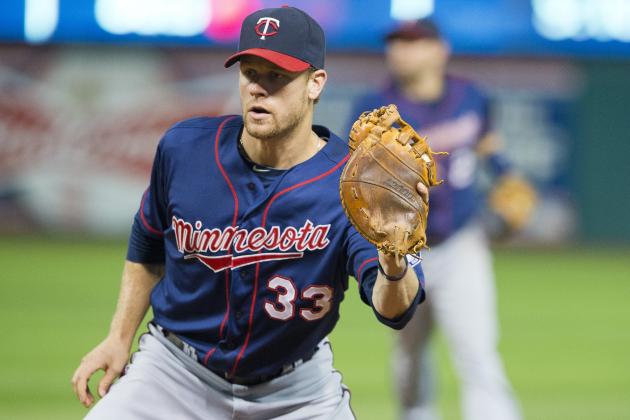 Jason Miller/Getty Images
The Yankees need to say thanks but no thanks to adding Justin Morneau.
That the Yankees are still in contention for a playoff spot is nothing short of miraculous when you consider the injuries that the team has suffered and the myriad of mediocre veterans it has relied upon for much of the season.
ESPN 1500's Darren Wolfson reported last week that the Yankees are back in the hunt for Minnesota first baseman Justin Morneau, a move that would make absolutely no sense for the team should a trade be agreed upon.
Not only doesn't Morneau fill a need for the club, with Lyle Overbay and Mark Reynolds platooning at first base, but Minnesota wants young, controllable pitching—something that the Yankees simply cannot afford to surrender.
Whether it's Morneau or another aging superstar, like Adam Dunn, the Yankees need to avoid adding players like that and roll the dice with the team they have and see what happens.
No longer is the goal to win in 2013—it's to get under the luxury tax in 2014 so that they can go on a free-agent shopping spree in 2015, filling in the missing pieces with the young talent in their system that should be ready right around that time.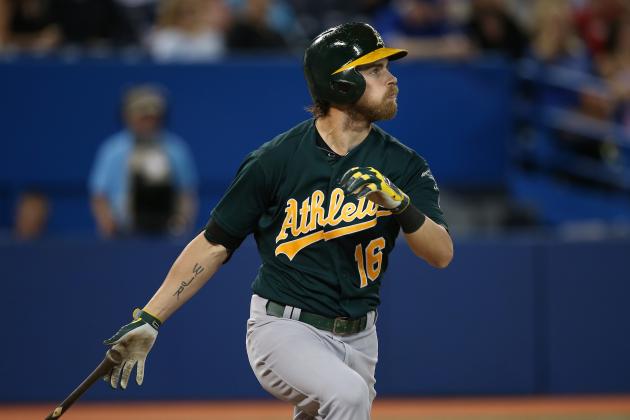 Tom Szczerbowski/Getty Images
Josh Reddick may-or-may-not miss time—but the A's can replace him from within.
The right wrist that Josh Reddick had surgically repaired after the 2011 season is giving him trouble again, according to Susan Slusser of the San Francisco Chronicle, and it could land the 26-year-old right fielder on the disabled list.
Rather than look to the waiver wire to replace Reddick, who has struggled for most of the season, the A's have multiple options with which to replace him in the lineup.
The A's could promote either Michael Choice or Michael Taylor from the minor leagues to fill in for him, though the most likely scenario would be for the team to recall Daric Barton, put him at first base and slide Brandon Moss into Reddick's outfield spot.
Regardless of which choice the team makes (no pun intended), Oakland has the pieces it would need to fill the void left by Reddick's potential stay on the disabled list in-house.
There's simply no reason to go shopping elsewhere.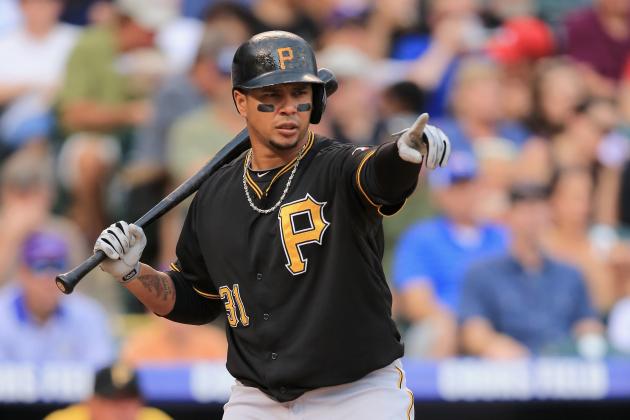 Doug Pensinger/Getty Images
Jose Tabata has elevated his game in August.
The Pirates have been looking to bolster their outfield for some time now, and with left fielder Starling Marte landing on the disabled list with multiple injuries to his right hand, including a contusion and a sprain, according to CBS Sports' Dayn Perry, the fear is that the team could become desperate.
Desperation has a way of convincing even the shrewdest general managers to make irrational decisions, and moving any of the team's quality youngsters to fill the void left by Marte's stint on the disabled list would be incredibly irrational.
Jose Tabata—who has elevated his game in August, hitting .308 with a pair of home runs, eight RBI and an .867 OPS—has slid over the left field in Marte's absence while 34-year-old Andrew Lambo has taken over for Tabata in right field.
I'm not saying that Pittsburgh shouldn't look to add a more established option than Lambo, who has all of 17 major league plate appearances to his credit, but to add that player at the cost of any of the team's quality prospects is something that GM Neal Huntington needs to avoid at all costs.
Justin K. Aller/Getty Images
Replacing Jake Westbrook isn't incredibly difficult to do.
Since returning from his first stay on the disabled list this season on June 14, Jake Westbrook has pitched to a a 5.97 ERA and 1.59 WHIP, walking more batters (31) than he's struck out (24) while allowing a ridiculous 10.63 hits per nine innings of work.
While Westbrook has plenty of experience, which can't be replaced by a youngster, his production—or lack thereof—can.
St. Louis can get better outings from youngsters like Michael Wacha, Carlos Martinez and Tyler Lyons—and the mere idea of dipping into the farm system to land a veteran arm should be nothing more than a fleeting one in GM John Mozeliak's mind.
It's not as if the fifth starter factors into the shortened rotations that the playoffs bring with them, so where's the sense in trading a young, controllable piece for a veteran that may or may not be able to improve upon Westbrook's awful numbers?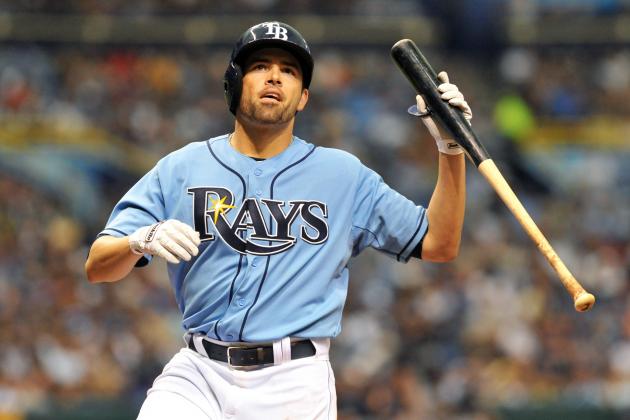 Al Messerschmidt/Getty Images
Adding David DeJesus should be the last move the Rays make.
With the team's addition of veteran outfielder David DeJesus from the Washington Nationals and the re-signing of Delmon Young last week, Tampa Bay's outfield has been fortified. Therefore, those should be the last moves GM Andrew Friedman looks to make.
Matt Moore is working his way back to the rotation and is expected to rejoin the team next Tuesday while reliever Jesse Crain, who has yet to pitch for Tampa Bay since the team acquired him at the trade deadline from the Chicago White Sox, could return in September to give the bullpen a boost.
Without a gaping hole that needs to be filled, there's no reason for the Rays to tinker with what they've got.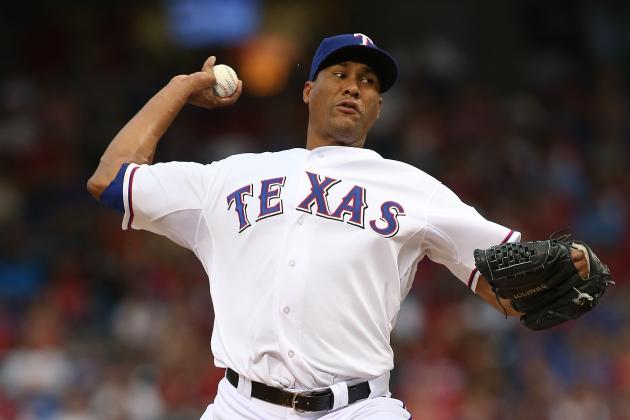 Rick Yeatts/Getty Images
Alexi Ogando's inability to stay healthy is a problem—but not one Texas needs to address right now.
Yu Darvish, Matt Garza and Derek Holland give Texas a formidable trio atop the rotation, and while adding a veteran arm at the back end of the rotation would be ideal, moving any more young talent to bolster the rotation isn't the way for the Rangers to do it.
If the cost to land an Erik Bedard-type is minimal (i.e. a low-level prospect), then GM Jon Daniels would be foolish to not pull the trigger on a deal.
But to move anything more valuable than that for a pitcher who figures to make only a handful of starts for the Rangers, who have one of the easier September schedules in baseball, would be a sure sign that Daniels has begun to go insane.
Martin Perez has been solid as the team's fourth starter, and, while it was only one start, Travis Blackley held his own against Houston.
The Rangers continue to put up runs without Nelson Cruz in the lineup, and with Lance Berkman's eventual return to action, the team's offense will get a bigger boost than it would from going out and trading for another veteran bat.