After spending an incredible amount of money over the summer transfer window, Manchester City were looking for a strong start to the Premier League.
They found that last week in a 4-0 win at home over Newcastle United. But they didn't find it this week, as they suffered a shocking 3-2 loss on the road to Cardiff City.
Despite taking the lead early in the second half through Edin Dzeko, Manuel Pellegrini's side soon found themselves facing an imposing 3-1 deficit thanks to a brace from Fraizer Campbell and some hapless defending from the Citizens. Summer recruit Alvaro Negredo pulled one back in injury time for the visitors, but it wasn't enough to stop the Bluebirds from recording an incredibly surprising victory.
The only response to hearing the news was simply to ask how it happened.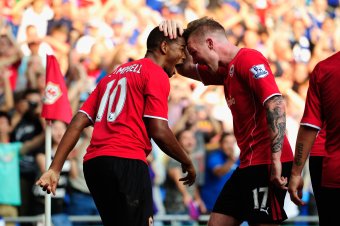 Stu Forster/Getty Images
Truth be told, we don't really know. Manchester City were the favorites for this one—and rightly so. Given their depth of talent and class, they most likely should have beaten Cardiff City.
However, some important lessons can be learned from this defeat that will perhaps explain why Pellegrini's men couldn't get the three points on offer this weekend.
Let's break down the defeat and see what we can learn for the weeks to come.
The Week That Was for Manchester City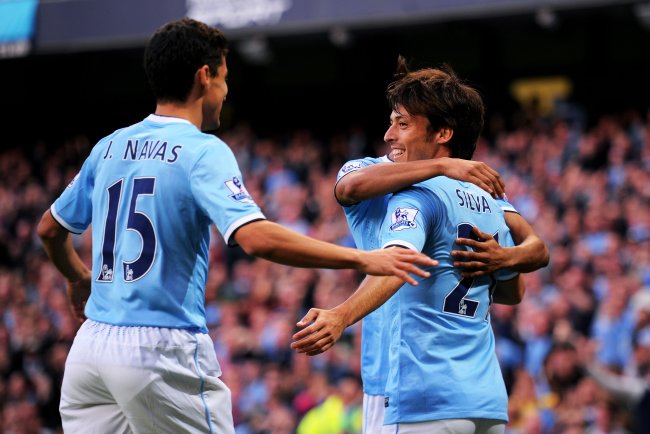 Michael Regan/Getty Images
I'm a big-picture guy. The finer details are certainly important, but sometimes we give them too much credence and, in doing so, lose sight of the big picture.
Both in life and in football.
Thus, it's important to start looking at why City lost this game in light of their entire week—not just one isolated incident that occurred in Cardiff this weekend.
City opened their Premier League campaign with a 4-0 win at home over Newcastle United. It was a clinical display of passing and moving from the 2012 league champions, but they were never really tested by the Magpies' attack.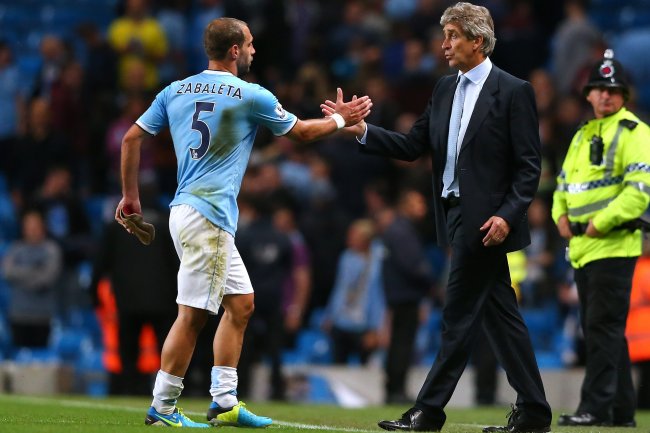 Alex Livesey/Getty Images
That fact was compounded when the Toon were reduced to 10 men.
City were playing against a team that ranked as the worst in Europe last year, and they only had 10 men. Simply put, they should have won, and they should have won well. Beating Newcastle in that context showed the class of the home team, but it wasn't unexpected. It wasn't a test at all for a club with City's depth of talent.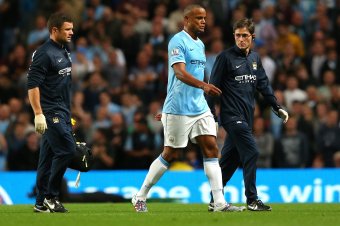 Alex Livesey/Getty Images
That game came on Monday, so the turnaround to Sunday's game against Cardiff wasn't all that bad for Pellegrini's men in terms of preparation time.
However, it did have an effect on their injury situation.
Inspirational leader Vincent Kompany went off injured against Newcastle and was ruled out of this fixture, along with Micah Richards. Matija Nastasic also didn't recover from his ailments in time (only making the substitutes bench), which forced Javi Garcia to form an unlikely combination with Joleon Lescott in central defense. As we saw in the game itself, that didn't work well for City.
The Game Itself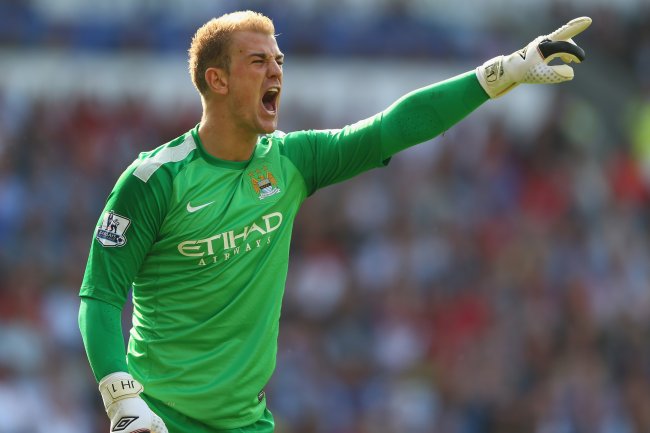 Michael Steele/Getty Images
Due to several key injuries, City were forced to play an unconventional starting team against Cardiff. Here's how they lined up for this one:
TEAM NEWS: Hart, Zabaleta, Garcia, Lescott, Clichy, Navas, Fernandinho, Toure, Silva, Dzeko, Aguero #ccfcvmcfc #mcfc

— Manchester City FC (@MCFC) August 25, 2013
SUBS NEWS: Pantilimon, Nastasic, Kolarov, Rodwell, Milner, Nasri, Negredo #ccfcvmcfc #mcfc

— Manchester City FC (@MCFC) August 25, 2013
Their moves—albeit forced—didn't pay off in the slightest.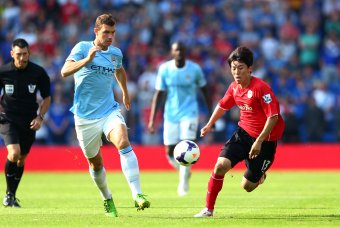 Michael Steele/Getty Images
From the opening whistle, City looked uncomfortable at the back. Cardiff had seemingly originally adopted a deep-lying defensive structure but quickly began to press forward on to the Citizens' last man—knowing that their central pairing wasn't comfortable working together.
Campbell nearly found success when he got in behind Garcia on the 42nd minute, but he just ran out of room as Lescott and Hart closed down the angle of his shot.
Just one minute later, the wiry attacker would see another golden chance when Garcia misjudged his attempted clearance and played him through on goal. Were it not for a spectacular save from Hart, Campbell would have scored.
Lescott and Garcia weren't playing well together at the back, and both were struggling to effectively play a high line (something they had no doubt been instructed to do given the last time they played together in defense—the 3-1 defeat to Southampton).
City took a 1-0 lead in the match thanks to a superb solo striker from Dzeko, and it appeared that would perhaps be the straw that broke the camel's back for Cardiff.
Not to be.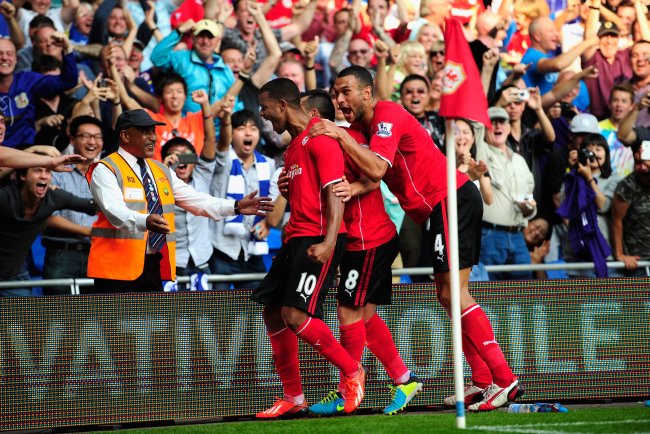 Stu Forster/Getty Images
The Bluebirds continued to harass City in the centre of the pitch, with Gary Medel giving an impressive defensive performances.
That was in stark contrast to City's defenders, who were simply too slow to react when Campbell's shot bounced off Hart—leaving Gunnarsson to tap home.
The equalizing goal gave Cardiff new hope, and they soon found their attacking rhythm once more. Peter Whittingham got into space out on the right flank and started to look dangerous for the home team. However, it would not be open play that produced the next two goals for Cardiff; instead, those goals were the result of set pieces City did not deal with at all.
Campbell headed home in the 79th minute from a corner on the right.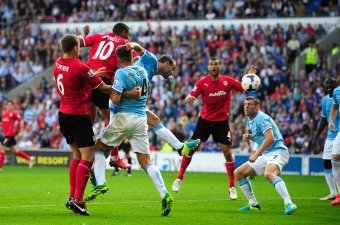 Stu Forster/Getty Images
The striker made an excellent run to the back post, but the key was Joe Hart's whiffed punch. The England international tried to come off his line but got caught second-guessing himself and was unable to make a clearance from no man's land. Campbell was also too aggressive for Pablo Zabaleta, the man he would beat again from the second corner—this time from the left.
Again, Campbell rose well over Zabaleta. But again, the key was Hart.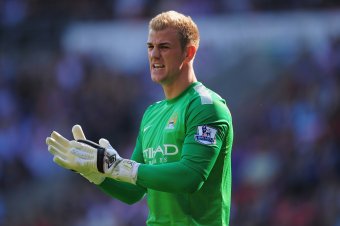 Stu Forster/Getty Images
Still mulling over his attempted clearance, Hart chose not to leave his line this time (despite the ball landing just two to three feet away from him). That made enough of a hole for Campbell to rise in, and despite 10 City players being in the box at the time of the goal—and nine of them inside the six-yard box—the striker was able to score another relatively simple header.
Garcia and Lescott struggled on the ground. Hart struggled in the air.
And there lies the game for Manchester City.
David Platt on Al Jazeera: "If Mancini and I were still at City, Hart wouldn't be there. We decided to sign Begovic."

— Rafael Hernández (@RafaelH117) August 25, 2013
Pellegrini did not not to single out any one player to blame for the defensive woes against Cardiff, but he was far from pleased with his defensive unit. As reported by The Guardian's Jamie Jackson, Pellegrini said, "Defending set pieces is a duty for the whole team, not just the goalkeeper or the defenders. It doesn't matter who is guilty."
Bleacher Report's Alex Dimond, on the other hand, singled out Hart for his woes at the back, which have been going on too long now for the shot stopper, according to Dimond:
Barely two games into his succession, Pellegrini finds himself already considering the same concerns Mancini long harbored. Almost every Premier League title winner in the competition's history was able to call upon a consistent, reliable goalkeeper—in the key moments, you need a No. 1 who will produce a decisive save.

On Sunday, Hart failed in his moment—missing his punch as Campbell landed his blow. Too many more of those and City will be hemorrhaging far too many points to recover; and Hart has not been playing well enough for an alarming period of time now.
After all, Hart is 6'5". Campbell is 5'6". It shouldn't be that difficult.
Some of the gloss will come off the poor performance given the fact that this was not City's usual defensive pairing. They will be much stronger once Nastasic, Kolarov and Kompany are healthy once more, and they will likely be much stronger on set pieces as well.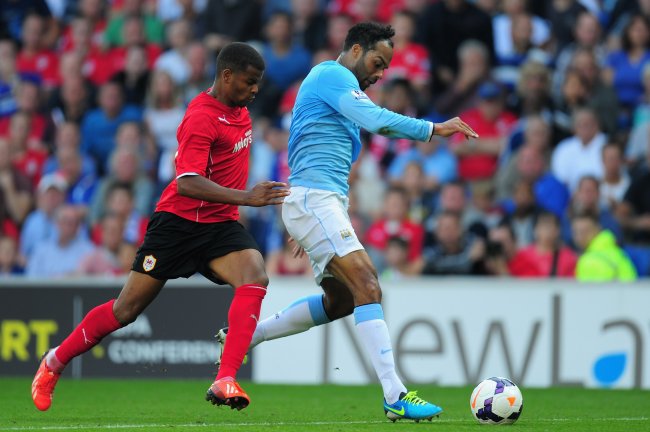 Stu Forster/Getty Images
However, the issue of depth still remains key. If City's replacements aren't capable of doing the job, they need to find players who are strong enough.
The continued hunt for Martin Demichelis highlights that need perfectly. The inclusion of Dedryck Boyata would also likely have been an improvement on Garcia.
Was Cardiff Just One Bridge Too Far?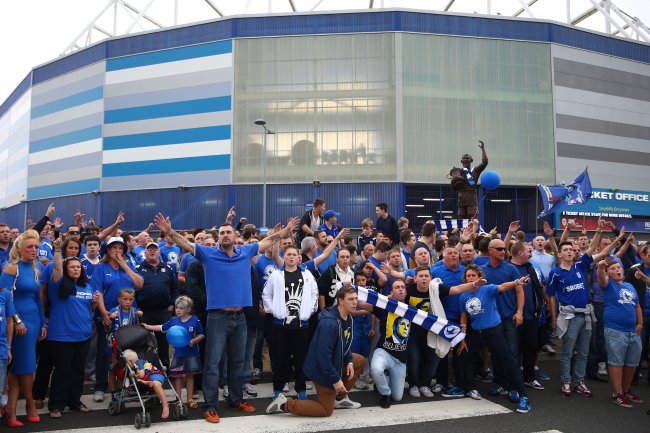 Michael Steele/Getty Images
While City were no doubt left to rue several defensive mistakes at the back that ultimately cost them three points here, it's worth finishing on a point other than the game itself. And despite the fact it might seem pretty innocuous, don't rule out location being a key player in Cardiff's victory here.
Being at home in Cardiff is much different than being at the Etihad.
Man City are winless in their last 9 top flight matches away to Welsh teams, since a 3-0 win at Cardiff City in January 1954. #mcfc #ccfc

— Infostrada Sports (@InfostradaLive) August 25, 2013
Last year, Manchester City lost just four games on the road, with six draws in there as well. For a team that has played quite poorly away from home in the last few years, that isn't that bad, but it's worth noting the teams they suffered defeats to.
Sunderland and Southampton both beat City at home.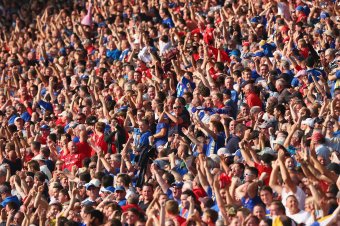 Michael Steele/Getty Images
Going to the Stadium of Light, high up in the north of England, certainly isn't an easy task for teams. The same goes for Southampton in the south of England.
Out of the top four teams in the Premier League last season, only Manchester United (thanks to two late goals from Robin van Persie) beat the Saints at St. Mary's Stadium. Given that the Saints have gotten even stronger this year, it's definitely worth noting that fact for the season to come.
This might all seem trivial, but it's important to remember that distance—and traveling away from home or London—can be a key factor.
And with two teams out east this year, it's going to be even more important.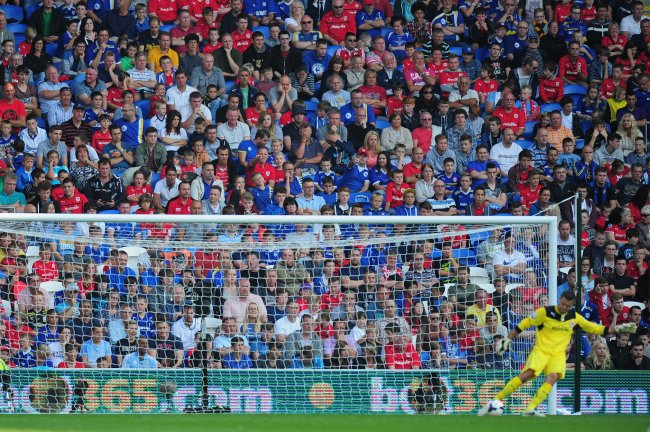 Stu Forster/Getty Images
Last season, Manchester United, Chelsea and Manchester City were not able to beat the Swans at Liberty Stadium. The year before that, the only team in the top five that beat them was Manchester United (and the score was only 1-0). Cardiff lost just two games at home in the Championship in 2012-13, and they have a perfect winning record at Cardiff City Stadium so far in 2013-14.
When clubs have to make a long trip to play away from home, it's often little surprise to see them struggle—and this week simply confirmed that.
Southampton couldn't beat Sunderland. Norwich couldn't beat Hull.
And Manchester City couldn't beat Cardiff—for whatever reason.
What were your thoughts from the match? Let me know below!
Also, hit me up on Twitter for more sports goodness: