Minnesota Vikings: 8 Things We Learned Through Week 3 of Preseason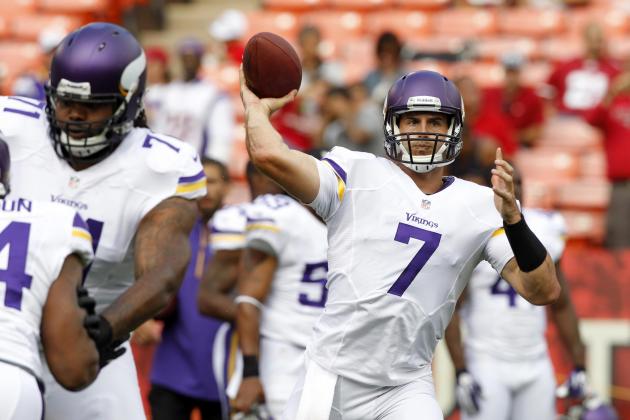 Cary Edmondson-USA TODAY Sports

After finishing up their third preseason game against the San Francisco 49ers, the Minnesota Vikings are now just two weeks away from the start of the regular season.
While the team has struggled so far, luckily it's still the preseason.
Even though the final scores don't mean anything in the long run, there are valuable lessons to be learned from watching these exhibition games.
From potential breakout players to guys who have struggled to get going, it's time to start the slideshow below and check out eight things we've learned about the Minnesota Vikings through Week 3 of the preseason.
*All stats courtesy of ESPN.com unless noted otherwise.
Begin Slideshow

»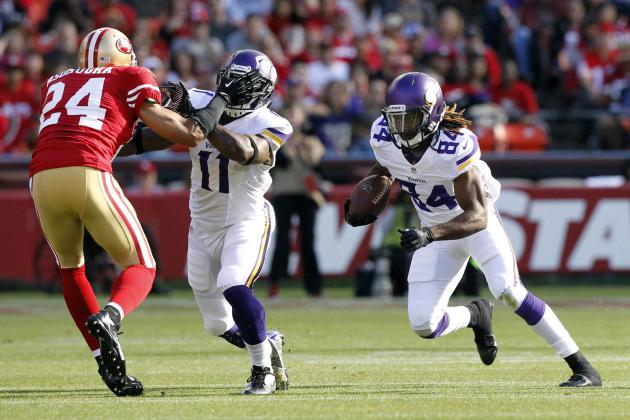 Cary Edmondson-USA TODAY Sports

Continuing to impress whenever he gets his hands on the football, rookie sensation Cordarrelle Patterson looks like he will be heavily involved in the offensive game plan this season.
After a solid showing in the preseason opener against the Houston Texans—Patterson racked up 54 yards receiving on four receptions—Patterson continued to show flashes of what he can do on the field against the 49ers.
An explosive young man, it's clear that this first-round draft choice has exactly what it takes to make big plays for this Vikings offense.
The best part is, outside of his potential on the offensive side of the ball, Patterson's tremendous speed and agility is going to make him a serious threat on special teams.
If all goes well and this young man continues to develop, opposing defenses will need to watch out for No. 84 all season long.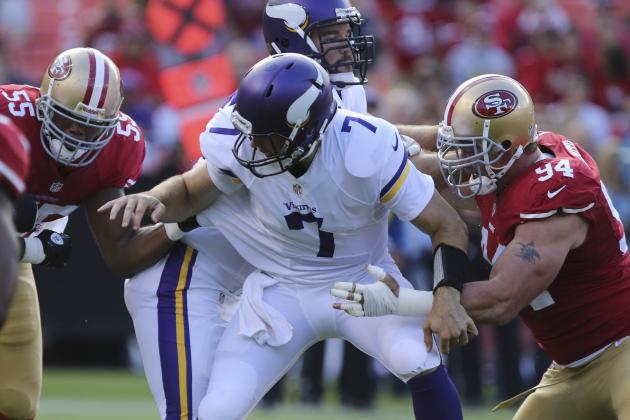 Kelley L Cox-USA TODAY Sports

As the most talked about player on this team not named Adrian Peterson, starting quarterback Christian Ponder hasn't done much to silence his critics so far this preseason.
After struggling against the Buffalo Bills a week ago, Ponder's trend of inconsistent play continued last night against the 49ers.
Completing 17 of 23 passes for 116 yards, the Vikings QB managed to throw a pair of touchdowns passes to go along with one interception and a lost fumble.
While it's important to note that Peterson hasn't been in the backfield to help this offense out, the fact remains the 2013 preseason will go down as a disappointing one for Ponder.
With no real signs of growth, Vikings fans now must band together and hope that Ponder and this offense can start clicking when the regular season rolls around.
Kevin Hoffman-USA TODAY Sports

Since arriving in Minnesota, linebacker Desmond Bishop has struggled to find his groove.
A gifted athlete with an elite football mind, Bishop battled a groin injury early on in training camp and has looked off at times when he's been on the field.
Sunday night, in what could have been perceived as a make-or-break performance for Bishop, the former Green Bay Packers standout proved he is capable of helping this team stop the run.
While it's not much of surprise that he has continued to struggle in coverage—according to Pro Football Focus (subscription required), in 2011, Bishop graded out as the 37th ranked LB in coverage—his ability to make plays against the run will be a nice addition for this defense.
Looking way more assertive than he did against the Bills a week ago, Sunday night Bishop played well racking up nine tackles—including a nice play bringing down 49ers running back Kendall Hunter for a loss.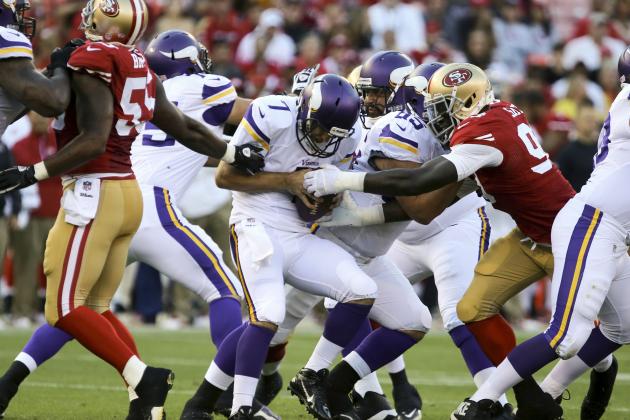 Kelley L Cox-USA TODAY Sports

The biggest surprise so far this preseason has to be the disappointing play of the Minnesota offensive line.
Carrying over from last week's game against the Bills, Sunday night this offensive line continued to struggle.
From Phil Loadholt having trouble with Ahmad Brooks to Matt Kalil's pair of unnecessary roughness penalties—which resulted in him being benched for a play by head coach Leslie Frazier—this offensive line needs to step up and get it together if this team has any hope of achieving success this season.
With no shortage of talent—according to Pro Football Focus (subscription required), last season Kalil and Loadholt both graded out as the 22nd-best tackle in the NFL—if this line regresses at all, it's going to cause major problems for everyone on this offense.
With a powerful defensive line waiting for them to arrive in Detroit on September 8th, now is the time for these guys to band together and realize they can accomplish great things like they did last season.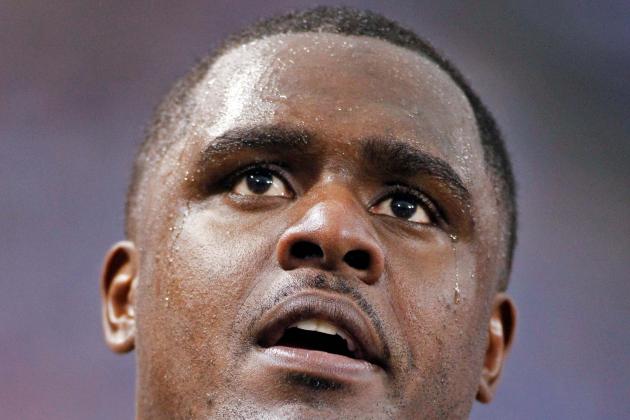 Bruce Kluckhohn-USA TODAY Sports

Sunday night, veteran defensive tackle Fred Evans continued to show the world why he should be the starting nose tackle for the Vikings this season.
Proving he can be an effective asset for the Vikings' run defense, Evans recorded a big tackle for loss against the 49ers.
While Letroy Guion and Evans seem to be sharing snaps at the moment, as demonstrated Sunday night, Evans' ability to collapse the pocket and make plays should give him the right to start.
Sharing his thoughts with the world, fellow Bleacher Report Featured Columnist Arif Hasan also notes that Evans could be one of the breakout players this season for the Vikings.
As the things wrap up, both Guion and Evans should see snaps in the team's final preseason game against the Tennessee Titans this week. This leaves the decision of who will start the regular season up to head coach Leslie Frazier.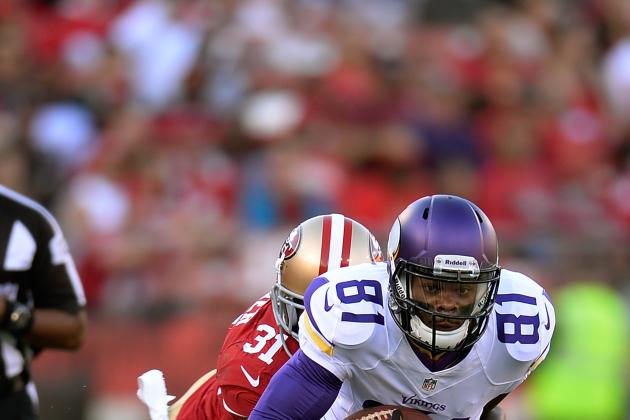 Thearon W. Henderson/Getty Images

While it's been said before, this Vikings receiving corps has looked drastically better than it did last season.
Although the offense has struggled this preseason—according to Pro Football Focus (subscription required), the Vikings have generated a -5.8 grade in passing situations—the additions of Greg Jennings, a healthy Jerome Simpson and the scintillating Cordarrelle Patterson will help this team move the football.
Outside of the obvious candidates for success, guys like Jarius Wright and Stephen Burton could play a role in providing this receiving corps with some great depth.
Unlike last season when the Vikings were strapped with a mediocre group of wide receivers, this time around the team is fortunate enough to have a bunch of guys who will be able to contribute all season long.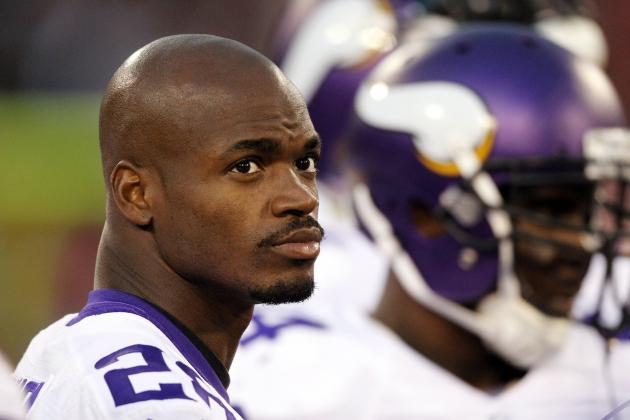 Cary Edmondson-USA TODAY Sports

Finally getting his chance to see some preseason "action" last night, superstar running back Adrian Peterson got in the game and played two quick snaps against the 49ers.
Being used as nothing more than a play-action decoy, Peterson's night ended as quickly as it began.
With no reason whatsoever to risk injury by playing Peterson this preseason, the Vikings coaching staff understands that the most important thing they can do to ensure success is keep AP healthy.
Coming off a monstrous rushing performance last season, the heart and soul of this Vikings offense should be fresh and ready to start off the 2013-14 NFL season with a bang.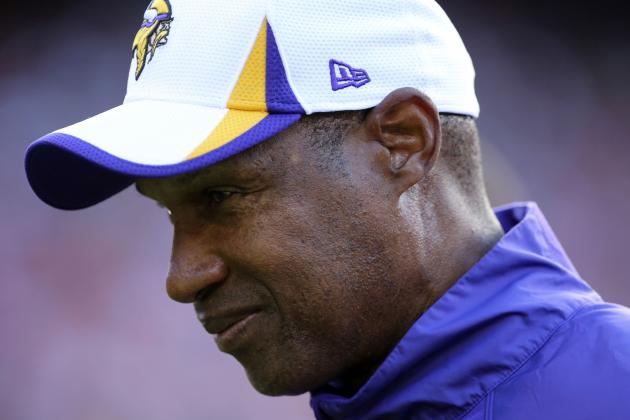 Kelley L Cox-USA TODAY Sports

Two turnovers, six penalties and an overall lack of discipline is the best way to sum up the Vikings performance against the 49ers last night.
Whether we're talking about Christian Ponder's fumble on the team's opening series or the pair of unnecessary roughness penalties called on left tackle Matt Kalil, as a team, the Vikings struggled tremendously.
While all of us can blame the players for not executing properly, it's up to head coach Leslie Frazier to make it clear to these guys that this type of play is simply unacceptable.
It doesn't take a rocket scientist to realize that lack of discipline kills seasons. If your team isn't 100 percent focused on winning, things will deteriorate exponentially fast in this ultra-competitive league.
With a tough road ahead of them, if the Vikings want to make a push towards the playoffs, now is the time to get it together.