Luis Suarez Transfer Rumours: Latest News on Liverpool Star Week of August 26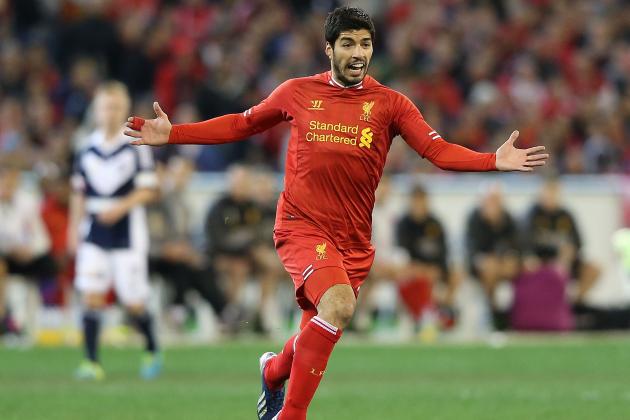 Michael Dodge/Getty Images

There is just one week left until the transfer window slams shut, and Luis Suarez is still a Liverpool player.
Despite so much talk over the summer of a potential move away from Anfield―talk that we've covered in detail here, here, here and here―the Uruguayan is still a Red, something that his club have consistently said will remain the case.
Suarez entered the season with his ban for biting Chelsea's Branislav Ivanovic still hanging over him, with six of the 10 games still left to serve.
That has now become four after he sat out the wins over Stoke and Aston Villa, but while Liverpool prepare for what they will hope will be a successful return to the team, that hasn't stopped the rumours linking Suarez with a move away from cropping up.
The good news for the Reds is that they only have a week left to endure them, until January at least...
Begin Slideshow

»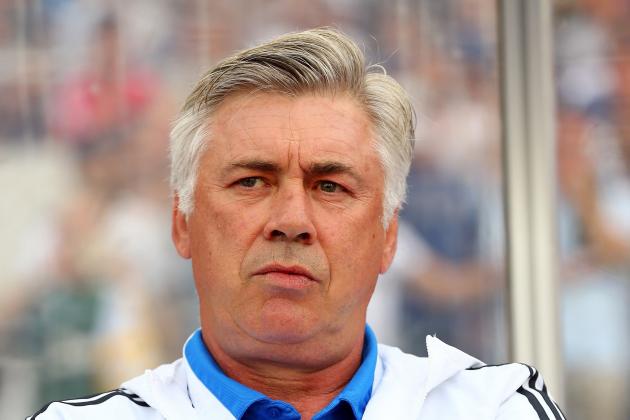 Martin Rose/Getty Images

Liverpool are braced for a late Real Madrid bid for Suarez, according to a report from the Guardian last week.
Carlo Ancelotti's side will be rebuffed should they make any late attempt to sign the Uruguayan, but the Reds will be mindful of just what impact potential interest will have on the attitude of their volatile marksman.
There is little doubt that Suarez had Real on his mind when he first expressed his desire to quit Anfield, but no bid from the La Liga giants has ever landed on Liverpool's doorstep.
It would be a major surprise to see one arrive now, and Liverpool wouldn't welcome one either.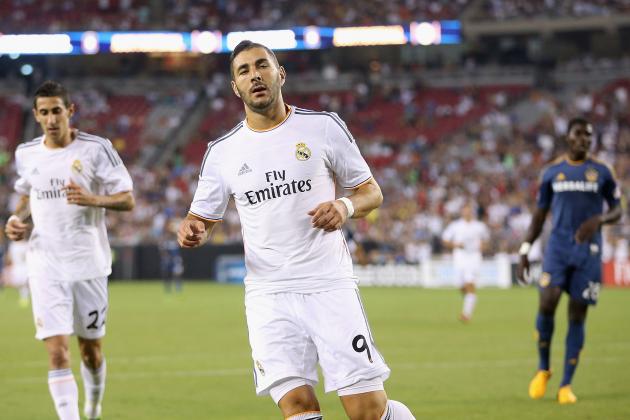 Christian Petersen/Getty Images

Arsenal boss Arsene Wenger may have admitted defeat in his attempts to sign Suarez, as reported by The Guardian, but the Uruguayan is still a key figure in the Gunners' transfer plans.
As outlined in this ESPN report, a Suarez transfer is still vital to Arsenal's move in the window.
The Gunners have now switched their attentions towards Real Madrid forward Karim Benzema, reported by the Telegraph, but a move for the Frenchman would only depend on the Spanish giants signing a replacement first, namely Suarez.
As with every Arsenal transfer rumour this summer, it needs to be taken with a pinch of salt.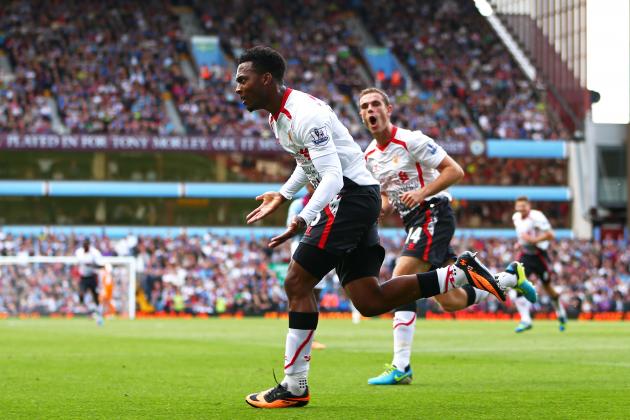 Michael Steele/Getty Images

Liverpool's concern all summer was that the Suarez situation would distract them from good performances on the pitch, but if anything it seems to have inspired them.
On Saturday, Daniel Sturridge scored his second goal in two Premier League appearances this season, adding Aston Villa to Stoke on his list of victims.
Two games, two goals, two clean sheets, two 1-0 wins and six points place Liverpool second in the league table, and while it is far too early to predict a strong Reds season, things might just be on the up for Brendan Rodgers' side.
Not that he's being allowed to, but why would Suarez want to leave now?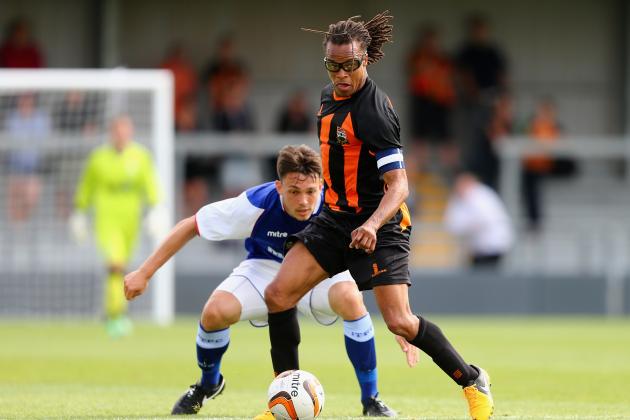 Clive Mason/Getty Images

Adding his name to list to the many individuals to have spoken on the Suarez situation this summer is Edgar Davids, a former teammate of the forward's at Ajax and the current Barnet player-manager.
The former Dutch international midfielder praised Liverpool's handling of the transfer saga this summer in an interview with the Daily Mirror, saying:
He is a good football player.

I think everybody can say that Luis Suarez is a very good player. He s scored so many goals in the Premier League and he is definitely a quality player.
However, Davids indicated that he will be a keen observer when Suarez returns to Reds action, with the fallout from the transfer saga likely to affect both club and player.
He added:
Of course (I can understand the club's reluctance to let the player go), he's a player that kept Liverpool going last season.

But the season is not even 10 matches old so we don't know how this situation is going to affect the team or the player.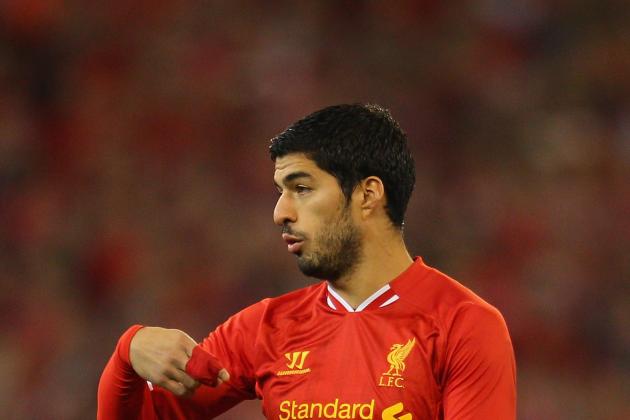 Scott Barbour/Getty Images

With the once ever-present transfer talk surrounding Suarez now seemingly drifting away and out of the transfer window, thoughts have to turn towards him getting back in the Liverpool team.
With that in mind, boss Brendan Rodgers arranged for the Uruguayan to play in a behind-closed-doors friendly match for the Reds against League One side Port Vale on Wednesday afternoon.
The Daily Express were there to take a couple of photos of a match in which Suarez typically scored as the Reds drew 2-2.
With Rodgers overseeing a start to the campaign which has brought two league wins out of two and progress in the Capital One Cup, he'll be hoping that the return of the Uruguayan proves to be the catalyst for his team to maintain their good form.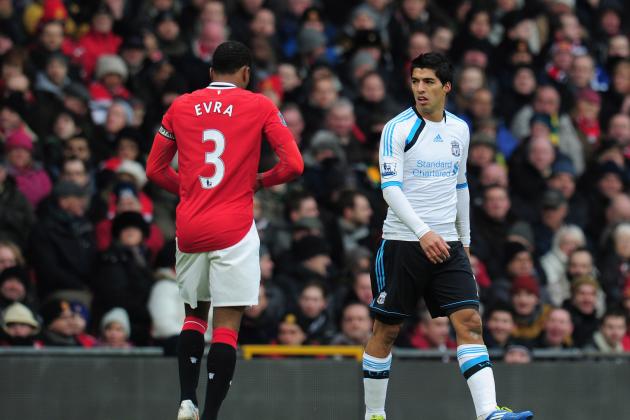 Shaun Botterill/Getty Images

He's not one to do things quietly is he?
Liverpool's 4-2 victory over Notts County after extra-time on Tuesday secured progression to the third round of the Capital One Cup, and ensured that next fixture in the competition would be the next one that Suarez is available for following the end of his 10-match ban.
The Reds have won six and drawn one of the seven matches that Suarez has been banned for so far, but the return of the Uruguayan has been eagerly awaited, and so the draw for the next round on Wednesday night was looked forward too.
In the event, it didn't disappoint.
Suarez, who now seems certain to still be at Liverpool beyond the closure of the transfer window, will return to Reds action at Old Trafford of all places, with Liverpool drawn to face Manchester United away during the week of September 23rd.
It promises to be a re-baptism of fire for the forward, but one he's no doubt looking forward to.