Ashes 2013: Courageous Clarke?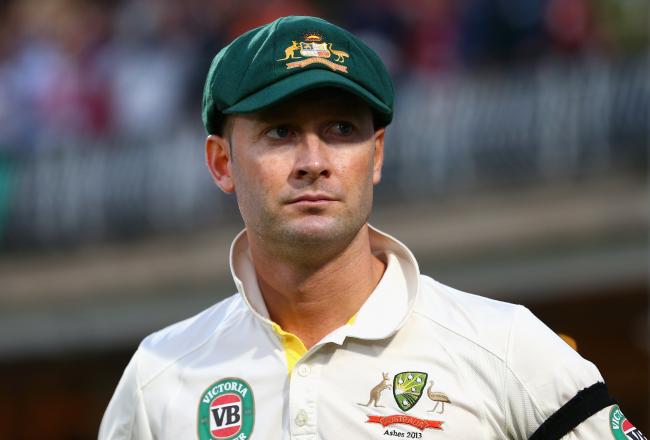 Ryan Pierse/Getty Images
Have you ever seen panic? Have you ever watched actual, genuine panic? No? Well, at about quarter to eight Sunday evening, if you'd watched Michael Clarke, you would've seen panic.
As the umpires Aleem Dar and Kumar Dharmasena wrangled over the condition of the light, Clarke appeared perilously close to manhandling one of the two men, and indeed, Dar did, at one point, nudge Clarke suggestively away from him, to which Clarke responded by stepping even closer to him, shouting over the whirlwind frenzy of noise that The Oval had worked itself into.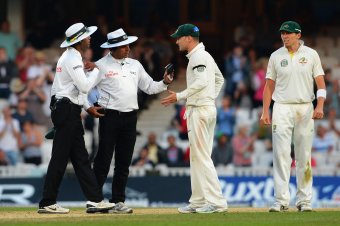 Shaun Botterill/Getty Images
Clarke's panic was understandable. Not many hours previously, he made a decision to declare that he could hardly have imagined would have been followed by the events that it indeed did. And in fact, it's highly unlikely Clarke ever thought England were going to get close to the target he had set them, let alone them actually chase it.
Shane Warne, on commentary, heralded Clarke's declaration as courageous, effusively praising the attitude that he felt it demonstrated of preparing to lose in order to win. Yet not one of Clarke's decisions Sunday suggested such an attitude.
First and foremost, Australia's declaration was such that England had to score faster to successfully chase it, than Australia scored in setting it up. Oh so brave. Then within five overs of England's chase, Clarke had stationed a man at deep backward square-leg and a deep cover point. Oh so attacking.
As England's steady compilation of runs accelerated, Clarke's tactics decelerated, and before long, Shane Watson was bowling an outside leg-side stump line in an attempt to stem the flow of runs. If Clarke's captaincy was measured by Sky Sports' Revometer, it would've struggled to make it out of the green.
Clarke, like so many people have in this series, misjudged England. He looked at the way they batted in the fourth innings at Old Trafford, he looked at their go-slow on Day 3 at The Oval and he interpreted England as a defensive, negative cricket team. Logical? No, he didn't consider that.
England didn't so much chase Australia's total as predatorily close in on it. The 224 required for victory did not require mindless slogging, nor recklessly attacking cricket. It required logical, energized batting of which England have in abundance.
Warne's unrelenting appraisal of Clarke and his tactics—even in the face of England's growing run chase—was intriguing.
Clarke is undeniably influenced by Warne, and Darren Lehmann has been open in his cries for assistance from past players since becoming head coach. Warne is regularly seen chatting to Clarke on the mornings of playing days—it would not be stretching the limits of possibility, therefore, to suggest Warne had a direct involvement in Australia's tactics on Sunday.
Speaking after the day's play, Clarke said "I try to win every game. Today there was a risk we might lose but I'm not scared of that risk." A statement that, of course, continues to endear him to the media for whom he has become somewhat of a darling in this Ashes summer, but at closer inspection, struggles to match up to facts.
Admittedly, Clarke is widely considered to be an aggressive captain, and there's no doubting his inventiveness nor his cricketing acumen. But as Andy Flower said to Sky Sports on Sunday, "There's more to captaincy than setting funky fields." And for all his presupposed aggression, whether Clarke is indeed prepared to lose in order to win remains highly questionable.
Clarke's declaration was nothing more than a token gesture and a terribly timid attempt to finally gain a victory. And when it dawned on him that Australia were heading for their eighth defeat in nine Test matches, he panicked. Captain Courageous?
This article is
What is the duplicate article?
Why is this article offensive?
Where is this article plagiarized from?
Why is this article poorly edited?