Donte' Stallworth, Kickalicious and the 10 Best Players Let Go During First Cuts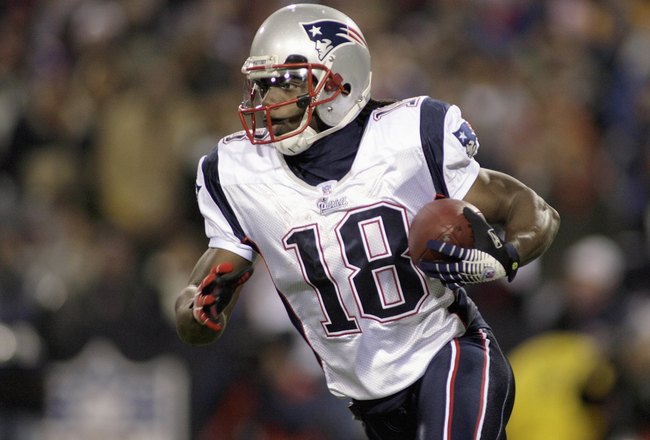 Rick Stewart/Getty Images
Donte' Stallworth was part of the first wave of many cuts that always happen right before every season. The deadline to get down to 75 players has passed, and the NFL released a ton of players who were essentially camp bodies.
In that mix, there was some talent that could be picked up and could contribute to another team. Follow along as we explore who was let go right at the deadline.
WR Donte' Stallworth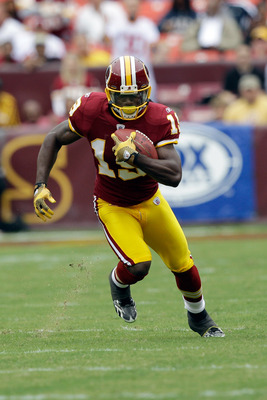 Rob Carr/Getty Images
Career Stats: 115 Games Played
321 Catches, 4,837 Yards, 35 Touchdowns
20 Carries, 98 Yards
18 Punt Returns, 102 Yards
8 Kick Returns, 171 Yards
Donte' Stallworth is the biggest name that was cut in this first wave. That's both good and bad for the former Patriot, Redskin and Saint.
It's good in that he's still got some name recognition.
It's bad because it's not like he was competing against the cream of the crop in Washington.
Stallworth had a horrible preseason with just a pair of catches, and his only two targets in 2013's third preseason game were a throw away and a drop. That's enough to show that he's past the point of no return and not worthy of an NFL roster spot anymore.
WR/RS Josh Cribbs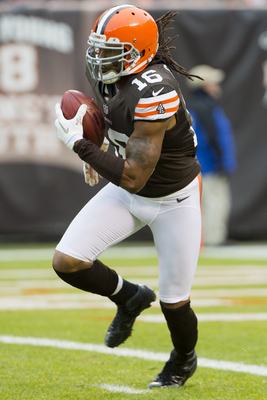 Jason Miller/Getty Images
Career Stats: 124 Games Played
107 Catches, 1,161 Yards, 7 Touchdowns
128 Carries, 753 Yards, 2 Touchdowns
195 Punt Returns, 2,154 Yards, 3 Touchdowns
387 Kick Returns, 10,015 Yards, 8 Touchdowns
Josh Cribbs is another big name and probably the best player in the entire NFL who was cut during this first wave of cuts.
While he's best known as arguably a Hall of Fame caliber return specialist, Cribbs needed to show some ability as a receiver to earn a spot on the Raiders.
This didn't happen, as Cribbs saw zero snaps on offense, and when he did return the ball, he looked like an average NFL returner.
But the fact that he was unable to get on the field outside of special teams is what did him and this chapter of his career in.
WR Braylon Edwards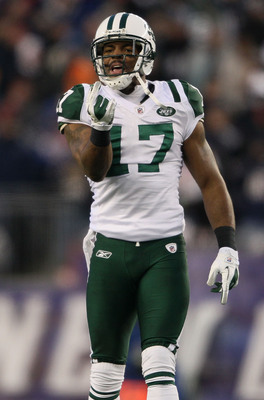 Elsa/Getty Images
Career Stats: 112 Games Played
359 Catches, 5,522 Yards, 40 Touchdowns
4 Carries, 11 Yards
Much like Josh Cribbs and Donte' Stallworth, Braylon Edwards has very little left in the tank. Getting cut from a wide receiver-needy Jets team doesn't help his case.
Sure, he's the best target that Mark Sanchez ever had. But he's also a shell of how good he once was.
For Edwards to ever have a shot at another NFL roster, the long-time veteran will need to accept a role similar to what Brian Finneran played his last couple of years in Atlanta.
TE Visanthe Shiancoe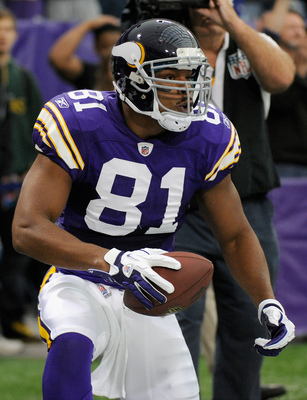 Hannah Foslien/Getty Images
Career Stats: 148 Games Played
243 Catches, 2,677 Yards, 27 Touchdowns
3 Kick Returns, 13 Yards
After Dennis Pitta went down with a potentially season-ending injury this year, the Ravens went out and signed Shiancoe. And Shiancoe went out there and proved he isn't the player he once was.
His blocking was both subpar technically and physically. His routes were almost amateur, and he wasn't even close to being on the same page as Joe Flacco. Oh, and he dropped three passes.
It's terrible that Shiancoe regressed this much. But it's time for him to hang up the cleats and move into the next phase of his life.
OT Jeremy Trueblood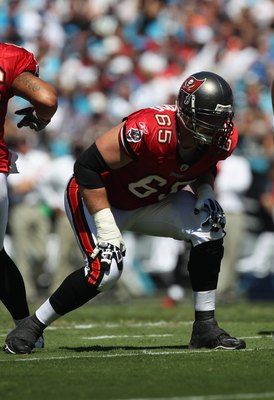 Streeter Lecka/Getty Images
Career Stats: 101 Games Played, 84 Games Started in 7 years
Jeremy Trueblood was a very good right tackle in Tampa for about three years of the seven that he was there for. Unfortunately, injuries and decline led to him getting cut.
The same decline in physical abilities made learning a zone-blocking scheme in Washington tough for him. Trueblood could potentially be a solid fit for a team who needs depth on its offensive line, but it's very unlikely he'll get signed unless another team is expecting him to provide good depth.
G Lance Louis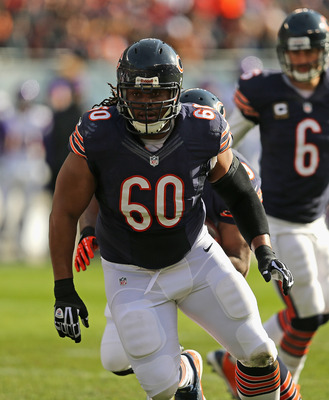 Jonathan Daniel/Getty Images
Career Stats: 41 Games Played, 28 Games Started in 4 years
Lance Louis is not a talented interior offensive lineman in a starting role. However, Louis could be a good fit for a backup role on either side of the line.
His release from Miami is related more to injury issues. It stems from an ACL injury from the latter part of the 2012 season that he hasn't fully recovered from.
Once he finally gets back up to speed, don't be surprised if a team that has some injury issues brings him in for depth.
LB Aaron Curry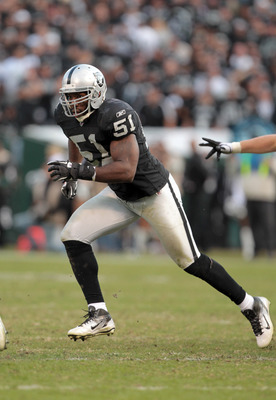 Ezra Shaw/Getty Images
Career Stats: 48 Games Played
163 Tackles, 15 Tackles for Loss
5.5 Sacks, 19 QB Hits, 23 QB Hurries
12 Pass Deflections, 4 Fumbles Forced, 2 Fumbles Recovered
What in the world happened here?
Aaron Curry was once a top-five pick and was expected to be the best linebacker of this generation. A lack of toughness and grit combined with some injury issues has made Curry look like a backup caliber linebacker at best.
Unfortunately, he got cut by a team that doesn't have much talent in its linebacking corps. Curry could end up a top-level backup for someone, but he will have to get fully healthy.
S Kenny Phillips
Al Bello/Getty Images
Career Stats: 56 Games Played
263 Tackles, 3 Tackles for Loss
3 QB Hits, 11 QB Hurries
8 Interceptions, 26 Pass Deflections
1 Fumble Forced, 3 Fumbles Recovered
Kenny Phillips broke out onto the scene and immediately started looking like a Pro Bowl caliber player. Then injuries struck, and he's now been cut from the Eagles—a team that needs a ton of safety help this season.
Phillips could be at the end of the line. But if he takes a year to get fully healthy and comes back in another season, he could prove to be a truly good option as a reserve and special teams player.
S Chris Hope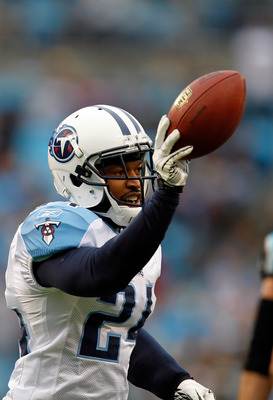 Streeter Lecka/Getty Images
Career Stats: 163 Games Played
716 Tackles, 17 Tackles for Loss
4.0 Sacks, 2 QB Hits, 7 QB Hurries (hits and hurries are current as of 2008)
20 Interceptions, 48 Pass Deflections
4 Fumbles Forced, 8 Fumbles Recovered, 1 Defensive Touchdowns
After Chris Hope spent all last season with the Atlanta Falcons and started in just four games, it was shocking to see him let go in the first round of cuts this year. Hope is still a competent reserve safety in the NFL, but the Lions felt that their current crop is better.
And they might be right. It could be the end for the former Titan and Steeler, though Hope should go down as one of the better safeties of the past decade.
K Havard "Kicklicious" Rugland
Career Stats: 3 preseason games played
3-for-3 field goals with a long of 50 yards
2-for-2 on extra points.
Six kickoffs for an average of 66.7 yards and 2 touchbacks
Havard Rugland made his fame by becoming Kickalicious. However, he's shown that he's also a highly competent kicker when given the chance. Unfortunately for him, David Akers looks like he's completely healthy.
So the Lions cut Rugland to give Akers the job. Rugland has shown that he deserves a shot in the NFL with his natural kicking talent though, and a team should pick him up soon.
All stats used are from Pro Football Focus's Premium Stats, ESPN, CFBStats or the NFL. All contract information is courtesy of Spotrac and Rotoworld. All recruiting rankings come from 247Sports.com.
Scott Carasik is a Featured Columnist for Bleacher Report. He covers the Atlanta Falcons, NFL and NFL Draft. He also runs DraftFalcons.com.
Keep Reading