Vikings vs. 49ers: Live Score, Highlights and Analysis for San Francisco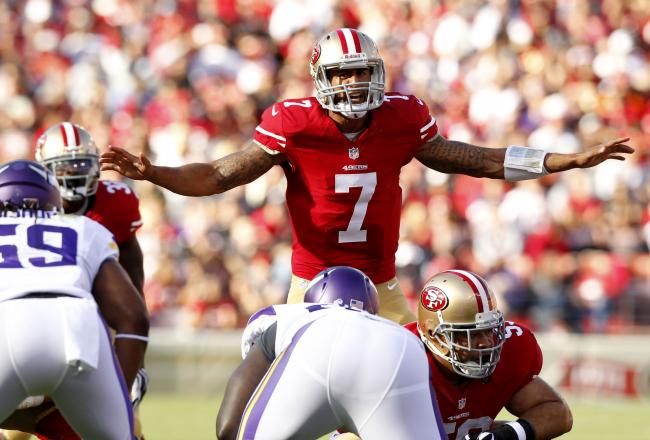 Cary Edmondson-USA TODAY Sports
49ers topple the Vikings, 34-14 at Candlestick Park on Sunday Night Football.
In what was the most telling match for the San Francisco 49ers in 2013 thus far, the 'Niners clinched their second consecutive win of the preseason.
The first-team offense and first-team defense looked as sharp as ever. There was a bit of a regular season swagger at the beginning of the game with Justin Smith, Aldon Smith and Ahmad Brooks swarming in the backfield.
On offense, the decision by Jim Harbaugh and Trent Baalke was validated, as Jonathan Baldwin had a strong first showing in a 49ers uniform. His two catches were enough to satisfy the fan base, especially considering the dazzling debut by rookie wideout Quinton Patton.
In his first-ever game as a pro, Patton led the 49ers in receiving with four catches for 35 yards and a touchdown.
Vance McDonald, Kendall Hunter and Marlon Moore also flashed their ability throughout the match-up, which was encouraging for the 'Niners. This is a team looking for results on offense and that is exactly what it got in the third week of preseason.
The 49ers don't even need another exhibition game. This ballclub looks ready for Week 1.
Thanks for hanging out at the Bleacher Report live blog. For more updates on the San Francisco 49ers this season, be sure to follow Dylan DeSimone on Twitter (@DeSimone80).
Time Winding Down...
We are under two minutes hear as the 49ers look to run out the clock. Quarterback Seneca Wallace will see his first action since being acquired. Scott Tolzien has not taken a snap in this game, which could spell the end of his run in San Francisco.
Video: Lavelle Hawkins 105-Yard Kickoff Return for a TD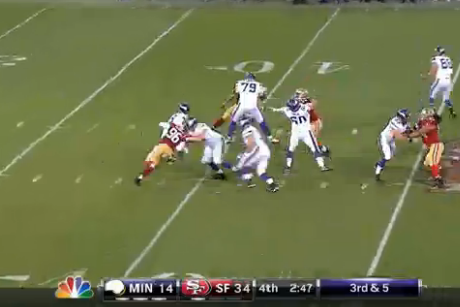 Corey Lemonier with Pressure...
The 49ers' rookie continues to get after it. On this last play, he forces Matt Cassel to abandon the pass and scramble for whatever yards he can. Lemonier has been consistent pressuring the quarterback in three exhibition games.
Have to wonder how it's impacted Vic Fangio and the defensive staff's plan for him once the regular season begins.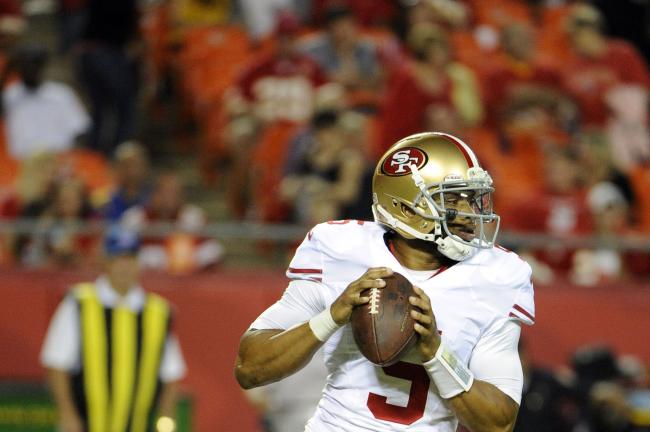 B.J. Daniels Leads the 49ers on a 15-Play, 63-Yard Clock Eater...
RB Anthony Dixon finishes off a nice drive spearheaded by rookie QB B.J. Daniels. The offense looked reinvigorated under Daniels, which has not been the case when Colt McCoy and Scott Tolzien have been in. The quarterback situation is really starting to take shape.
B.J. Daniels...
The No. 1 thing general manager Trent Baalke noted about the rookie was his "athletic instincts." He is the only other quarterback taken in three drafts during the Harbaugh era (outside Colin Kaepernick), and fits a similar athletic mold.
Lavelle Hawkins With His Second Taunting Penalty!
After a nifty sideline connection from Daniels to Hawkins, the receiver acts out of line again, violating the no taunting rules enforced by the NFL. All that talent and no discipline. This will get the 49ers staff thinking long and hard during cut-down day.
BJ Daniels in the game as the 3rd QB - think he is a lock - wldnt be shocked to see him as the #2 by 2014 if not the end of this yr

— John Middlekauff (@JohnMiddlekauff) August 26, 2013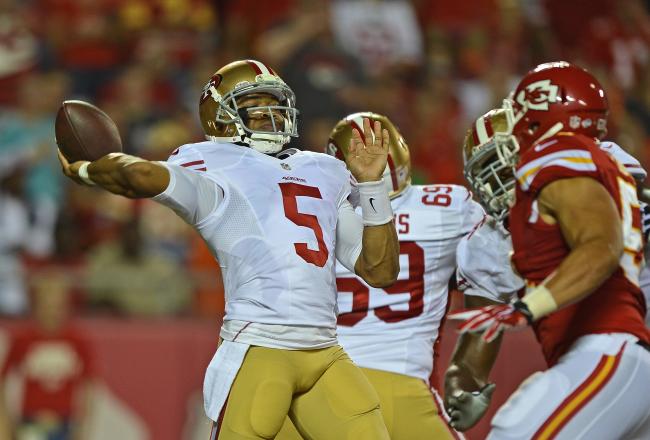 B.J. Daniels Skips Right Over Scott Tolzien and Seneca Wallace
We have a quarterback change-up.
Daniels, the 49ers seventh-rounder from South Florida, has entered the game. The first (and last) we saw of him, Daniels was leading a game-winning drive in Week 2. He has been a very instinctual player that has played with no fear. If he catches up to speed from a mental aspect, Daniels could be a great developmental player for the 49ers.
49ers-Vikings Game Held Up
It's getting rowdy at Candlestick. Three fans in attendance charged the field in the span of only a couple minutes. Security is on alert now. More signs that NFL fans can't wait for the regular season to get underway.
Now trending: running on the field at #Candlestick.... third trespasser of the game.

— Taylor Price (@TaylorPrice49) August 26, 2013
49ers Reserve Linebackers Showing Up
This has been a position of depth for the 'Niners.
#49ers RB LaMichael James has an elbow injury, OLB Cam Johnson with shoulder injury and he's out.

— Janie McCauley (@JanieMcCAP) August 26, 2013
49ers Injury Update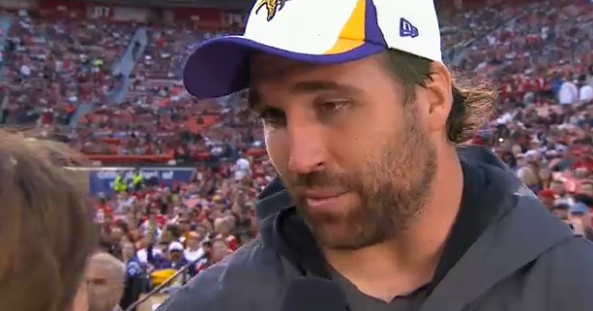 Jared Allen on the sideline with Michelle Tafoya...
Saying the hit on Kevin Williams was a "dirty play."
Hampton 40yard run for Niner and with PAT 27-14 lead 5 mins into 4th Qtr.

— Art Spander (@artspander) August 26, 2013
Jewel Hampton Touchdown!
This is great for Hampton, but one has to believe the 49ers are already set at the running back position. Between Frank Gore, Kendall Hunter and LaMichael James, and Anthony Dixon still clinging to a spot, it seems like an exercise in futility for Hampton.
At the very least, let's hope this gets him attention around the league.
With :20 remaining in the third quarter, Austin Collie makes his first appearance of the night.

— Matt Maiocco (@MaioccoCSN) August 26, 2013
Jon Baldwin has two catches tonight. #Chiefs fans, feel free to get mad.

— Matt Miller (@nfldraftscout) August 26, 2013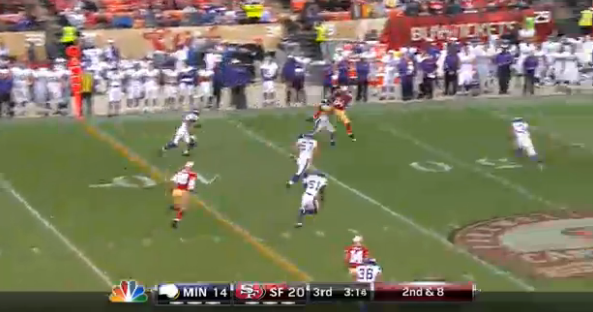 Jon Baldwin Comes Down With It
Newly acquired wideout Jon Baldwin makes his first catch as a 'Niner. And to no surprise, he took a chunk out of the defense, moving the sticks. In a physical sense, Baldwin looks more pro-ready than A.J. Jenkins did. He is already off to a better start.
McCoy with the Dump-Off to Anthony Dixon...
This should be on repeat. The 49ers can't expect to learn much from McCoy's series of check-downs. He has fallen into Alex Smith's old comfort zone of playing it safe. A consequence of that has been the monotonous performance you have before you.
Colt McCoy is still on the field for the 49ers. Meanwhile, on the sideline Scott Tolzien and Seneca Wallace are warming up.

— Matt Maiocco (@MaioccoCSN) August 26, 2013
Yet Another Series with Colt McCoy
Vikings cut into #49ers lead with Ponder's 3-yard TD pass to WR Joe Webb. SF leads 20-13 with 4:05 left in 3rd Qtr. #SNF #MINvsSF

— San Francisco 49ers (@49ers) August 26, 2013
Vikings Have a Comeback in the Works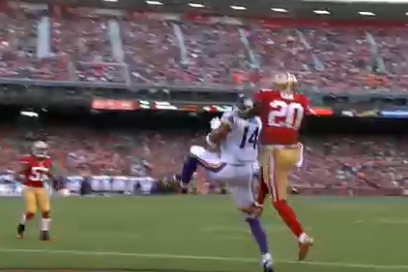 WR Joe Webb Climbs the Ladder for the Score
Former quarterback, Joe Webb, went over the top of the 49ers defense to haul in a red-zone touchdown. Webb beat Perrish Cox on the flag route, pushing the score to 20-14.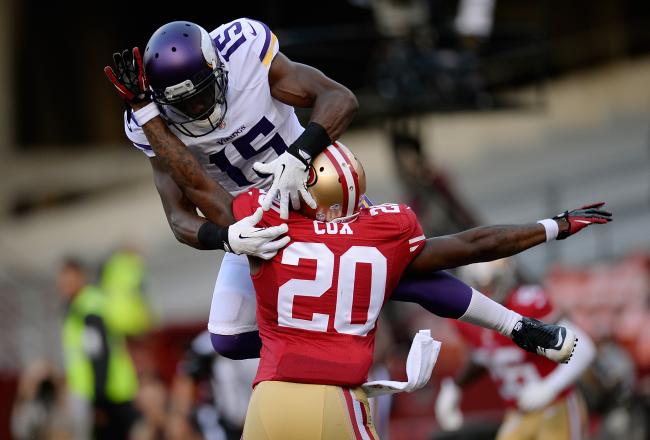 Unheralded Players on Defense
Watch Nos. 20 and 96, which are cornerback Perrish Cox and outside linebacker Corey Lemonier. These two have continued to play strong through three exhibition games, which is all you can ask for. In the preseason, consistency game-to-game is often the tell of good play. Not just a lucky "right place, right time" kind of play.
So far, Cox has been great in all facets for the 49ers and Lemonier has really stepped up to the plate as a rookie. Both players may have big roles in San Francisco this season.
James looked like he hurt his arm or shoulder. They are looking at him on the sideline

— Kevin Lynch (@klynch49) August 26, 2013
49ers Injury Update
With all his preseason carries, it seemed like only a matter of time before this caught up to the 49ers. San Fran's emerging X-factor on offense, LaMichael James, is now on the sideline being tended to by the training staff.
Colt McCoy is Extremely Limited
His way of getting the ball down the field has been scrambling and dump-offs to running backs and tight ends, with the hopes that they have room to run. It is a very primitive approach, but it does not seem like he has much else in his arsenal.
Like Al Michaels said, "You can't just walk into this offense."
That athletic, violent run after catch from TE Vance McDonald was Ditka-esque. #49ers

— Eric Branch (@Eric_Branch) August 26, 2013
Vance McDonald on Display!
The 49ers rookie tight end caught a short pass from Colt McCoy on the rollout and with an Adonis-like leap, cleared a defender diving at his legs. Big first down from the 6'4, 267-pound McDonald.
We're Underway in the Second Quarter
Colin Kaepernick has his ball cap on and it will continue to be the Colt McCoy show to start the second half.
This article is
What is the duplicate article?
Why is this article offensive?
Where is this article plagiarized from?
Why is this article poorly edited?

San Francisco 49ers: Like this team?