Champions League Group Stage Draw: Everything You Need to Know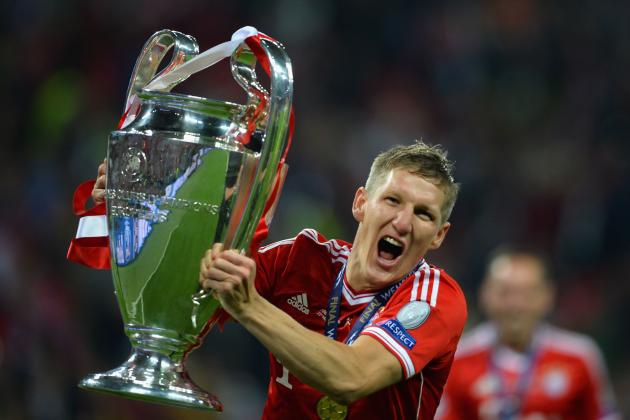 Laurence Griffiths/Getty Images

At 5:45 p.m. CET (11:45 a.m. EDT) on Thursday, the UEFA Champions League group stage draw will take place in Monaco.
Bayern Munich, who won the competition last season, will once again be the team to beat. They will be led into battle by their new manager, Pep Guardiola. The likable Spaniard won the famous trophy with big ears twice with his former club Barcelona in 2009 and 2011.
While managers like Guardiola, Jose Mourinho at Chelsea and David Moyes, who will be making his group stage debut with Manchester United, will be calling all the shots, the real people we want to see in action are the players.
Lionel Messi and Cristiano Ronaldo are easily the two best players in the world. Last season, however, they were both eclipsed by German teamwork in the form of the Bastian Schweinsteiger-led Munich and the Marco Reus-inspired Dortmund.
Barca and Real will be hoping to return to winning ways in 2014, but they will have to battle past the likes of Manchester United, Chelsea, Paris Saint-Germain, Manchester City and Benfica, whose famous Stadium of Light will host the final next May—not to mention Munich and Dortmund.
Last season, the group stage produced one of the best groups of death in modern memory. Borussia Dortmund, the eventual runners-up, Real Madrid, Ajax and Manchester City produced an epic mini-competition all by themselves. On that occasion, Dortmund and Madrid advanced and City crashed out without a single win.
This season, with the quality on hand, there is the distinct possibility that we might have another such group—if not more.
Here, Bleacher Report offers our discerning readers everything they need to know before Thursday's draw.
Begin Slideshow

»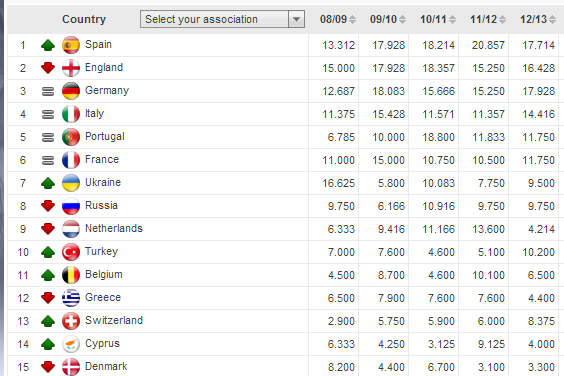 Matej Divizna/Getty Images
UEFA Rankings from UEFA.com
Seventy-six teams from 52 countries entered this season's Champions League. UEFA is made up of 54 federations, and only Liechtenstein and Gibraltar do not contribute teams to the competition. That should change by 2015, as Gibraltarian clubs will have a league and therefore become UEFA's 53rd Champions League territory.
Those 76 teams are then further broken down and graded according to UEFA's league coefficients.
These coefficients are based upon individual club participation and longevity in European club competition over the past five seasons. A similar ranking structure based upon the last five seasons is also created for participating leagues.
When this ranking structure across teams and leagues is taken into account, a total of 22 teams pre-qualify for the UEFA Champions League group stage.
The remaining 54 teams then compete across three qualification rounds before the remaining 20 teams play off for the final 10 places in the Champions League.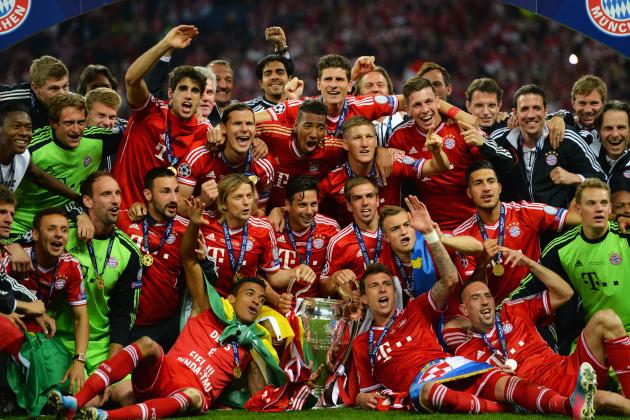 Shaun Botterill/Getty Images

UEFA Champions League Group Stage Club Coefficient from UEFA.com
FC Bayern München (GER), holders

:

146.922
FC Barcelona (ESP): 157.605
Chelsea FC (ENG): 137.592
Real Madrid CF (ESP): 136.605
Manchester United FC (ENG): 130.592
FC Porto (POR): 104.833
SL Benfica (POR): 102.833
Club Atletico de Madrid (ESP): 99.605
FC Shakhtar Donetsk (UKR): 94.951
Olympique de Marseille (FRA): 78.800
PFC CSKA Moksva (RUS): 77.766
Paris Saint-Germain FC (FRA): 71.800
Juventus (ITA): 70.829
Manchester City FC (ENG): 70.592
AFC Ajax (NED): 64.945
Borussia Dortmund (GER): 61.922
Olympiacos FC (GRE): 57.800

Galatasaray

AS (TUR): 54.400
Bayer 04 Leverkusen (GER): 53.922
FC Copenhagen (DEN): 47.140
SSC Napoli (ITA): 46.829
RSC Anderlecht (BEL): 44.880
Based upon these rankings, Bayern Munich, Barcelona, Chelsea, Real Madrid, Manchester United, Porto and Benfica can all expect a place in Pot 1 as a seeded team.
Atletico Madrid will participate in Pot 2, unless Arsenal (113.592) lose to Fenerbahce. If the Gunners lose, which is not expected following an easy win in the first leg, Atletico will take their expected place as first seeds.
Shaktar Donetsk, PSG, Marseille and CSKA Moscow are guaranteed places in Pot 2, alongside Atletico.
Juventus, Man City and Ajax will have a nervous wait until the playoffs are decided to see if they can claim a place in Pot 2, or if they will end up in the dreaded Pot 3. They will end up in Pot 3 if Lyon (78.000), AC Milan (93.829) and Schalke 04 (84.922) all qualify through the playoffs.
Pots 3 and 4 are as of yet undecided and will depend heavily upon who comes through the playoffs.
Matthew Lewis/Getty Images

To say that the Champions League playoffs will have a massive effect on the competition would be an understatement of the highest order.
There are two routes for the playoff teams. One route contains league champions, and the other contains placed teams.
Under Michel Platini, UEFA's president, the Champions League has become more accessible to champions of smaller federations.
The 20 teams involved, including their UEFA Coefficient and first-leg scoreline, are:
Champions Route:
GNK Dinamo Zagreb (25.916) 0-2 FK Austria Vienna (16.575)
PFC Ludogorets Razgrad (3.450) 2-4 FC Basel 1893 (59.785)
FC Viktoria Plzen (28.745) 3-1 NK Maribor (9.941)
FC Shakhter Karagandy (2.941) 2-0 Celtic FC (37.538)
FC Steaua Bucurest (35.604) 1-1 Legia Warsaw (13.650)
League Place Route:
Olympique Lyonnais (95.800) 0-2 Real Sociedad (17.605)
FC Schalke 04 (84.922) 1-1 PAOK FC (28.800)
FC Pacos de Ferreira (12.833) 1-4 FC Zenit (70.766)
PSV Eindhoven (64.945) 1-1 AC Milan (93.829)

Fenerbahce

SK (46.400) 0-3 Arsenal FC (113.592)
As you can see from the first-leg scorelines, Arsenal and Zenit have practically qualified. If they go through as expected, then Arsenal will be placed in Pot 1 and Zenit in Pot 3.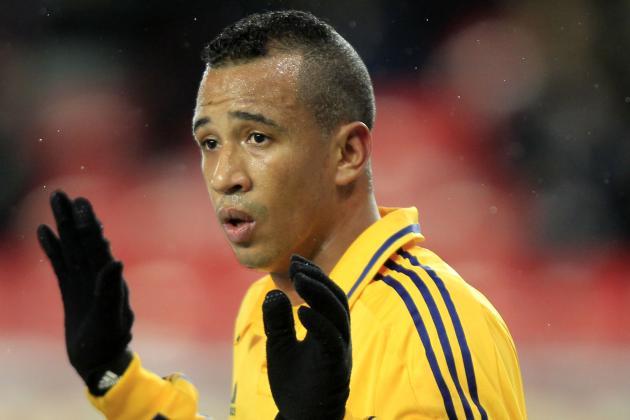 EuroFootball/Getty Images

Metalist Kharkiv were thrown out of the Champions League by UEFA on August 14. The Ukraine-based team were disqualified from the competition "under Articles 2.04g, 2.05 and 2.10 of the Regulations of the UEFA Champions League 2013/14," according to a UEFA spokesman. The Boston Herald later confirmed that Metalist were involved in match fixing.
On August 20, Metalist appealed to the Court of Arbitration for Sport for temporary reinstatement, pending CAS's final judgement.
However, CAS dismissed the appeal. UEFA had already taken steps prior to the appeal and reinstated PAOK, who Metalist knocked out in Round 3 of Champions League qualification.
As per Interfax, CAS will announce its final decision on Metalist on August 28, just one day before the Champions League group stage draw is made.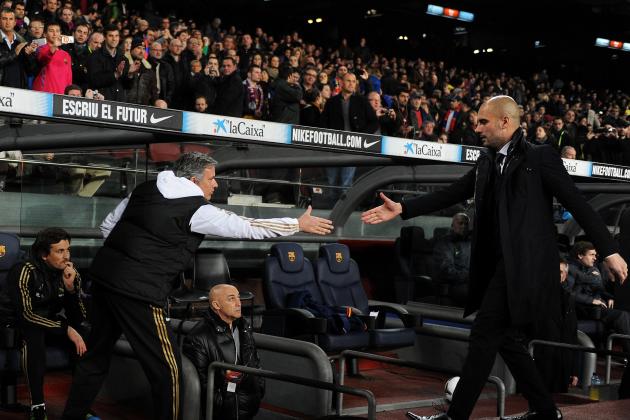 Jasper Juinen/Getty Images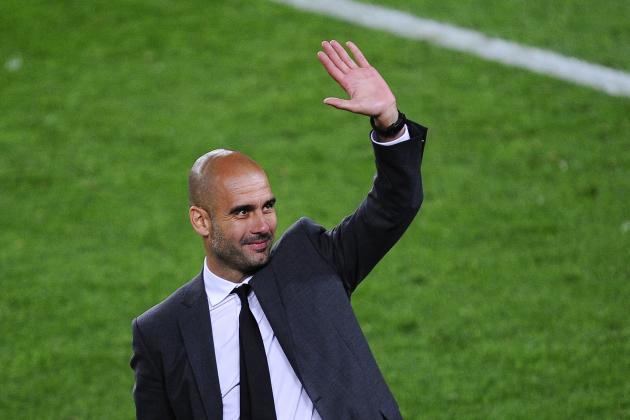 David Ramos/Getty Images

There can be little doubt that team shapes and tactics have become more flexible in the last couple of decades. Highly mobile and flexible players who can shift shape, tempo and position over the course of a match—never mind a season—have now become the norm.
Over the last couple of seasons, the general trend at top-level football has been toward 4-3-3 formations. This tactic is fast becoming the default setting for many teams, albeit with variations upon the style and system.
Barcelona, AC Milan, Inter Milan, Ajax and Zenit St. Petersburg are some examples of teams who have used 4-3-3 systems with great frequency in the past. It is becoming more popular in domestic leagues.
However, 4-2-3-1 is the main rival to 4-3-3's dominance.
Borussia Dortmund and Bayern Munich, last season's finalists, almost exclusively used 4-2-3-1 last term. They were joined by Real Madrid, Chelsea, Benfica and Arsenal. Munich's shape is expected to migrate toward 4-3-3 now that Pep Guardiola is in charge.
4-4-2 has become less frequent in top-flight football. Only two teams used the formation at Euro 2012, Ireland and Poland, and only FC Basel, Bayer Leverkusen and CSKA Moscow seem to use the system frequently in European competition.
Amongst all of Europe's elite, only Manchester United seem to change their setups from game to game. Under Sir Alex Ferguson, United could go from 4-4-2 to 4-3-3 to 4-2-3-1—and sometimes within the same game. How David Moyes decides to use his squad will be anyone's guess, but he was firmly a 4-2-3-1 man with his previous club, Everton.
The biggest anomaly in European competition in recent years are Napoli. Under Mazzarri, the Naples-based team used a 3-4-3 to great effect. In essence, they were alone in elite competition at using three at the back on a regular basis. Their new manager, Benitez, is firmly a four-at-the-back man and is expected to continue in the same vein at Napoli.
Despite the plethora of tactics and systems in effect, the one trend that links all major teams is possession and passing. Most teams have moved away from reactive tactics. They have become more focused upon possession and dictating the tempo of matches. In 2012, the vast majority of the elite teams in the competition averaged in excess of 500 passes per game.
The tactical trend is moving toward possession-based philosophies. However, teams will change their regular styles and systems depending upon the opposition.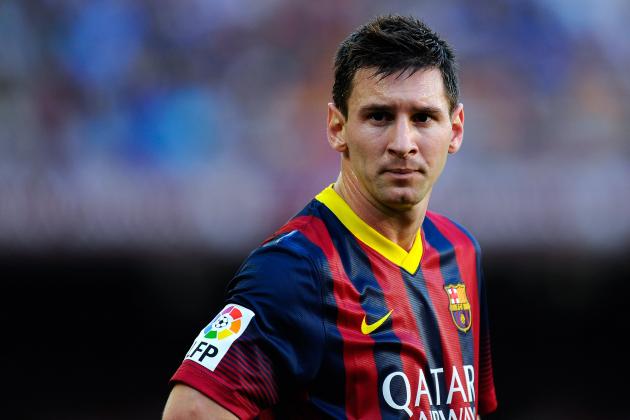 David Ramos/Getty Images

Here is a list of those all-important Champions League dates, as supplied by UEFA.com.
Group stage draw: August 29, 2013.
Group stage matchday: September 17-18, 2013.
Group stage matchday: October 1-2, 2013.
Group stage matchday: October 22-23, 2013.
Group stage matchday: November 5-6, 2013.
Group stage matchday: November 26-27, 2013.
Group stage matchday: December 10-11, 2013.
Round of 16 draw: December 13, 2013.
Quarterfinal draw: March 21, 2014.
Semifinal and final draw: April 11, 2014.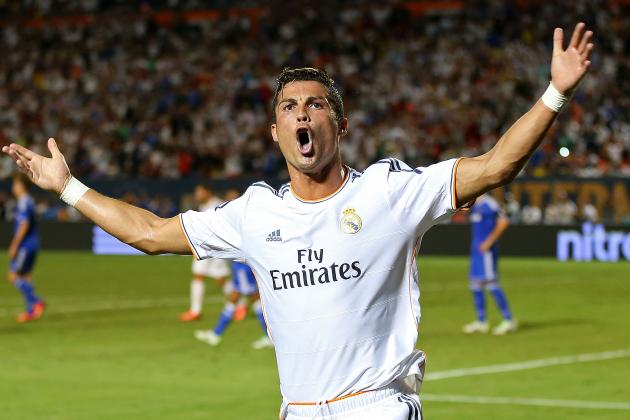 Mike Ehrmann/Getty Images

Manchester United have gained more points than any other team since the competition changed format in 1992. United have gained 253 points from 190 matches, and each and every one of them was under Sir Alex Ferguson.
Spain have had more teams compete in the Champions League than any other nation. Thirteen Spanish teams have participated, with Real Madrid and Barcelona having played in 18 competitions apiece.
Manchester United once again hold the record, having played in 19 Champions League tournaments.
The two Spanish teams have participated in more semifinals than any other team. Barca have played in 10, and Madrid eight.
Only three teams have won the Champions League with an unbeaten season. Marseille were first up in 1993, Manchester United achieved the feat in 1999 and Barcelona matched them both in 2006.
No team has won the Champions League two seasons in a row.
Between 1956 and 2008, only four teams had won the domestic treble. They were Celtic (1967), Ajax (1972), PSV Eindhoven (1988) and Manchester United (1999).
Since 2009, three teams have won the domestic treble, including the Champions League. They are Barcelona (2009), Inter Milan (2010) and Bayern Munich (2013).
Newcastle United are the only side in Champions League history to progress after losing their opening three group games, achieving that comeback feat in 2002-03.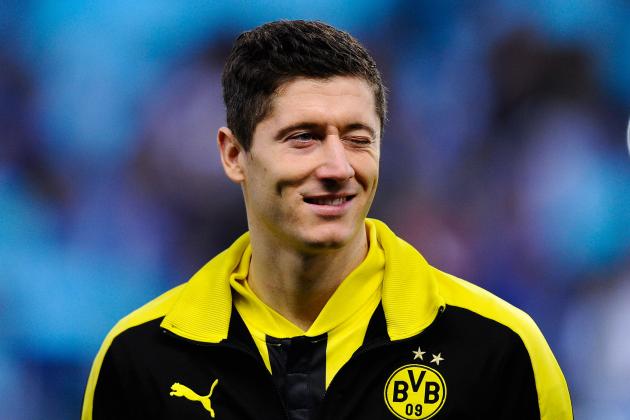 David Ramos/Getty Images

Cristiano Ronaldo enjoyed another stellar season in 2012-13, and he might just pip Lionel Messi to the Ballon D'Or in 2013. The Portuguese forward finished as the competition's top scorer with 12 goals. Ronaldo is now the Champions League's fifth-highest goalscorer of all time with 51, just eight behind Messi.
The Real Madrid forward had the most shots in the competition with 53 and was also the most fouled player with 28.
Rarely the most creative of players, Zlatan Ibrahimovic contributed the most assists in 2012-13. The PSG striker came up with an impressive seven assists as the French-based club made it to the quarterfinals.
Alvaro Arbeloa was the only player to be sent off more than once last season. The Real Madrid full-back received his marching orders twice. His second red card against Galatasaray caused Madrid huge problems as they were eventually beaten by Borussia Dortmund in the semifinals without a recognized full-back.
Robert Lewandowski, having scored 10 goals for Borussia Dortmund, was somewhat surprisingly the dirtiest player in the competition. The Polish striker gave away 30 fouls in just over 1,000 minutes of action.
Philippe Mexes of AC Milan picked up as astonishing five yellow cards in just 529 minutes of action. Milan were knocked out in the round of 16 by Barcelona. He shared the stat with four other players, including Arbeloa.
Barcelona, as expected, came away with the highest possession rate at 66 percent. Bayern Munich, the eventual winners, came in second at 54 percent behind Porto with 56 percent.
Munich scored the most goals in the competition with 31, picked up the most yellow cards with 30, gave away the most fouls with 173, the most corners with 108 and had the third-most attempts on target with 113. Madrid attempted 135 and Borussia Dortmund attempted 115.
Statistics and dates courtesy of UEFA.com.
You can follow me on Twitter @WillieGannon.
And listen to me on the Hold the Back Page podcast.