With one last set of matches before the end of the transfer window, English Premier League clubs will look to make a great impression in Week 3.
Although most transfer activity will be finished by the time clubs take the pitch Saturday and Sunday, a poor performance could force management to make a last-minute move before the Sept. 2 deadline.
Still, most clubs will be focused on the task at hand, which consists of earning as many points as possible to move up the table.
Here is a look at the upcoming matches for the week with a full breakdown of the top fixtures below.
EPL Week 3 Matches

| | | | | |
| --- | --- | --- | --- | --- |
| Date | Teams | Time (ET) | Time (BST) | Prediction |
| Aug. 31 | Manchester City vs. Hull City | 7:45 a.m. | 12:45 p.m. | 3-1 |
| Aug. 31 | Cardiff City vs. Everton | 10 a.m. | 3 p.m. | 0-1 |
| Aug. 31 | Newcastle United vs. Fulham | 10 a.m. | 3 p.m. | 0-2 |
| Aug. 31 | Norwich City vs. Southampton | 10 a.m. | 3 p.m. | 1-2 |
| Aug. 31 | West Ham United vs. Stoke City | 10 a.m. | 3 p.m. | 1-0 |
| Aug. 31 | Crystal Palace vs. Sunderland | 12:30 p.m. | 3 p.m. | 1-1 |
| Sept. 1 | Liverpool vs. Manchester United | 8:30 a.m. | 1:30 p.m. | 0-1 |
| Sept. 1 | West Bromwich Albion vs. Swansea City | 8:30 a.m. | 1:30 p.m. | 2-2 |
| Sept. 1 | Arsenal vs. Tottenham | 11 a.m. | 4 p.m. | 2-1 |
Schedule info via ESPNFC
Top Matches to Watch
Manchester City vs. Hull City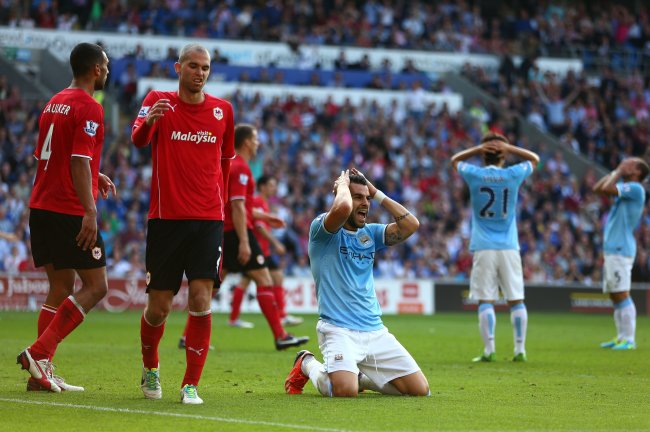 Michael Steele/Getty Images
After Manchester City's 4-0 victory over Newcastle United to start the league season, one would expect the club to continue dominating its opponents with a relatively easy opening schedule. However, those hopes have been dashed after a 3-2 loss to Cardiff City.
City made mistakes on the defensive end and are clearly going to miss Vincent Kompany, who is out at least a month.
Although Hull does not have the best offense in the league, they can still surprise opponents with a solid counter-attack. If City lose focus for a second, they will give up a goal or two.
The home squad will still be favored to get a win, but another poor performance will raise serious questions about the season.
Prediction: Manchester City 3, Hull City 1
Liverpool vs. Manchester United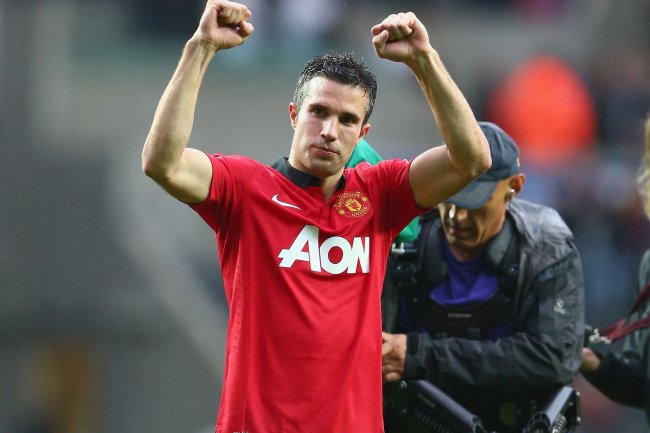 Michael Steele/Getty Images
After two matches, Liverpool should be more than satisfied with its two victories. While the performances have been far from perfect, getting three points is really all that matters in the Premier League.
Of course, things will only get tougher from here on out. Daniel Sturridge will not be able to sneak up on anyone anymore, and the Manchester United defense is tough to beat.
Meanwhile, United will also struggle to score against what has been one of the more consistent back lines in the league so far this season. Kolo Toure and Daniel Agger have teamed up well in the middle of the defense, and they will make things difficult on the road team.
Still, the Red Devils have Robin van Persie, who is a threat to score at any moment. With his club in need, he should be able to break through with a game winner.
Prediction: Manchester United 1, Liverpool 0
Arsenal vs. Tottenham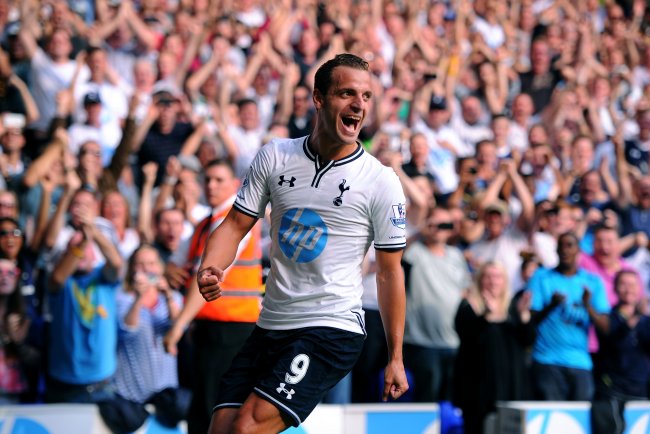 Michael Regan/Getty Images
The first competitive performance of the year for Arsenal was borderline embarrassing, with the club falling to Aston Villa 3-1. Since then, however, the Gunners have had two solid performances against Fenerbahce and then Fulham.
If Olivier Giroud continues to be a consistent scoring presence while getting help from Lukas Podolski, the club might not need to add anyone in the transfer window to be a top offensive squad.
On the other hand, Tottenham have squeaked by in their first two contests, winning both 1-0 thanks to penalty kicks by Roberto Soldado. They have moved the ball well offensively but are struggling to finish chances.
Wasted opportunities have not hurt the Spurs to this point, but it could be the difference between a win and a loss against Arsenal.
Prediction: Arsenal 2, Tottenham 1
Follow Rob Goldberg on Twitter for the latest breaking news and analysis.