UFC Fight Night 27 Info and Predictions for Condit vs. Kampmann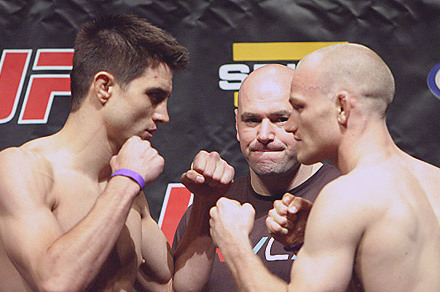 Photo by mmaweekly.com
UFC on a Wednesday night!? That's right. The retro-named UFC Fight Night 27 is bringing the Octagon back to midweek.
UFC Fight Night 27 marks the promotion's second stint on the newly formed Fox Sports 1 network as well as its first showing on Fox Sports 2, where four prelims will air.
The card will be headlined by a welterweight battle between Carlos Condit and Martin Kampmann in a rematch of their 2009 affair. Beyond the main event, the card features 11 additional bouts spanning Facebook, Fox Sports 2 and Fox Sports 1.
Here you will find information about when and where to catch all of Wednesday's action, as well as previews and predictions for each and every match.
Begin Slideshow

»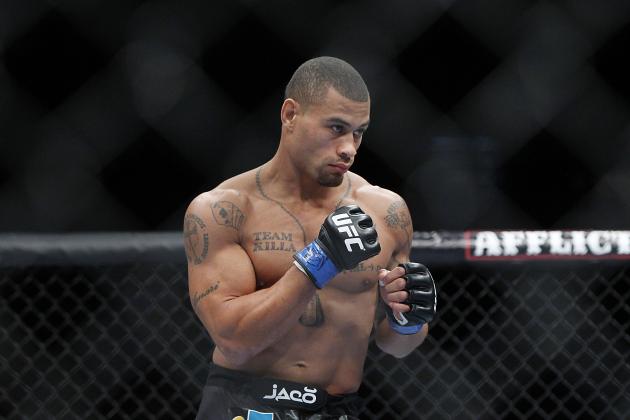 Gary A. Vasquez-USA TODAY Sports

Division: Lightweight
See it on: Facebook at 5 p.m. ET
Strikeforce vet Roger Bowling will get a second chance at a UFC win this Wednesday. His promotional debut this April didn't go as planned, as he was flattened by striking specialist Anthony Njokuani.
Abel Trujillo is, likewise, looking to get back on track, having recently lost to Khabib Nurmagomedov in what can only be classified as a very frustrating outing. Overall, Trujillo sits at 1-1 with the UFC, making his UFC Fight Night 27 affair with Bowling quite pivotal.
It's a relative certainty that Bowling will look to exploit Trujillo's takedown defense, which failed him a record 21 times when he was thrashed by Nurmagomedov. If he is able to gain top position and work his ground-and-pound, he'll have a good night.
Trujillo will counter with striking and might even initiate some wrestling of his own. On a more physical level, Trujillo owns an edge in power and athleticism, which will play to his advantage.
Prediction: Trujillo def. Bowling, TKO, Round 2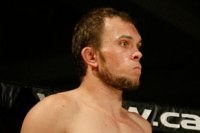 Photo by sherdog.com
Division: Welterweight
See it on: Facebook at 5 p.m. ET
Ben Alloway won in his UFC debut after crashing out of The Ultimate Fight: The Smashes, but lost in his encore performance. He'll be hoping to let his hands go at UFC Fight Night 27, after being frustrated by Ryan LaFlare, who constantly took him down and stifled his offense.
Zak Cummings is another TUF dropout looking to rebound in the UFC proper. He's yet to post a result with the promotion and will be looking to use his grappling skills to put Alloway back into the loss column.
It's always hard to gauge a fighter when you have only his TUF experience to go on, and that's the case for Cummings. But despite a knowledge gap regarding his progression, I like this pairing in terms of how he matches up with Alloway style-wise.
I think he'll get the finish.
Prediction: Cummings def. Alloway, submission, Round 2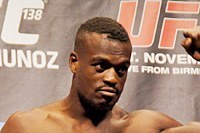 Ron Chenoy-USA TODAY Sports
Photo by sherdog.com
Division: Middleweight
See it on: Fox Sports 2 at 6 p.m. ET
The third time was a charm for Papy Abedi, who defeated Besam Yousef at UFC on Fuel TV 9 to get his first "W" inside the Octagon. Abedi, who fights under the Swedish flag, has heavy hands, is quite athletic and may finally have hit his UFC-stride.
Andrews was the last pick for his TUF season, but made it to the tournament's semifinals then won during the season's finale. Like Abedi, his sharpest tools are his hands, which are responsible for 11 career knockout wins.
"The Villain" progressed a lot during his Ultimate Fighter stint, growing into a dangerous fellow. It's unlikely you'll ever see him make a legitimate title run, but he's been convincing enough that a win over Abedi is more than realistic.
Prediction: Andrews def. Abedi, submission, Round 1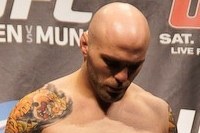 Division: Welterweight
See it on: Fox Sports 2 at 6 p.m. ET
Justin Edwards is a TUF alum looking for consistency inside the Octagon. Since joining the UFC, he has alternated wins and losses, totaling a 2-2 record. His most recent performance, a first-round submission win over Josh Neer, stands as his most impressive result to date.
Brandon Thatch joins the UFC at the age of 28. He comes to the promotion with some of that precious commodity known as "prospect status" in tow, having finished his opponent in each of his victories. Thatch carries significant power in his hands and has more recently shown off his submission skills.
The key to the match for Edwards is simple: put Thatch down and keep him there. "Fast Eddy" has the bad habit of leaving his chin exposed at times, and if he's forced to trade, it could be trouble. It will really come down to that.
Prediction: Thatch def. Edwards, knockout, Round 2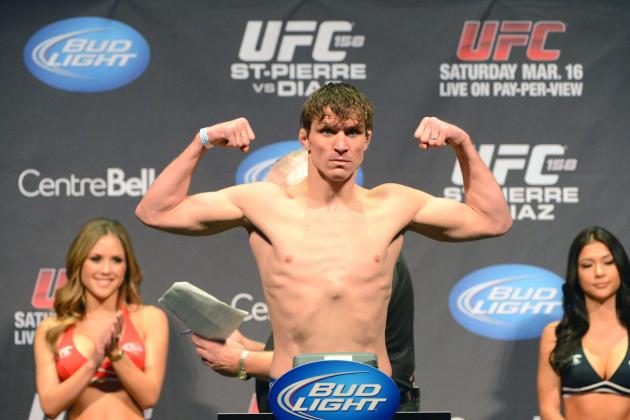 Eric Bolte-USA TODAY Sports

Division: Featherweight
See it on: Fox Sports 2 at 6 p.m. ET
After reeling off five straight wins, Darren Elkins was finally given the chance to take on a top-level featherweight. The result, a quick first-round knockout, wasn't pretty. Elkins will now have to start over again, and he'll look to rebound when he faces Hatsu Hioki at UFC Fight Night 27.
Hioki came to the UFC with a lot of fanfare, but has been only average since arriving. He's 2-2 and coming off back-to-back losses and has shown a weakness against wrestlers who can outstrike him.
The obvious pick here is Elkins who has the style to outpoint Hioki. I, however, am going with a feeling-over-matchup approach here and throwing my lot in with the Japanese combatant.
My reasoning? I think Hioki will be able to close the distance on the feet and either bate Elkins into shooting or drag him down. From there, I believe his superior grappling will win the day.
Prediction: Hioki def Elkins, submission, Round 2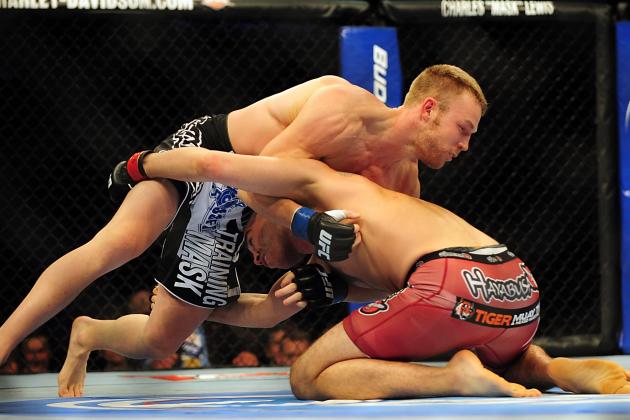 Anne-Marie Sorvin-USA TODAY Sports

Division: Welterweight
See it on: Fox Sports 2 at 6 p.m. ET
After pulling off a surprising upset over Brian Ebersole at UFC 149, James Head's momentum fizzled out last December when he was knocked out by Mike Pyle in just 1:55. He'll be looking to bounce back against an opponent looking for his first UFC "W."
That opponent is none other than Jason High, a man who has looked outstanding during much of his career, but who has never been able to do much inside the Octagon. In the UFC, High is 0-2, most recently suffering a first-round submission defeat to Erick Silva.
Both Head and High prefer grinding, wrestling-based attacks and can work punches from close quarters. Both are capable of sinking in submissions as well, and both can defend their opponent's ground attacks at a respectable rate.
So what this one comes down to is who has stronger strengths. I expect it to be close, but I'm ever-so-slightly leaning toward "The Kansas City Bandit," whom I expect to procure his first in-Octagon victory.
Prediction: High def. Head, unanimous decision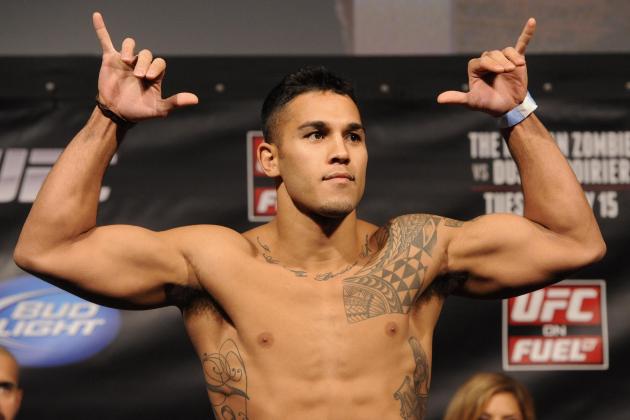 Rafael Suanes-USA TODAY Sports

Division: Middleweight
See it on: Fox Sports 1 at 8 p.m. ET
After failing to capture a TUF title in 2013, Bubba McDaniel debuted in the UFC to positive results, winning via third-round submission against Gilbert Smith. On the whole, the submission specialist is riding a seven-bout win streak dating back to 2010.
Brad Tavares has very quietly posted a 5-1 UFC record, most recently taking out Riki Fukuda. Like McDaniel, he is an Ultimate Fighter alum, looking to carve his way through the middleweight division. Tavares' approach is heavily wrestling-based, and he is developing some solid striking to pair with that tool.
To me, this pairing is a mismatch—McDaniel is in way over his head. His win over Smith was a good one, but Tavares is so far above Smith's level that I only see this fight ending one way.
Prediction: Tavares def. McDaniel, knockout, Round 1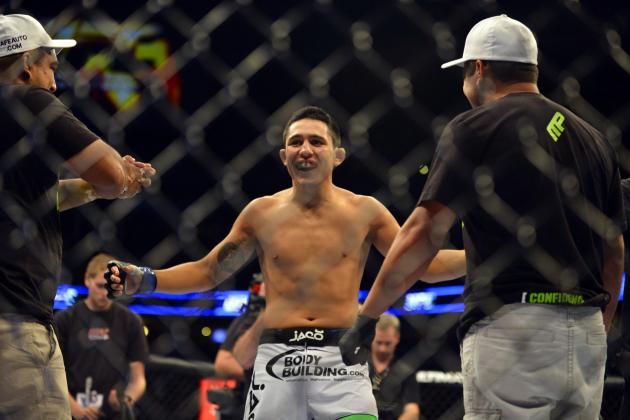 Ron Chenoy-USA TODAY Sports

Division: Bantamweight
See it on: Fox Sports 1 at 8 p.m. ET
Takeya Mizugaki is riding a two-fight win streak for the first time since 2008, a dubious honor, though one counterbalanced by his streak of avoiding back-to-back losses since 2007. Consider that Mizugaki has faced some pretty stiff competition over that time, and he looks very much like a tough gatekeeper at 135.
Erik Perez has not yet accomplished as much as Mizugaki, but his career is on the upswing, and he has looked the part of a future champion since joining the UFC. With the promotion, Perez is 3-0 with three first-round stoppages—and is still just 23.
Though Mizugaki, a very tough journeyman, represents the staunchest challenge of Perez's career to date, I foresee the Mexican stepping up to the challenge. His aggression should be enough to keep Mizugaki on the defensive for the better part of 15 minutes, which may lead to either a submission or decision triumph.
Prediction: Perez def. Mizugaki, unanimous decision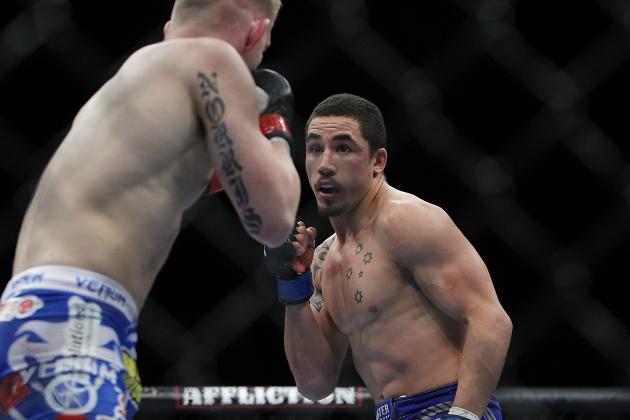 Gary A. Vasquez-USA TODAY Sports

Division: Welterweight
See it on: Fox Sports 1 at 8 p.m. ET
Court McGee successfully transitioned to the welterweight division by beating Josh Neer back in February. Though his sharpest tool remains his grappling skills, the American has developed some solid boxing and uses his unlimited well of energy to break harried opponents.
Robert Whittaker took TUF honors back in 2012, then thumped his American counterpart Colton Smith earlier this year. The 22-year-old striker from the Land Down Under has a very bright future and the opportunity to make a real name for himself is ever-present at UFC Fight Night 27.
After seeing Whittaker handle a talented wrestler in Smith, there is reason to believe he will be able to foil McGee this Wednesday. I think Court's UFC experience and otherworldly stamina could give him some troubles, however, and I think he'll have to wait until 2014 to get a signature win.
Prediction: McGee def. Whittaker, submission, Round 3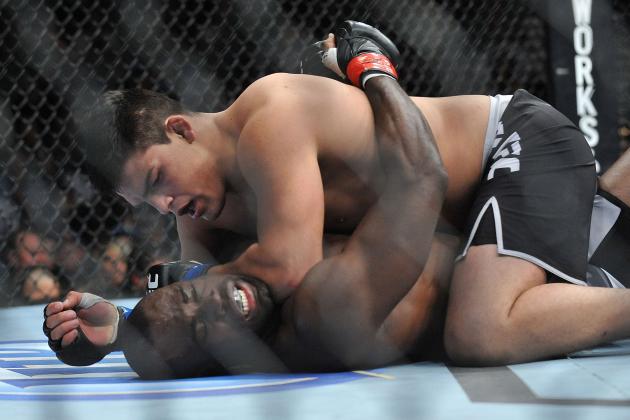 Gary A. Vasquez-USA TODAY Sports

Division: Welterweight
See it on: Fox Sports 1 at 8 p.m. ET
Kelvin Gastelum surprised everyone when he outpaced the highly touted Uriah Hall en route to being crowned a TUF king. The accomplishment lost some luster when Hall floundered in his follow-up match, but Gastelum remains a legitimate prospect, especially at 170, where he has since moved after beating Hall.
Speaking of surprises, Melancon's UFC debut was as unanticipated as they come. His win over Seth Baczynski didn't exactly propel him into the limelight, but it stands as a convincing win over a very dangerous opponent.
I like the way Gastelum matches up in this bout. His wrestling offense should allow him to control the action and keep Melancon worried about defending rather than attacking.
Prediction: Gastelum def. Melancon, unanimous decision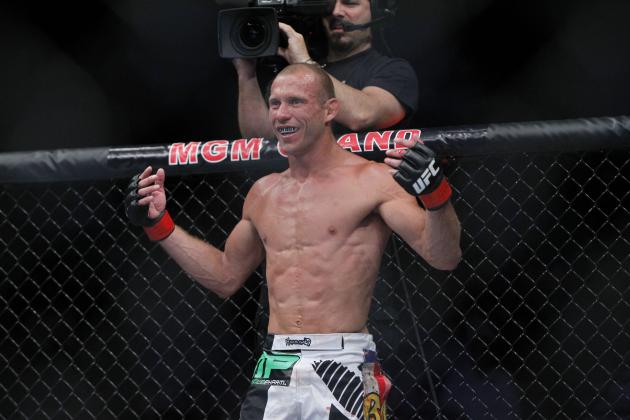 Gary A. Vasquez-USA TODAY Sports

Division: Lightweight
See it on: Fox Sports 1 at 8 p.m. ET
For awhile now, Cerrone has been a guy who has handled the mid-tier with ease, but who has failed to notch a signature win. His recent victory over K.J. Noons is not in and of itself very meaningful, but the way he achieved the victory—through mixing in takedowns with his strikes—gives hope to the possibility he may finally be ready to step his game up to the next level.
A classic late-bloomer, dos Anjos does not have the star power to be that signature win for "The Cowboy," but that doesn't mean he isn't a dangerous foe. With some wicked grappling, energy for days and a striking-wrestling combo game that is rapidly developing, it may be in fact dos Anjos, not Cerrone, who's ready to make the jump.
Indeed, I'm calling the upset here. I expect dos Anjos to control the action and carry the day by gaining dominant positions on the ground and fighting to a stalemate in the submission arena.
Prediction: dos Anjos def. Cerrone, unanimous decision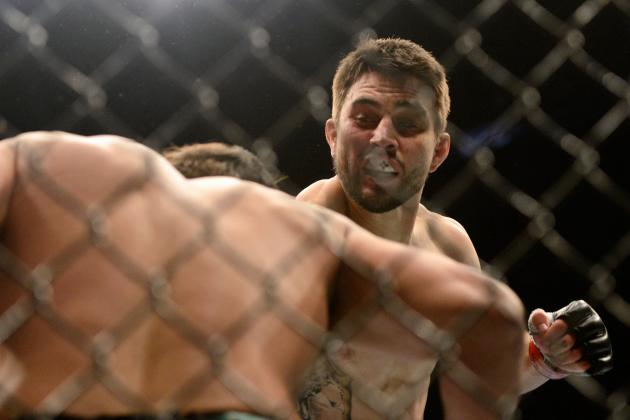 Eric Bolte-USA TODAY Sports

Division: Welterweight
See it on: Fox Sports 1 at 8 p.m. ET
Carlos Condit enters the bout coming off two straight losses, but that does not mean he's in a rut. In fact, he's managed to look his typically outstanding self in recent defeats to Georges St-Pierre and Johny Hendricks. But he needs a win at UFC Fight Night 27—and he needs it badly.
Like Condit, Martin Kampmann's last outing was a lost to Hendricks, though he didn't put in a good showing whatsoever. Also, like Condit, Kampmann could really use a win on Wednesday. And, once again like Condit, Kampmann is a terrific competitor with a fan-friendly style worthy of main-event status.
The bout is a rematch of a 2009 affair that went Kampmann's way. Since that time, Condit has leapfrogged the Dane in terms of rank, but this one is very much up for grabs. When it comes down to it, Condit might just be a hair better than Kampmann, so I see it as his bout to lose.
Prediction: Condit def. Kampmann, unanimous decision