Madden 25 Player Ratings: Highlighting Most Exciting Rookies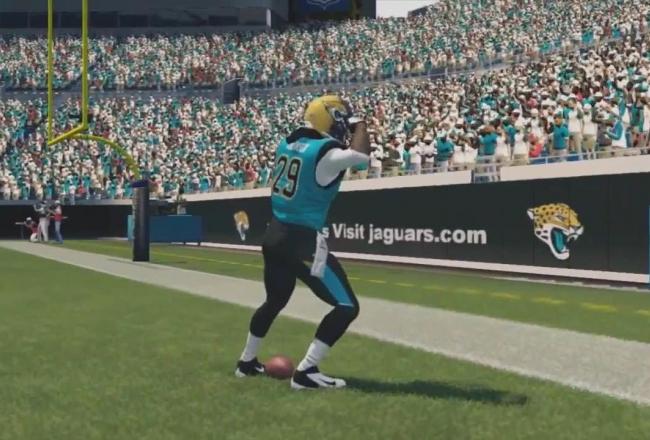 Denard Robinson. EA Sports

One of the most exciting aspects of purchasing a new copy of Madden is getting to dive right in and see how the rookies will perform.
Whether you get a glimpse of these young superstars in an exhibition game with your favorite team, acquire some of them to build around in franchise mode or anything else the game offers, it's just downright awesome to utilize players that haven't yet stepped on the field in a meaningful contest.
Let's take a look at a handful that could be among the most exciting and useful rookies to control in Madden 25.
*Ratings courtesy of Sporting News.
Tavon Austin, WR, St. Louis Rams, 76 Overall Rating
Austin is the highest-rated receiver on the Rams and will be relied on by almost anyone playing with the team.
The diminutive rookie stands at just 5'8", 175 pounds, but he is one of the fastest and most explosive players in the game.
Austin's speed rating is an outstanding 95, and it will make him one of the toughest players to cover and an absolute nightmare for defenders to deal with when he's streaking down the field.
Add in some solid agility and ability to catch the ball at an above-average clip, and you are looking at a complete wideout that will make good things happen whenever quarterback Sam Bradford finds him with the ball.
EJ Manuel, QB, Buffalo Bills, 74 Overall Rating
The Bills may have turned some heads when they selected Manuel with the No. 16 overall pick in this year's draft, but Madden enthusiasts weren't surprised—they can attest to the benefits of having a dual-threat signal-caller.
Is Manuel going to be a star quarterback in Madden?
Although the receiving corps could use an improvement and the offensive line isn't the league's best, Manuel should be able to extend plays with his feet and make something happen while on the run.
The former Florida State star has an 83 speed rating to go with a cannon arm that the creators at EA Sports deemed to be worthy of an 94 throw power rating.
Manuel's accuracy may be a cause for concern, as his throw accuracy comes in at a paltry 77 and may result in a number of turnovers in the hands of inexperienced players.
Regardless, the threat of the quarterback taking off will keep defenses honest and make the Bills one of the more sneaky good teams in Madden 25.
Denard Robinson, RB, Jacksonville Jaguars, 67 Overall Rating
Shoelace Robinson may not look to be a devastating weapon with a 67 overall rating, but the former Michigan quarterback is going to be a dynamic playmaker that can change Madden games this year.
His ratings of 92 speed, 95 agility and 96 acceleration allow him to take off out of the backfield and just blow by defenders on his way to the end zone.
Robinson isn't just an elusive scatback, as users can move him to quarterback or wide receiver in order to confuse opponents and increase the Jags' play-calling options.
His 74 throw power and 63 throw accuracy aren't going to fool the opposition into thinking he's a true signal-caller, but he can hit on some short throws when needed.
Put Robinson into the slot for even more exciting results, as the ex-Wolverine has a 69 catch rating and can bust big plays in the receiving game.
Whatever you do, just make sure Shoelace is somewhere on the field at all times when using the Jags in Madden 25.
This article is
What is the duplicate article?
Why is this article offensive?
Where is this article plagiarized from?
Why is this article poorly edited?