Barclays 2013 Leaderboard Day 4: Scores, Standings and Results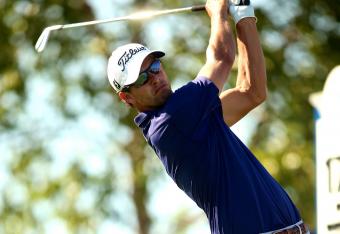 The final round of The Barclays proved to be a war of attrition.
At the start of the round, it looked like Matt Kuchar or Gary Woodland would find a way to win the first FedEx Cup playoff event. But in the end, it was Masters champion Adam Scott who got the job done. Scott played well all week, but he found his putting stroke in the final round and that allowed him to shoot 66 and finish at 11-under-par.
Woodland had a shot to get into a playoff, but he could not produce a birdie on any of the final holes and Tiger Woods fell just short on the 18th after a memorable run of birdies on the 16th and 17th holes.
It wasn's surprising that Masters champion Adam Scott, U.S. Open champion Justin Rose and British Open winner Phil Mickelson all had brilliant final rounds at The Barclays.
However, it was pretty shocking that Matt Kuchar fell apart. Kuchar is considered one of the two best players without a major—Brandt Snedeker is the other—and he could not hold it together after a triple bogey on the ninth.
Of course, Tiger provided much of the drama with his near comeback. An outstanding putt at the 18th hole fell two revolutions short, and he finished in a tie for second. Pretty good for a guy with a bad back.
If the other FedEx Cup playoff events can come close to this, it will be an excellent postseason.
Adam Scott, perhaps the most surprised man at Liberty National.
"I can't believe it to be honest with you.. I really didn't think I had a chance." - Adam Scott on winning @TheBarclaysGolf

— Amanda Balionis (@Amanda_Balionis) August 25, 2013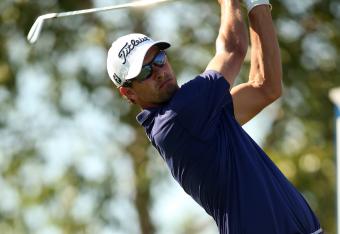 Woodland makes an excellent putt, but it just slides by. That means Adam Scott has won The Barclays and picked up the first FedEx playoff win of the season.
Close call for Tiger, Woodland, Rose and Graham DeLaet, but Scott's magical season continues with the win.
While Woodland studies his putt, Scott is on the practice range trying to stay warm.
Woodland's approach shot on 18 is right there. He's got about 10 feet for a birdie that would allow him to get into a playoff. Stellar 9-iron gives him a chance.
Tiger makes a great run at it from a difficult spot, but his putt stops about two revolutions short of the hole. Woodland misses his birdie and he must make one at 18 in order to tie Adam Scott.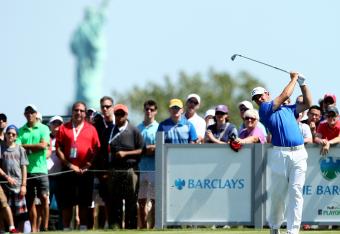 Tiger's on the back edge of 18. It's going to be quite difficult, but he will be able to make a run at the birdie. He winced after that last shot. Woodland hit an excellent approach at 17, and he will have less than 10 feet for a birdie.
The fans would love to see Tiger and Adam Scott engage in a playoff.
Turning back the clock, Tiger might hobble his way into a playoff. #FedExCup

— Matt Ginella (@MattGinellaGC) August 25, 2013
Somehow, Tiger makes his second straight birdie at the 17th hole, and now he's within one stroke of the lead. The 18th is difficult, but he has a chance now to tie Adam Scott for the lead.
Tiger 10 under with 1 to play. MUST make birdie at 18 to force a playoff w Scott

— GC Tiger Tracker (@GCTigerTracker) August 25, 2013
Woodland had an eight-foot put on 16 for a birdie, but he let it slide by to the right. He'll have another chance at 17, but the last hole was much easier than the two coming up.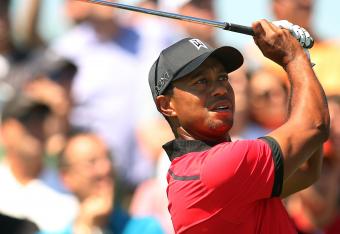 Feeling no pain? Tiger with a scintillating wedge on 17, straight at the flag and he will be left with an uphill putt of about nine feet to get within one of the lead.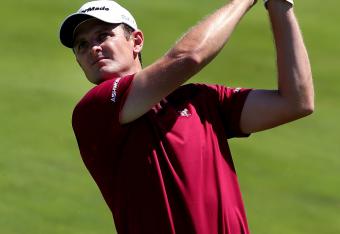 Rose had a five-footer for his par on 18 and he didn't hit it. He stabbed at it and pushed it to the right. Adam Scott has the lead by himself at 11-under right now. It looks like Woodland has the best chance to tie him, as he's one stroke back. Tiger would need birdies on 17 and 18 to force a playoff.
Chappell has fallen apart and takes another bogey on the 16th, while Tiger makes a birdie and climbs back to nine-under.
Tiger's got a birdie putt coming up at 16 after just missing an eagle putt from the fairway. That's the same scenario he had yesterday.
Ailing back and all, Tiger almost drives the green on the 299-yard par-4 16th with 3-wood. Still 8-under. Live Blog: http://t.co/KbjrItx8uk

— Golf.com (@si_golf) August 25, 2013
Rose hit a solid approach shot on 18, but it was not spectacular. He looks to have a putt of at least 20 feet if he is going to make his birdie and take the lead.
Meanwhile, Woodland's chip hot for a birdie just misses the edge of the cup at the 15th hole.
The all-orange novelty act of Fowler and Blixt wore thin on the Jersey City crowd.
Rickie and Blixt walking up 18. Getting a lot of jeers from the New York City crowd here. #orangetwins pic.twitter.com/QnjcM642sQ

— Stephen Hennessey (@S_HennesseyGD) August 25, 2013
Rose will try and take the lead on the 18th hole. He pulls out his driver on the 490-yard, par-four hole. He stripes it right down the middle and is in good shape to earn that birdie. Rose has had a stellar round with four birdies and no bogeys on his scorecard.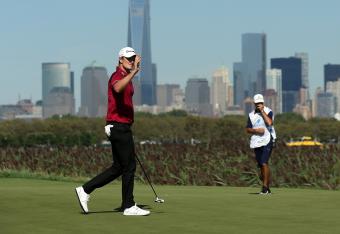 The wind is picking up, and it's impacting many of the putts. Woods, Rose, Woodland and Chappell all missed putts that could have been made. The wind may have had something to do with it.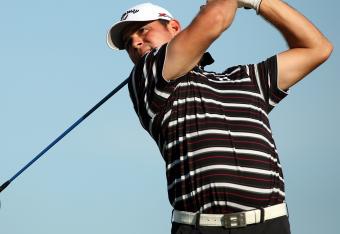 Woodland steadies himself and hits his tee shot on 14 within 22 feet of the hole. If he can make this long, testing putt, he'll get a share of the lead. He putts it nicely, but leaves it short.
Woodland has a defender for his use of the driver on 13.
Woodland taking heat for pulling driver into water on short hole. Hey, it's Gary Woodland. He's not going to win this thing with his putter.

— Steve Elling (@EllingYelling) August 25, 2013
Woodland is having big problems on the 13th. He drove the ball in the water and he tried to scramble back, but he missed a long putt for the par. Woodland is now a stroke behind Scott and Rose.
Not everybody is sympathetic to Tiger's plight, including Kyle Porter of CBS Sports. He's saying what a lot of people may be thinking.
Seriously though, watch Tiger hit it, look at it, see where it's going, and THEN go to the ground - http://t.co/YpjOzVYGUz

— Kyle Porter (@KylePorterCBS) August 25, 2013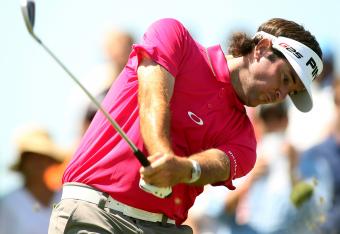 Bubba Watson horseshoes a putt out at 15, and drops a stroke. He's back at nine-under par after that piece of bad luck.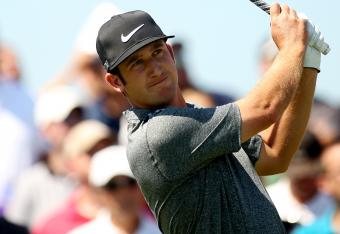 Tiger appears to be in a lot of pain as he take a bogey on 13. His recovery shot was quite good, but he couldn't get it to stop. He made a decent par putt, but he couldn't find the bottom of the cup. Chappell with another bogey as well. Tiger drops to nine-under-par, and Chappell is now at 10-under.
Scott closes with a par at 18 and he's the clubhouse leader at 11-under par. Rose got up and down on 15 after going into the bunker, and he's 11-under as well.
This article is
What is the duplicate article?
Why is this article offensive?
Where is this article plagiarized from?
Why is this article poorly edited?