Power Ranking the 5 Greatest Running Backs in Minnesota Vikings History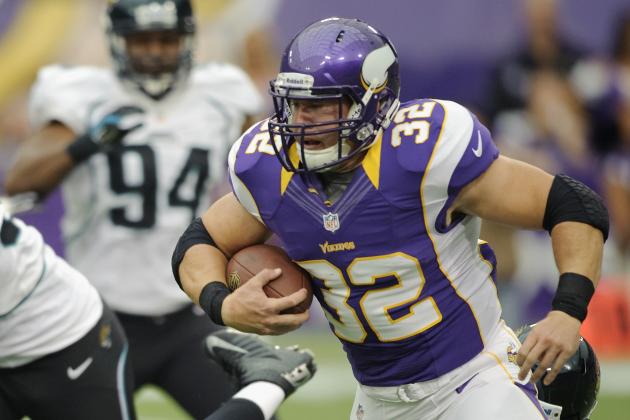 Hannah Foslien/Getty Images
Adrian Who?
Welcome to the last in a series of slideshows that power rank the greatest Minnesota Vikings of all time by position. Each week we've featured a different position, and the best Vikings to take the field at that position were ranked from fifth to first.
How does a guy get on the list?
It's all about being a Viking. While stats are taken into account, there are more subjective criteria as well. There's a certain feel to those classic Vikings standing on the sideline at Met Stadium in freezing conditions with steam coming out of their face masks. Those are the quintessential Vikings to many fans.
Certain players, such as Mike Morris and Scott Studwell, would have fit perfectly in that era. Those are true Vikings. Other players, particularly Adrian Peterson, would have been fun in any era.
These lists are filled with players who epitomize what it means to be a Viking.
Last week, we talked about quarterbacks. That only left one position to talk about. This week, we'll finish up by ranking the greatest running backs in Vikings history.
The Vikings have had some outstanding running backs over the years. For a franchise that has frequently been built around its legendary defenses, Minnesota has been home to a surprising number of top-flight ball-carriers.
Some of the guys here are bruisers from the glory days. Another guy might just end up being the best player ever to don purple. There are a few guys who fall in between, as well.
Thank you for sticking with us for the entire series. Hopefully, you were able to take a few trips down memory lane as the greatest Vikings ever were discussed. Now, click on as we power rank the top running backs in Minnesota Vikings history.
All statistics courtesy of Pro-Football-Reference unless otherwise noted.
Begin Slideshow

»
Though the top of this list was relatively easy to compile, deciding which Vikings running back should receive Honorable Mention was a tough call.
There was Tommy Mason, who made three Pro Bowls during his six years with the team. His 3,252 yards and 28 rushing touchdowns are both eighth on the team's all-time list. Mason left before the Vikings were very good, though, and his raw numbers just aren't quite good enough to boost him onto the list without some Super Bowl cachet on his resume.
Darrin Nelson has the seventh-most rushing yards (4,231), and was a valuable returner, but is best remembered for a pass he didn't catch.
Ricky Young was a great receiver out of the backfield, but not a huge threat as a running back.
Chester Taylor, Terry Allen and Michael Bennett all had a couple of good years, but not quite good enough to crack the list.
Ultimately, Ted Brown was the choice for the Honorable Mention slot. Brown, who had the unenviable task of replacing an upcoming member of the list in the Vikings offense, had the fifth-most rushing yards in team history (4,546) and scored 40 touchdowns, good for fourth in team history.
Even more importantly, at least to Vikings fans, Brown was part of one of the greatest plays in team history. Check out the video above to relive Brown's place in Minnesota lore.
For his strong production and his place in team history, Ted Brown edges out a bevy of other runners for Honorable Mention on our list of the greatest runners in Minnesota history.
There are a lot of guys on this list who got there on the strength of their on-field numbers. There are others who made the cut based more on their legendary status in team history.
Dave Osborn qualifies on both counts. A 13th-round draft choice out of tiny North Dakota, Osborn defied the odds and played 11 seasons in Minnesota. He was a member of three Super Bowl teams, and his 4,320 rushing yards are good for sixth in team history.
Osborn was a Viking through and through. He came from the tundra, and wasn't flashy. He played in foul weather and was known more for his toughness than his talent.
Not that he didn't have talent. Osborn led the team in rushing three times, and was named to the NFC Pro Bowl squad following the 1970 season.
Osborn was a great blocker and a solid runner. His contributions to some of the best Vikings teams ever are enough to vault him past Ted Brown into the No. 5 spot on the list of best runners in Minnesota history.
Bill Brown (No. 30 in the video) became a legendary member of the Minnesota Vikings in a somewhat quiet way.
Never a flashy player, Brown was known as "Boom Boom" to his teammates and legions of Vikings fans. His tough, no-nonsense style was a perfect fit for the Vikings of the '60s and '70s. His ability to hold on to the ball made him a valued commodity in the cold weather of Minnesota.
Brown, though known more for his persona than his statistics, compiled some impressive numbers during his 13 seasons in Minnesota. His 1,627 rushing attempts are second all time. He's also high on the list for career yardage at 5,757 (good for fourth all time) and touchdowns with 52 (tied for second).
What may stand out most about Brown is his incredible longevity at a position famous for short careers. Brown was a second-round pick of the Chicago Bears in the 1961 NFL draft. He played a season in Chicago, then came to Minnesota prior to the 1962 season. He stayed with the Vikings for 13 years.
Brown played in more games than any other running back in team history. He carried the ball more often, and was named to four Pro Bowls for his efforts. He's still a legend amongst Vikings fans.
For his contributions to the early Vikings, his longevity and his toughness, Brown slips past Osborn into the fourth spot on the list of greatest-ever Minnesota running backs.
Some guys just make it look easy. That was the case for the No. 3 running back on our list of Vikings greats. No back in team history was smoother on the field than Robert Smith.
Smith came to Minnesota as a first-round pick in the 1993 draft. He left Ohio State after three season, and amidst some controversy. Smith was openly critical of the Buckeyes staff, claiming they wouldn't allow him sufficient time to concentrate on his pre-med studies. It was immediately clear the Vikings were getting a different kind of player.
Smith fought injuries his first four years in Minnesota, never starting more than seven games in a season, and topping out at 692 rushing yards in 1996.
Then, everything came together. Though he only started 16 games once in the next four years, Smith never totalled less than 1,000 rushing yards from 1997-2000. His best season was 2000, when he played all 16 games and rushed for 1,521 yards. Following that season, Smith abruptly retired.
When he left the NFL, Smith was the team's all-time rushing leader with 6,818 yards. His 32 touchdowns are still fifth on the team's all-time list. He still holds the team record for most rushing yards in a playoff game, with 140 against Dallas in 2000. Smith also holds the record for most consecutive rushing attempts without a fumble with 478.
Smith, who was named to two Pro Bowls, combined sprinter's speed with a fluidity seldom seen in the NFL. He was deadly in the open field, and equally dangerous in the screen game. For his assault on the team's record books and his ability to break away on any play, Smith is the No. 3 running back in Vikings history.
Every so often, a player changes the way the game is played. Chuck Foreman was that type of player for the Minnesota Vikings.
The Vikings nabbed Foreman in the first round of the 1973 NFL draft. While Minnesota valued Foreman as a runner, the team also selected him for his ability to catch passes coming out of the backfield. It was one of the best decisions in the history of the franchise.
Foreman burst onto the scene as a rookie, rushing for 801 yards. He also caught 37 passes for another 362 yards. For those efforts, he was selected as the NFL Offensive Rookie of the Year. It wasn't the last honor he'd garner. Foreman was named to five straight Pro Bowl teams and was an All-Pro selection four times.
Foreman's best year was 1975. That season, he scored a then-record 22 touchdowns. He also caught a record-breaking 73 passes. With his 1,070 rushing yards and 691 yards receiving, he totalled over 1,700 yards from scrimmage. It was one of the most astonishing performances in NFL history.
Foreman had a vast array of moves. In particular, his spin move often caused the first defender to miss. He was a nightmare in the open field despite not having outstanding speed. His ability to catch the ball forced teams to change the way they defended the Vikings.
Foreman's 5,879 rushing yards are third on the team's all-time list. His 52 rushing touchdowns are tied for second in team history. Foreman was also a key contributor to three Super Bowl squads.
While his numbers are strong, it's Foreman's legacy of changing the game that moves him past Robert Smith into second place on the list of greatest Vikings running backs ever.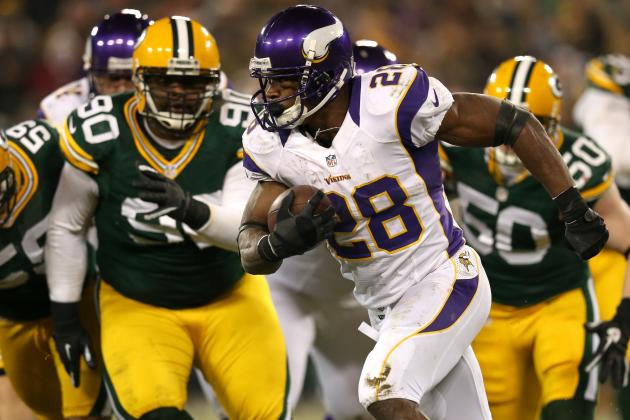 Jonathan Daniel/Getty Images
Headed for the Hall of Fame?
During the 2007 NFL draft, Minnesota Vikings fans were on the edge of their seats. The picks started rolling in.
The Oakland Raiders used the No. 1 pick on JaMarcus Russell. Then Calvin Johnson, Joe Thomas and Gaines Adams came off the board. The Vikings held the No. 7 pick, and fans could hardly contain their excitement. Only two more picks to go.
The Arizona Cardinals selected Levi Brown, and the excitement level at Winter Park rose another notch. Then, Washington took LaRon Landry. The impossible dream was about to become a reality.
With the No. 7 pick in the 2007 NFL draft, the Minnesota Vikings selected Adrian Peterson, running back from Oklahoma. They've never made a better pick. (Apologies to Randy Moss.)
A roar erupted from the fans attending the Vikings draft party. Minnesota had just selected the best running back in the draft. It's inconceivable that Peterson was still on the board at No. 7.
The rest is, and continues to be, history. Peterson is simply the best player in the NFL. His assault on the Minnesota (and NFL) record books is already legendary.
After just seven NFL seasons, Peterson holds the Vikings records for most career rushing yards (8,849), touchdowns (76), carries (1,754) and yards from scrimmage in a season (2,314 in 2012).
He also holds team marks for rushing yards in a season (2,097—second all time), rushing touchdowns in a season (18), 100-yard games (34), 1,000-yard seasons (5) and most consecutive 100-yard games (8).
Peterson's 296-yard outburst against San Diego in his rookie season is an NFL record. His MVP season in 2012 came on the heels of a devastating knee injury suffered in the last game of the 2011 season.
No back in the NFL combines Peterson's speed, strength and resilience. He attacks defenders instead of waiting for them to come after him. If he continues at his current pace, Peterson will one day hold every important rushing record in the NFL.
For his superhuman talent, his unbelievable work ethic and his assault on the record books, Peterson is a runaway choice as the greatest running back ever to play for the Minnesota Vikings.
Thanks for reading this 14-part series on the greatest Vikings players of all time. It's been a lot of fun to write and even more fun to debate with you.
Is someone on the list who shouldn't be there? Have a player you'd like to nominate? Speak your mind in the comments section below.
Follow me on Twitter: