Winners and Losers of the Wild Abner Mares vs. Jhonny Gonzalez Fight Card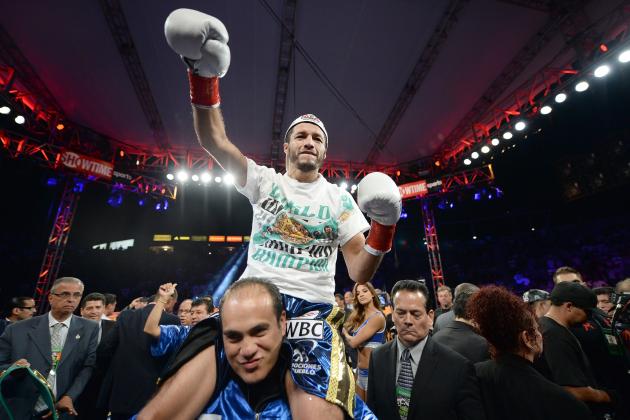 Harry How/Getty Images
Jhonny Gonzalez was the ultimate winner from this weekend of action.
Whenever you have a fight card featuring Leo Santa Cruz, Abner Mares and Jhonny Gonzalez, you know you're in for a night of excitement, action and drama.
But there weren't many who were expecting this, or anything close to it.
For Santa Cruz, this weekend's action was pretty much par for the course, but if you're Gonzalez or Mares, you're entire world has been turned on its head.
It was certainly a night full of surprises, and here are the winners and losers from Saturday night's wild fight card from Carson, Calif.
Begin Slideshow

»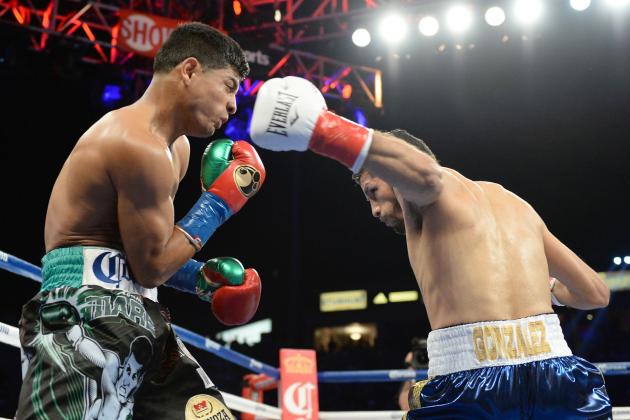 Harry How/Getty Images
Jhonny Gonzalez's dynamite left hand was all it took to implode Abner Mares usually sturdy chin.
Coming into this fight, we all knew the book on Gonzalez.
He has a reputation for being rugged, tough and powerful, but at 31 years old, many were questioning whether or not he still had it in the tank to take out an elite opponent like Mares.
That question has been answered—emphatically.
With a single left-hand shot, Gonzalez was able to turn back the clock and absolutely stun his previously unbeaten opponent. In the process, he signaled his return to the featherweight elite—after a short absence—and showed he still has enough dynamite in his punches to take down a man being dubbed as a potential superstar.
Few people were willing to listen to Jhonny's frequent protestations that he wasn't done, but after about the most impressive performance anyone could ever hope for, that should no longer be a problem.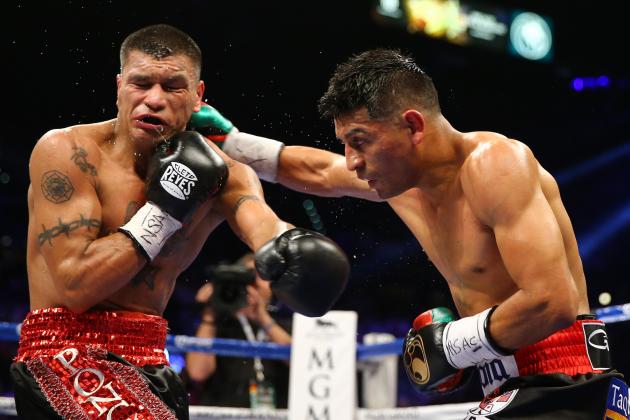 Al Bello/Getty Images
Few gave Gonzalez a chance against Mares.
Good luck finding one member of the boxing media who gave Gonzalez much of a chance at upsetting Mares.
At 31 years old—and with 62 professional fights already on his ledger coming in—most felt that Gonzalez would be too shopworn to keep up with the younger, fresher champion who appeared to just be coming into his own.
And why wouldn't you think that? Mares absolutely demolished the usually rugged Daniel Ponce de Leon to win a share of the featherweight crown in May, and he was undefeated in 27 previous bouts.
Gonzalez had only won a pair of fights against low-level opponents since being defeated by Ponce de Leon last year for the belt he now once again holds.
Well, so much for that. Pretty much everyone got this one wrong—yours truly included—and this shows the danger of underestimating a fighter with that type of one-punch power.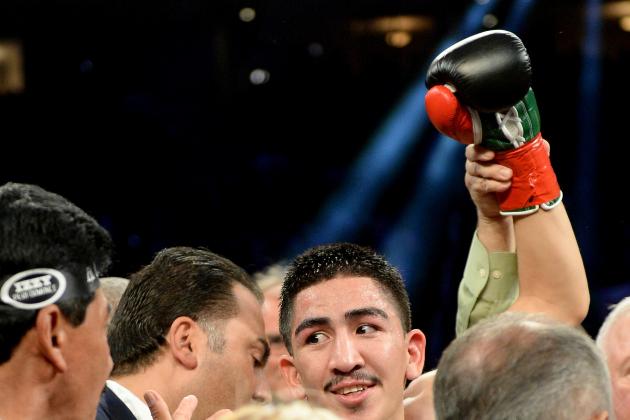 Harry How/Getty Images
Leo Santa Cruz isn't just a helluva fighter, he's also highly marketable.
Leo Santa Cruz is a force of nature.
While his win over Victor Terrazas was expected, the level of dominance he exhibited was a bit surprising.
Terrazas is one of the more determined fighters you'll find in the sport. He toiled for a decade in order to finally secure a world title shot, and he had to get off the canvas in the final round against Cristian Mijares in order to finally capture gold.
All that said, Santa Cruz absolutely tore through him.
He's very quickly becoming must-see television, and he has the type of style that the suits at Showtime should feature as often as possible. This is the type of guy who brings new fans to the sport.
He fights like a dynamo, has a personality that draws in people and has now captured two world championships in as many weight divisions.
What's not to like about Leo?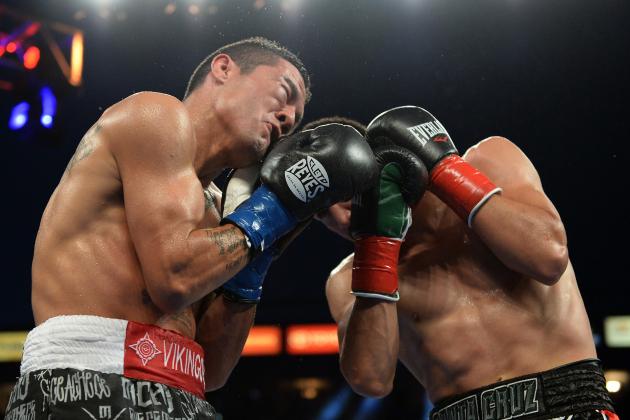 Harry How/Getty Images
No, he isn't closing it...it's swelled shut.
You'd never know it, but underneath all that swelling, Terrazas has a right eye.
It's true. You could even see it when he walked into the ring.
Santa Cruz absolutely obliterated that eye in the ring on Saturday night. By the time of the stoppage, it was completely swelled shut and absolutely grotesque.
It looked like something out of a bad horror movie, and it's hard to believe that Terrazas is going to have to walk around with that thing until it heals.
Think people will be lining up to face Santa Cruz after taking a gander at that picture? This guy doesn't just beat you, he rearranges your face.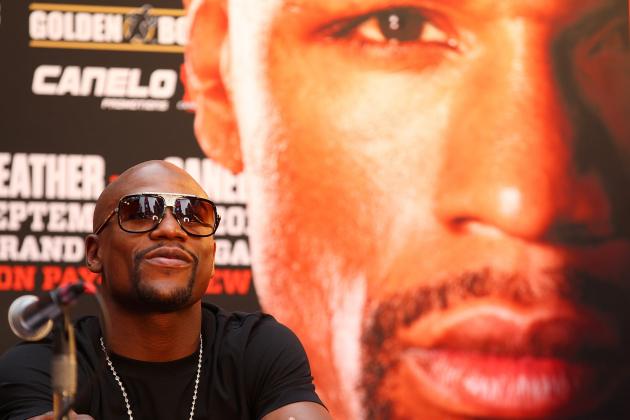 Mike Stobe/Getty Images
With the premiere of All Access, and a night of dramatic knockouts, the needle is still pointing in Showtime's favor.
After years of being the little brother to HBO in the cable boxing world, Showtime has finally shown the perils of picking on your younger siblings.
Sometimes, they get bigger and smack you in the mouth.
It's no secret that Showtime has absolutely wiped the floor with HBO this summer, and with the upcoming Mayweather vs. Alvarez event next month, that doesn't appear on the verge of changing.
HBO did very well last week when it showcased a dramatic clash between Daniel Geale and Darren Barker for a share of the middleweight crown, but that bump will be very short-lived after this weekend.
The boxing world will be abuzz with talk of Mares' stunning knockout defeat, the latest demolition of a quality opponent by Santa Cruz and the premiere of All Access: Mayweather vs. Canelo.
Once again all the chatter will be on the Showtime side of the fence, and HBO will again be left on the outside looking in.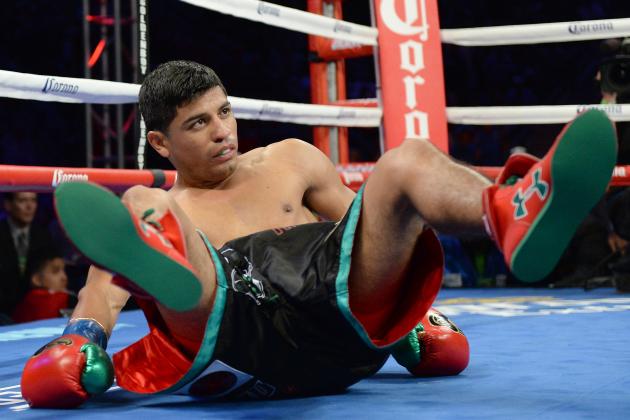 Harry How/Getty Images
Mares said all the right things in defeat, but that one had to hurt.
Nobody saw this coming, least of all Mares.
It just goes to show you that in boxing all it takes is one perfect punch to change fortunes.
Coming into the ring on Saturday night, Mares was considered one of the rising stars in boxing, and Gonzalez was a washed-up former champion looking at one final shot.
Leaving the ring, it was Gonzalez who saw his future prospects brighten, while Mares now has to get back to the drawing board and figure out what went wrong on the way to his coronation.
In the ring after the fight, the now-former champion said all the right things. But this loss was simply devastating, and it'll be interesting to see how and when he bounces back from it.