5 Philadelphia Eagles Who Stepped Up, Stepped Back Against Jaguars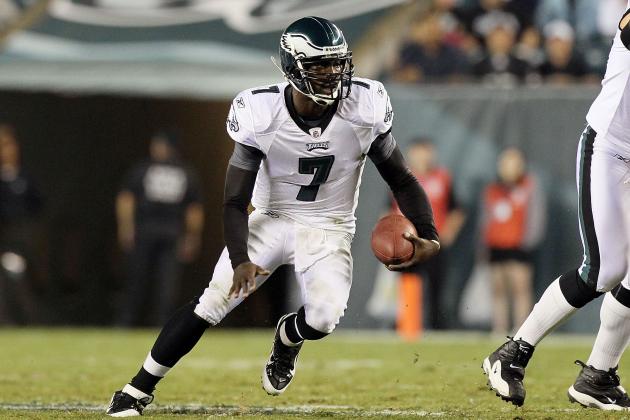 Jim McIsaac/Getty Images

Week 3 of the 2013 NFL preseason is officially in the books and the Philadelphia Eagles defeated the Jacksonville Jaguars 31-24.
It wasn't pretty, particularly the first half (and part of the third quarter), in which the Eagles played their starters, but Philadelphia still got a hard-fought win.
There were some bright spots, and there were some sore spots. Here are five players who stepped up and five players who stepped back in Saturday's preseason victory.
Begin Slideshow

»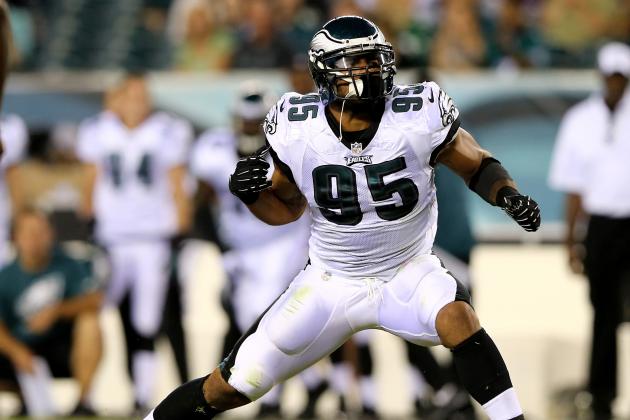 Elsa/Getty Images

After superb play last week against the Carolina Panthers, Mychal Kendricks followed that up with another brilliant performance against Jacksonville.
Kendricks was once again very effective blitzing, and he showed a tremendous amount of speed. He recorded a sack against quarterback Chad Henne and was in his face all night long. On one play, Kendricks was able to bat a pass that he nearly intercepted.
Defensive coordinator Billy Davis seems to have figured out the right way to use Kendricks, whose speed makes him a signal-caller's nightmare.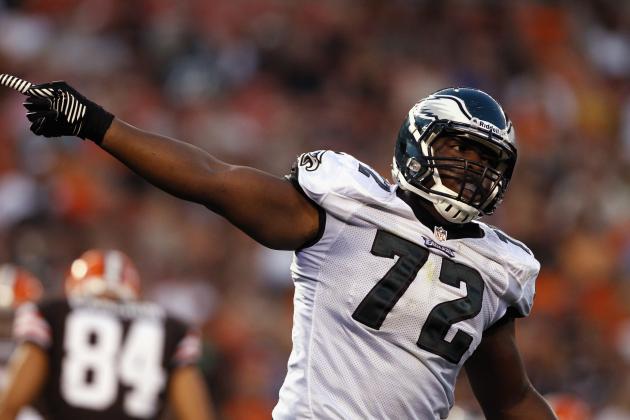 Matt Sullivan/Getty Images

Fletcher Cox had an incredible night, but Cedric Thornton is one of the unheralded heroes of the Eagles defensive line and could be poised to have a great year.
Thornton showed himself to be disruptive against Jacksonville, consistently generating an effective bull rush to pressure the quarterback.
His most notable play was when, in the blink of an eye, he powered his way through a wave of blockers and recorded a hard sack on Chad Henne.
Cox may be the star of the Eagles D-line, but Thornton has quietly made his presence felt this offseason and preseason.
There were moments last season when Thornton was the lone pass-rusher who was able to generate pressure. Let's see if he can build on that this season with a breakout year.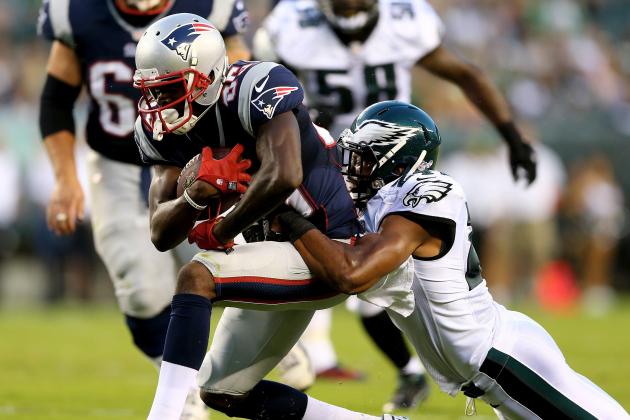 Elsa/Getty Images

It feels like I've been beating a dead horse with my last few articles on the Eagles, but cornerback Bradley Fletcher has really been stepping up during the 2013 preseason. His stellar play continued in Week 3.
Fletcher was solid in coverage; an eight-yard catch by Jacksonville's Justin Blackmon was the only notable reception Fletcher allowed. But it was a quick curl pattern, and that kind of play is difficult for a corner to guard.
And while Blackmon did snag a 17-yard touchdown pass from Henne, there seemed to be a miscommunication between Patrick Chung and Fletcher, so it's hard to say who's fault it was.
Fletcher once again showed reliable tackling. At the beginning of the game, he made an impressively quick shoestring tackle on Blackmon.
As stated in previous articles, Fletcher won't be a star, but he will be as reliable as they come.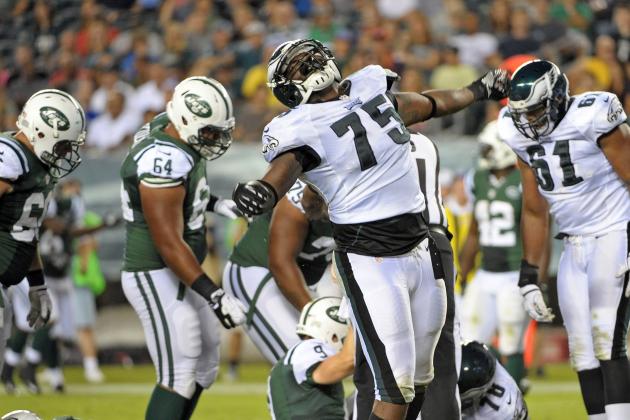 Eric Hartline-USA TODAY Sports

Vinny Curry got some playing time with the second team after halftime and he did not disappoint.
Curry recorded a sack and a pair of quarterback hurries. He consistently got to the quarterback from his defensive end position and has had an outstanding preseason so far.
He is making a strong case for himself to not only nab a roster spot but to also earn playing time in 2013 as a situational player.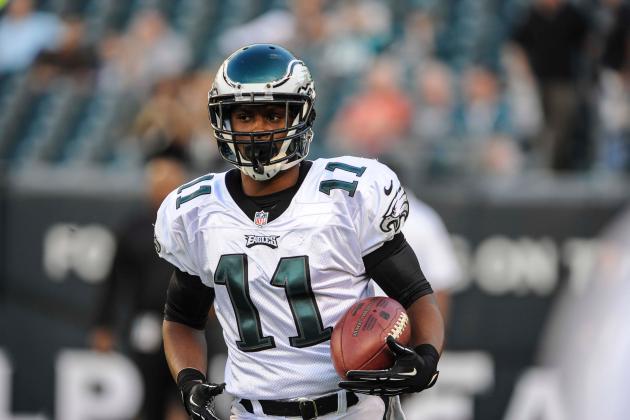 John Geliebter-USA TODAY Sports

Russell Shepard might have been the third most productive wide receiver last night, but he still looked impressive out there.
On both of his receptions, Shepard showed great running ability after the catch. On a 20-yard catch-and-run, he took a quick five-yard pass and then outmaneuvered defenders to pick up the first down.
Shepard has had a good training camp and has also played decently in the preseason when healthy. He has excellent big-play ability and is making a serious case for a roster spot.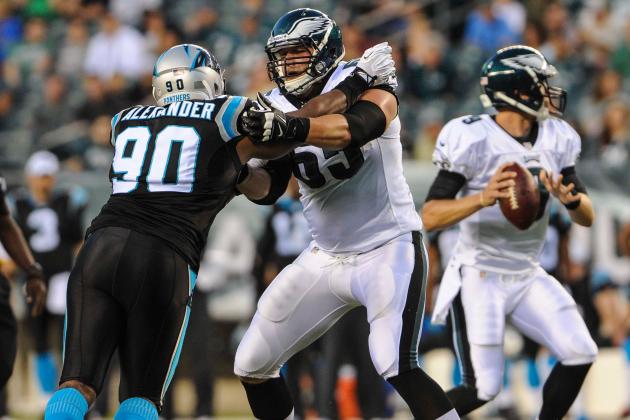 John Geliebter-USA TODAY Sports

After looking solid in his first two preseason games, offensive tackle Lane Johnson had a shaky performance against the Jaguars.
Johnson was bullied early on by former Eagle Jason Babin, and Vick was forced Vick to flee the pocket. Eventually, Johnson was able to get a handle on Babin, though he mostly used his hands and athleticism to keep Babin in check rather than sound footwork and good technique.
Johnson also left a bit to be desired in the running game. He is very talented and will likely eventually develop into one of the best players at his position, but he may have some growing pains this season.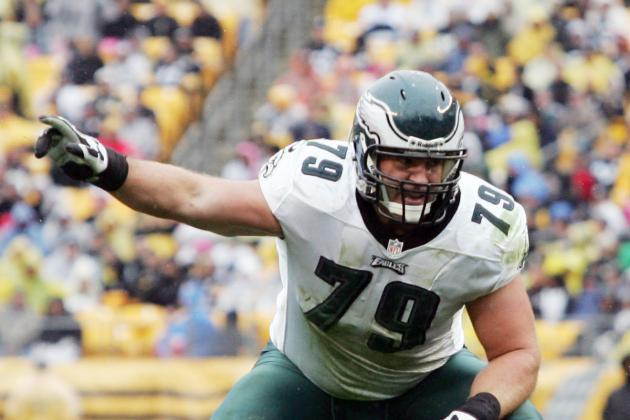 Charles LeClaire-USA TODAY Sports

Don't get too excited about Herremans returning to his borderline Pro Bowl form from his left guard days. Herremans is still learning the right side of the line and may struggle a bit in 2013.
Against the Jaguars, Herremans was another O-lineman who has had better days. He consistently struggled to keep his assignment at bay.
His biggest failure against Jacksonville was on a play in which he was driven backwards off the snap. The pocket immediately collapsed on Vick, forcing the QB to make a hurried throw to DeSean Jackson. But the backpedaling Vick was unable to get enough on the pass and it was picked off.
The fault still mostly lies with Vick, who should have thrown the ball away, but Herremans was beaten far too quickly.
Hopefully, he can become more accustomed to the right guard position by the time the regular season kicks off.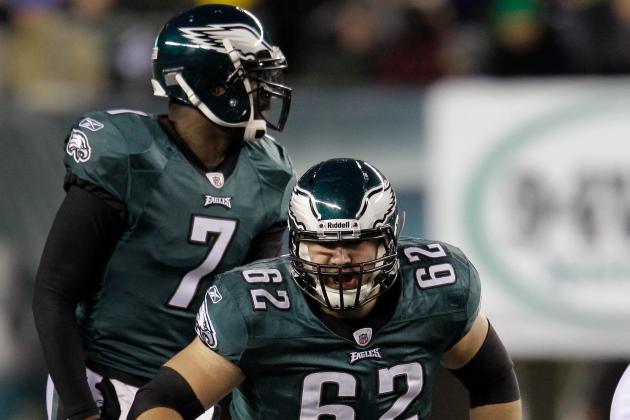 Rob Carr/Getty Images

Center Jason Kelce did not have his worst performance last night, but he made his fair share of mistakes.
As the Eagles were driving, he made an errant snap from the shotgun. On another play, Kelce failed to identify the correct blitzer, which resulted in a defender getting right in Vick's face.
A rough night for Kelce, but he is a talented and smart player. Hopefully he can shake the rust off before Week 1 against the Washington Redskins.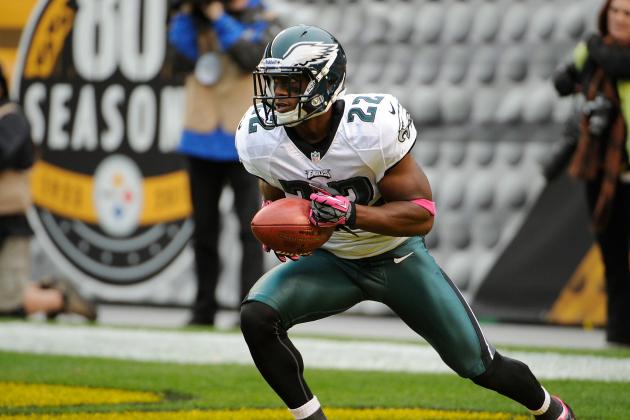 Joe Sargent/Getty Images

Cornerback Brandon Boykin did not play poorly so to speak, but he wasn't great. He missed a tackle and was also called for pass interference in the red zone.
He made a few good plays, such as a nice pass deflection on third down late in the game. But he did not quite show the brilliance that he did in the first two preseason games.
Despite Boykin's outstanding training camp so far, it may be best to leave him at nickel corner and to play Cary Williams and Bradley Fletcher on the outside, at least to start the season.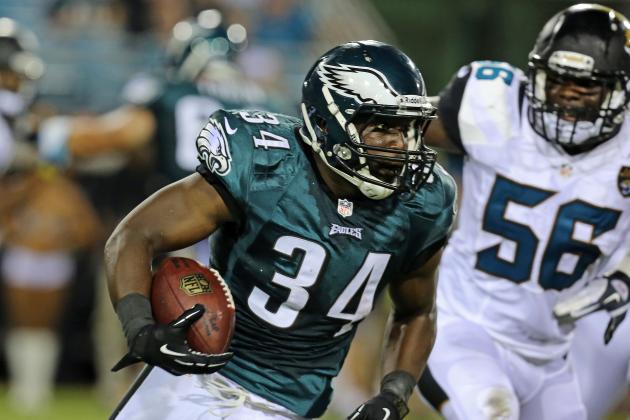 Brian Cleary/Getty Images

Bryce Brown rushed for 92 yards and a touchdown, so including him on this list may seem strange. But despite the plays he made, he still does not seem to have solved his fumbling woes, which puts a stain on his otherwise excellent performance.
Deep inside Jacksonville territory, Brown was stripped by a defender and the ball bounced out of the back of the end zone for a touchback. A long drive by the Eagles was completely wasted because Brown failed to hold the ball close to his body.
Brown is a phenomenally talented player and could someday pair with LeSean McCoy to be the best running back duo in the NFL. But until he solves his fumbling woes, the Eagles should not give him significant playing time.
It may even be wiser to play Chris Polk as the second-string running back until Brown proves he can hold the football securely. Polk has shown improvement in training camp and in the preseason, so the Eagles would not lose that much of a step.
Follow Yueh Ho on Twitter @YuehHo