Dallas Cowboys: 8 Things We Learned Through Week 3 of Preseason
Tom Pennington/Getty Images

The Dallas Cowboys have gone through four preseason games, so far, and some interesting patterns have started to emerge. The team might be just 2-2 with one game to go, but the preseason has nothing to do with winning and losing.
Dallas has seen some encouraging notes heading into the season, but has also struggled to fix noticeable red flags so far. Let's take a look at the eight things we've learned from the team's performance through four preseason games.
Begin Slideshow

»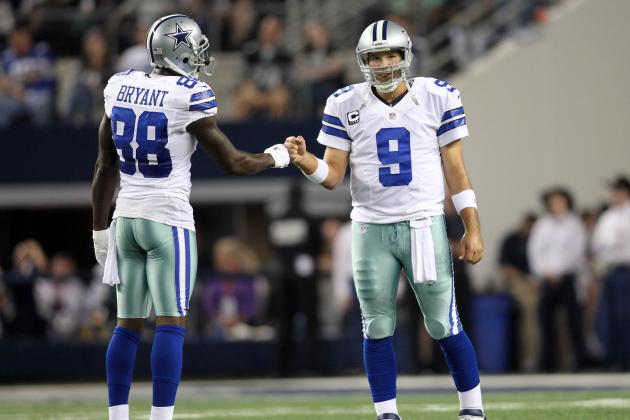 Tim Heitman-USA TODAY Sports

Dez Bryant and Tony Romo showcased some of their chemistry in 2012 when they connected on 12 touchdown passes. This preseason, the duo has shown they have not lost a step over the offseason.
Bryant caught five of his six passes in the Cincinnati game on one drive that ended with a touchdown reception. In the exhibitions against the Arizona Cardinals and Oakland Raiders, No. 88 caught every ball thrown at him and totaled seven receptions for 129 yards.
Romo and Bryant have been lighting up the preseason, even if it is just the preseason. Having these two on the same wavelength is one of the formulas necessary for Dallas to achieve a Super Bowl trip this season.
Bryant said a while back that he's aiming to tally over 2,000 receiving yards and 20 touchdown this season. While those numbers might be a little unlikely, it's not crazy to believe Romo and Bryant could connect on 12 or more touchdowns in 2013.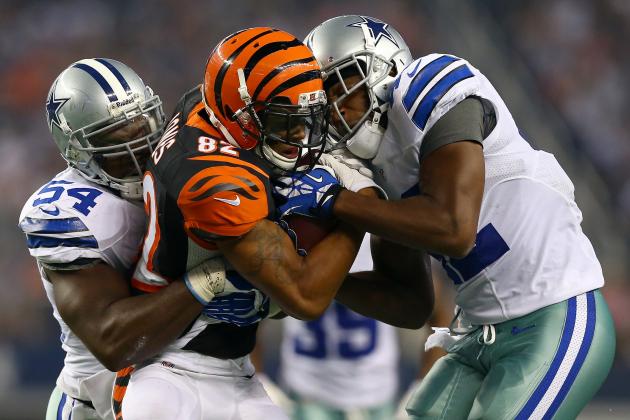 Tom Pennington/Getty Images

In 2012, the Cowboys posted just nine fumble recoveries and seven interceptions. In four exhibition games, this year's team has forced nine turnovers.
New defensive coordinator Monte Kiffin has molded his squad into a turnover machine during the preseason. There's no guarantee this trend will carry over into the regular season, but Kiffin is certainly working to make sure it does.
This recent ability to create opportunities for itself is a trait that was lacking from last year's team. The Cowboys ranked second-to-last in created turnovers among NFC teams in 2012 and third-to-last in giveaway-to-takeaway ratio.
Kiffin has been focusing on turnovers all offseason with his new defense. That focus will lead to a significant increase in fumbles and interceptions posted this year if the preseason is any indication.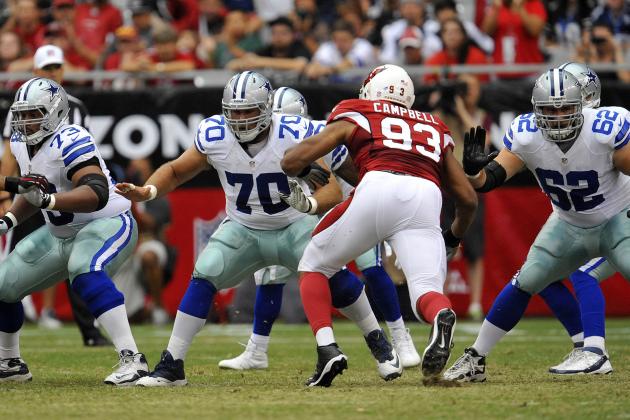 Gary A. Vasquez-USA TODAY Sports

Dallas has started a different offensive line for each exhibition game, so far, this August. Against the Bengals, Jason Garrett and company chose to put Doug Free at right guard and Jeremy Parnell at right tackle.
The coaching staff has tried several combinations up front. The only constant through this preseason on offensive line has been Tyron Smith at left tackle. Even this year's first-round draft pick, Travis Frederick, has seen time at guard as well as his natural position at center.
There is also Ronald Leary to factor in. Leary underwent knee surgery on Aug. 16 and is trying to get back in time for Week 1 against the New York Giants. If he is healthy enough to play, many believe him to be Dallas' starting left guard, as Charean Williams of the Fort Worth Star-Telegram recently discussed.
Frederick will start at center and Smith at left tackle; that much seems to be clear. It is the two guard positions that are creating headaches for Garrett's staff.
Regardless of who makes up the starting line, protection has to be better than the past two seasons. Tony Romo has been sacked a career-high 36 times in each of the past two seasons, according to Pro-Football-Reference.com. That cannot bleed into 2013 if Dallas has postseason hopes.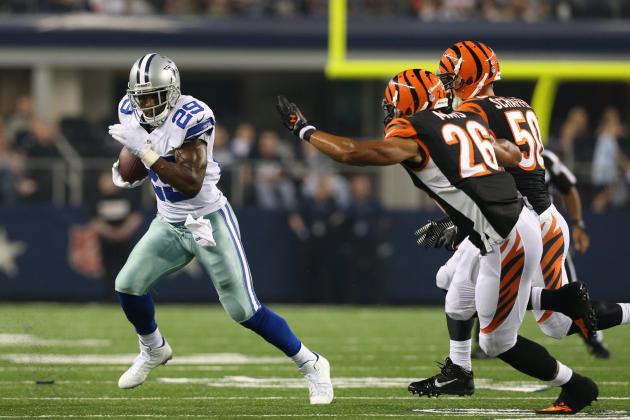 Matthew Emmons-USA TODAY Sports

In 2012, DeMarco Murray missed time with an injury, and the Cowboys finished with the No. 31 rushing attack in the NFL. This preseason, new offensive coordinator Bill Callahan has been trying to show that Dallas' offense can be a threat on the ground.
In the Hall of Fame game against Miami, Callahan called 34 rushing plays, compared to 21 passing attempts. In the media-proclaimed "dress rehearsal game" against Cincinnati, Callahan ran the ball 43 times, compared to 28 passing attempts.
The Cowboys have plenty of talent in the backfield with Murray, 2013 draft pick Joseph Randle and the duo of Phillip Tanner and Lance Dunbar. Callahan would be wise to feed his running backs the football early and often this season.
If Callahan stays committed to his rushers and balances out the Dallas offense this year, this offense could be as formidable as the 2007 squad. That season, Marion Barber ran for 975 yards and 10 touchdowns, while Tony Romo tossed a career-high 36 touchdowns.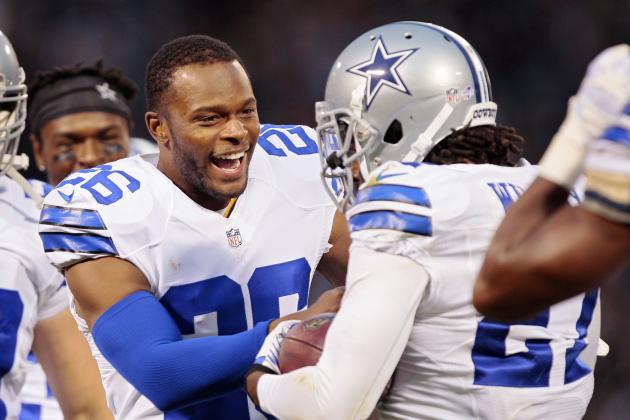 Brian Bahr/Getty Images

Will Allen signed with the Cowboys for just a one-year, $840,000 deal this offseason, but he's looking less and less like a rental.
The former Pittsburgh Steelers and Tampa Bay Buccaneers safety is reunited with defensive coordinator Monte Kiffin. He's familiar with the Tampa 2 scheme and is using that knowledge to become one of the defense's leaders.
"I've been playing a long time, so I understand how to mesh well and where I fit, but I also know when to interject and exert energy and exert leadership. I think that's a good mix," Allen told Rowan Kavner of DallasCowboys.com.
Allen hasn't recorded any of Dallas' many turnovers this preseason, but he's brought a degree of stability to the safety position. For what Jerry Jones is paying Allen, the Cowboys' owner is getting plenty out of his minor investment.
Dallas already has DeMarcus Ware and Jay Ratliff to lead on the defensive line and Sean Lee with the linebackers. With Will Allen in the fold with veteran cornerback Brandon Carr, the Cowboys secondary has strong leadership for younger players to lean on.
Casey Sapio-USA TODAY Sports

The Cowboys' second-round draft pick this year has not exactly been showcased this preseason.
Gavin Escobar caught one pass for three yards in the Hall of Fame game against the Dolphins. He posted a goose egg against Oakland and Cincinnati, but did have five catches for 32 yards and a touchdown against Arizona.
The fans who missed that exhibition with the Cardinals have not exactly been given the chance to be properly introduced to the rookie.
Escobar was one of the top tight ends in the 2013 draft class. He was selected to allow the Cowboys to bring more two-tight end formations into their offensive game plan.
Either Dallas is really trying to keep those plans under wraps, or Escobar is a little behind in learning his new playbook. More than likely, his lack of catches are due to a cautious approach from Jason Garrett and the coaching staff.
There isn't anything except praise reports coming out of Big D regarding Escobar right now. The Cowboys must be waiting until the regular season to show what the rookie can do lining up opposite Jason Witten.
With a crucial divisional game with the Giants to start the season, don't expect to see much of Escobar until that bout.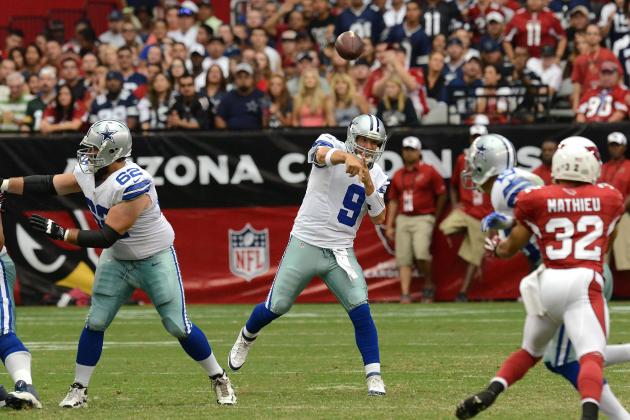 Norm Hall/Getty Images

Tony Romo sat out of the Hall of Fame game. His play through the other three exhibitions shows he didn't need the extra reps in that one.
After Romo's big six-year, $108 million contract extension, expectations are higher than ever for him this season. He has the talent on offense to take this team into the postseason and even make some noise once there.
Romo's play this preseason shows that there's reason to believe in this Dallas passing attack.
Through three games against the Raiders, Cardinals and Bengals, Romo has completed 26 of his 36 passes for 367 yards and two touchdowns. He never posted more than five incompletions in any of those contests.
It is still just preseason, and there aren't many teams going 100 percent during these games. That being said, it's obvious Romo is ready for the regular season and ready to prove he's worth his hefty paycheck.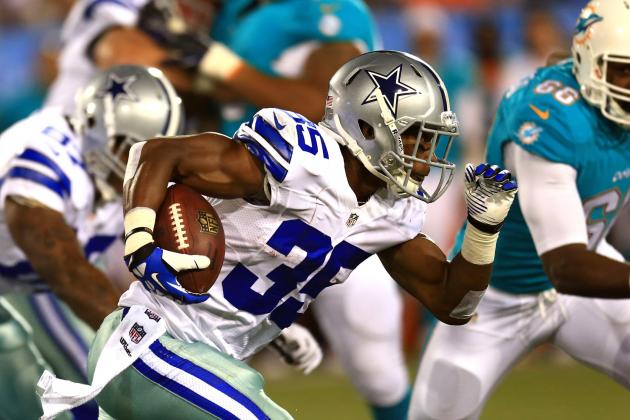 Andrew Weber-USA TODAY Sports

Dallas entered training camp with questions marks regarding who would take the No. 3 and No. 4 receiving jobs on the depth chart this year. The team also had to sort out the entire running back depth chart behind starter DeMarco Murray.
With just one preseason game left to go, the Cowboys have answered few of these questions. It's likely that WR Terrance Williams will take the No. 3 receiving job after being drafted in the third round this year.
As Brandon George of the Dallas Morning News pointed out, however, Dwayne Harris has made his case for Williams' spot as of late. The veteran receiver tallied a combined eight catches for 83 yards against Arizona and Cincinnati.
The No. 3 job is likely going to go to Williams, but Harris isn't going to just hand it over.
As for the No. 4 job among the receivers, that battle has been between Danny Coale and Cole Beasley. While Beasley was nursing an injured left foot as of Aug. 10, he also looks in line to win his position battle.
Coale has just one catch for one yard on two targets this entire preseason. Beasley has posted four receptions for 54 yards and a touchdown.
Neither are large sample sizes, but Beasley does have more to show for his efforts. It wouldn't be crazy to see Coale take the No. 4 job over Beasley, but that scenario looks unlikely as of now.
As for the running backs, Joseph Randle, Phillip Tanner and Lance Dunbar have made things quite difficult on Jason Garrett. It seems like every game, so far, these three have posted almost identical stat lines.
Randle is the obvious choice to be Murray's backup, considering he was a fifth-round pick this year. That being said, he's far from guaranteed that job when considering Dunbar and Tanner's combined 232 yards on 56 carries this preseason. Keep in mind that number lacks Dunbar's performance against Cincinnati. He sat that one out due to a sprained foot.
The only thing rock-solid regarding the running back depth chart right now is that Murray is the starter.
With just one more exhibition bout against Houston before Week 1 rolls around, expect Tanner, Randle and Dunbar (if he suits up) to bring their A-games.
The Houston Texans game is the last opportunity for players to make their case for their desired jobs, and these three are well aware of that fact.