New York Jets rookie quarterback Geno Smith returned to the field against the New York Giants to resume competing for the starting job.
Rather than solidify himself as the starter heading into the season, Smith's performance only created more questions for himself and the team moving forward.
Smith was pitiful in his outing against the Giants, completing 16 of his 30 attempts for 199 yards and a touchdown—along with three interceptions. As ESPN points out, in one game with the Jets, Smith managed to throw half as many interceptions as he did during his entire final year at West Virginia:
Geno Smith has 3 interceptions tonight for the Jets... he had 6 during his entire senior season at West Virginia.

— ESPN Stats & Info (@ESPNStatsInfo) August 25, 2013
The contest was supposed to serve as the barometer for Smith's effectiveness as the starter in New York. As Manish Mehta of the New York Daily News pointed out before the game, Smith just needed to take care of the ball, and the job was his:
The Jets' farcical quarterback competition will conclude Saturday night with rookie Geno Smith needing two turnover-free quarters to secure a job that many people in the organization want him to win.


Although Rex Ryan hasn't announced a starter for the third preseason game against the Giants, the Daily News has learned that Smith will get the nod if he doesn't suffer a setback with his ankle in the next few days.
So much for that:
Geno Smith's first career start is over: 12 drives. 16 for 30, 199 yards, 1 TD, 3 INT, safety, 45.7 QB rating. #nyj

— Manish Mehta (@MMehtaNYDN) August 25, 2013
To make matters worse for Smith, he showed zero awareness and trotted out of the back of the end zone during a play in the fourth quarter, resulting in a safety: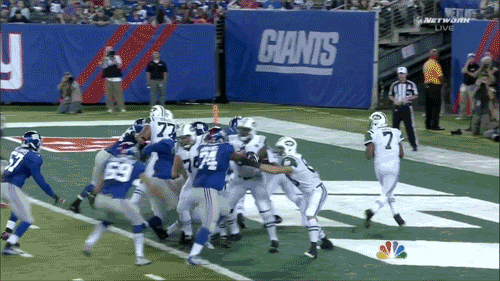 Now it is back to the drawing board for the Jets when it comes to the position. For a competition that has been described by some within the organization as "too close to call," both Mark Sanchez and Smith are doing nothing to set themselves apart.
Sanchez himself has two interceptions this preseason and was looking to be riding the pine by the time the season kicked off in a few weeks.
Instead, Smith has allowed Sanchez back in, and the battle, for lack of a better term, rages onward to a conclusion that will surely not excite Jets fans.
Follow B/R's Chris Roling on Twitter for more news and analysis @Chris_Roling