Jhonny Gonzalez Shocks Abner Mares with 1st-Round Knockout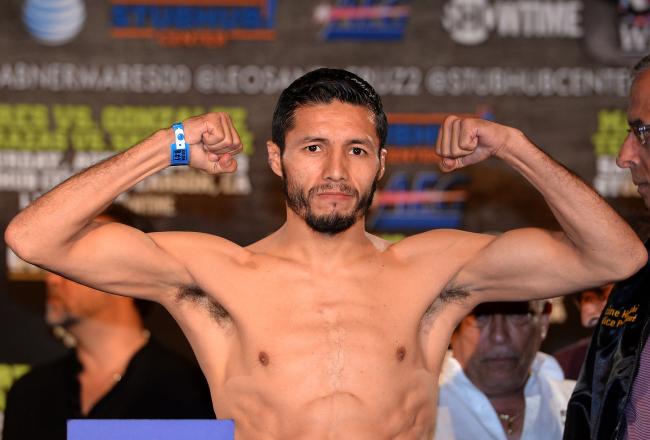 Jhonny Gonzalez scored an absolutely stunning first round knockout of Abner Mares on Saturday night.
Harry How/Getty Images
Jhonny Gonzalez spent all of fight week trying to convince people that he wasn't an old 31-year-old fighter, and that he still had what it took to upset Abner Mares.
Few were willing to give him more than a puncher's chance, and that's all it took.
Gonzalez (55-8, 47 KO) dropped Mares (26-1-1, 14 KO) twice in Round 1, and scored an absolutely stunning knockout to recapture the WBC Featherweight Championship Saturday night in Carson, California.
Mares entered the fight as a huge favorite, but it was a devastating Gonzalez left hand in the bout's opening stanza that stole the show.
In the opening contest, Leo Santa Cruz claimed a share of the WBC Super Bantamweight Championship in extremely impressive fashion by stopping former champion Victor Terrazas in Round 3.
Santa Cruz blew threw his opponent with his customary pressure and aggression, swelling his right eye completely shut, and dropping him twice in the third round.
Terrazas rose from both knockdowns, but informed the referee that he could not see out of his right eye, which forced the stoppage.
That'll do it for us tonight fight fans!
Here's your quick recap of the action:
Leo Santa Cruz TKO3 Victor Terrazas (Santa Cruz wins WBC Super Bantamweight Title)
Jhonny Gonzalez KO1 Abner Mares (Gonzalez wins WBC Featherweight Title)
As always, stay tuned to us here at Bleacher Report for all of your post-fight coverage!
Congrats to Jhonny Gonzalez for not only stopping Abner Mares in the first round, but also revitalizing his career and proving the entire world wrong.
About as emphatic a statement as possible in a big fight nobody gave you a chance to win.
In his @SHOsports interview, @abnermares00 all class. No complains on the stoppage, gave credit to Gonzalez. A class act. Much respect.

— Dan Rafael (@danrafaelespn) August 25, 2013
Class act indeed. Especially given he just got stopped in about as spectacular fashion possible...
1 thing Gonzalez has always been is a great puncher and those were some hammering left hooks he used to take out Mares. HUGE win for Jhonny

— Dan Rafael (@danrafaelespn) August 25, 2013
I don't even know what to say...Gonzalez proved everyone wrong, literally everyone.
I don't know anyone who saw that coming. And I mean absolutely nobody.
WOW!!!!
JHONNY GONZALEZ SHOCKS ABNER MARES IN THE FIRST ROUND!!
Jhonny Gonzalez on the attack with a few seconds left!!
MARES DOWN AGAIN AND ITS OVER!!!!!
MARES DOWN IN ROUND ONE!!! HUGE PUNCH!
Both guys spend the opening minute of the fight at distance.
Mares and Gonzalez looking to box.
Let's see how long that lasts.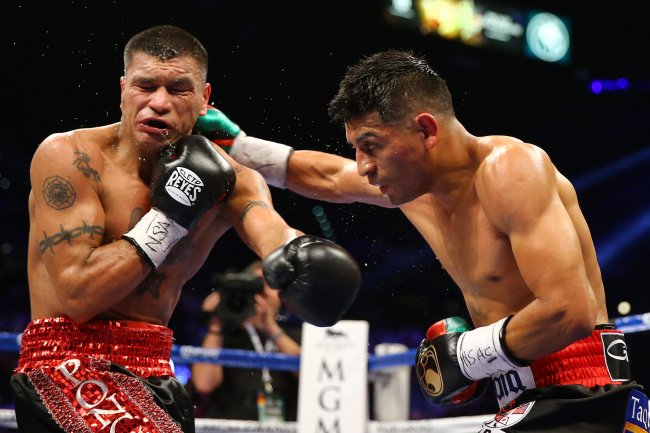 Al Bello/Getty Images
Round one underway.
Mares vs. Gonzalez
Time for WAR!
I think they should let Mares fight with the skull bandana on.
But that's just me. I think that thing looks bada**
Ok, does Jhonny Gonzalez have a real punchers chance. Does he have a couple of left-hooks in his back-pocket? #boxing

— Steve Kim (@stevemaxboxing) August 25, 2013
I can't see it, but we've seen crazier things. Gonzalez says he isn't an old 31-year-old fighter, but I'm not convinced.
Either way it might not matter. Mares might just be better either way.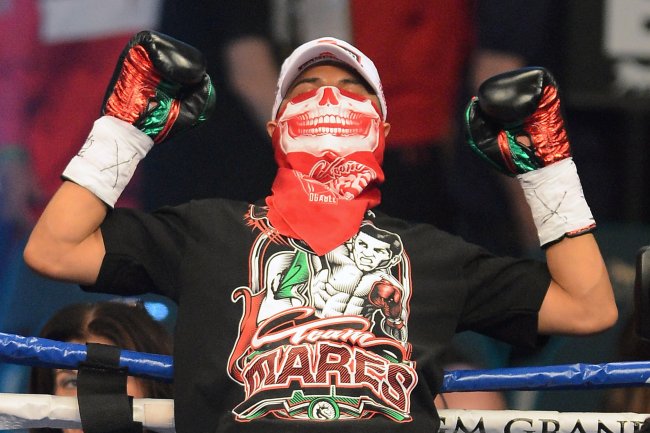 Ethan Miller/Getty Images
Abner Mares looks like a scary dude with that skull bandana covering his face.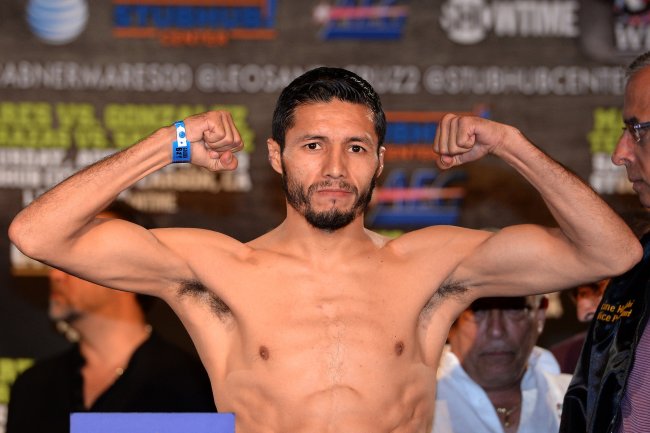 Harry How/Getty Images
Jhonny Gonzalez is a former WBC Featherweight Champion. He's only 31-years-old, but he's had over 60 professional fights with a lot of wear on the tires.
He has great power, but it'll be interesting to see if he can make it matter against Mares.
Santa Cruz says he would like to stay at 122 for two more fights... #boxing

— Steve Kim (@stevemaxboxing) August 25, 2013
I wouldn't fight him. Good thing I don't have to...
Up next is our main event between Abner Mares and Jhonny Gonzalez.
Let's just hope that nobodies eye swells up life a softball.
I know I'm basically beating a dead horse at this point, but that picture is going to be in my dreams tonight.
And might there be a time, soon, when u start thinking about adding Santa Cruz to ur P4P top 25?

— Michael Woods (@Woodsy1069) August 25, 2013
All I can say about Leo Santa Cruz...
Wow.
In my eyes, he's there now.
Now that is one gruesome eye.
Yeah, Leo Santa Cruz just did that to Victor Terrazas.
Yikes!
Shame on me for being dead wrong on this fight. I figured LSC would win, but thought it would be hell for him. VERY impressive performance

— Jake Donovan (@JakeNDaBox) August 25, 2013
I was wrong too. Felt Santa Cruz would win, but Terrazas would give him some trouble.
In a word...damn.
Victor Terrazas right eye is COMPLETELY swollen shut. One of the most ugly things I've seen in a while.
Kudos to Santa Cruz for blowing through a tough, hard-nosed champion to claim the WBC Super Bantamweight Championship.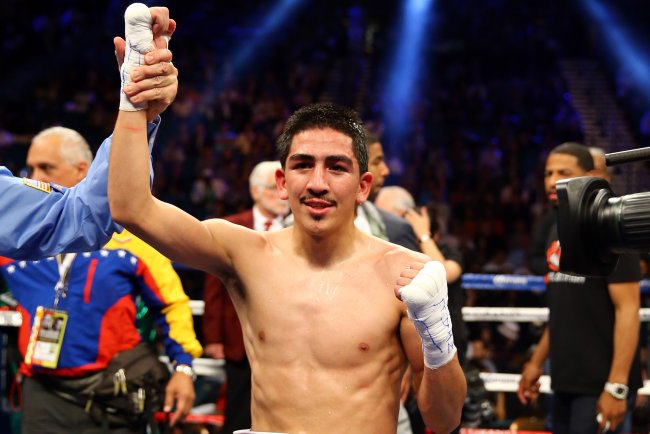 Al Bello/Getty Images
And it's OVER!!
The referee stops the contest here in the third, and Leo Santa Cruz has absolutely blown through Victor Terrazas to claim his second world title!
Leo Santa Cruz is a force of nature.
He's scored a second knockdown here in round three as Terrazas takes a knee to stop the punishment.
Big left hand from Santa Cruz and down goes Terrazas!!!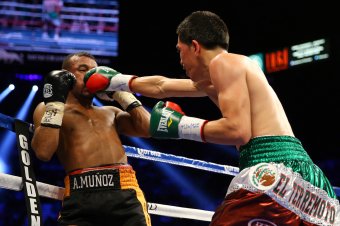 Al Bello/Getty Images
Victor Terrazas right eye is swelling quickly and badly early in the third round.
Terrazas is game, but Santa Cruz is so accurate and active. He's won the first two rounds on my card.
This article is
What is the duplicate article?
Why is this article offensive?
Where is this article plagiarized from?
Why is this article poorly edited?