Tiger Woods at Barclays 2013 Tracker: Day 4 Highlights, Updates and Analysis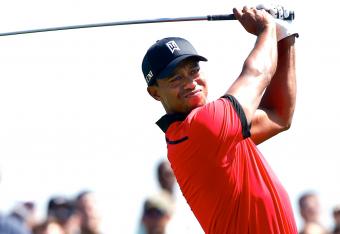 Tiger Woods had a roller coaster final round at The Barclays on Sunday, ultimately coming up just short of forcing a playoff with Adam Scott.
After a good start, Tiger's lingering back issues flared up dramatically on his second shot of the 13th hole, leading some to wonder whether he'd be able to finish his round.
Following three rough holes, Woods regained his form by the 16th, recording back-to-back birdies to pull himself within one stroke of the leader. But a long birdie putt on 18 stopped just short. Woods ended his day at 10 under par, one shot behind Scott in a four-way tie for second place.
Tiger's finish allows him to retain his status at the top of the FedExCup standings after the first playoff tournament of 2013. His back issues are certain to be an ongoing topic of conversation leading into next weekend's Deutsche Bank Championship in Boston.
Tiger finishes his day in a four-way tie for second place.
Graham DeLaet, Justin Rose and Gary Woodland also ended the tournament at ten under par.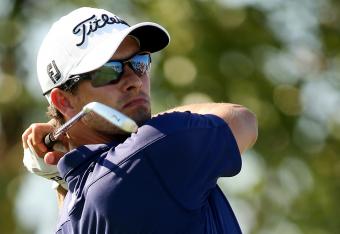 Scott now sits just 163 points behind Tiger Woods in the FedExCup standings with three playoffs still to come.
Gary Woodland rolls his birdie putt chance at 18 just a little to the left.
There will be no playoff today. Adam Scott wins The Barclays, and the 2500 FedExCup points that go along with the win.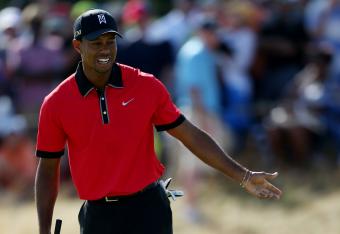 When asked after his round whether he'll be good to go for the Deutsche Bank Championship next week, Tiger says it's all "hypothetical" at this point. Admits that he's not feeling his best.
Back issues are so unpredictable. Hopefully with treatment he'll be able to get loose enough to play comfortably next week.
Line from a media member: "Tiger has missed out on two wins at Liberty National by a combined 2 inches." #FedExCup

— PGA TOUR (@PGATOUR) August 25, 2013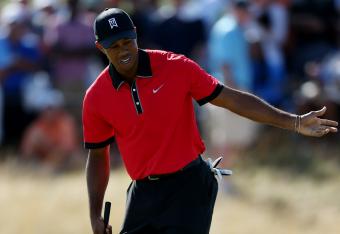 Wow!
Perfect birdie putt stops just an inch from the cup. Couldn't have been closer.
If ever there is such a thing as a moral victory, this would be it.
Tiger Woods ends his day at 10 under, one shot behind leader Adam Scott.
From 191, Tiger's ball flies right over the pin and to the back fringe. 25-foot, downhill putt/chip left to tie. #FedExCup

— PGA TOUR (@PGATOUR) August 25, 2013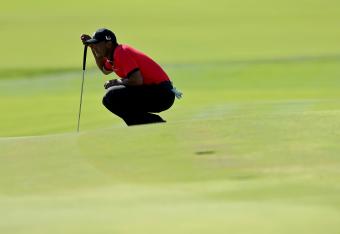 Tiger's second shot on 18 lands just past the edge of the green.
He'll need to make a stunning birdie shot here to force a playoff!
Who brings more drama to Jersey? Tiger or Snooki?

— GC Tiger Tracker (@GCTigerTracker) August 25, 2013
He drops it! That's birdie-birdie.
Tiger Woods is now tied for second place at -10, with one hole to go.
Tiger's second shot on 17 is a beauty.
His face shows pain but the ball lands about eight feet from the pin, and stops dead.
He's looking at a great birdie opportunity to move to -10.
Even when Tiger Woods can't walk, or bend over to pick up his ball, he can still contend at golf tournaments.

— JT Gebhardt (@JTGebhardt1) August 25, 2013
Justin Rose misses his birdie putt—and his par putt.
That's a bogey to finish his round at ten under, leaving Adam Scott alone at the top of the leaderboard.
Gary Woodland might now be in the best position to catch him, just one shot back at 15.
Tiger's two shots back with two holes to go. Hold on!
Tiger... Birdie! 9-under and two back with two to play.

— ByTheMinGolf (@ByTheMinGolf) August 25, 2013
Suddenly, Tiger has an eagle putt chance at 16. He rolls it nicely up the hill, leaving it just a foor or two from the green. He has a great chance for birdie to move back to nine under.
He's also squatting more comfortably as he's reading the green. No quit in this guy.
Chappell has now dropped to -9, tied for fifth.
From @PGATOUR - no player has ever got 1st career win when grouped with Tiger Woods in final round. Chappell looks to be 1st.

— Justin Ray (@JRayESPNGolf) August 25, 2013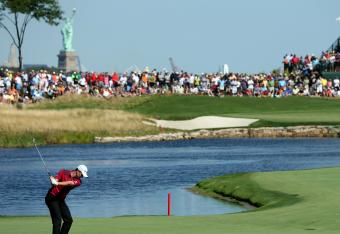 One thing we do know—if Rose wins today, he'll take over the lead from Tiger in the FedExCup standings.
Justin Rose is tied for the lead, on 18.
A birdie would put him in first place at 12 under.
Rose pipes one down 18! Game on...game on! Birdie three could win it.

— ByTheMinGolf (@ByTheMinGolf) August 25, 2013
Anyone still feeling optimistic that Tiger can salvage this round?
Tiger HAS birdied all three of the closing holes this week (just not all in the same round) #soyouresayingtheresachance

— GC Tiger Tracker (@GCTigerTracker) August 25, 2013
Tiger in the greenside bunker at the 15th, knocks it out to about 10 feet. Stops quickly

— GC Tiger Tracker (@GCTigerTracker) August 25, 2013
Long-ish putt for par just misses. That pushes Tiger back to eight under.
Gary Woodland limits the damage on his 13th hole to a bogey, so he drops back to join DeLaet and Chappell at ten under.
Justin Rose remains tied with Adam Scott at -11. Rose is through 16; Scott's in the clubhouse wondering whether he'll be forced into a playoff.
Hits FW wood at the 15th, it heads left off tee, not sure where it ended up

— GC Tiger Tracker (@GCTigerTracker) August 25, 2013
After all that, Tiger had a look at birdie on 14, but left it just short. Par's a pretty decent result, considering.
He still looked uncomfortable pulling the ball out of the hole. Not out of the woods yet.
This article is
What is the duplicate article?
Why is this article offensive?
Where is this article plagiarized from?
Why is this article poorly edited?