Denver Broncos vs. St. Louis Rams: Live Score, Highlights and Analysis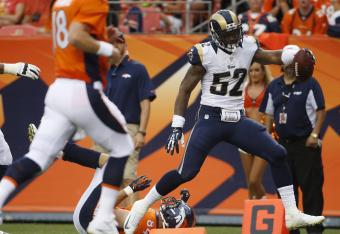 Chris Humphreys-USA TODAY Sports
Final Thoughts
The Rams allowed Denver to claw their way back and steal the win, but that doesn't matter. The Rams won the first half of the game, and that's all that counts in the preseason.
Individual performances are more meaningful than the final score, at least in the preseason, and the Rams have plenty of individuals who stood out.
Bradford has been sharp this preseason and has maintained a 114.1 passer rating over three preseason games. He hit Jared Cook in the endzone to take the lead over Denver and hasn't been picked off once this preseason.
Austin finally had a breakout game and reminded us why he was a top-10 draft pick. He had punt returns of 81 and 23 yards, and also had a 12-yard reception on offense. That totals out to 116 total yards on only three touches.
Cook was a major factor in the passing game. He picked up 50 yards on only four catches, including a 22-yard reception, and scored the first touchdown of the game, as mentioned.
Ogletree was a playmaker on defense. He came up with two takeaways and scored a touchdown on a fumble recovery.
Now for the bad...
The run game has been alarming this preseason, to say the least. Isaiah Pead was the leading rusher with 22 yards on five carries, but all those carries were against Denver's second-team defense.
The starting offense picked up only 13 rushing yards on six carries. And overall this preseason, the Rams have averaged just 3.06 yards per carry.
If the Rams don't find some consistency in the run game, they'll struggle on offense.
As for the defense, it allowed Manning to complete over 73 percent of his passes and gain 234 yards in the first half.
This preseason, starting quarterback have gone 45-for-59 (76.2 percent) against the St. Louis defense.
The pass defense should improve during the regular season, when Fisher opens up the playbook and brings heavy pressure, but it's something to keep an eye on.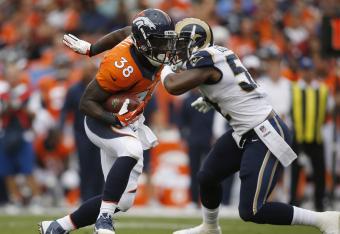 Player of the Game: Alec Ogletree, LB
Rookie linebacker Alec Ogletree went relatively unnoticed in the first two preseason games, but he was able to break out of his shell in Denver.
Ogletree managed to strip the ball from Broncos running back Ronnie Hillman and return it for a touchdown. That second-quarter play shifted the momentum of the game in the Rams' favor.
Ogletree followed up his touchdown with an interception later on in the second quarter.
Overall, Ogletree finished with six tackles, one interception, a forced fumble and a touchdown.
Ogletree has a knack for making big play and appears to be adjusting to the speed of the game. Hopefully, this is a sign of things to come for the rookie first-round pick.
Final Stat Leaders
Passing
Sam Bradford, STL: 9-for-16, 110 Yards, One Touchdown
Peyton Manning, DEN: 25-for-34, 234 Yards, One Touchdown, One Interception
Rushing
Isaiah Pead, STL: Five Carries, 22 Yards
Montee Ball, DEN: 14 Carries, 43 Yards
Receiving
Jared Cook, STL: Four Catches, 50 Yards, One Touchdown
Demaryius Thomas, DEN: Seven Catches, 64 Yards
The CBS broadcasters just pointed out that the Rams will wear a No. 75 decal on their helmets this season to honor Hall of Fame defensive end Deacon Jones, who passed away in June.
Receiver Brian Quick caught the two-point conversion in the endzone, touched the ground with two feet and a knee, but lost control of the ball at the end.
This is another play similar to Calvin Johnson's infamous touchdown against the Bears that was negated. Receivers have to complete the play.
Clemens hits tight end Zach Potter for the touchdown. Rams are going for two...
Rookie defensive end R.J. Washington recovers a fumble inside the Denver 10-yard-line, giving St. Louis a chance to tie the game with just over two minutes remaining.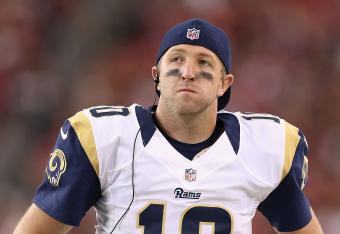 Quarterback Kellen Clemens takes over for the St. Louis offense with the game on the line.
Jenkins remained in the game for only one series. Clemens, who has struggled this preseason, will have to put together a touchdown drive to keep the Rams in the game.
Montee Ball's apparent touchdown run was initially ruled a fumble, recovered by the Rams, but the call was overturned and Denver was granted a touchdown, giving them a 27-20 lead over St. Louis.
With less than four minutes remaining, the Rams are in danger of going 0-3 this preseason.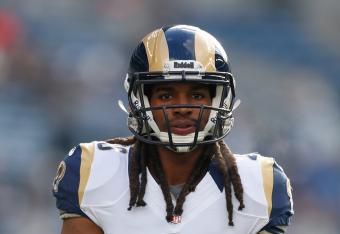 Rams' first-team offense produced only 13 rushing yards tonight.
Overall, the Rams have 16 carries for 43 yards in this game (2.6 yards per carry), which is very uncharacteristic of a Jeff Fisher team.
Rookie Tim Jenkins—St. Louis' fourth-string quarterback—is taking over for the Rams in the final seven minutes of this game instead of Kellen Clemens.
Jenkins has not played a snap this preseason.
It's difficult to determine if Jenkins is truly competing for the No. 3 quarterback job, or, if Fisher is merely being a decent guy by giving Jenkins a chance to see the field before final cuts.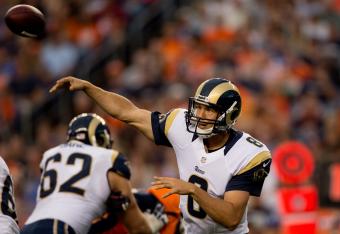 Here is Bradford's combined stat line this preseason...
22-for-36 (61.1 percent), 368 Yards, Two Touchdowns, 114.1 QB Rating
And no, that's not a typo. That's a legitimate 114.1 rating. Bradford has missed some throws this preseason, but he hasn't turned the ball over and has found the endzone on two occasions.
Here's the combined stat line for starting quarterbacks against the Rams this preseason (Brandon Weeden, Aaron Rodgers, Manning):
45-for-59 (76.2 percent), 480 Yards, Two TD, One INT, 103.7 QB Rating
This could be the result of the Rams holding back defensively. During the regular season, if Fisher cranks up the volume and brings more pressure, it'll make it a lot more difficult for opposing passers to complete 76 percent of the passes.
ESPN's Nick Wagoner on Ogletree's performance tonight...
The final (unofficial) line for Ogletree tonight: 6 tackles, 2 for loss, 2 passes defended, forced fumble,fumble recovery,interception, TD.

— Nick Wagoner (@nwagoner) August 25, 2013
Ogletree intercepts Manning in the first half...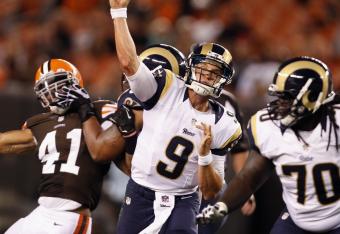 Austin Davis is taking over the St. Louis offense here in the third quarter.
This is not surprising, considering his competitor for the No. 2 quarterback job—Kellen Clemens—was two-for-11 with 27 yards and two interceptions last week against Green Bay.
Don't be surprised if the No. 2 quarterback job now permanently belongs to Davis.
Halftime Leaders
Passing
Sam Bradford, STL: 9-for-16, 110 Yards, One Touchdown
Peyton Manning, DEN: 25-for-34, 234 Yards, One Touchdown, One Interception
Rushing
Daryl Richardson, STL: Five Carries, 10 Yards
Ronnie Hillman, DEN: Six Carries, 34 Yards
Receiving
Jared Cook, STL: Four Catches, 50 Yards, One Touchdown
Eric Decker, DEN: Six Catches, 66 Yards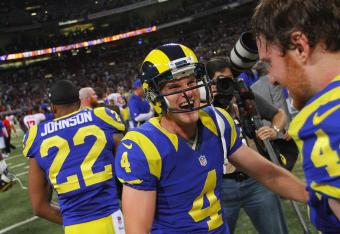 Kicker Greg Zuerlein nailed a 58-yard bomb to close the first half and give St. Louis a 20-10 lead.
Zuerlein is known for his unbelievable leg strength. That kick was just five yards shy of tying the NFL record for longest field goal (63 yards).
Here's a look at Sam Bradford's touchdown pass to Jared Cook in the first quarter.
Ogletree nearly intercepted a Manning pass in the endzone, but he couldn't maintain control of the ball.
That would have been his second takeaway in a row. Ogletree—St. Louis' No. 30-overall pick last April—is all over the field after initially having a quiet preseason.
According to CBS broadcaster Dan Dierdorf, Rams head coach Jeff Fisher told him during the draft that Alec Ogletree could be St. Louis' own Patrick Willis.
Quite an endorsement for Ogletree from a veteran head coach.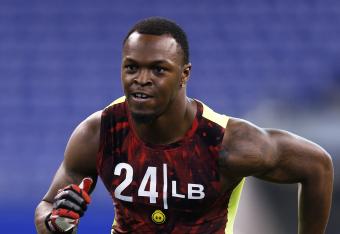 Both Rams rookie first rounders are making plays tonight...
First, it was Austin with his 81-yard punt return. And just now, linebacker Alec Ogletree stripped the ball from Denver running back Ronnie Hillman and ran it in for a touchdown.
It has been a promising showing for St. Louis' rookie stars.
The Denver offense is having success against Rams defense when it comes to moving the ball, but St. Louis' special teams unit has bailed them out.
Austin's 81-yard punt return was the first big play, and now, the Rams special teams did it again with a blocked field-goal, preventing the Broncos from taking a three-point lead.
Jim Thomas of the St. Louis Post-Dispatch on Bradford's third-down sack:
That's first sack of Bradford this preseason; was Scott Well's man.

— Jim Thomas (@jthom1) August 25, 2013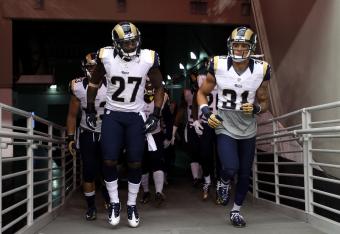 The Rams defense has struggled to disrupt the passing game this preseason—they allowed Cleveland's Brandon Weeden to go 10-for-13 and allowed Green Bay's Aaron Rodgers to go 10-for-12.
Tonight, Manning is eight-for-ten. Overall this preseason, first-string quarterbacks have gone 28-for-35 (80 percent).
This article is
What is the duplicate article?
Why is this article offensive?
Where is this article plagiarized from?
Why is this article poorly edited?

St. Louis Rams: Like this team?