Chiefs vs. Steelers: Live Score, Highlights and Analysis for Kansas City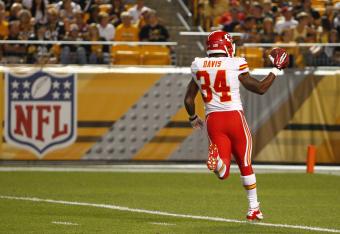 Final: Chiefs 26, Steelers 20
Justin K. Aller/Getty Images
The Chiefs played their starters for the entire first half, and the results were middling at best. The defense had trouble in coverage, especially on play action. Three times safety Eric Berry was caught "peeking" and allowed receivers to get vertical on him. The pass rush was effective off the edge, but nullified up the middle, and the corners
The offense was mostly a disjointed mess, with Alex Smith zeroing in on wide receiver Donnie Avery, and the Chiefs not opting to run the ball hardly at all. Quarterback Chase Daniel was the team's leading rusher with 45 yards, and Alex Smith finished second with 38 yards. The offense struggled to convert on third down, converting only 5 of 16 chances, and converting one fourth down in three attempts.
The lone bright spot for the Chiefs was again the Special Teams unit, which blocked a kick for the second straight week, and had a return touchdown, also for the second straight week, when Knile Davis went 109 yards on a kickoff.
Chase Daniel to Rico Richardson, Chiefs win!
We're headed for overtime...
Chiefs hold the Stelers forcing a punt, take over on their own 30 with a minute remaining.
Chiefs fail to convert on yet another third down. Ryan Succop makes the 38 yard field goal, and we're tied at 20.
The Chiefs complete just their third 3rd down of the night with a pass to Tyler Shoemaker out of Boise State
With that penalty the Steelers are now at 228 penalties yards through the preseason...
As of 7:14 in the 4th quarter, the Chiefs' leading rushers are Alex Smith (38 yards) and Chase Daniel (12).

— Brett Gering (@BrettGering) August 25, 2013
Chiefs now 2 for 10 on third down, and 0 for 2 on fourth down
Chase Daniel intercepted by Jarvis Jones on the deflection, but it won't count as a pass interference penalty nullifies it. The Chiefs would have been 2/10 on third down if they weren't bailed out by that penalty.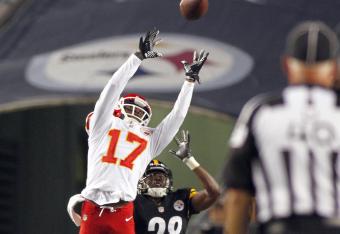 Big takeaways from this game seem to be that the offense needs to work on consistency, the defense needs to work on diagnosing play action, and special teams needs to eliminate the penalties.
Chiefs defensive backs having trouble in coverage, but manage to hold Steelers to a field goal. Steelers 20, Chiefs 17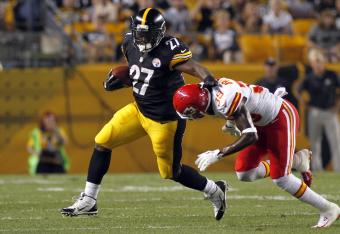 Chiefs getting a lot of penetration here in the fourth. Second stringer playing against second stringers.
Third quarter is in the books, Chiefs 17, Steelers 17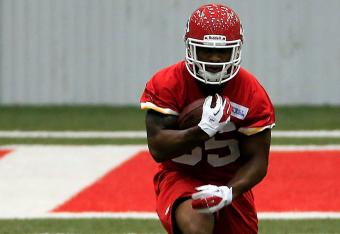 Chiefs answer right back...
Knile Davis to the house on KR, 109 yards

— Benjamin Allbright (@AllbrightNFL) August 25, 2013
score is 17 all...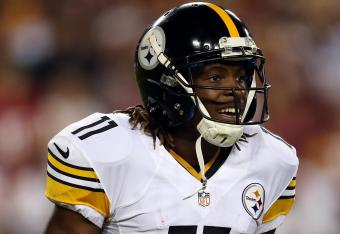 Another play action bomb the Chiefs don't defend well at all. Markus Wheaton with the reception, touchdown Steelers.
Game is running painfully slow right now, a lot of flags being thrown.
Steelers not really exploring the mid range pass game. Content to go vertical or dump off.
Chiefs have Chase Daniel in at QB, seems to be keyed in on receiver Junior Hemmingway.
Steelers continuing to test the Chiefs vertically. Chiefs have struggles in coverage tonight.
Felix Jones with 6 carries 27 yards tonight..just picked up a playbook last night...

— Benjamin Allbright (@AllbrightNFL) August 25, 2013
Knile Davis fumbles the football. Fumbling was a problem for him at Arkansas. Chiefs really need to Davis to step up, and be the man behind Charles this season, that fumble certainly won't help inspire confidence.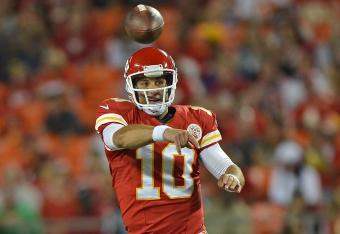 Chase Daniel coming on here for the Chiefs, looks like they'll begin phasing out the starters.
Notable from the first half: The Chiefs struggled running the ball, getting almost no yardage on the ground outside of a 38 yard scramble from Alex Smith.
The Chiefs finished the first half 2/7 on third down. They'll need to do much better than that in the regular season. This is an offense predicated on moving the ball down the field in small chunks, and in order for that type offense to be effective you have to convert on third down often.
The defense had some issues with play action. Eric Berry notably was sucked in on a few plays.
Special teams continues to stand out, the Chiefs blocked a kick for the second week in a row.
Steelers kneel the ball to end the half.
This article is
What is the duplicate article?
Why is this article offensive?
Where is this article plagiarized from?
Why is this article poorly edited?

Kansas City Chiefs: Like this team?