Predicting Texas A&M's Stats vs. Rice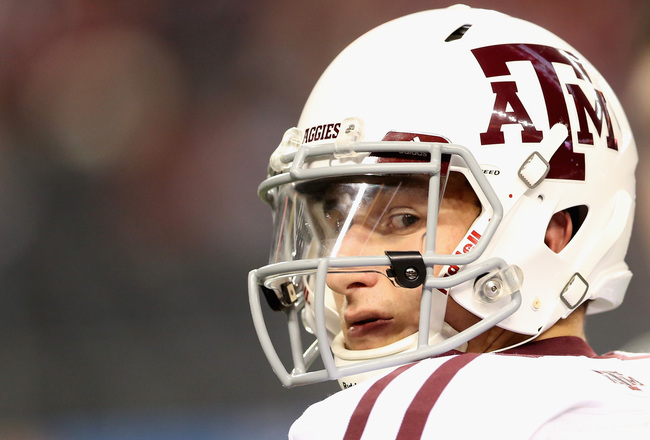 Ronald Martinez/Getty Images
The Texas A&M football team will open the season Saturday against the Rice Owls at Kyle Field. The Aggies enter the season ranked in the top 10 in both major polls and have national championship aspirations.
Rice is coming off of a 7-6 season in 2012. The Owls blew out the Air Force Falcons by the score of 33-14 in the 2012 Armed Forces Bowl.
Rice returns 19 starters from a 2012 team that started out 2-6 but won the last five games of the season. The Owls are a solid team that should qualify for a bowl in 2013.
This is not a team that should be competitive with the Aggies for four quarters. Texas A&M will beat Rice by multiple touchdowns.
The Aggie coaches will try to get a look at as many players as possible in the opening game. With five new starters on offense and six new starters on defense, Aggie fans should expect to see a variety of formations on both offense and defense.
Once the Ags get a lead by a comfortable margin against Rice, expect the coaches to start substituting liberally in order to get a look multiple players. Because of these substitutions, Aggie fans should not expect any of the Ags to put up prolific numbers in the opening game.
This is a look at the Ags' predicted statistics against Rice.
Offense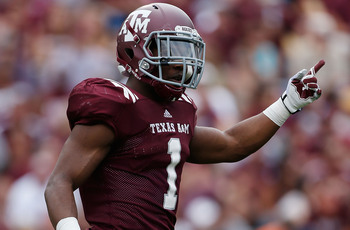 Scott Halleran/Getty Images
Clarence McKinney took over as the Aggies offensive coordinator for his first full season in 2013. He called the plays during the 2013 Cotton Bowl when A&M set multiple offensive records.
The Aggies had the top offense in the SEC in 2012 and set a conference record for total yardage with 7,261 yards. The Ags averaged 242 yards rushing and 316 yards passing per game. They led the SEC in both categories.
In 2013 the A&M offense will be more run-dominated. The running back position is stacked with Ben Malena, Trey Williams, Brandon Williams and Tra Carson all ready to contribute.
With four capable running backs and the running back coach calling the plays, Aggie fans should expect the game plan against Rice to include a lot of handoffs and passes to the backs out of the backfield.
Sophomore quarterback Johnny Manziel is going to scramble for some yards because he is a dynamic player who is going to make plays by himself sometimes.
The Aggies will rush for 300 yards and pass for 300 yards against Rice. The question of whether the offense will struggle with the loss of five starters will be answered emphatically as the Ags score 50 points against Rice.
Defense
Scott Halleran/Getty Images
The Texas A&M defense must replace six starters from a unit that allowed 390 yards per game in 2012. The Ags only allowed 3.7 yards per rush.
Rice had a balanced offense in 2012, rushing for 202 yards per game while passing for 226 yards per game. With their leading passer, rusher and receiver returning in 2013, the Owls should be formidable on offense again.
Texas A&M lost two starters on the defensive line, at linebacker and in the secondary. They will be a young but deep group in 2013.
The most noticeable change in the Ags defense in 2013 will be on the defensive line, where the Ags will be bigger and deeper. The addition of true freshmen Hardreck Walker, Justin Manning and Isaiah Golden gives the Aggies a viable defensive tackle rotation.
They did not have that in 2012. Aggie fans should again expect the defense to be very tough against the run.
The Aggies will get up early against Rice and then take a look at a lot of their younger players. Much like last season, the starters on defense will be resting in the fourth quarter, which may allow Rice to pick up some garbage yards and points.
The Ags will allow 330 total yards and 20 points against Rice. The Owls will rush for 150 yards on around 40 carries and pass for 180 yards. Do not be surprised if the Aggie secondary grabs a couple of interceptions.
Individuals on Offense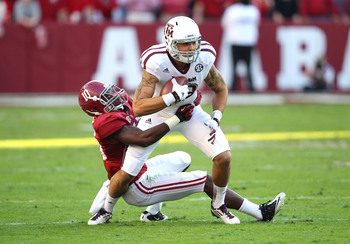 Mike Zarrilli/Getty Images
The Texas A&M coaches are going to spread the ball around on offense and try to get a look at as many players as possible. Because of this, no individual players will put up big numbers.
Manziel will lead the Aggies in passing with 230 yards and two touchdowns. He will also rush for 50 yards and another score.
True freshman quarterback Kenny Hill will enter the game in the third quarter as the backup. He will pass for 70 yards and one touchdown. He will also rush for 20 yards.
Ben Malena will get the start at running back and will rush for 50 yards and a touchdown. Brandon Williams will lead all rushers with 70 yards. Tra Carson will rush for 20 yards but will score a touchdown in the red zone.
Trey Williams will rush for 30 yards to go along with 30 yards receiving and a touchdown. Mike Evans will catch seven passes for 80 yards.
Ricky Seals-Jones will catch three passes for 50 yards and will haul in a touchdown pass from Manziel. Junior tight end Cameron Clear will catch one pass for 15 yards.
It will be a solid day for the Aggies' offense.
Individuals on Defense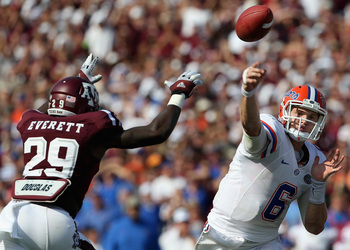 Ronald Martinez/Getty Images
Texas A&M defensive coordinator Mark Snyder likes to employ multiple schemes with his defense. The Ags may start out the game in a 33-stack defense with three down linemen and five defensive backs.
Aggie fans should expect to see everything from the 4-3 to the 3-4 and the 33-stack against Rice. Snyder will rotate multiple players in the game in order to get a look at as many players as possible.
Senior outside linebacker Steven Jenkins will lead the defense with nine tackles, including a tackle for loss. Junior safety Howard Matthews will be second on the team with six tackles but will grab an interception.
Junior linebacker Donnie Baggs will be solid in his debut in the middle with five tackles and a tackle for loss. Tyrell Taylor, Julien Obioha and Isaiah Golden will all register sacks for the Aggies.
Deshazor Everett will register three tackles during the second half. He will miss the first half due to a suspension.
Keep Reading

Texas A&M Football: Like this team?