Fulham vs. Arsenal: 6 Things We Learned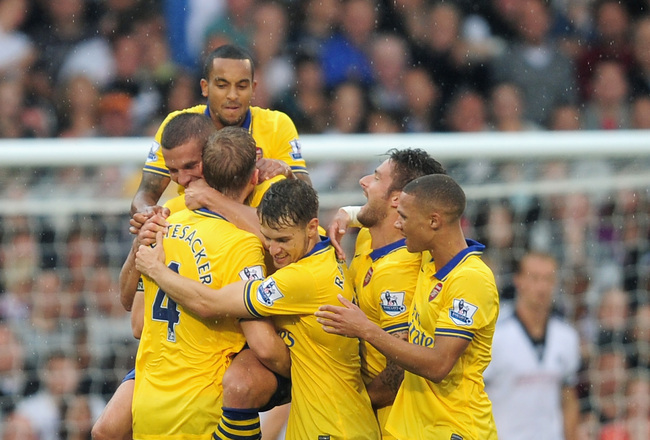 Jamie McDonald/Getty Images
Arsenal have their first win of the Premier League season.
The Gunners followed up an impressive midweek victory in Turkey with a 3-1 triumph in a London derby with Fulham.
Arsene Wenger will have been delighted to see his side return to winning ways after losing by the same score to Aston Villa last week.
Go to the next slide to discover six things this match will have taught him.
Lukas Podolski Is the League's Best Finisher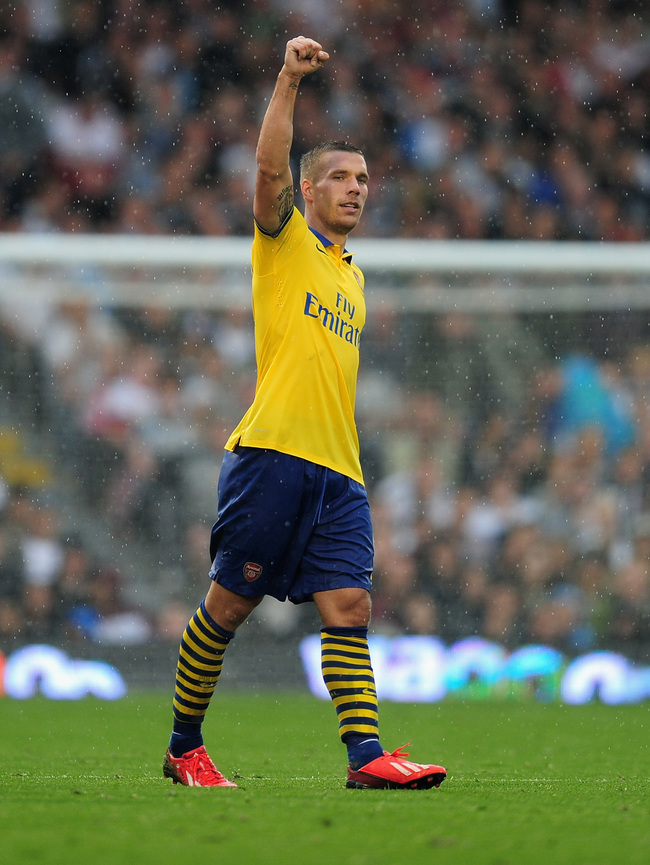 Jamie McDonald/Getty Images
Lukas Podolski was handed a rare opportunity to start and demonstrated his impressive finishing prowess.
According to Opta Content Director Orbinho, since joining the Premier League, Podolski has been the division's most lethal finisher, scoring with a remarkable 37 percent of shots.
Podolski's two finishes in this match were the mark of a man who knows instinctively where the goal is. Arsenal fans will be delighted that Arsene Wenger used his post-match press conference to play down speculation linking Podolski with Schalke.
Olivier Giroud Is the Premier League's Most in-Form Striker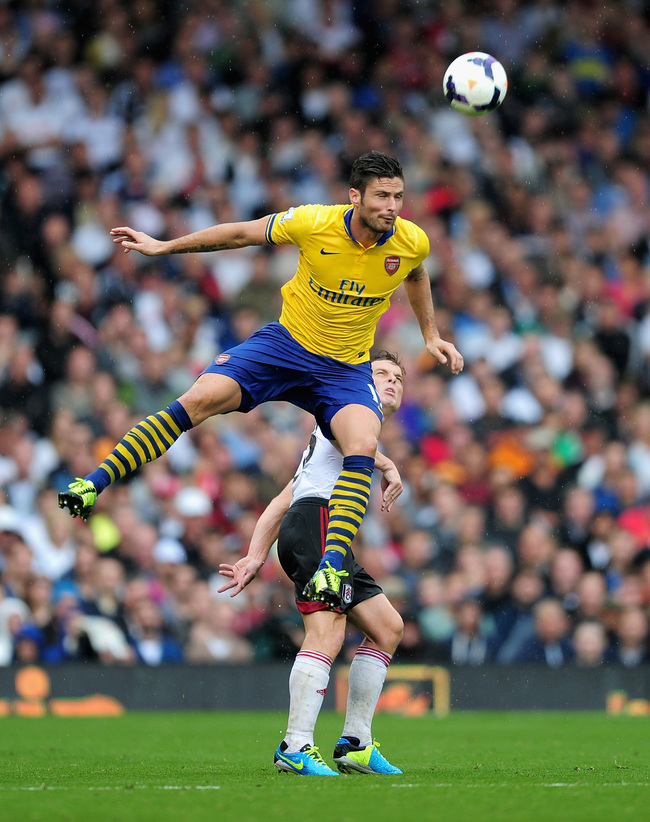 Jamie McDonald/Getty Images
Olivier Giroud has begun his 2013/14 campaign with three goals in three games.
It's a far cry from last year, when he missed a series of presentable chances and failed to get off the mark until late September.
Giroud has commenced his season like a man determined to improve upon his tally of 17 goals from 2012/13. Arsenal fans will be hoping he can maintain this fast start.
Wojciech Szczesny Will Always Be a Great Shot-Stopper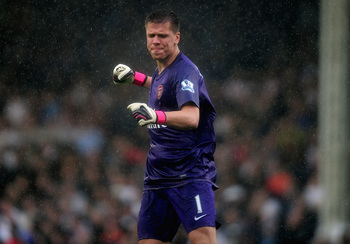 Jamie McDonald/Getty Images
Wojciech Szczesny has much to learn. Against Aston Villa he gave away a penalty and went on a worrisome walkabout that briefly left his goal completely unguarded.
However, he remains an outstanding shot-stopper.
His reflexes are second to none and in this game he produced a series of excellent saves to keep Fulham at bay. The Cottagers mustered seven shots on target, but only one breached Szczesny's goal.
The Pole was at his sharpest today.
Bacary Sagna Deserves a New Deal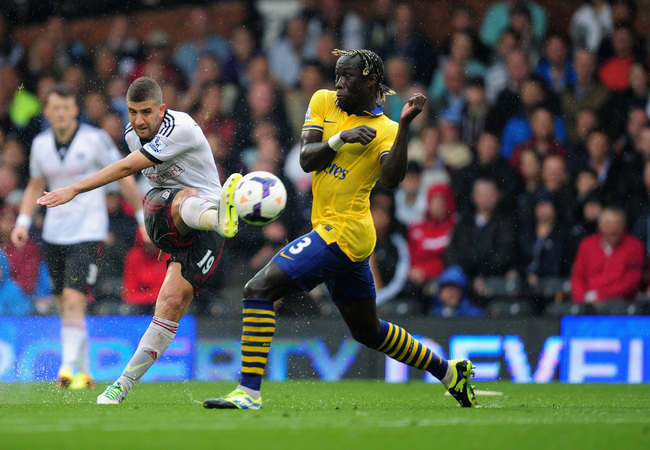 Jamie McDonald/Getty Images
Arsenal fans are clamouring for new signings. However, there is one piece of internal business that could delight them just as much as any new arrival: handing Bacary Sagna a new deal.
Sagna's current contract is due to expire next summer. However, he remains the club's best right-back. On today's evidence, he's also an excellent option at centre-half.
Arsenal would be foolish to let him go.
Jack Wilshere Faces a Fight for His First-Team Place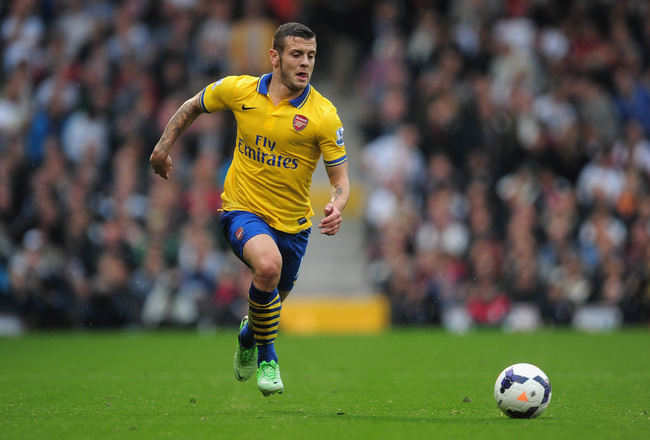 Jamie McDonald/Getty Images
Jack Wilshere is probably the most talented English player of his generation.
However, he also presents Arsene Wenger with something of a conundrum. Whenever Wilshere is absent from the Arsenal team, the midfield tends to function more cohesively.
Arsenal's 10-match unbeaten run at the end of last season was achieved largely without Wilshere. Today, the midfield trio of Tomas Rosicky, Aaron Ramsey and Santi Cazorla all flourished. Wilshere was not missed.
Arsene Wenger must find a way to fit this gifted young player into his team without upsetting the balance of the side.
Aaron Ramsey Could Be Young Player of the Year
Jamie McDonald/Getty Images
Last season, the PFA Young Player of the Year award was won by a certain Gareth Bale. This season, it could be awarded to another young Welshman.
Aaron Ramsey has started the season in outstanding form, and looks a player transformed. Gone is the hesitancy and the indecision. Instead, he is tearing up and down the field with purpose and drive.
Ramsey has been Arsenal's best player in their last two games. The long-term successor to Mikel Arteta might have been right under Arsene Wenger's nose all along.
Keep Reading

Arsenal: Like this team?