Making the Call on the San Diego Chargers' Hardest Remaining Cuts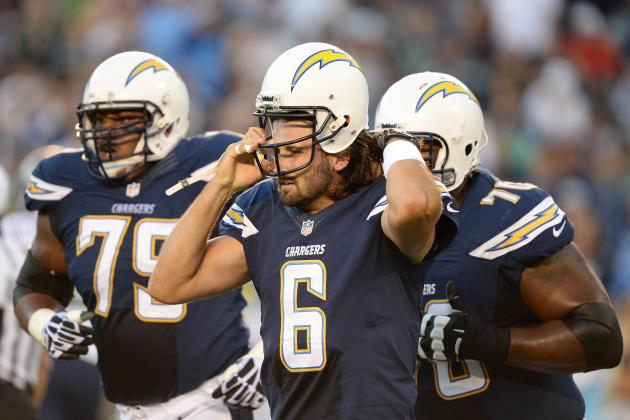 Harry How/Getty Images

By this Saturday, every team must trim their rosters to 53 players. For the Chargers, a few decisions may not be easy. The Bolts end their preseason on Thursday when they face the San Francisco 49ers.
It will be the last chance for players on the bubble to prove worthy of a roster spot.
Game day rosters allow 46 players to be active, meaning seven of the final 53 are not assured playing time. This does not make certain cuts any easier. San Diego most likely has a list of around 40 players that already have a roster spot locked up. So, those last 13 spots are up for grabs.
Who will make the final team? All we can do now is predict.
Check out my predictions on the Chargers final 53-man roster here.
Begin Slideshow

»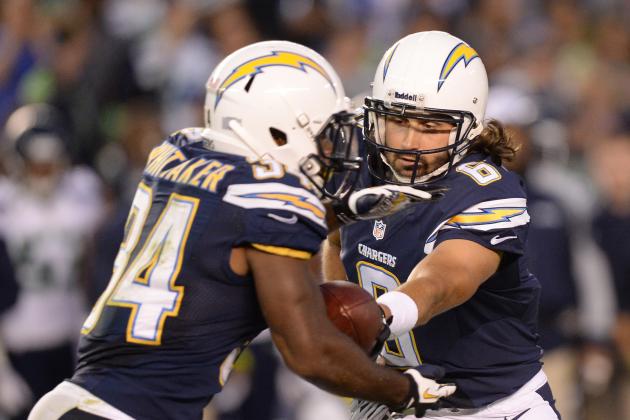 Harry How/Getty Images

If you would have asked me before the preseason how many running backs the Chargers would keep on the 53-man roster, I would have answered in a heartbeat: Ryan Mathews, Danny Woodhead and Ronnie Brown are locks to make the team.
With that being said, there would virtually be no chance for any other back to compete for a spot. Fozzy Whittaker has become the exception.
Whittaker was brought in based on familiarity with offensive coordinator Ken Whisenhunt. He joined the Cardinals practice squad as an undrafted free agent and spent the entire year there. When Whisenhunt joined the Chargers, Whittaker followed.
Outside of the top three backs in San Diego (Mathews, Woodhead, Brown), three other players were added for potential.
Those three players were Michael Hill, Edwin Baker (drafted by the Chargers in 2012) and, of course, Fozzy Whittaker. Baker did not make the first set of cuts, leaving the Chargers with five running backs on the roster.
This decision will be very tough. Whittaker has definitely played well enough to make the team. Without a doubt, he has earned a spot. But is carrying four running backs something the Chargers can do? I'm not too sure on that one.
The final call on Fozzy Whittaker will depend on the depth needed elsewhere. It may be smarter to keep another cornerback, rather than another running back.
Verdict:
Fozzy Whittaker will make this team. He's run very hard this preseason and has shown the talent to be an every-down back, if needed.
His 29 carries through the first three games is four more than every other running back, outside of Ryan Mathews, combined. He also has two of the three rushing touchdowns by the Chargers this preaseason. Whittaker has displayed the ability to serve as a pass catcher and pass blocker as well.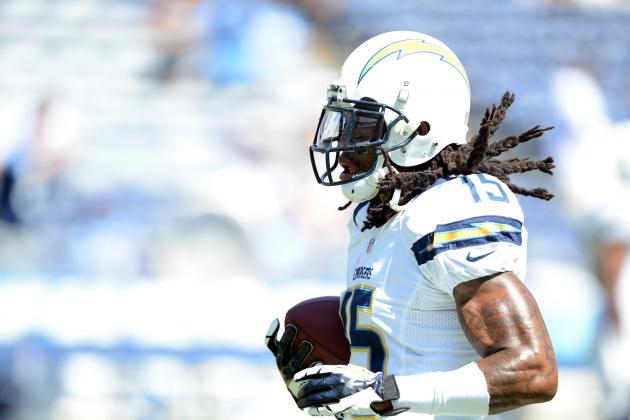 Harry How/Getty Images

Richard Goodman: the player that can keep up with almost anyone in the league but can't seem to make a simple move around a defender.
Sure, Goodman has a career kickoff return average that is better than Devin Hester's and Darren Sproles, as mentioned in my most recent article, but he may be too one-dimensional for the Chargers to keep.
As a receiver, Richard Goodman is a useful as Jared Gaither was last year. In his three seasons in the league, Goodman has just one catch for 25 yards.
Now that Danario Alexander is out for the season, Eddie Royal is working his way back and Malcom Floyd is iffy for game one, the Chargers need help at wide receiver. Ironically, that may not be good news for Goodman.
His skill set may not be worthy of a roster spot, depending on whether or not San Diego can find another kick returner (Fozzy Whittaker anyone?).
Verdict:
Richard Goodman will not make this roster. A new coach, new general manager and new system will not bode well for Goodman. With guys like Fozzy Whittaker, Eddie Royal and even Keenan Allen, Goodman is no longer needed as a return specialist in San Diego.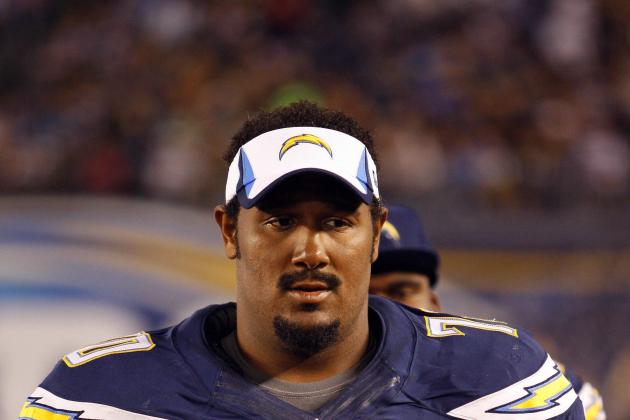 Jody Gomez-USA TODAY Sports

Is it strange that Max Starks is set to make more money than King Dunlap in 2013?
Dunlap has clearly won the starting left tackle position, putting the Chargers in a position to make a decision on Starks. When Starks was signed in late May, he was quickly thought of as the starting left tackle for the Chargers before even stepping on the field.
Everything changed when Starks and Dunlap finally took the field this summer. Now that San Diego is set to pay Max Starks $2 million to be the backup, do they keep him?
The emergence of Mike Harris makes it very likely that the Chargers don't. Harris started nine games in San Diego last season. He is young, has potential and is way more cost efficient than Max Starks.
Verdict:
Max Starks will be cut from the Chargers. It just wouldn't be smart to keep a 30 year old tackle as a backup and pay him $2 million.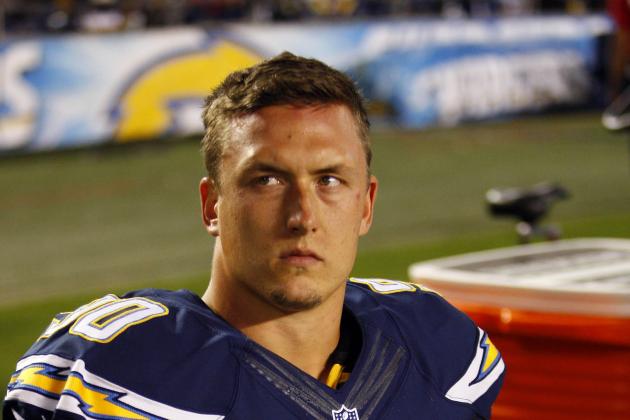 Jody Gomez-USA TODAY Sports

Thomas Keiser may have earned himself a spot on the roster after his game against the Arizona Cardinals. Keiser had three tackles, including 2.5 sacks in the third exhibition game. His pass rush ability is needed in San Diego.
Outside of Dwight Freeney and Jarret Johnson, the Chargers are very thin at outside linebacker. If Melvin Ingram was healthy, then it would be a different story.
Larry English will be the first guy off the sideline if something happens to Freeney or Johnson. The other backup comes down to Keiser or sixth-round pick Tourek Williams. With only four tackles in the three preseason games, Williams isn't making a strong case to be that guy.
Verdict:
Thomas Keiser will make this team. The Chargers need a strong pass rush for 2013. Corey Liuget and Kendall Reyes will be very productive on the defensive line with Freeney being Freeney on the outside. Keiser will add solid depth and will produce on the field.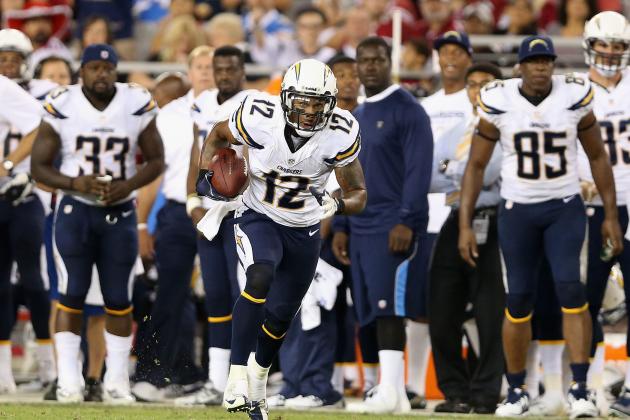 Christian Petersen/Getty Images

Last, but certainly least, Robert Meachem. No, I did not mean to put "certainly not least."
We all know that the Chargers are going to lose $5 million no matter what they decide to do with Meachem. If Meachem is kept, he will earn $5 million while on the sideline. Or, they could eat that money and use the empty roster position on someone that will actually produce.
If the coaches in San Diego strongly feel that Meachem cannot contribute this season, it will be a no-brainer to let him go. That could all change with a solid game against the 49ers this Thursday.
Is that likely to happen? Probably not.
Verdict:
Robert Meachem will be released by the Chargers. When Seyi Ajirotutu was signed once again, it gave me a strong feeling that Meachem will be released. He was one of the last receivers to hit the field in the last preseason game, which is never a good sign.
Another failed signing by A.J. Smith should be gone by Saturday.