The 10 Freakiest Bowling Actions in Cricket History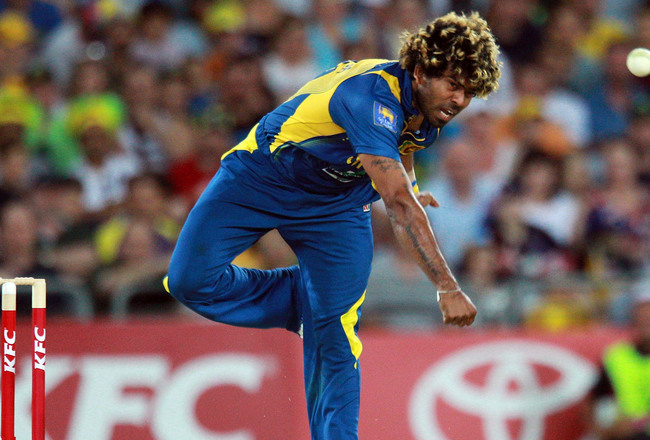 Craig Golding/Getty Images
Plenty of sports stars have climbed the peaks of their chosen field despite utilising bizarre techniques that were anything but textbook.
Think Jim Furyk and his odd golf swing—or Charles Barkley, the NBA star, if you really want to see a classic.
Think the submarine pitchers in baseball.
And don't get me started on Co Stompe, the darts player.
What about cricket? Here are 10 of the freakiest bowling actions, outside of your local village league, that you are ever likely to see.
10: Wayne Daniels
Early in his career, Wayne Daniels approached the crease with a slow ambling run before delivering the ball with an odd bendy arm delivery.
A few years later, sporting an improved, direct, high-power action, he terrorised batmen in English county cricket for more than a decade, taking 867 first-class wickets in the process.
Due to the sheer strength of fast bowling talent in the Caribbean, Daniels only played 10 Tests for the West Indies.
9: Sohail Tanvir
Left-arm fast bowler Sohail Tanvir has a surprising action that makes him difficult to score runs off.
The Pakistani delivers off the wrong foot and has a rapid-arm motion that makes the ball arrive before the batters are expecting it.
He hasn't played Test cricket since 2007 but has become a sought-after commodity throughout the world's various T20 leagues, including the IPL, where he took a sensational six wickets while giving up 14 runs for the Rajasthan Royals.
8: Colin Croft
When Colin Croft ran in to bowl, it looked like he was running toward extra cover before veering at the last second to bowl from a very wide angle on the crease.
His arms would whirl and the ball would be sent toward the stumps—or, more likely, the batsman's body.
The mean West Indies paceman was renowned for his willingness to inflict pain, even once knocking over umpire Fred Goodall when a Test against New Zealand turned sour.
7: Mike Proctor
Mike Proctor's run to the crease ended with a strange open-chested stance while his arm did a double loop before releasing a tracer bullet at the batsman's stumps.
The action helped the South African generate late in-swing that proved unplayable at times as evidenced by the 41 wickets he claimed in just seven Tests.
As Proctor's career wound down, repetitive knee injuries forced the all-rounder to switch to spin, which he also profited at.
6: Jeff Thomson
Before Lasith Malinga was even born, Jeff Thomson was patenting the sling-shot method of quick bowling.
The Aussie would leisurely bound into the wicket and build into a slow catapult-like wind up. He would then release ferociously in the direction of the batsman.
This unusual technique paid dividends. Thomson took 200 Test wickets at 28 and shared in a fearsome partnership with fellow quick Dennis Lillee.
5: Saeed Ajmal
Saeed Ajmal is another slow bowler whose action has come under the microscope, but the run up is a sight to behold.
A slow approach leads into a gentle bound followed by a dead stop. The Pakistani then propels the ball forward with a straight arm which enables him to spin it both ways.
Despite only beginning his Test career at the ripe old age of 30, Ajmal has already taken 133 wickets at 27.60 and is arguably the greatest spinner in the world today.
4: Muttiah Muralitharan
Sri Lankan spinning marvel Muttiah Muralitharan took an unbelievable 800 Test wickets at an average of 22.72 during 18 controversial seasons in the game.
Seemingly able to turn the ball on any surface while also possessing a brutal "doosra," Murali was unplayable at times.
Despite being comprehensively cleared by the ICC, his unusual bowling action led to him being accused of throwing. The slow bowler battled doubters throughout his career.
3: Abdul Qadir
Abdul Qadir almost single-handedly kept wrist spinning alive during the '70s and '80s.
Bowling with an amazingly straight arm, he bamboozled batsmen with a huge variety of deliveries that earned him 960 first-class scalps of which 236 were in Tests.
According to ESPN Cricinfo, the Pakistani's strange action was all part of an elaborate bowling routine that was contrived as a spectacle to distract the batsman.
2: Lasith Malinga
They don't call Lasith Malinga "The Slinga" for nothing. When the wild-haired Sri Lankan races in to bowl, it is hard not to laugh.
Unless you are the batsman, of course, who is facing searing pace and toe-crunching yorkers delivered from a truly bizarre angle of delivery.
These days, Malinga is a limited-overs mercenary and a major star in the IPL, where he has claimed 103 wickets.
1: Paul Adams
Paul Adams is listed on ESPN Cricinfo as having bowled slow left-arm chinaman. However, anyone who saw him in the flesh prefers the term "frog in a blender."
It took a while for batsmen to get used to the South African's bizarre action. The ball would seem to appear from behind him as if by magic.
Adams retired in 2008 after collecting 134 Test wickets at an average of 32.87 with best match figures of 10 for 106.
Keep Reading