Full Stat Predictions for NFL's Starting Second-Year Signal-Callers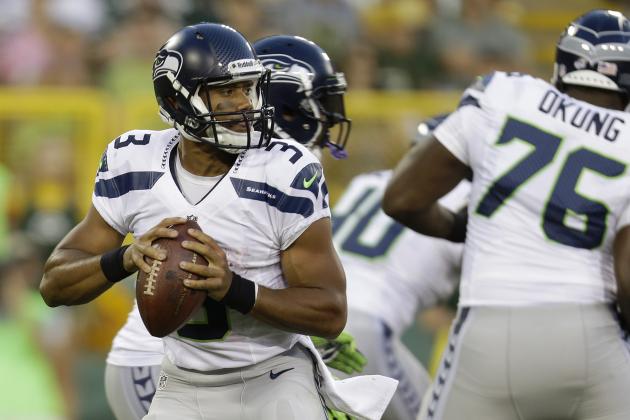 Mike McGinnis/Getty Images

First-year starting quarterbacks stole the 2012 NFL season by putting up unprecedented stats and leading their teams to stunning success. But what will they do for an encore?
Can the most celebrated quarterbacks class since 1983 and their two older comrades match their numbers in their second year as starters? That's what I'm here to decipher.
As you wade through the numbers, one continuing trend will become apparent.
You'll notice that rushing stats are down almost across the board. The read-option will still be used by many teams, but defensive coordinators have had an entire offseason to perfect their counter. Defenses will be much better suited to prevent the latest trend from putting up the same numbers.
Additionally, and more importantly, head coaches are well aware that their job security often rests on the health of their quarterbacks. That's why, as signal-callers develop, they tend to rush less and find the outlet pass more. It's evolution.
But enough with the preamble, let's get down to it.
All stats are courtesy of www.pro-football-reference.com with a few advanced metrics (such as accuracy rate) and rankings pulled from www.profootballfocus.com.
Begin Slideshow

»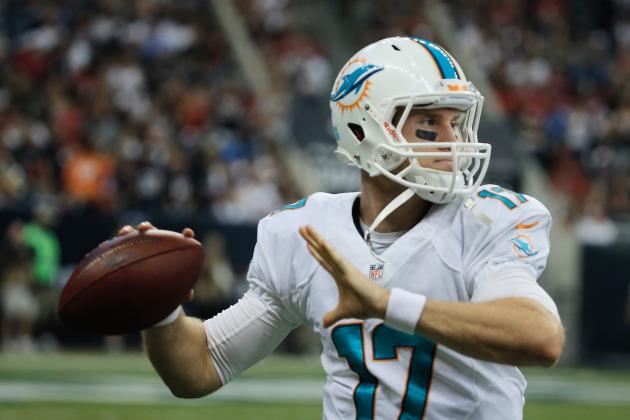 Scott Halleran/Getty Images

There were rumors about quarterback Ryan Tannehill joining the Miami Dolphins before the 2012 NFL draft, but we didn't really believe it.
So what that his college coach Mike Sherman would be handling the offense? The scouting report didn't warrant such a high pick.
As we all know now, the Dolphins pulled the trigger and the rest of us discovered that Tannehill was more pro-ready than originally believed. But now comes the hard part—taking the next step.
So far, so good this preseason. In one shining example, Tannehill demonstrated great pocket presence against the Tampa Bay Buccaneers, keeping his eyes downfield while avoiding pressure.
He's also proven that he'll stand in the pocket and work through his progressions when he knows he's about to get hit. Which is good because his reworked line will give him plenty of opportunities to affirm that conclusion throughout the season.
It helps his prospects of success that his receiving corp received an upgrade with the addition of burner Mike Wallace. And Tannehill's budding bromance with wide receiver Brandon Gibson will give him the chain-mover he lost in Davone Bess.
However, it isn't all gravy for the Dolphins and their quarterback. The loss of tight end Dustin Keller took away a big red-zone threat on a team desperate for drive-finishers. And the loss of running back Reggie Bush removed a dynamic backfield element that none of the current running backs can replace.
2013 Stat Projections: 59.9%, 3,421 yards, 17 TDs, 14 INTs; 32 ATTs, 136 yards, 1 RTD.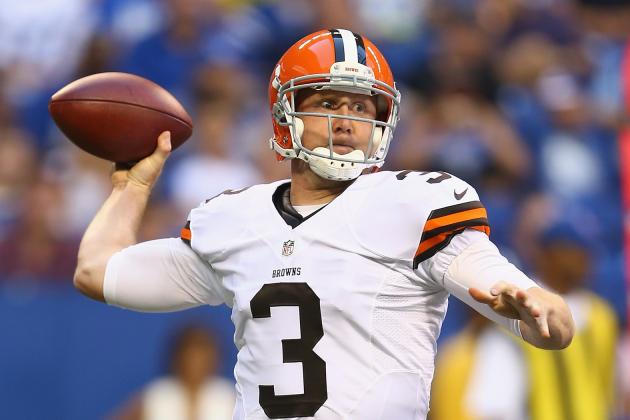 Andy Lyons/Getty Images

There were snickers when the Cleveland Browns took a 28-year-old quarterback in the first round. The critics (including this guy) only grew louder as Weeden struggled his way through his rookie year, ending the season the fourth-worst passer rating (72.6) among qualifiers.
However, if the preseason is any indication, Weeden is the chubby kid who isn't going to give up his lunch money anymore. He's looked like an entirely different player.
There he was against the Detroit Lions, interspersing beautiful throws with the smart, easy ones. On more than one occasion, his receiver had a half-step on the defender and was greeted by a perfect rain drop that landed precisely in the basket.
But this is the preseason and the Indianapolis Colts were all too happy to throw a lasso around the rocket of hype surrounding the Browns. Dropped passes and a couple questionable decisions exposed an offense that isn't on par with the big boys just yet.
Weeden isn't going to match the numbers of his second-year peers because the Browns will rely on the run, his receivers are too inconsistent and he's a notch behind in terms of natural talent. But his confidence will continue to grow with his experience, resulting in an improved player.
2013 Stats Projection: 59.2%, 3,560 yards, 18 TDs, 13 INTs; 25 ATTs, 102 yards, 0 RTD.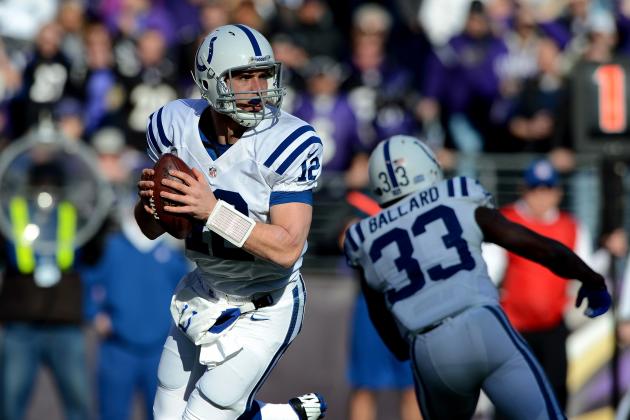 Patrick Smith/Getty Images

Everyone compares Andrew Luck to Peyton Manning for all the obvious reasons. However, his second year statistical "jumps" will have just as much to do with Eli Manning as they will Peyton.
Both Manning brothers saw a huge jump in completion percentage between the first two years, but took very different paths in terms of yards passing as Eli suffered a significant drop. Luck will likely follow in their footsteps regarding the percentage, but will be more Eli than Peyton when it comes to passing yardage.
Difference In Key Stats Between First and Second Years
| | | | | | |
| --- | --- | --- | --- | --- | --- |
| Player | Completion Percentage | Yards | Touchdowns | Interceptions | Yards Per Attempt |
| Peyton Manning | +5.4 | +396 | 0 | -13 | +1.3 |
| Eli Manning | +4.9 | -518 | 0 | +1 | -0.6 |
The main reason Luck will take a "step back" is because he won't be asked to carry the offense. New offensive coordinator Pep Hamilton's system is more run-reliant than former play-caller Bruce Arians' chuck-it-downfield approach.
Therefore, more carries for the running backs and a reduced yard-per-attempt average would put him in line with Eli. So you're going to see his passing yardage take a tumble.
Lastly, Luck will toss fewer interceptions since he's taking fewer chances on deep throws. The touchdowns will be close to last year's number, but with a slight uptick to account for fewer personal rushing scores (5).
His change in numbers won't vault Luck to the top tier of fantasy quarterbacks, but it should result in a better on-field quarterback.
2013 Stat Projections: 62.6%, 3,920 Yards, 26 TDs, 13 INTs; 48 ATTs, 201 yards, 1 RTD.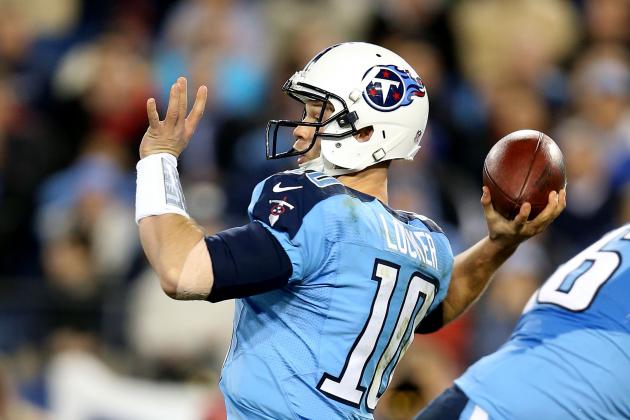 Andy Lyons/Getty Images

Jake Locker is the black sheep of second-year signal-callers. He's often forgotten, and it's either because people don't believe in him as a franchise quarterback or because his team isn't very good.
Regardless, this is his second season as the unquestioned starter. He's earned his spot on this list.
And, much like Weeden, he's using this preseason to prove that he's earned a spot in the NFL starting-quarterback fraternity.
Locker was slated to be a top-overall pick at one point because he has the arm and accuracy. Now that Locker is running new-ish offensive coordinator Dowell Loggains' system, he's getting a chance to remind everyone of that fact.
Locker will enjoy having a healthy Kenny Britt on the outside. Britt gives this team a legitimate No. 1 receiver. Plus, the improved offensive line will give Locker more time than he is accustomed to while giving him shorter-yardage situations thanks to a more potent running game.
But the biggest boon to Locker's success will be the move of Kendall Wright to the slot. He's shown a natural ability to get open on quick routes and will build Locker's confidence with easier throws.
Before everyone thinks I've lost my mind, Locker will see an uptick in interceptions this year as well. The new system does benefit Locker, but there will be some growing pains as he learns his limitations.
Still, nobody mentions Locker when talking about the young quarterbacks. That could change by the end of the 2013 season.
2013 Stat Projections: 61%, 3,265 yards, 21 TDs, 17 INTs; 52 ATTs, 297 yards, 2 RTDs.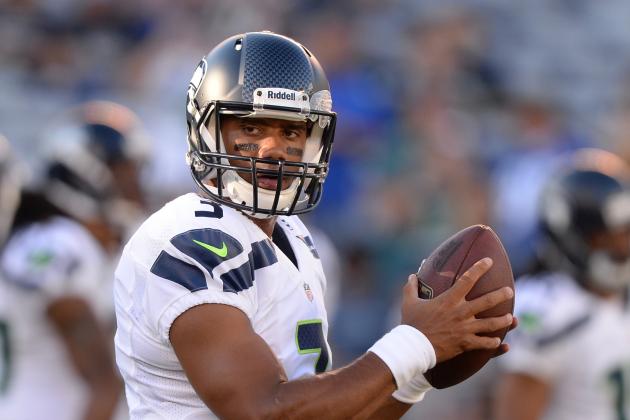 Harry How/Getty Images

The rosy picture painted for the prior four quarterbacks doesn't extend to the best-surrounded signal-caller on this particular list.
That's right. I'm saying it's all downhill for Russell Wilson based on a few preseason performances.
Well, that and the fact that Wilson set the bar incredibly high in 2012. His 64.1 percent completion rate would be difficult for any quarterback to sustain.
The problem is that he is currently working out some kinks that are affecting his accuracy.
Wilson placed an astonishing fifth last year with an accuracy rate of 77.1 percent, meaning he hit is target on more than three-fourths of his throws. But this preseason has seen him regress to 61.8 percent.
Many of those have been overthrows which could be a product of a shorter quarterback dealing with adjusted passing lanes.
However, it's not all doom and gloom. The Seattle Seahawks are too loaded on offense and Wilson is too talented to fall far.
And if explosive addition Percy Harvin returns with six or seven games left, Wilson's touchdowns won't suffer any setbacks and his yardage will receive a nice boost.
2013 Stat Projections: 62.3%, 3,379 yards, 26 TDs, and 14 INTs; 71 ATTs, 372 yards, 3 RTDs.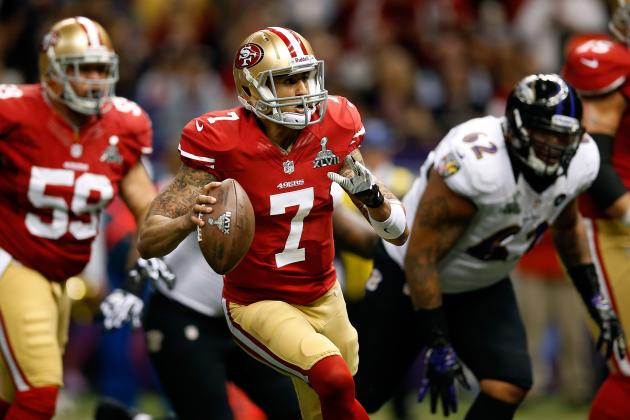 Chris Graythen/Getty Images

As hinted before, the read-option will have to evolve or die. Head coach Jim Harbaugh and offensive coordinator Greg Roman will undoubtedly add some new wrinkles, but it's likely they spend more effort on Colin Kaepernick's passing.
And, as the preseason has shown, Kaepernick is ready to flourish.
He's been electric in the pocket, putting up a favorable 80 percent accuracy rate. Even more impressive has been his ability to work efficiently through his progressions and find his third option when necessary.
There was a rough 1-of-7 start against the Minnesota Vikings, but more telling was the six consecutive completions he threw in response. That shows a signal-caller who understands what needs to be done and will do it regardless of adversity.
If top wide receiver Michael Crabtree were available, it'd be much easier to predict a bigger year from Kaepernick. Here's hoping a chip-on-his-shoulder Anquan Boldin and a still-explosive Vernon Davis can soften the blow.
As it stands now, San Francisco 49ers fans will still have plenty of reasons to smile.
2013 Stat Projections: 63.4%, 4,126 yards, 32 TDs, 10 INTs; 82 ATTs, 179 yards, 5 RTDs.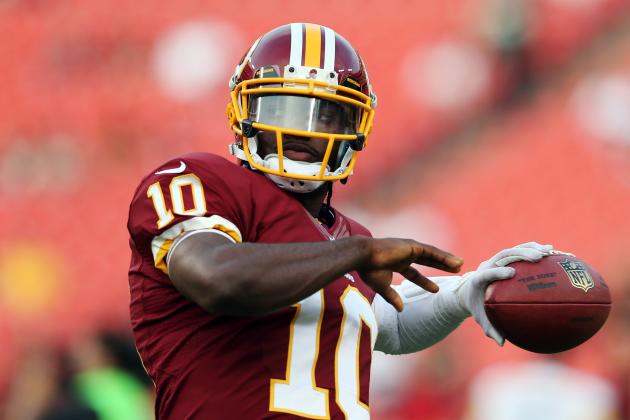 Rob Carr/Getty Images

Injuries are a part of the game. At least, that's what they tell me.
However, head coach Mike Shanahan will do everything in his power to keep Robert Griffin III from exploring that devastating facet of football again.
That means that no team will take the limit-the-damage-to-the-quarterback mantra more seriously than the Washington Redskins.
Shanahan won't completely discourage Griffin from taking off when the time is right, but there will be an emphasis on not overextending plays. Instead of making one more move, Griffin will be advised to get down or out of bounds.
But that's not going to dampen expectations for Griffin. Turns out, the kid is one hell of a passer, as evidenced by sustaining a 79.6 percent accuracy rate over the course of the entire 2012 season. That's better than Peyton Manning's performance.
Griffin has an okay contingent of pass-catchers, but he has that rare ability to throw receivers open. If top wideout Pierre Garcon (and Griffin) can stay healthy, the Redskins passing attack should enjoy a great year.
And there's no need to quibble over his interception numbers. Griffin only threw 17 picks in four years of college and five in his rookie season. He understands ball security.
2013 Stat Projections: 65.2%, 3,780 yards, 31 TDs, 7 INTs; 85 ATTs, 502 yards, 4 RTDs.