Little League World Series 2013: US and International Title Game Predictions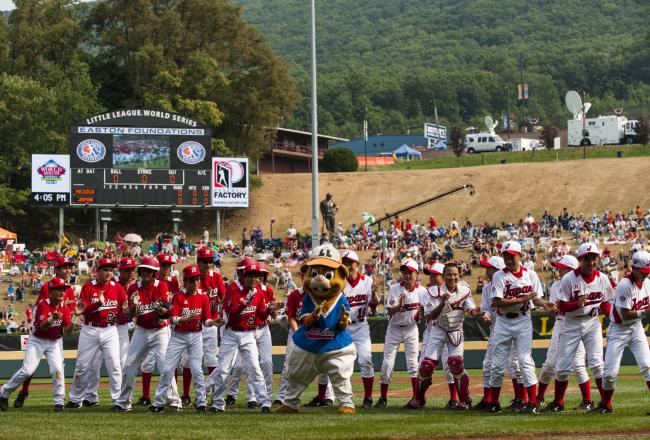 Howard Smith-USA TODAY Sports
Four teams from around the globe are left standing in pursuit of the Little League World Series crown. Normally, this is where the conversation would shift toward pressure, but these players might be having too much fun to even notice the rising expectations.
The title games in both the International and United States brackets are rematches from Round 3. Japan and the Western representative from California hope to replicate their victories, while Mexico and the New England squad from Connecticut seek to flip the script.
With that in mind, let's take a closer look at each of the semifinal games and make predictions for which teams will punch their ticket to Sunday's championship game. For more information about the tournament, visit Little League Baseball's official site.
Four teams. Three games. One banner. #ChampionshipWeekend #LLWS pic.twitter.com/fgTq7hWyFj

— Little League (@LittleLeague) August 24, 2013
International Championship: Japan vs. Mexico
Saturday, Aug. 24 at 12:30 p.m. ET on ABC
The biggest question mark heading into this game is the Mexico offense. The sluggers from Municipal De Tijuana Little League were virtually unstoppable up until the last few games. They must rediscover that hitting spark in order to knock off Japan.
Which team will win the International final?
In the first two games, the Mexican squad racked up 25 runs in just eight combined innings. The terrific showing wasn't even a major surprise, because the team had scored at least 10 runs in all but one of its regional qualifying games.
The bats have gone cold, comparatively speaking anyway, over the past two games. Japan held the offense to just two runs in Round 3, and Latin America did the same through six innings before Mexico scored two runs in extra innings to advance to the rematch with Japan.
Brandon Montes and Ramon Mendoza have combined for six home runs and 12 runs batted in through four games. If they can both have strong performances in the middle of the order, Mexico should reach the final.
Meanwhile, the representative from Japan has won two of the past three Little League World Series and has appeared in all three finals. The current team, which hails from Musashi Fuchu Little League, is one step away from extending that streak to four.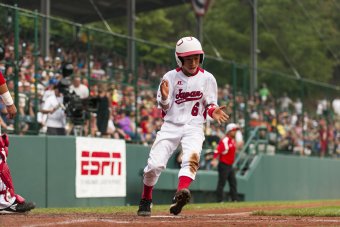 Howard Smith-USA TODAY Sports
As usual, the Japanese squad is technically sound and keeps constant pressure on opposing pitching staffs with good hitters up and down the lineup. Through three games, it has a team batting average of .375. That's tough to slow down.
The pitching staff is equally deep. Six different players have taken the mound, and only one has allowed more than a single earned run. Depth is a major factor in a tournament like this, and that's why Japan is a contender almost every year.
Ultimately, the international final should be a highly competitive game. The key matchup is the Mexican offense against the Japanese pitching staff, a battle Japan should be able to win once again.
Prediction: Japan 6, Mexico 4
U.S. Championship: West (Chula Vista, Calif.) vs. New England (Westport, Conn.)
Saturday, Aug. 24 at 3:30 p.m. ET on ABC
On the United States side, the West squad from Eastlake Little League has walked a fine line throughout the tournament, but it keeps finding a way to win. It needed seven innings to defeat the Great Lakes club in Round 1 and nine innings to beat its U.S. title counterpart in Round 3.
Which team will win the United States final?
California has produced the most Little League World Series champions among the states with seven. Four years ago, it was a team from the same city—Chula Vista—that captured the coveted banner and brought it back to the Golden State.
Micah Pietila-Wiggs has led the way so far. The second baseman and leadoff hitter has an astonishing seven hits in 11 at-bats. One of those hits was a home run. He's also tallied five runs batted in and four runs scored.
Nick Mora is having a strong tournament as well. He's tied for the team lead with two homers and has given up just one run in four innings on the mound. His versatility should come in handy over the final few games.
The New England squad from Connecticut deserves a lot of credit, though. It lost a heartbreaker to the West, which would have earned the team a berth in the U.S. final, but it bounced right back to win a wild 14-13 game against the Northwest to get another chance.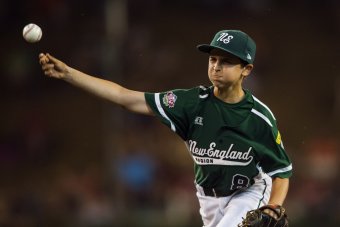 Howard Smith-USA TODAY Sports
Westport Little League sent a team with plenty of talented hitters. Four players are hitting above .400 heading into the American title game, led by Ricky Offenberg and Charlie Roof at .462. And seven different players have hit home runs.
Pitching will be the most important factor, though. Aside from Chad Knight, who's posted a 1.39 ERA and 17 strikeouts in 8.2 innings, the team from New England has received some lackluster outings on the mound.
The first meeting needed extra innings, and it wouldn't be a shock if that happened again. They are two evenly matched teams. Given the momentum of the victory over the Northwest to stay alive in the event, a slight edge goes to New England.
Prediction: New England 4, West 3
This article is
What is the duplicate article?
Why is this article offensive?
Where is this article plagiarized from?
Why is this article poorly edited?