New Zealand vs. Australia: 6 Things We Learned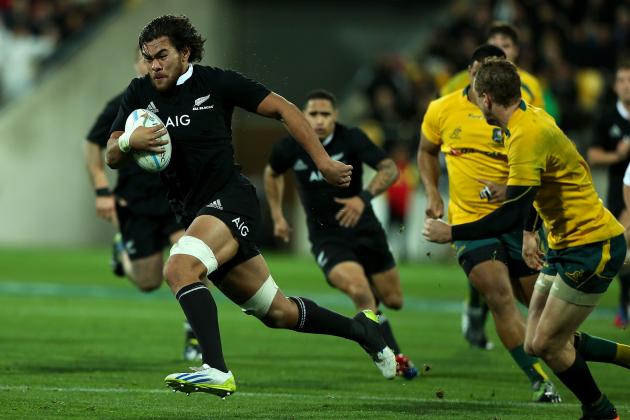 Hagen Hopkins/Getty Images

Retaining the Bledisloe Cup in fairly rudimentary fashion, New Zealand once again overcame their Australian rivals to win the series for an 11th consecutive year.
The All Blacks weren't quite as offensively prolific as many might have supposed on home soil, but were nonetheless impressive in cementing their position as one of the world's finest sides, if not still the finest.
Steve Hansen's side may be at the summit of world rugby, but the key to a great team is one that never stops learning. Both sides had lessons to take away from this week's first Rugby Championship encounter.
Begin Slideshow

»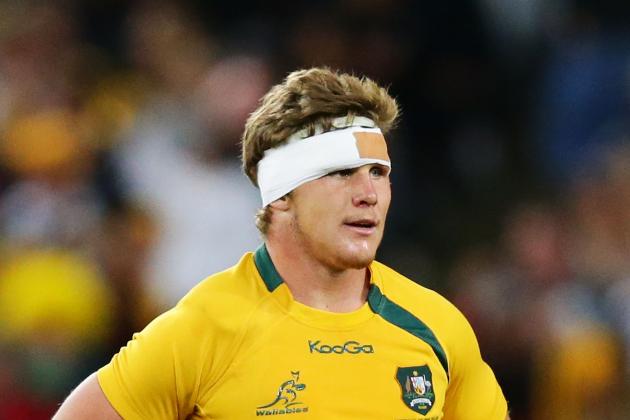 Matt King/Getty Images

Possibly one of the brightest spots for Ewen McKenzie to consider is the continuing development of Michael Hooper, who impresses more and more on the international stage.
The game at the WestPac Stadium was another testament that the youngster—still just 21 years of age—is up to the current level of rugby and represents one of his nation's most encouraging prospects, if not the best.
Strong when carrying the ball in the first half and one of the few Wallaby faces consistently fighting hard at the breakdown, Hooper seems to excel the more time he spends in the gold and green.
The openside flanker's contributions in defence are something to behold, too, with a 10th-minute break by Israel Dagg brought to an end by Hooper thanks to some defiant tracking back.
In 2015, Hooper will have another two years of international involvement under his belt and if his leadership skills are anything to go by right now, the Waratah starlet will be a force.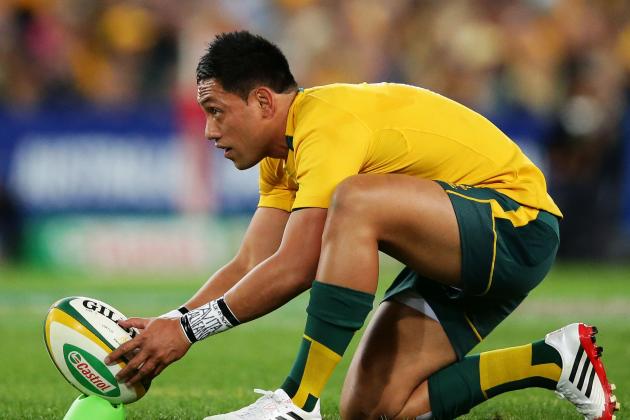 Matt King/Getty Images

With an aggregate age of only 48, James O'Connor and Christian Lealiifano both have long and prosperous international careers lined up ahead of them, which is just as well for McKenzie.
In Wellington, the Australian back line had its positives and negatives to consider, most of the former coming from the aforementioned duo.
For Lealiifano, it was a story of reliability. Although the 25-year-old's 100 percent Test kicking record was finally spoiled, he was as calm as ever from the tee and did well to open up the All Blacks' defence on occasion.
O'Connor's contributions weren't quite as frequent, but the controversial youngster did show some much-needed flair at times, something Australia have needed more of in this series.
Jesse Mogg once again showed that the No. 15 jersey can still be considered up for grabs should another candidate rise to the fore at full-back, showing inconsistent kicking from hand far too often.
Along with Israel Folau, Mogg was sometimes absent in a defensive aspect, missing tackles left, right and centre in crunch situations; Folau was, however, by far the more reliable of the two and offered a lot more going forward.
O'Connor and Lealiifano would appear to have far more assured Australian careers ahead of them and are already showing the potential to craft a successful backs unit, provided they can find some adequate partners.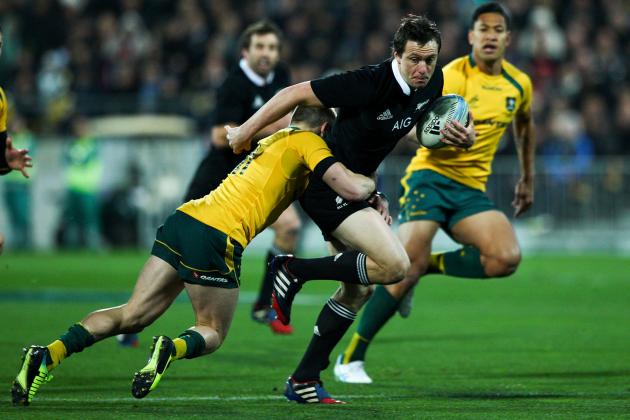 Hagen Hopkins/Getty Images

Conceding 47 points over the course of 80 minutes in Game 1 of this series, it was obvious that defence was Australia's most significant weakness.
In order for the Wallabies to have stood any chance of rescuing their Bledisloe Cup hopes, it was in that area that McKenzie's men needed to improve—and swiftly at that.
However, the upgrade didn't come in time for the trip to Wellington for Game 2, and it was key missed tackles and a lack of positional nous that allowed the hosts to claim their 11th consecutive series.
Stephen Moore and Ben Alexander were two of the culprits for the front row in allowing their opponent to slip through in the first half, Israel Dagg and Steven Luatua benefitting respectively.
Among the backs, it was Jesse Mogg who again let the enemy past his lines on a few too many occasions, again highlighting an aspect of his play that stood out in Sydney.
Ma'a Nonu and Conrad Smith again found it simple in making headway through the Wallabies' midfield as Australia continue to work out their weaknesses under new coaching.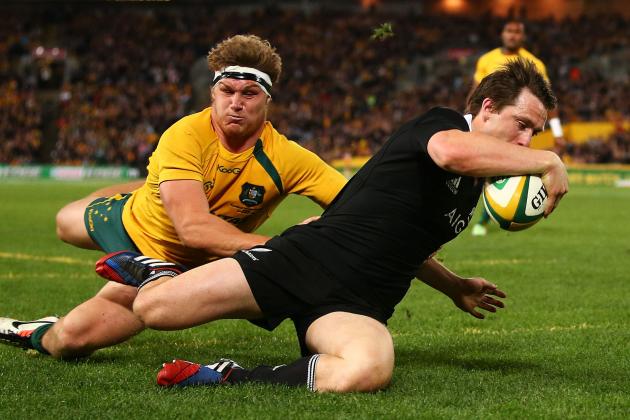 Mark Nolan/Getty Images

Last week, Ben Smith became the first player to score a hat-trick in eight years, with Doug Howlett the last to do so in 2005.
Scoring another two before being substituted in Game 2 of the series, the 27-year-old was unfortunate not to enter even more hallowed company and become the first player ever to record back-to-back hat-tricks in a Bledisloe Cup series.
Having only really burst on to the scene in the last year or so, Smith is thriving in his enhanced responsibilities for the All Blacks side and could be considered for the title of best finisher in international rugby right now.
When it's not his team opening up space for Smith to attack, the winger is capable of making gaps all of his own, combining sheer speed with some substantial strength to make for one almighty threatening package out wide.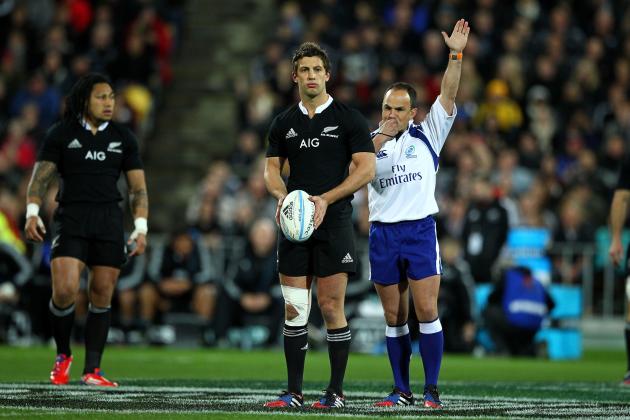 Anthony Au-Yeung/Getty Images

Prior to this meeting, all eyes turned in the direction of the fly-halves—Tom Taylor making his international debut for New Zealand and Matt Toomua looking to recover from a disappointing display last week.
However, just as was the case against Aaron Cruden last week, Toomua finished as the less impressive player in a No. 10 shirt at the WestPac Stadium.
Granted, Taylor might have an easier time of things considering he plays for the current world champions and Toomua could thrive as successfully were it him in his position, but these are the cards each has been dealt.
One could see Toomua trying to engineer glimpses of ingenuity, but the 23-year-old was restricted from showing the talent that he has all Super Rugby season, failing to make any ground when carrying and, for the majority, providing nothing more than a link between the forwards and backs.
On the other hand, Taylor was reliable from the tee (save for his first attempt) and was at least looking to inject some surprise when he had ball in hand.
Neither fly-half finished the match—Taylor due to injury and Toomua due to strategy—but it was the former who will certainly be happier with his display.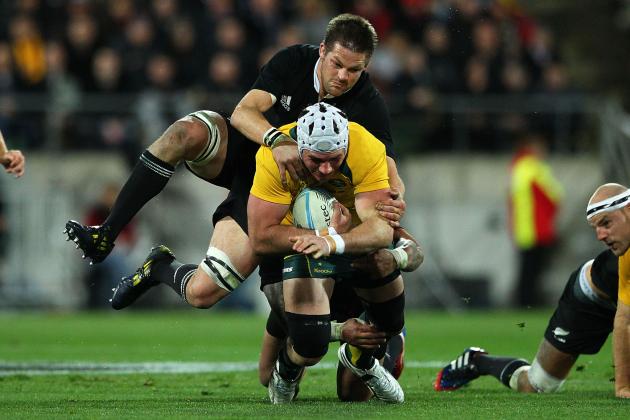 Anthony Au-Yeung/Getty Images

While it isn't exactly a secret that New Zealand reign as supreme overlords of the rugby world's ruck, Saturday's triumph was just another tribute to their art of not just retention but turnover ball.
Any side boasting the talents of Richie McCaw is bound to pose at least a small threat at ground level, but it's a talent that runs throughout the All Blacks' squad.
Steven Luatua, Kieran Read, Andrew Hore and Tony Woodcock were just some of the other pack members who stood out in bringing the ball back their way from open play. But that's not to say the likes of Nonu and C. Smith don't show great worth in that area, too.
Those players all work well on the individual level, reliable in a pinch where teammates might be dragging their heels.
Excellent body positioning is coupled with some of the most ferocious desire to win possession back that you'll ever see from an international side—New Zealand are all the more potent when working as a unit.