WWE SummerSlam Symposium: Paul Heyman Interview and Best Moments from Event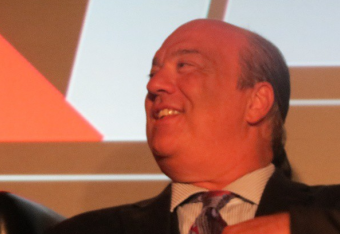 image from brianmaziquefpbr on instagram

WWE SummerSlam weekend featured an amazing series of events that culminated in one of the best pay-per-view shows of the year. One of the true highlights of the weekend was the star-studded symposium that featured an amazing panel of past and present Superstars.
I was sitting front and center for a conversation engineered by Jim Ross that included Dolph Ziggler, Daniel Bryan, Rey Mysterio, "Stone Cold" Steve Austin, Paul Heyman, Mick Foley and the incomparable Ric Flair. Ziggler's shirt usually says: "Stealing the Show," but on Saturday night, Flair was the thief of the event.
While no writer/fan in attendance was bothered by Flair's storytelling and politically incorrect name-dropping, the WWE was apparently none too happy with Flair's come-sit-on-my knee moment.
In case you haven't seen it, you can watch it in its entirety here.
For a look at some of the best moments from Flair and Austin, take a look at the video below.
It was refreshing to hear and see a legend like Flair discuss the business in a way that only the Nature Boy can. It is true, the panel was there to talk about the video game and offer sound-bite opportunities, but what we got from Flair and Co. was far more entertaining.
It felt like I'd been out to dinner with some of the greatest stars in the history of the business after it was over.
That can't be wrong.
I did discuss the very promising WWE 2K14 with senior game designer Bryan Williams in an informative interview that added excitement for the game's release and showed off Williams' passion for the core product.
The event also presented the opportunity to speak with one of the greatest minds in wrestling history. Heyman is a genius in the wrestling world and most anything he says in relation to his area of expertise is worth a listen.
I could have spoken to Heyman about WWE 2K14, but procuring thoughts on his own accomplishments, Chael Sonnen and other wrestling-centric details seemed more compelling.
The first question is delivered without Heyman's face appearing in the video. Take a look at the interview below.
Follow me and witness my passion for sports and video games.
This article is
What is the duplicate article?
Why is this article offensive?
Where is this article plagiarized from?
Why is this article poorly edited?