5 New York Islanders Under the Most Pressure in 2013-14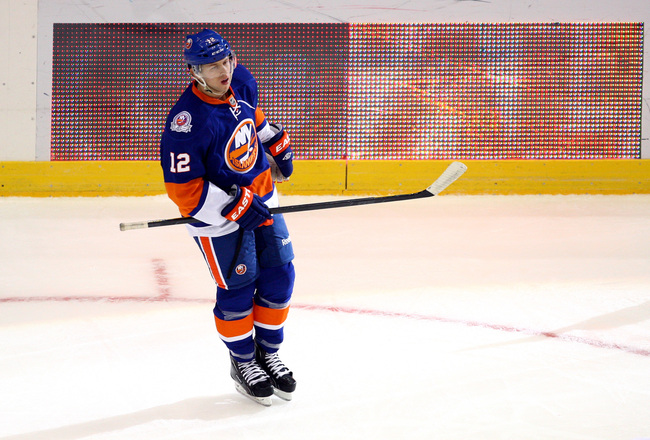 Chris Chambers/Getty Images
With heightened success comes heightened expectations.
While almost no one is predicting the New York Islanders will be hoisting the Cup in 2013-14, fans will likely be disappointed if they are not at least in the playoff hunt after the trade deadline.
Certain players are heading into next season with a much heavier burden on their shoulders than others on Long Island.
Here, we'll take a look at the five Islanders that will be under heavy scrutiny.
Evgeni Nabokov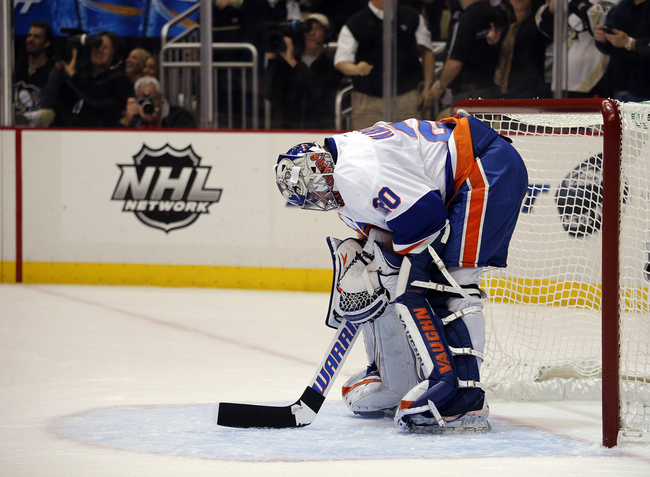 Justin K. Aller/Getty Images
The Islanders' most glaring weakness for quite some time has been their goaltending.
The trade talks involving the Islanders and Ryan Miller could swirl until the netminder is inevitably dealt from the Sabres to a new team. That is, unless, Evgeni Nabokov can channel his youth.
Nabokov caught a lot of flack for his performance against the Penguins in last year's playoff series—and with good reason. His 4.44 GAA and .824 save percentage were not even close to good enough, and it's a testament to the offense that New York was able to even get the series to six games.
It couldn't have been more evident in the series-deciding Game 6.
Brian Strait and Travis Hamonic did not get the job done on this rush by Sidney Crosby, which ultimately led to Jarome Iginla tying things up in Game 6. With the Islanders carrying momentum at the time—outshooting the Penguins 7-2 and leading the game 1-0—he had to have that save.
This sort of soft goal was something seen all series.
The defense should shoulder its fair share of blame, but to win playoff games, a goaltender needs to come up with huge saves and swing momentum in his team's favor.
If the Isles want to get back to the postseason, Nabokov will need to be better than last season. The Eastern Conference features nine playoff teams from last season, along with the Columbus Blue Jackets, who fell short of the tournament on a tiebreaker.
Josh Bailey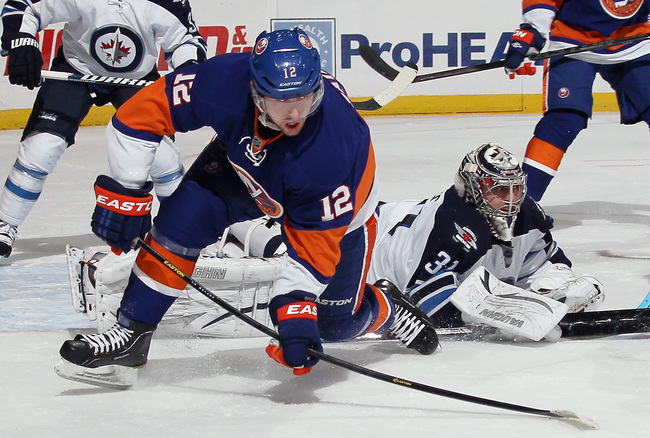 Bruce Bennett/Getty Images
It feels like it was just yesterday that Islander fans were starting to sweat over Josh Bailey's uninspiring performance during the 2010-11 season that landed him in the AHL for a stretch of time.
Bailey's now an integral part of the Islanders forward group, and he enjoyed arguably his best season to date in 2013, scoring 11 goals in only 38 games in the regular season.
It's time he proves he can produce in an 82-game season on a consistent basis. If he can rise to the occasion, he could make a huge difference for the Islanders. He's signed through 2017-18 at a cap friendly $3.3 million per season.
However, if he can't produce at a level expected from the average second-line player on a successful NHL team, it may be time to start considering moving Bailey.
It's often overlooked that Bailey is 23. However, now entering his sixth season, being rushed is not an excuse anymore.
With top prospect Ryan Strome very likely to be the first call-up from Bridgeport this season, the pressure is on Bailey to solidify his spot on the second line before the rookie pushes him out of town.
Kyle Okposo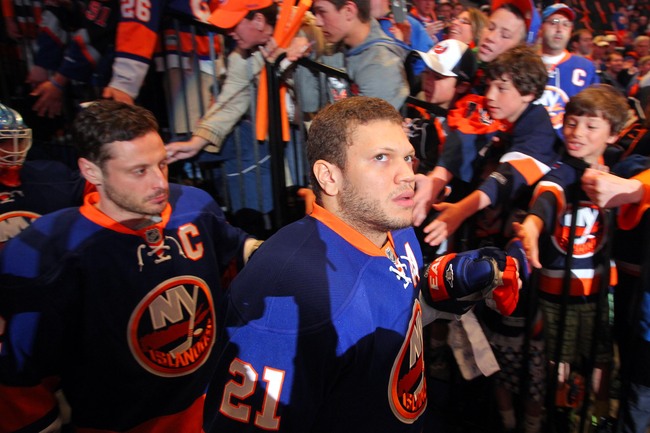 Brad Penner-USA TODAY Sports
Kyle Okposo demonstrated a lot of character and managed to salvage an otherwise forgettable season with an excellent playoff performance.
That hardly means he's off the hook. The afterglow has faded, and fans and management both have memories of how inconsistent the St. Paul, Minnesota native was for most of the shortened 2013 campaign.
Appearing in all 48 games, Okposo scored only four goals. It cannot be overlooked that he had 21 assists, only one fewer than he managed in 79 games in 2011-12. But being on pace for fewer than 10 goals if it were a full 82-game season simply isn't close to good enough.
If he's going to maintain a spot in the top-six, especially with talk of Ryan Strome making a move to right wing, he'll need to provide much more offense on the second line.
Travis Hamonic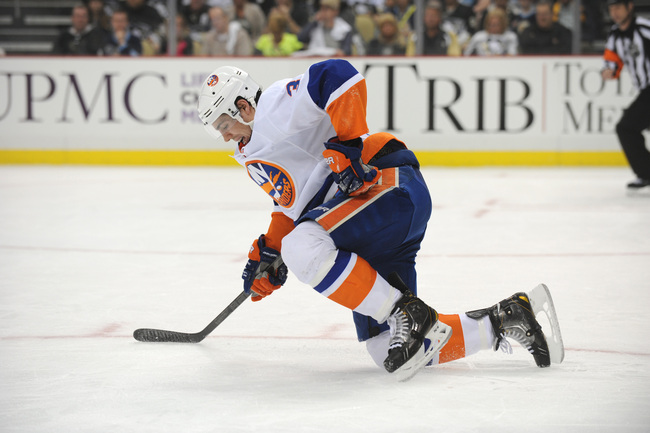 Vincent Pugliese/Getty Images
A case could be made for any one of the Islanders defensemen as a player under the most pressure on the entire team.
But seeing as Travis Hamonic signed a long-term extension with the Islanders this offseason, and that he became the de facto No. 1 defenseman for the team during their playoff run, it seems he'll probably be the one under the microscope if things start to go sour in terms of goals against.
The former second-round pick's ceiling is yet to be seen, but he'll likely be the d-man the Isles turn to in top minutes at even strength. He was second on the team in average ice time to only Andrew MacDonald during the regular season, and led the team in the playoffs with an average of 20:25 minutes per game against the Penguins.
John Tavares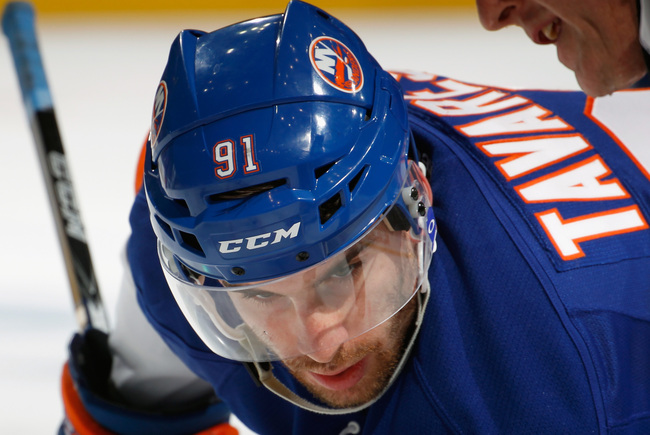 Paul Bereswill/Getty Images
While more than capable of handling it, John Tavares will have the spotlight on him now more than ever.
The recent renaissance on Long Island is led by Tavares, who will likely don the "C" for the first time next season.
After a breakout year in which JT was a Hart Trophy finalist, the rest of the league will be watching to see what kind of encore he has up his sleeve.
The sky's the limit for Tavares, who could eclipse 90 points if things go well. But if he doesn't match his production from this season, it'll likely be viewed as a disappointing season.
Keep Reading

New York Islanders: Like this team?